London's Christmas trees are a key part of what makes our city so festive during the holiday season. From south to north, west to east, London becomes covered in Christmas trees during this period. We've put together a list of the decorative trees that you cannot miss seeing this year!
Table of Contents:
Covent Garden
Covent Garden is home to one of London's most impressive Christmas trees. Ranging between 50ft – 60ft each year, decorated with 30,000 lights, and hundreds of baubles, this is one beautiful Christmas tree. Covent Garden's Christmas offerings are always impressive and you'll adore spending a day here taking it all in.
Trafalgar Square
Since 1947 Trafalgar Square has received its Christmas tree as a gift from Norway. The gift is one of gratitude for the British support in World War II. The tree is cut each year in November, and the cutting ceremony is attended by The British Ambassador to Norway, the Mayor of Oslo, and the Lord Mayor of Westminster. Each year it graces this iconic square from the beginning of December until just after the 12th night of Christmas.
Leadenhall Market
Leadenhall Market has a long standing history with the city, being the location of the centre of Roman London. Today it's home to shops, cafes, and bars, and one of London's fabulous Christmas trees! With a giant fir tree, perfect for Christmassy photos with the family, and lots of mini Christmas trees to ensure you feel the full festive effect!
Coal Drops Yard
Each year, Coals Drops Yard, near Kings Cross Station, displays a modern Christmas tree.The tree is usually a sculpture or art piece that can be enjoyed by festive visitors throughout the festive season. Previous years have seen a terrarium Christmas tree!
Kingston
Kingston's christmas market is a cosy spot to indulge in winter festivities in Greater London. The market comes complete with a huge decorated Christmas tree that is normally located directly opposite the Bentall Centre.
The Connaught 
The Connaught Hotel in Mayfair is home to one of London's beautiful Christmas trees. Each year we see it decorated by a different artist, this includes Annie Morris & Idris Khan, Sean Scully, and Michael Craig-Martin.
Claridge's
Not only does Mayfair hotel Claridges decorate the outside of their building with Christmas trees, but they also put a gorgeous one up inside. For 2022, this London Christmas tree has been designed by Sandra Choi for Jimmy Choo. Called 'The Diamond' the tree is a sculpture made of reflective mirrors with a giant shimmering bow on top to finish the piece.
Sofitel St James
The Sofitel hotel in St James, adorn Waterloo Place with a truly beautiful London Christmas tree. For those looking to experience Christmas in London to the full this is the perfect tree to visit. Always classically decorated you cannot go through the season without seeing this tree!
St Pancras International 
Each year St Pancras station has a Christmas tree sponsored by a different iconic company. Past years have seen Disney, Tiffany, and Eurostar put up beautiful themed trees for the commuters and international travellers to see.
Somerset House
Somerset House pull out the stops every year for Christmas and their London ice rink is one of the best. The ice rink comes with an equally stunning 40ft Christmas tree this year. This London Christmas tree is decorated by Moet and Chandon.
Bond Street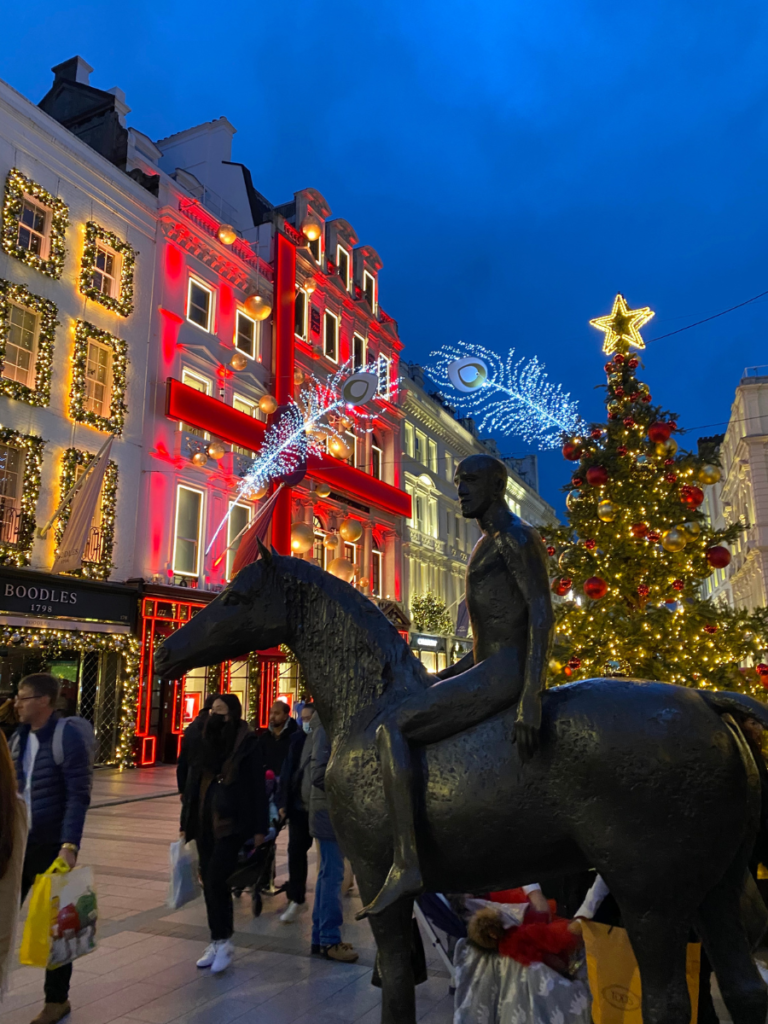 Bond Street is known for its London Christmas installations, with their Christmas tree being the crowning glory. The tree is located on the plaza opposite Cartier and in front of Ralph's cafe.If you're looking to get the ultimate Christmas photo of London this is the spot!
About The London Eats List
We aim to bring you the very best that London has to offer. From the best hot chocolates in London, to how our city got its name, discover more with our guides today!