Belgravia at Halloween is a magical place for both adults and kids alike! With pumpkin trails put on by the local businesses and florists, as well as the bakeries serving out spooky treats – this really is a part of London that embraces Halloween. We've rounded up the best things to do in Belgravia this spooky season to make your trip planning simple!
Table of Contents:
Pumpkin Trail & Spooky Art Installations
One of our favourite things about Belgravia is they loved to get dressed up for an occasion. Each year for Halloween, Belgravia put on a pumpkin trail around the area – with lots of local businesses partaking. This will be live from the 23rd – 31st October 2023.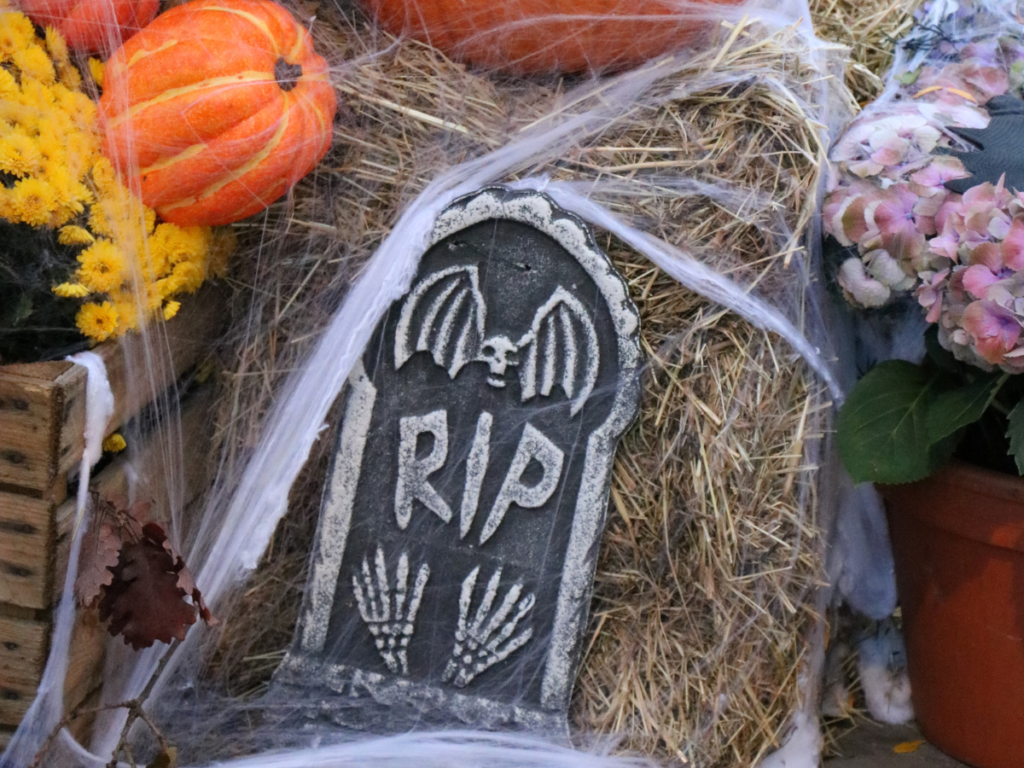 In past years there have been a large themed installation on Motcomb Street & Elizabeth Street, with Halloween decorations also being hung from shops and cafes – this includes Peggy Porschen, Neill Strain Flowers, Tom Tom Coffee. Closer to the time they'll launch the list of where you can spot the pumpkins – ideal for keeping kids entertained in the October half term!
Free Halloween Walking Tours in Belgravia
Last year we went on the free walking tour of Belgravia, hosted by Wide Eyed London. On the spooky tour you get taken around all the haunted and historical spots in Belgravia, taking in the haunted atmosphere at Halloween. The day we went it had been heavily raining which just added to the whole experience.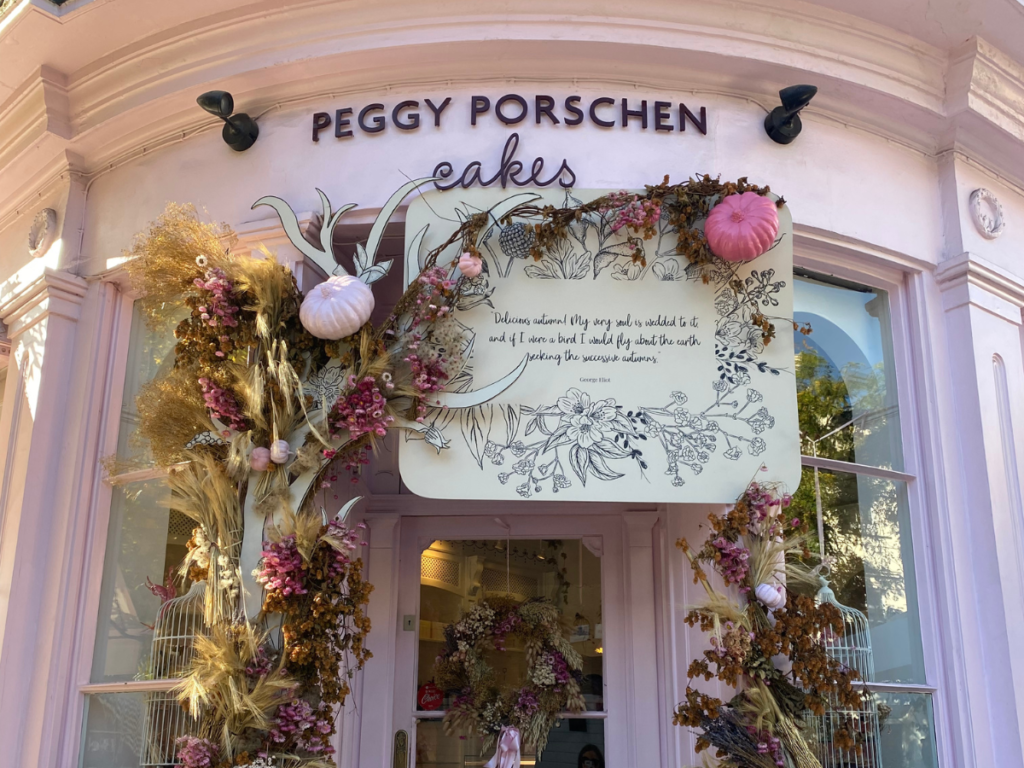 From the homes of gothic authors, such as Mary Shelley, to haunted pubs, and spooky churches – this is not one to miss and we'd highly recommend booking yourself on one of the Belgravia halloween tours on offer. They are taking place on the 28th, 29th, and 31st of October 2023.
Belgravia's Haunted Pubs for 31st October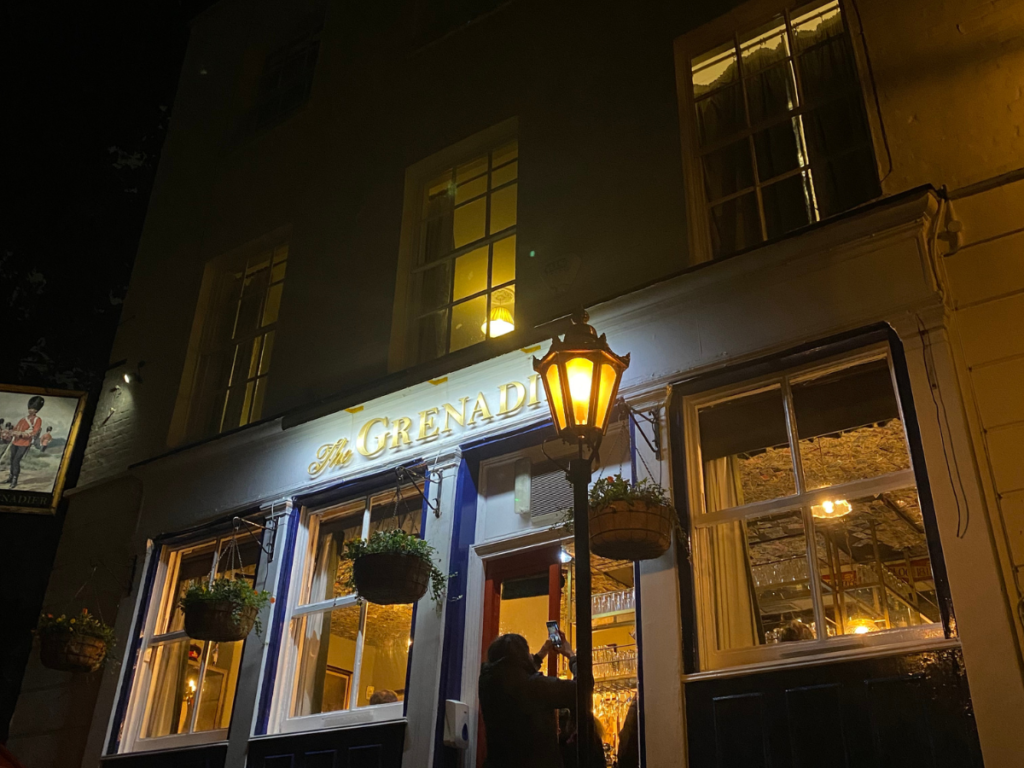 London is full of haunted pubs – the city being so old and historic there's been many a tragedy in public houses that have led to these spooky spots. And Belgravia is no stranger to haunted pubs. Amongst Belgravia's pubs you'll find two infamous locations.
The Grenadier – Hidden away in one of Belgravia's mews, you'll find a sweet looking pub named The Grenadier. This building once upon a time was the mess halls for the local officers. The story goes that a young soldier cheated in a game of cards, and was subsequently killed – he has haunted this tavern ever since. Since then, visitors to the pub from all over the globe have been trying to pay off his debt – you'll see money from across the world plastered to the ceiling.
Plumber's Arms – In the 1970s Lord Lucan killed his children's nanny and attempted to kill his estranged wife. Lady Lucan escaped and ran to the Plumber's Arms to ask for help. Lord Lucan was never captured or seen again. It is said that Lady Lucan has continued to haunt this pub since her later death.
Pick Up a Ghoulish Treat 
Belgravia is one of our favourite parts of London to pick up sweet treats in London. They're particularly great at London Halloween food! Here are some of our favourite places to visit for a snack this Halloween in Belgravia.
Biscuiteers Halloween Icing 
Biscuiteers in Eccleston Yard not only are selling iced Halloween biscuits but are also hosting icing sessions – perfect for either bringing your kids to, or for those wanting to indulge their artist flair this spooky season.
Peggy Porschen Spooky Bakes
Peggy Porschen is renowned for her decorated cakes – with specials appearing each season. Peggy is expected to not only decorate her cakes, but the outside of her shop for Halloween this year. Our personal favourites last Halloween were her ghost iced cookies.
Chestnut Bakery Creepy Croissants 
Chestnut Bakery is yet another of Belgravia's cafes that will dress up their shop-front for Halloween. As well as creating a special spooky croissant – their pastries are to die for so make sure you don't miss out! Last year they created dark chocolate, charcoal croissants.
Ole & Steen's Mallow Ghosts 
One of our most loved London cafes is Ole & Steen and they do not come to disappoint at Halloween. We'd recommend trying their ghost mallows – these are made of a biscuit based, large marshmallow, and covered in white chocolate with a ghoulish face.
Book a Table at Exclusive Mosimann's
Mosimann's is an exclusive members club in Belgravia – so exclusive it's where Prince William and Princess Catherine held their engagement party! They open up on rare occasions to the public for meals and this Halloween is just one of those times! Make sure you book in quick so you don't miss out!
About The London Eats List
We are here to help you plan the best trip to London. From guides to London's favourite bookshops, such as John Sandoe and Daunt Books, to which London World Heritage Sites you should visit whilst you're here.