Christmas in Covent Garden is a must for your festive London to-do list. From one of the city's most impressive Christmas trees, to huge mistletoe to celebrate the season with your amour, Covent Garden has it all. Plan your Christmas visit to Covent Garden with our complete guide.
When Do Covent Garden's Christmas Lights Go On?
As is the case with most of London's Christmas lights, Covent Garden's lights will go on at the beginning of November. From November 8th 2022, you'll be able to enjoy Covent Garden's Christmas festivities. Lights will be on everyday between 7am and 11pm. Not only does this involve the lights going on and the tree going up, you'll also get to indulge in winter food, drinks, and seasonal fun!
London's Biggest Hand Picked Christmas Tree
Covent Garden gets to boast that it has the biggest hand picked Christmas tree in London. 2022's tree is 60ft (a whole 5ft taller than 2021!) and is in fact from the same farm as the Royal Family's Christmas trees come from. Sustainability is at the heart of London's festivities this year, including the Oxford Street Christmas lights, and Covent Garden is no exception. The farm plants three trees for every one it cuts down, and the historic London market's tree will be recycled into wood chipping at the end of the season.
As for decorations, the Covent Garden Christmas tree ever disappoints. It is decorated with 30,000 lights and baubles and takes roughly 300 hours to decorate! We're not surprised it takes that long with so many decorations to put up!
Christmas Decorations at Apple Market
Apple Market, part of the covered market that makes up Covent Garden will see a return of the large mistletoe chandeliers! We don't know about you but we adore these decorations and are excited to see their return! Alongside this, there will also be the festive mirror-balls hanging from the ceiling. If you're after a family photo to remember this festive season, then the floral archway to the Apple Market, created by Maison de Fleurs will be the ideal spot!
Festive Events at Covent Garden
Throughout the lead up to Christmas there will be plenty to do in this area of London. There'll be festive pop ups on the Piazza from all your favourite brands, as well as late night shopping to get all your gifts for family and friends. As to what the pop ups are they're yet to be announced but we can't wait to hear!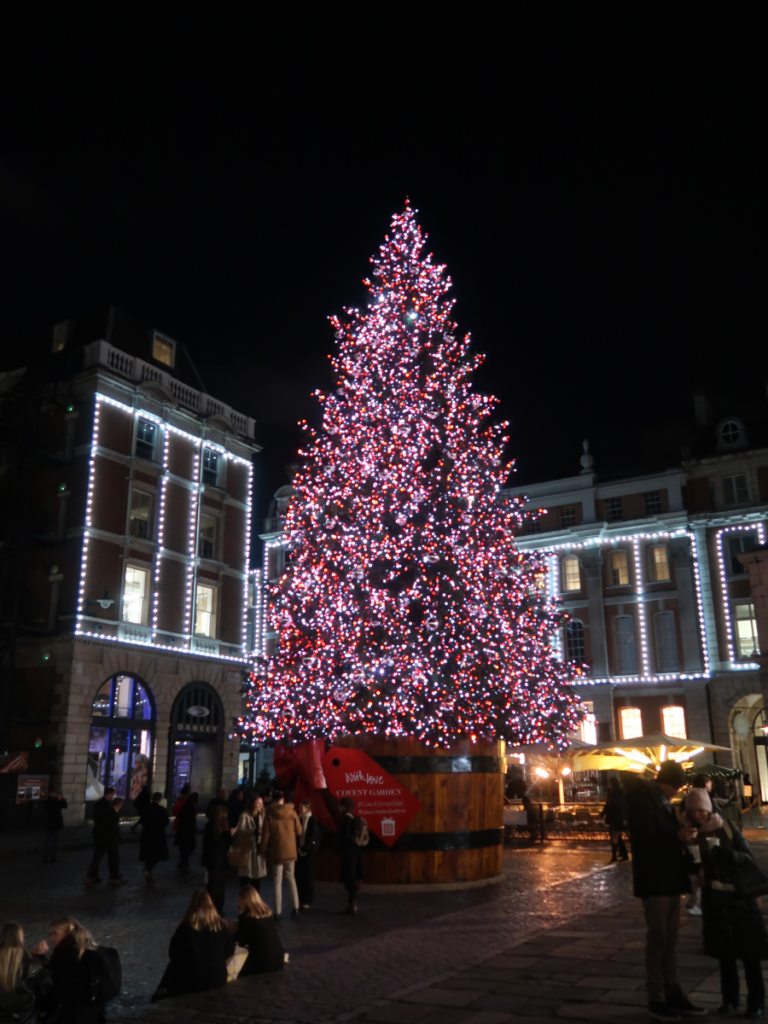 Outdoor Dining Returns
It's safe to say that Covent Garden is home to some of the best restaurants and cafes in London, and at Christmas they do not disappoint. As with 2021, the outdoor dining area is to return in 2022, giving you a perfect spot for enjoying festive food with friends!
The Winter Warmer Festival
From the 8th – 20th November Covent Garden is starting the season with their Winter Warmer Festival.You'll be able to pick up 25 different types of mulled wine (what more could you want?), as well as cocktails, hot chocolates, and lots of tasty food!
The Christmas Sandwich Festival
In December Covent Garden will be hosting their 2nd Christmas sandwich festival. Details are yet to be announced on when this is happening and what we can expect – but we'll keep you updated!
Covent Garden Christmas Snow
Whilst it's rare to have a white Christmas in the UK, Covent Garden ensures all its visitors get to experience a festive flurry! Next to the tree we can expect to see snow – last year this happened once every hour.
About The London Eats List
We are here to help you plan your trip to London. From the best places in the city to ice skate, to the best Christmas markets to visit – we have everything you need to achieve festive fun in the Big Smoke!