Discover a world of florals in central London with Chelsea in Bloom 2022. The shops, restaurants, and businesses of Chelsea decorate their storefronts once a year in the name of Chelsea in Bloom. We went for a wander around this gorgeous area of London to see the creativity on display and now we can't wait to share with you what we found.
When is Chelsea in Bloom 2022?
Chelsea in Bloom runs in May this year, from Monday 23rd to Saturday 28th. You'll be able to explore the gorgeous shops throughout the whole of this week and see the marvellous displays they put on.
What's the Theme for Chelsea in Bloom 2022?
To celebrate the Queen's Jubilee in London this year, Chelsea in Bloom takes on the theme of British Icons. We can't wait to see what exciting takes each of the entrants makes of this year's theme.
What is Chelsea in Bloom?
Chelsea in Bloom is self-described as a "world-class floral art show and London's largest free floral festival." Coinciding with the RHS Chelsea Flower Show, and in collaboration with the Royal Horticultural Society itself, the local businesses compete for the final award.
In 2021, Chelsea in Bloom ran between the 20th – 25th September. At the same time you will also find Belgravia in Bloom, at the neighbouring London district.
What was the Theme for Chelsea in Bloom 2021?
Every year the theme for Chelsea in Bloom changes and 2021 saw the local businesses compete it out in the name of "Extraordinary Voyages." Each business and florist can interpret the theme as they like, and this results in a wonderful array of beautiful floral designs. From gorgeously decorated cars, to fabulous camels, and stunning tropical birds, Chelsea really put on a show in 2021!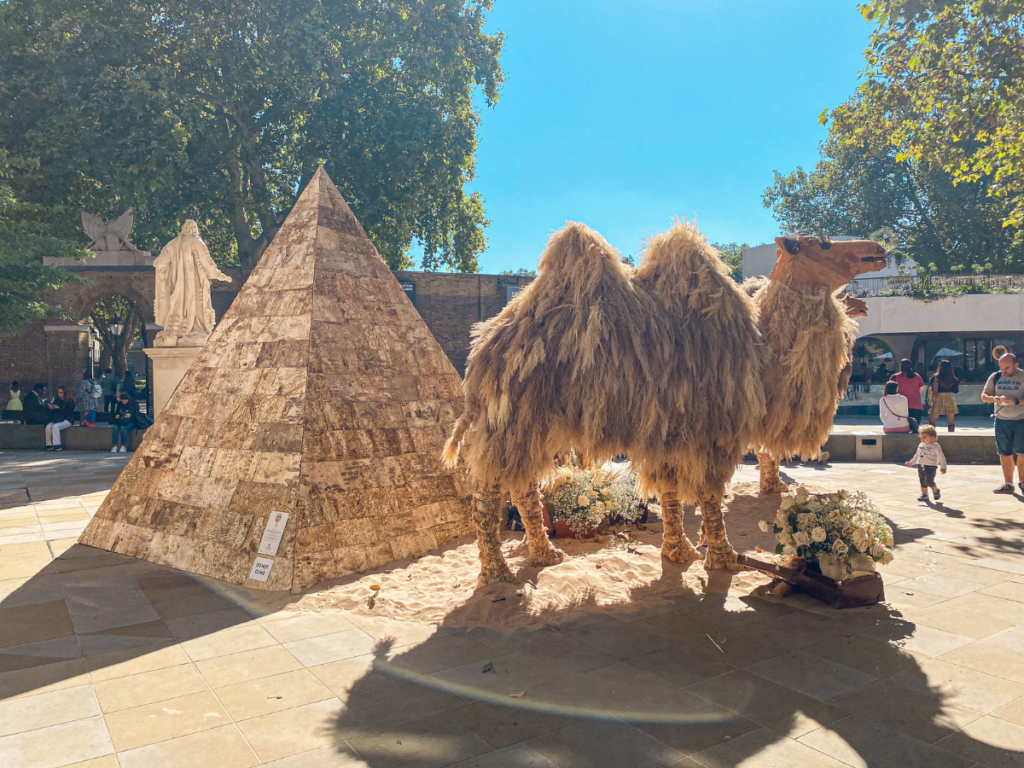 What Floral Installations to Expect at Chelsea in Bloom
Chelsea looked beautiful this sunny September week with all its gorgeous floral installations. On our exploration to take the whole scene in we took pictures of some of our favourites to share with you so you know what to expect if you visit this festival yourself.
Sloane Square
The iconic London shopping area, Sloane Square was the heart of Chelsea in Bloom 2021. With a gorgeous floral hot air balloon, elegant figures made from flowers, and an impressive Eiffell Tower covered in red blooms.
David Mellor
David Mellor Design, home to highend cooking and bakeware, had this adorable mint green car outside their store to celebrate Chelsea in Bloom. Decorated with florals and greenery, this installation was a true showstopper!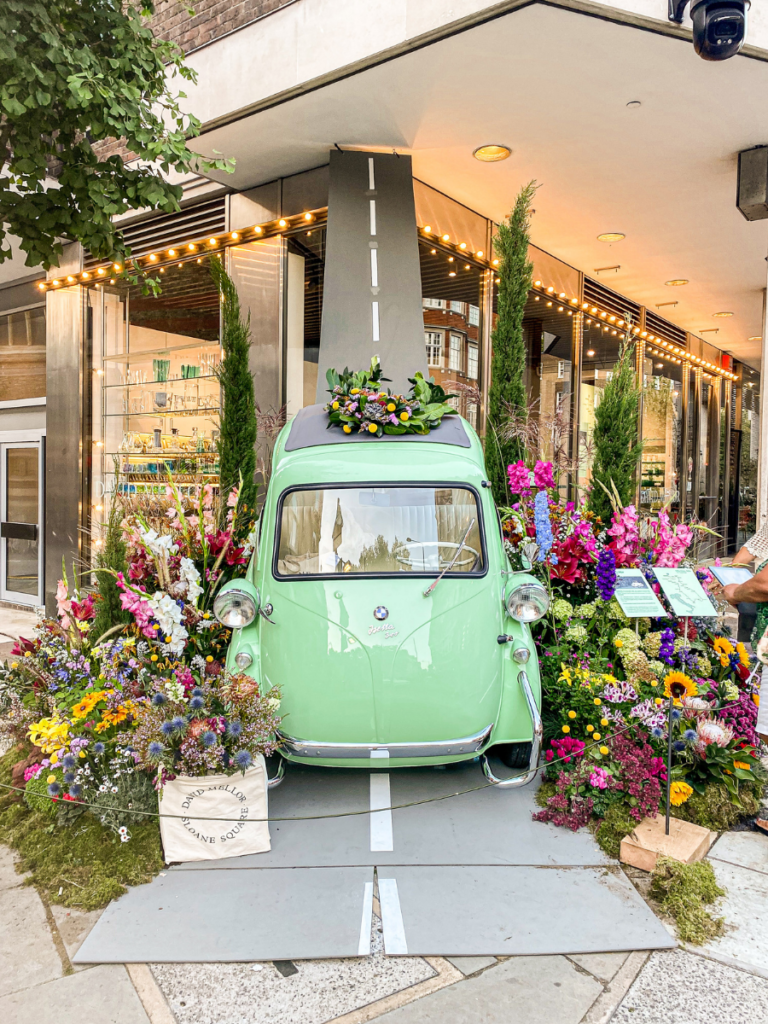 Duke of York Square
The entrance to Duke of York Square had a vibrant floral display with a beautiful peacock. Walking through the archway you'll find a green canopy leading you through to the bright shopping display.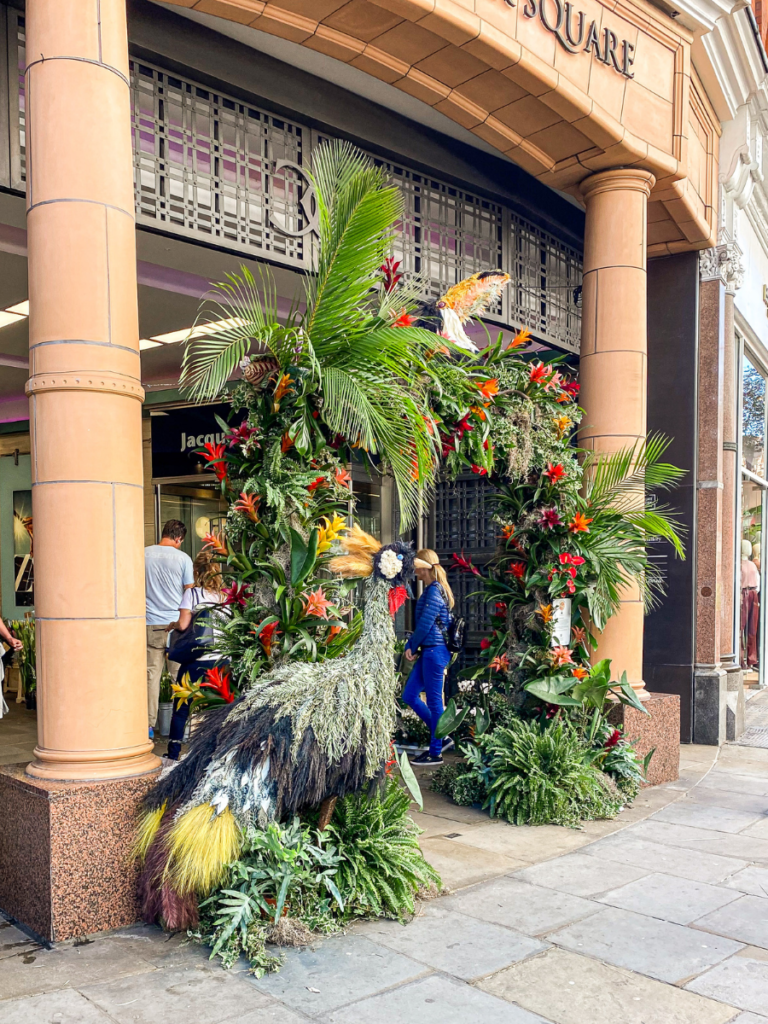 Dermalogica
Another breathtaking hot air balloon was put on display by Dermalogica in their floral installation. There was even a space that you could stand in for a photo-op!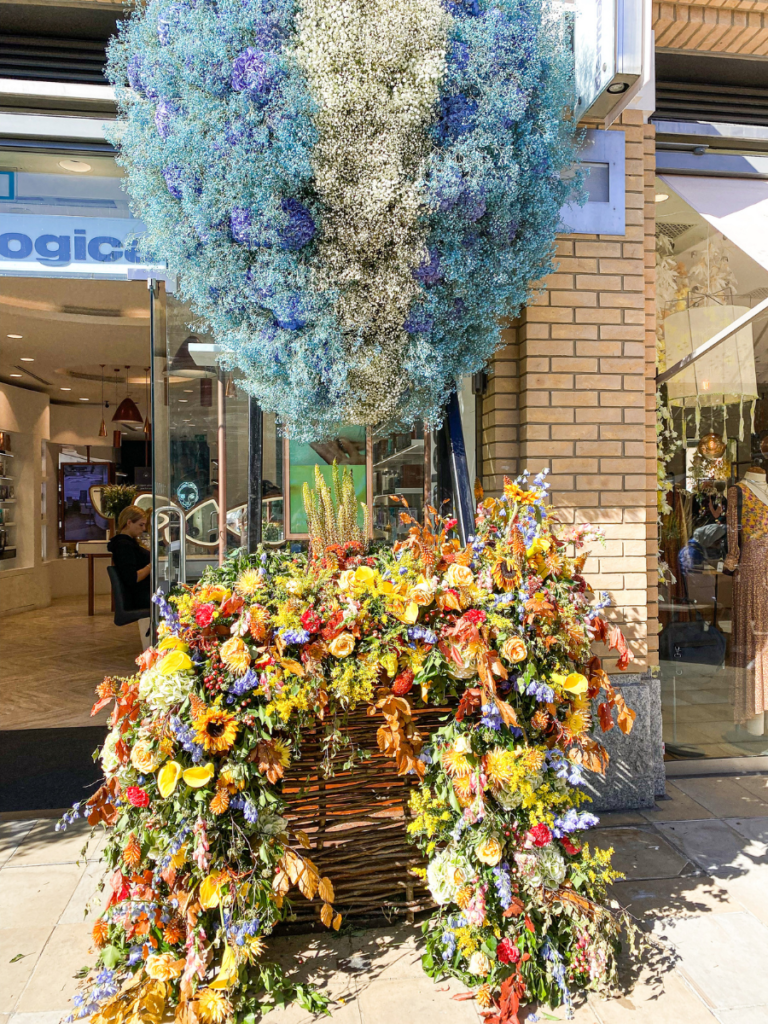 Monica Vinader
Sustainable jewellery brand, Monica Vinader, interpreted the extraordinary voyages theme as a rikshaw bursting with florals!
Spack NK
Highend beauty store, Spack NK, also got the note about the hot air balloon theme with this stunning neutral toned installation.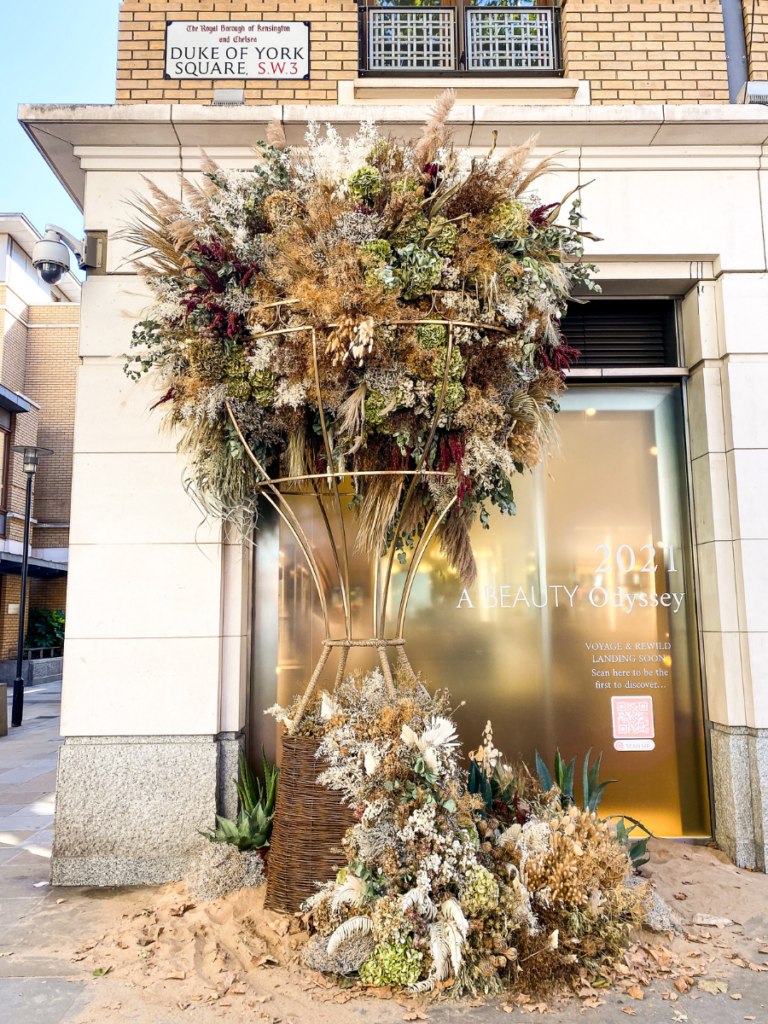 Peloton
Another fabulous neutral display was put on by Peloton with this elaborate archway decorating the doorway to their shop.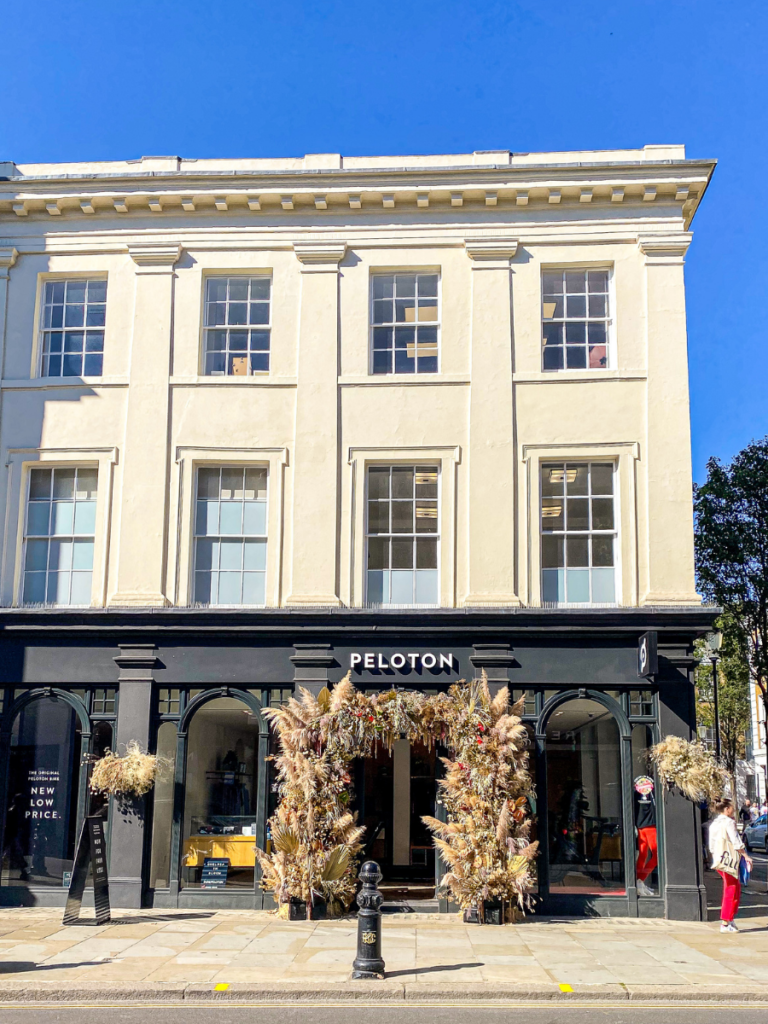 The Cadogan Hotel
Another decorated entranceway comes from The Cadogan Hotel, who displayed stacked suitcases burtsting colourful with florals.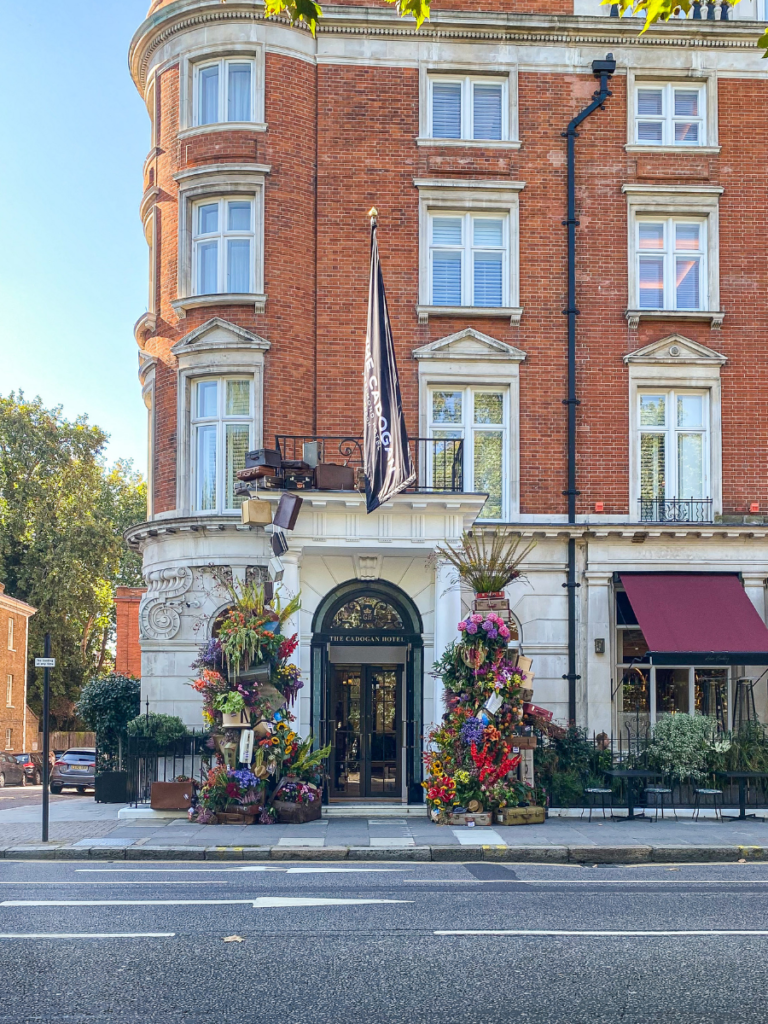 What Was Your Favourite Display from Chelsea in Bloom 2021?
It's obvious to see the time, effort, creativity, and skill that the florists and shops of Chelsea put into their displays for this brilllaint floral festival. We'd love to hear which were your favourite installations from this year's Chelsea in Bloom!
Introducing The London Eats List
We are a blog dedicated to all things London. From the best London markets, to free London museums you should visit today, we'vev got all the recommendations for you.