Belgravia in Bloom is back for another year. Coinciding with the rescheduled Chelsea flower show, Belgravia has been graced by gorgeous floral displays this May. We took a wander around the lovely displays to show you what you can expect walking around Belgravia this week.
When is Belgravia in Bloom 2022?
In 2022, Belgravia in Bloom will be from 23rd – 29th May, to coincide with Chelsea Flower Show. Make sure you pop down to this exclusive London neighbourhood to check out the beautiful displays!
What is the Theme for Belgravia in Bloom 2022?
To tie in with the Queen's Platinum Jubilee in London this year, the theme of Belgravia in Bloom is Beautifully British, You can expect to see a 'Little Ben' crafted from florals in Halkin Arcade, among many other spectacles!
What is Belgravia in Bloom?
Belgravia in Bloom is a flower festival, normally happening at the same time as the RHS Chelsea Flower Show. In 2021, this sees Belgravia being brightened by flowers from 20th to the 26th September. Belgravia is an area of London that borders Chelsea, Victoria, and Pimlico. If you happen to step outside of Belgravia at this time, you may also find displays for Chelsea in Bloom 2021, which has a different theme.
What was the Theme for Belgravia in Bloom 2021?
The theme for 2021's Belgravia in bloom is "Floral Fairground" and the shops, restaurants, and cafes of this gorgeous London district have not disappointed. From helter skelters, to Punch and Judy, and even elephants, you'll be amazed by this year's floral displays.
How to Discover the Floral Installations in Belgravia
After wandering around a little to find the gorgeous displays, we discovered QR codes placed around Belgravia that lead to an interactive map. The map of Belgravia in Bloom was extremely useful and meant we didn't miss any of the displays that may have been a little bit hidden. I'd definitely recommend doing this – they're even running a competition from the app to win £100. You'll also find AR experiences on the map to entertain you as you explore.
Fabulous Floral Displays from Belgravia's Shops
There are so many beautiful floral displays in Belgravia that it's difficult to choose a favourite. Here are just a few of the lovely installations you can expect to see in Belgravia in Bloom during 2021.
Eccleston Yards
At Eccleston Yards you'll find this vibrant Helter Skelter, designed by London florist Moyses Stevens.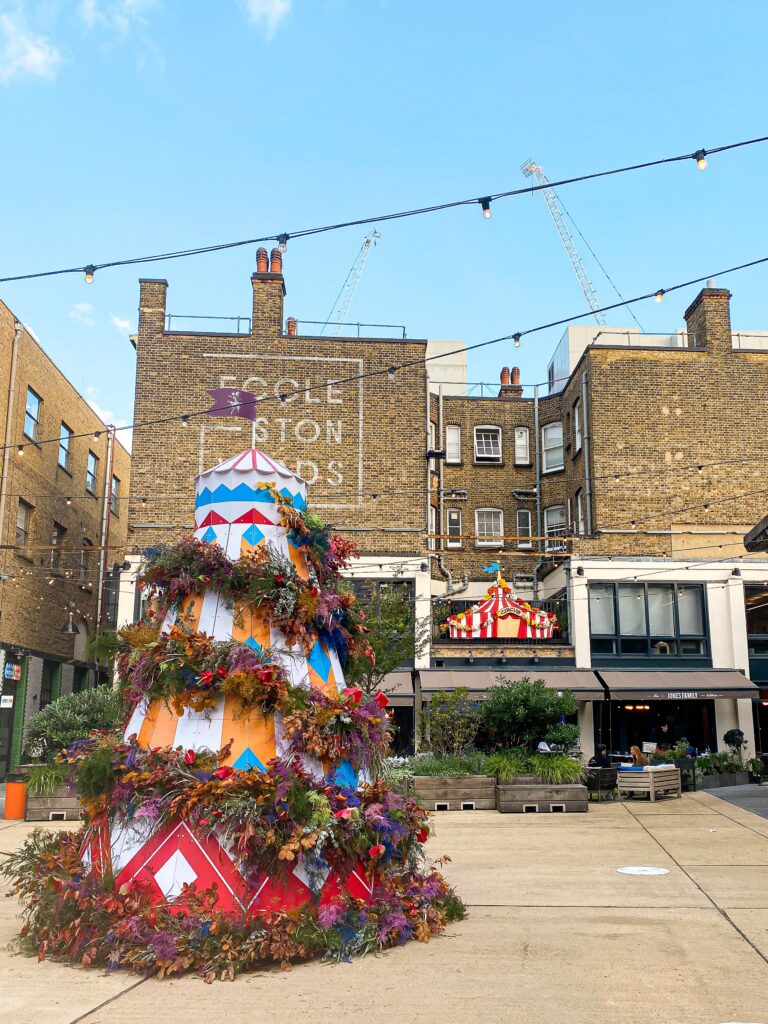 Bayley & Sage
Bayley & Sage, a West London Deli that can be found on Ebury Street in Belgravia, have a stunning floral bouquet surrounding their door. With fairground-inspired decorations to the side of their building.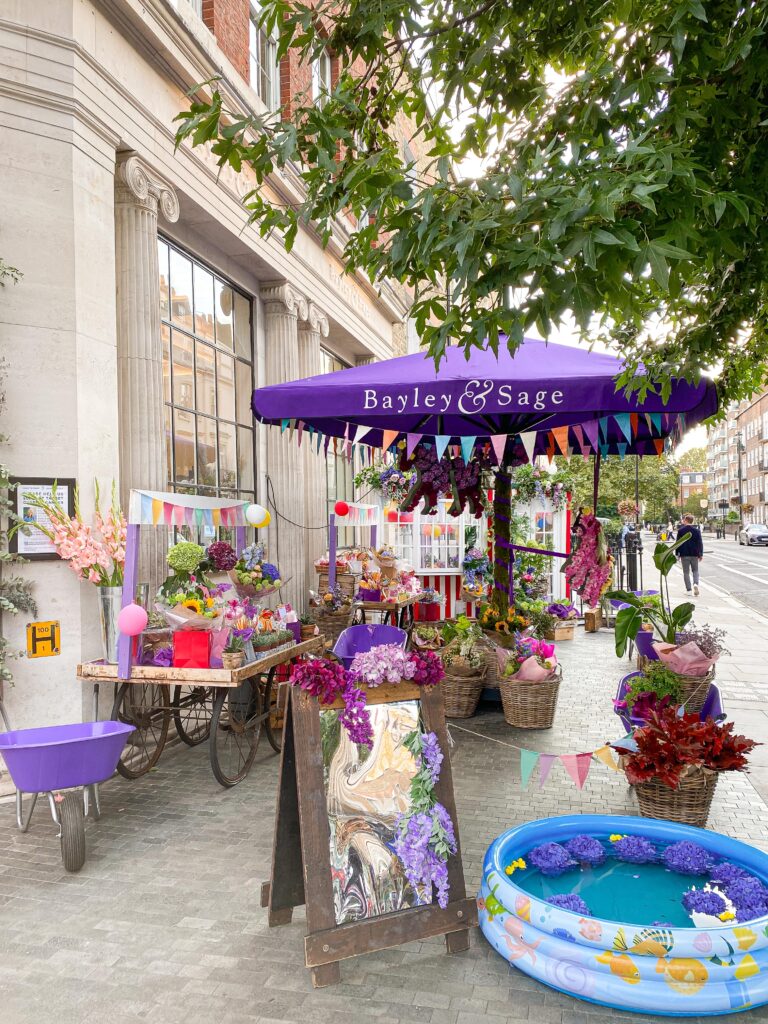 Elizabeth Street
Partway down Elizabeth Street, just outside Jo Loves, you'll find another installation by Moyses Stevens. This time a candyfloss-inspired tree that stands at 3 meters tall, and is crafted from gypsophila.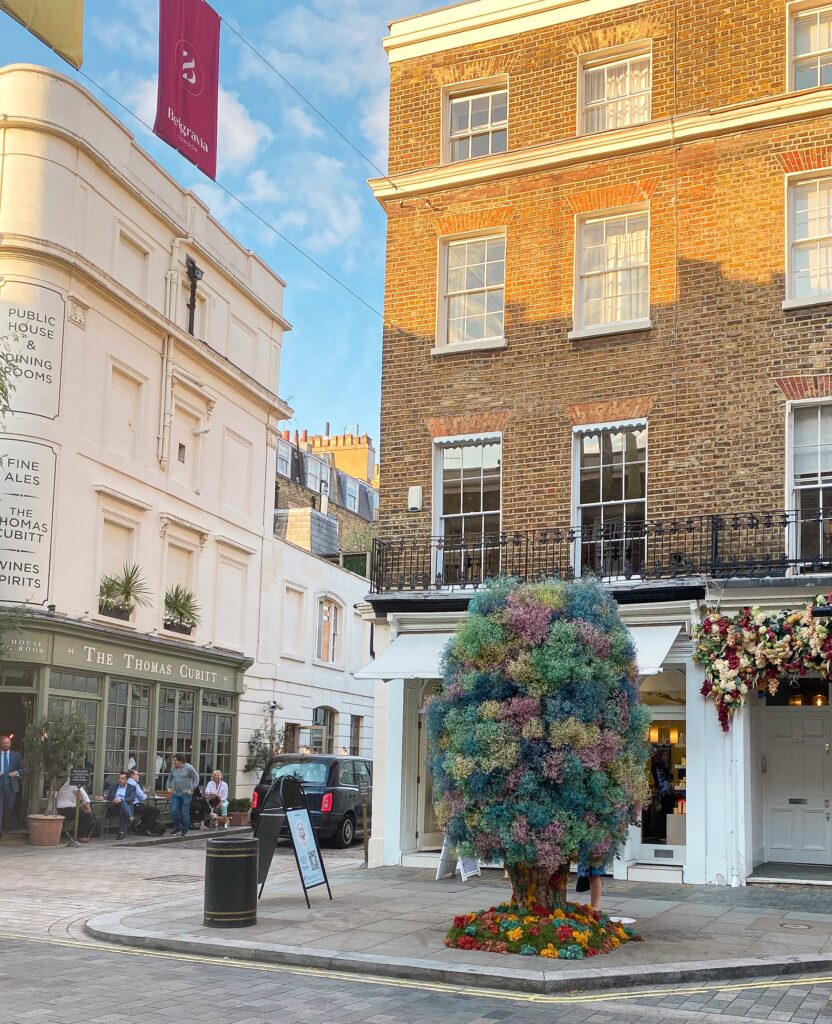 Moyses Stevens
Outside Moyses Stevens florist itself, you'll discover this gorgeous purple, green, and white installation of pretty flowers.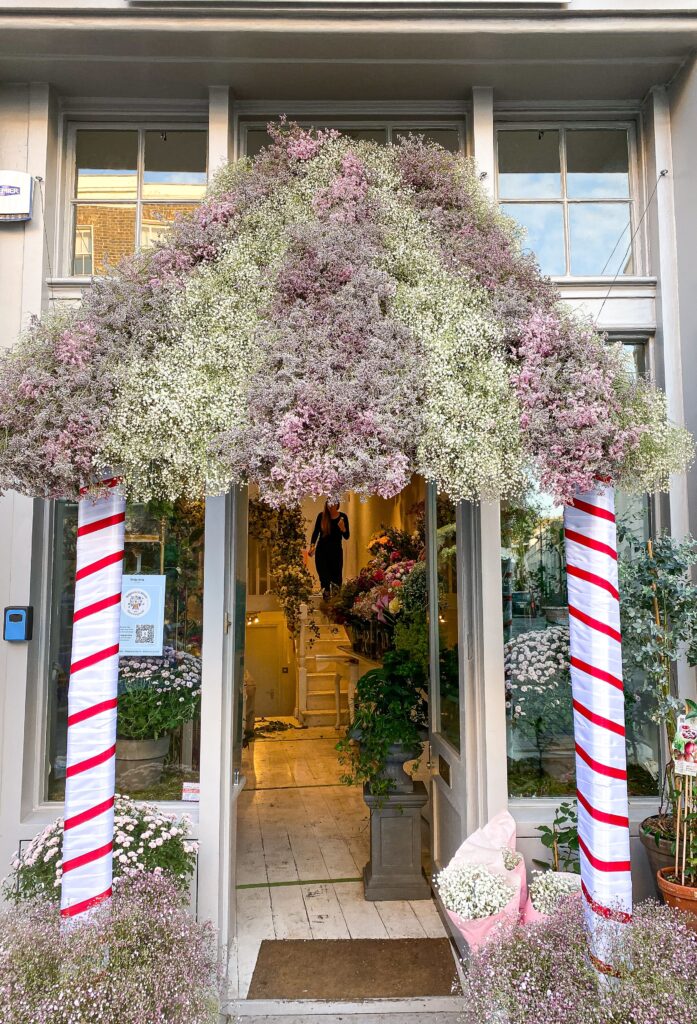 The Hari
Outside Belgravia resident luxury hotel, The Hari, a dodgem cart can be found shrowded in beautiful floral arrangements.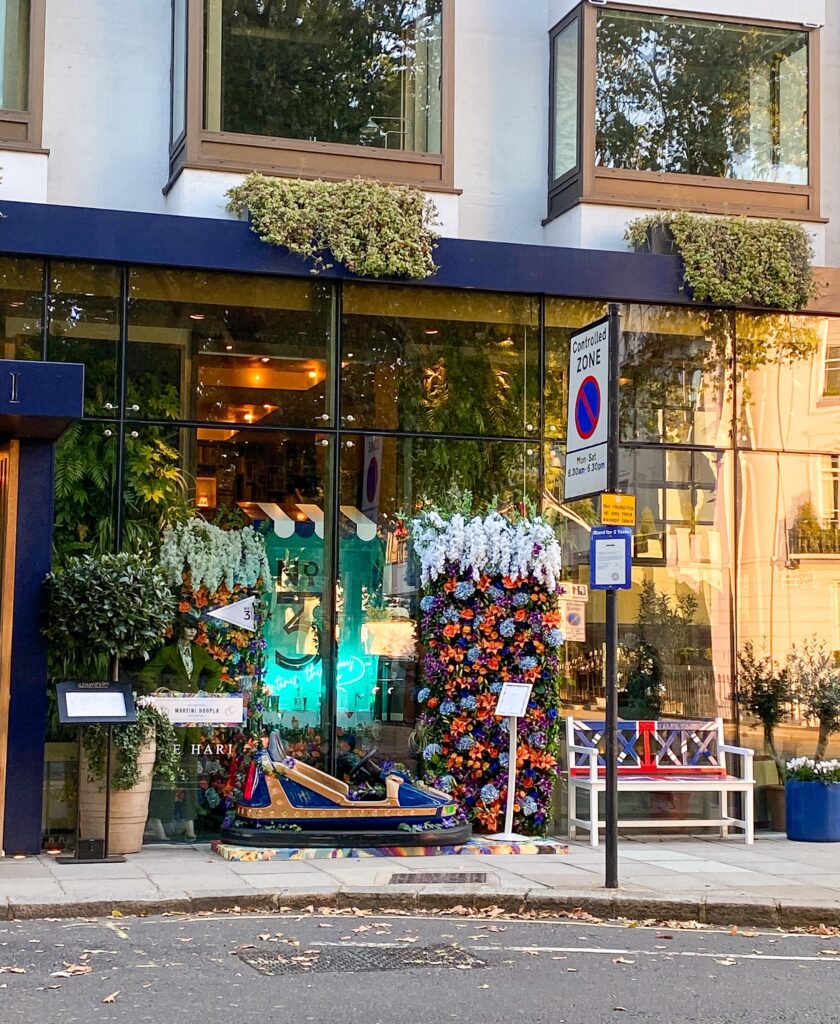 Errol Douglas
The Errol Douglas salon had this gorgeous elephant made from flowers and leaves.
Belgravia's Floral Carousel & Fortune Teller
Wandering around Belgravia, we found a floral fortune teller just outside Waitrose, and this wonderful carousel in a hidden courtyard.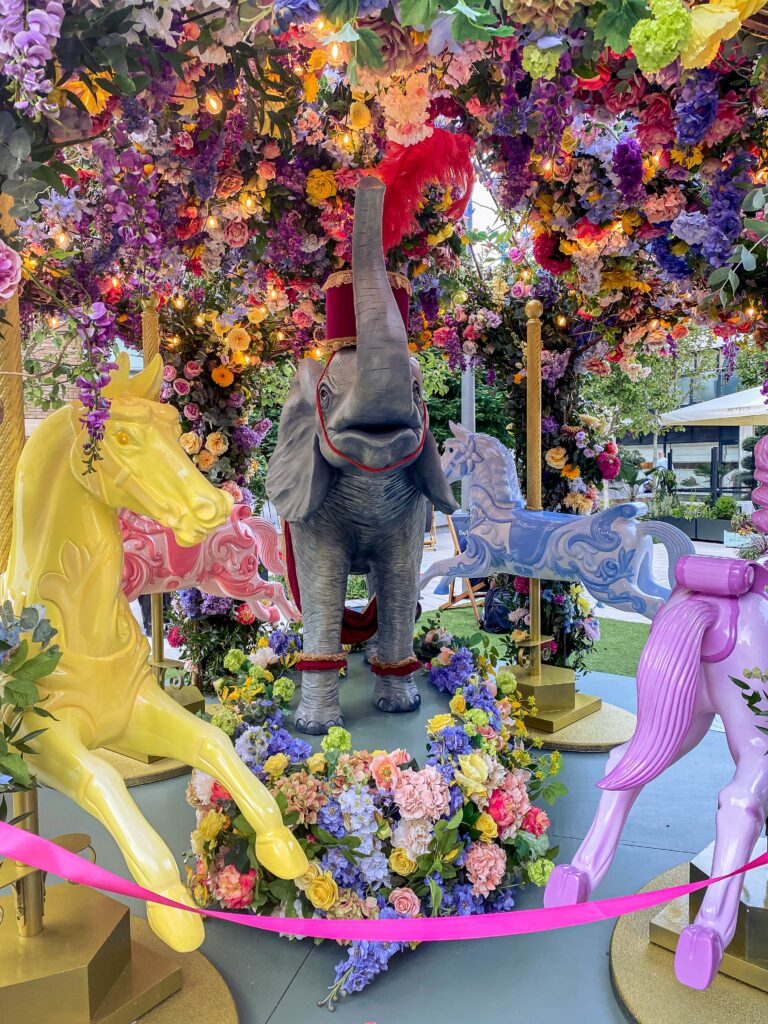 Judith Blacklock Flower School
On a quiet backstreet in Belgravia, we discovered this fun Punch and Judy stand, framed in colourful leaves, designed by the Judith Blacklock floral school.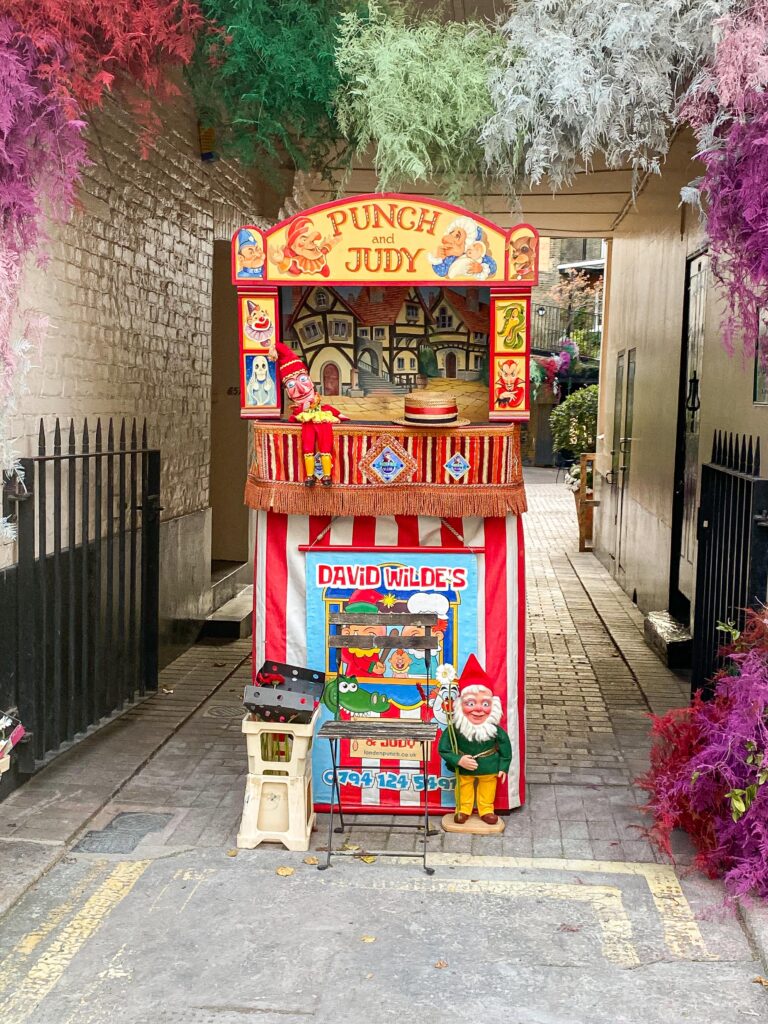 Chelsea Textiles
Wandering onto Pimlico Road you'll be greeted by many more fabulous displays by the row of shops that lines this street. Chelsea Textiles had these charming floral characters outside their storefront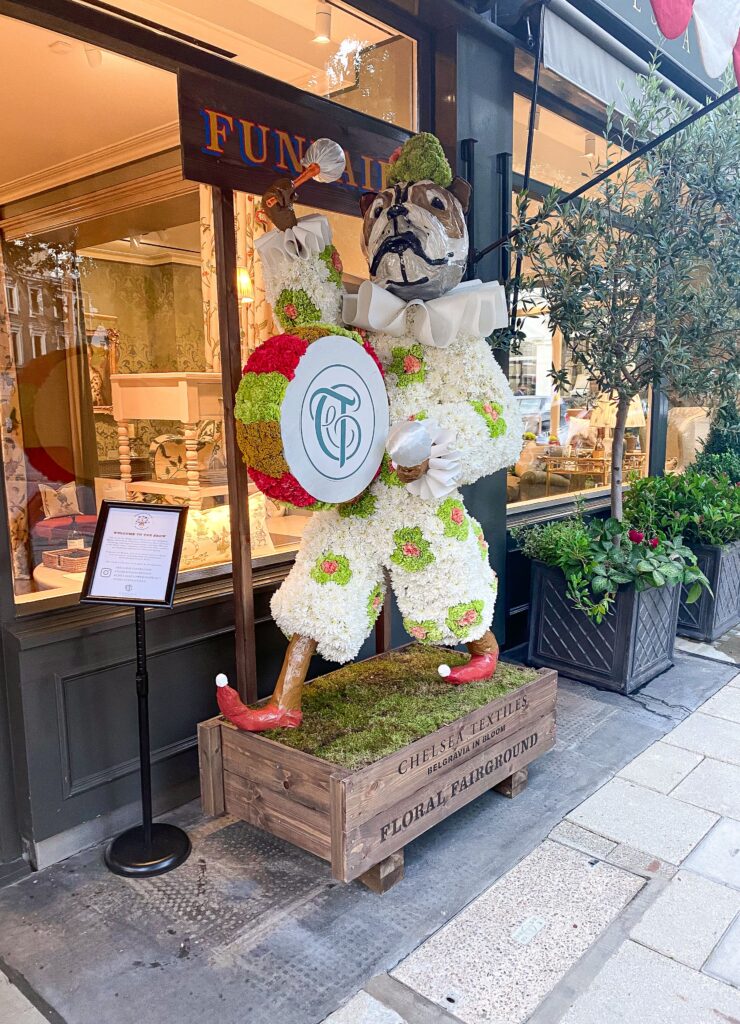 The Odd Chair Company
For those who loved the Helter Skelter in Eccleston Yards, you'll adore the smaller version The Odd Chair Company had displayed in their front window.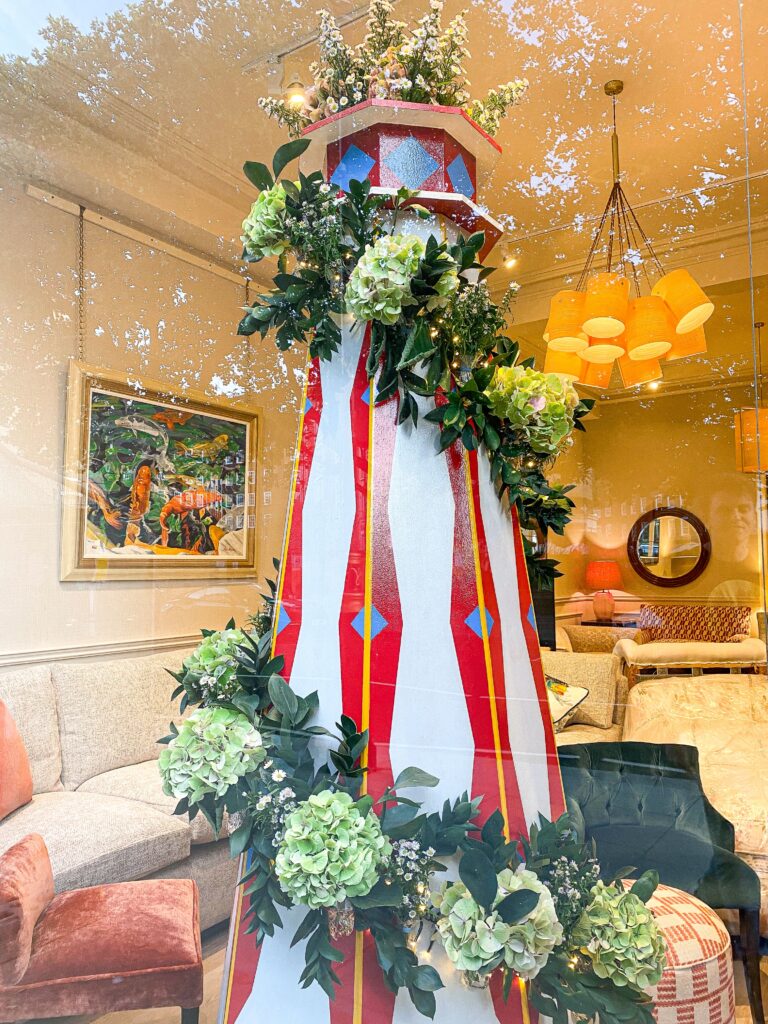 Fermoie
Centered in a display of luscious blooms, Fermoie has a charming collection of horse figurines in their shop window.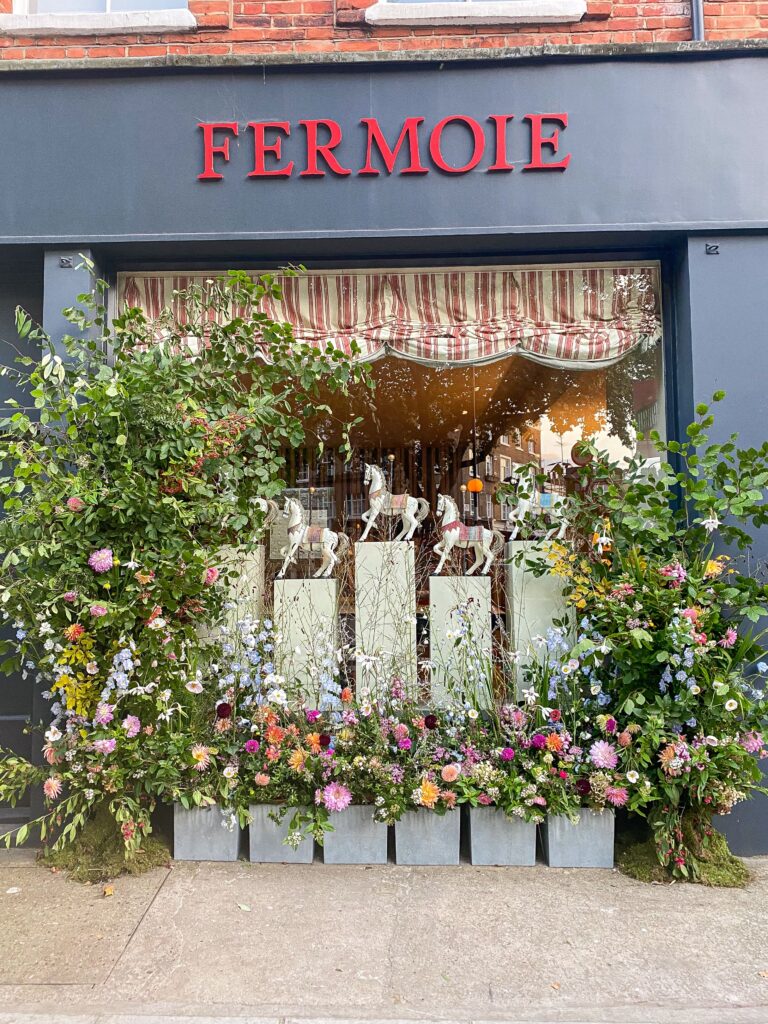 Bonadea
The last, but definitely not least, floral installation we managed to capture was this elegant swan at Bonadea.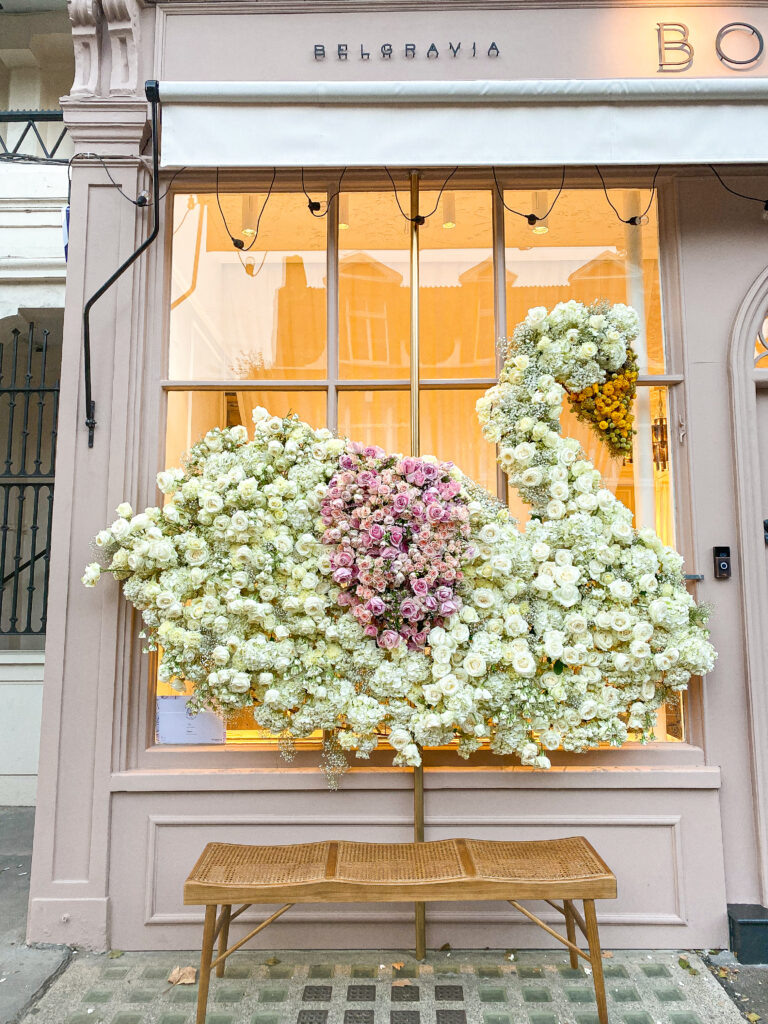 Which Was Your Favourite Display from Belgravia in Bloom 2021?
We adored seeing all the wonderful displays the shops and florists of Belgravia had worked on for 2021's Belgravia in Bloom! We'd love to hear in the comments which of the displays was your favourite!
About The London Eats List
We are an online blog that shouts about all things London. Our mission is to bring you the best in food, entertainment, and culture in the wonderful city. From the best free London museums, to the books set in London you should read, you'll find everything you need here!