Circolo Popolare has been an Instagram hotspot since opening in 2019. The combination of beautiful interiors and over-the-top but delicious food has seen it be a big hit. We went to the popular restaurant to see what all the fuss was about. Read on to discover our experience and whether you should be visiting Circolo Popolare yourself!
What is Circolo Popolare?
A restaurant in the heart of Fitzrovia, London, Circolo Popolare serves delicious Italian food. With their bottle lined walls and buzzing atmosphere it's a must visit Instagram restaurant in the city. Circolo Popolare is owned by the Big Mama group, who have three restaurants across London, including: Gloria and Ave Mario.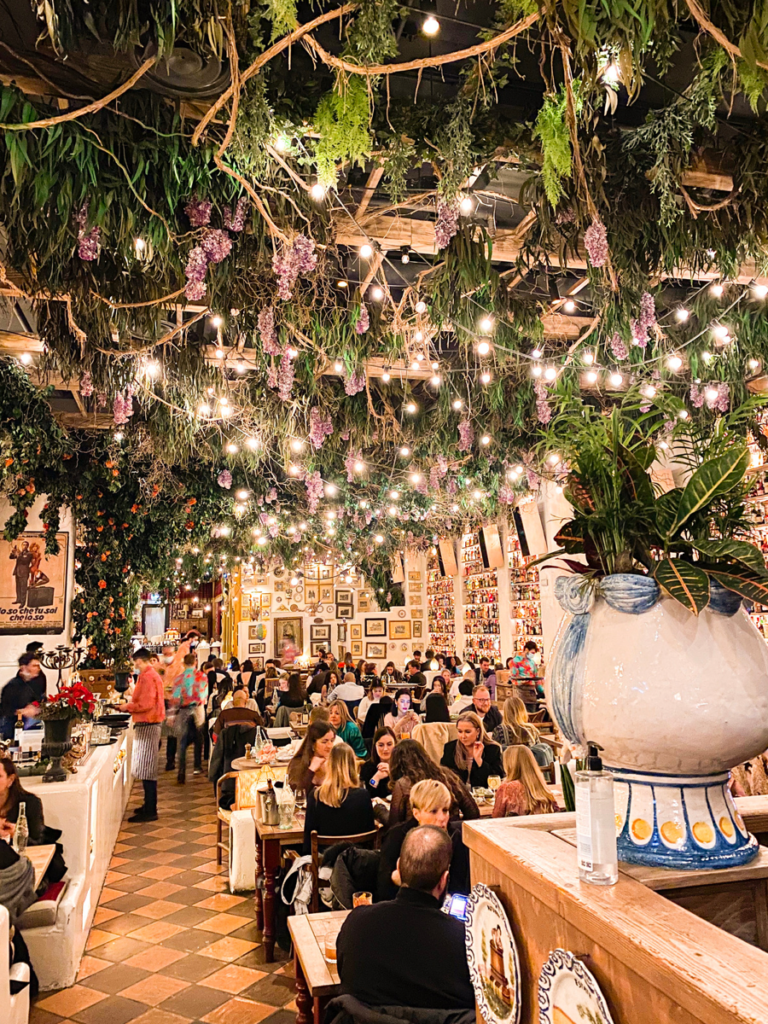 Booking Circolo Popolare
You can book this extravagant restaurant online. With bookings only going live a month in advance we recommend booking as soon as possible! We went on a Monday evening, booking about three weeks in advance and 9pm was the only available booking – showing just how popular this restaurant is!
How to Pronounce Circolo Popolare
Circolo Popolare is pronounced 'Cheer-colo po-poe-lar-ay.'
Is there a Dress Code?
The dress code at Circolo Popolare is smart-casual. If you're looking to get those insta-worthy pics you may wish to dress up a little and you certainly wouldn't be out of place!
Are Dogs Allowed in the Restaurant?
According to their website, Circolo Poplare does allow dogs! So you can take your furry friends along to your meal with you.
What's on the Menu at Circolo Popolare?
Circolo Popolare is an Italian restaurant inspired by Sicilian Trattorias. This romantic London restaurant is well known for its truffle pasta, carbonara, and humongous lemon meringue pie (all of which we tried)!
The menu is seasonal depending on what ingredients are available at the time, changing each month! From truffle churros to monkfish, and tiramisu to carpaccio, there's something on the menu to suit everyone at Circolo Popolare.
Have a Cocktail with Dinner
A nice dinner isn't complete without a yummy cocktail, and Circolo Popolare does not disappoint! With a wonderful selection of both alcoholic and non-alcoholic drinks, you'll find one you adore. Served in quirky glassware, including a boob mug, you'll want to get a snap of these unique cocktails to share on Instagram!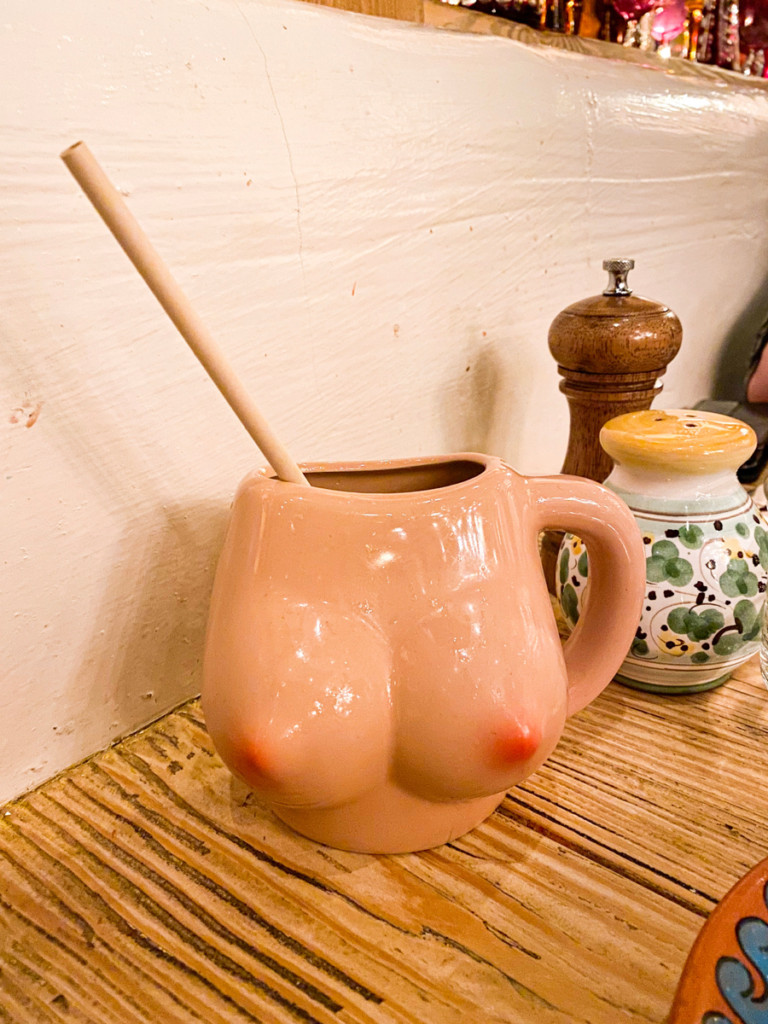 An Italian Restaurant with Instagram Interiors
One of the many reasons that Circolo Popolare has become such a sought after restaurant in London is due to their beautiful interiors. The walls are lined with arches filled with shelves of colourful bottles. In fact, there are 20,000 alcohol bottles lining the walls of Circolo Popolare! Now that's a lot of bottles! In addition to the colourful glasses, you'll also be treated to gorgeous floral displays hanging from the ceiling. You're sure to get a tonne of Instagram likes for sharing this pretty London restaurant!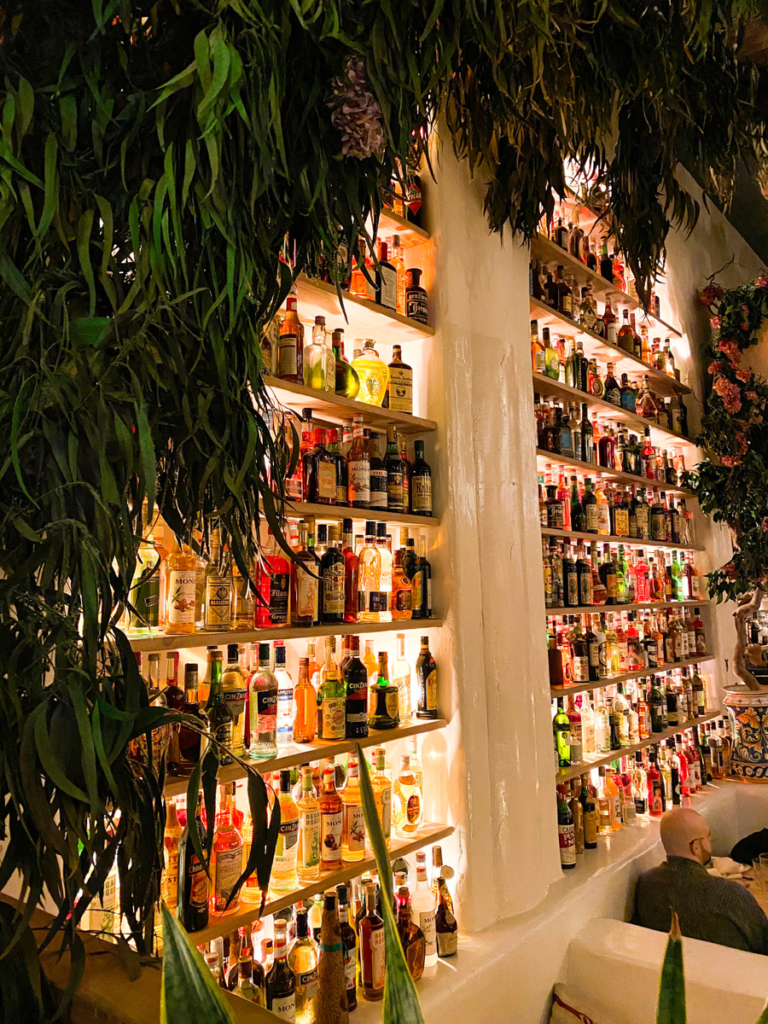 For those who prefer eating al fresco, you'll find that there are 60 seats outside at this restaurant too.
How to Get to Circolo Popolare
Located in Rathbone Place, Fitzrovia, the nearest tube stop to this restaurant is Tottenham Court Road. When you come out of the station, walk left along Oxford Street and take the first right turn, just after Primark. Circolo Popolare is a short walk up Rathbone Place on the left hand side.
Circolo Popolare Review
We booked this aesthetic restaurant about a month in advance and could only get the time of 9pm. This told us that it was very popular as it was a random Monday in January! When arriving at the restaurant we were seated in one of the booths at the side of the restaurant towards the back. The images we'd seen of Circolo Popolare online do not do the size justice – it is absolutely huge – and was full despite it being a weekday! The atmosphere was extremely lively in the restaurant, with the waiters singing for many people's birthdays.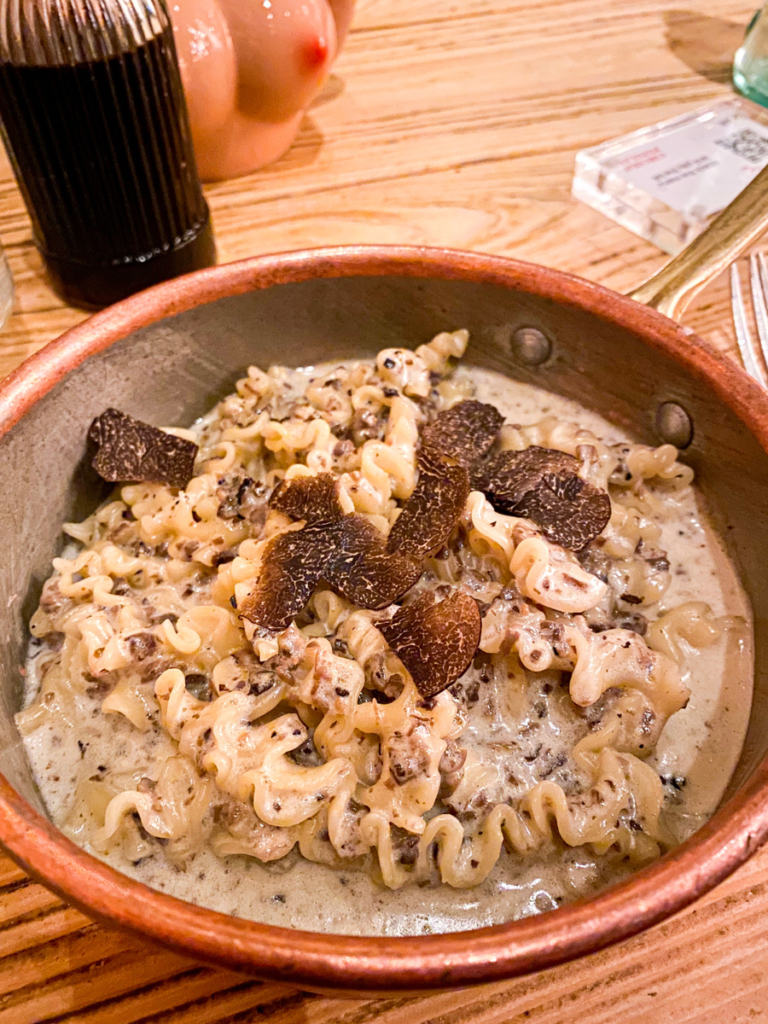 The most important part – the food! We ordered bruschetta and burrata to share between us for starters which were both delicious and we would most definitely recommend! We did also ask for the truffle churros but unfortunately these had sold out just before we ordered (an excuse to go back soon)!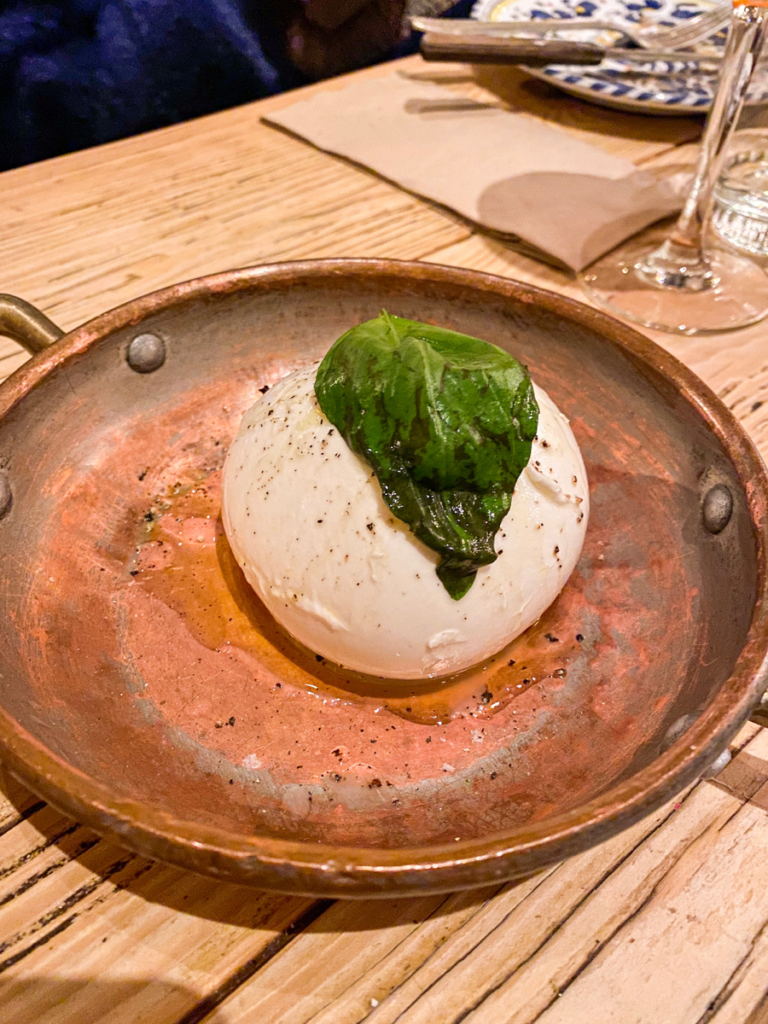 For mains, we tried the carbonara which has to be shared between two people. This was served from a giant wheel of cheese at the table, which just looked incredible! We also ordered the monkfish which was delicious. As well as their famous truffle pasta which most certainly lived up to expectations!
We all had cocktails as well which were equally as yummy as the food.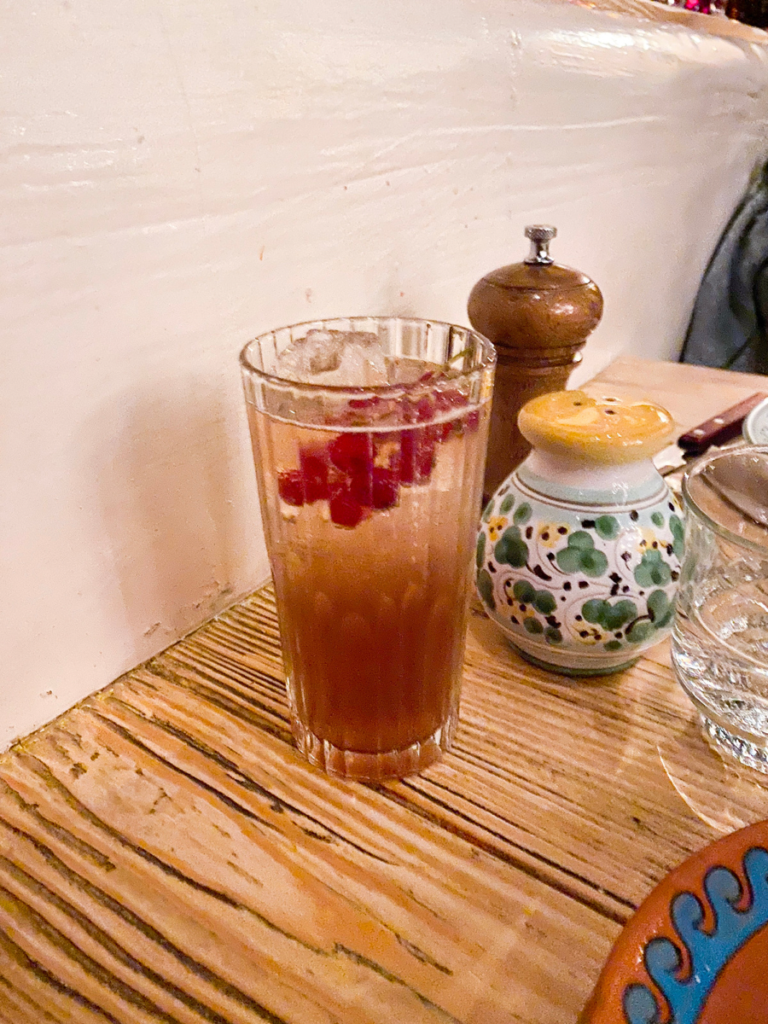 Circolo Popolare definitely isn't your everyday restaurant, but we didn't find it to be outrageously expensive either. It's a London eatery that we shall be returning to and would recommend you do too!
What to Do After Visiting Circolo Popolare
Located in Fitzrovia, and just north of Oxford Street, there's plenty to do in the area once you've finished your meal! If you don't fancy shopping on the most famous street in London, then head along Great Russell Street to the British Museum – this is one of London's many free museums and is a must do whilst in the city!
About The London Eats List
Whether you're a true Londoner or a tourist planning your trip to our wonderful city, we have the inspiration and knowledge for you. From the best London pancake spots, to the royal parks that provide London with green space, we have the London tips for you!