Sticks'n'Sushi is one of the most popular destinations in London for up-market sushi and yakitori. Across the city Sticks'n'Sushi has seven locations,so you're sure to have passed one on your adventures. We headed to the Victoria restaurant recently and can't wait to share with you our review of the food, atmosphere, and drinks!
What is Sticks'n'Sushi?
Sticks'n'Sushi combines the Japanese and Danish backgrounds of its founders, Jens and Kim Rahbek to create a unique menu featuring both sushi and yakitori sticks. A restaurant designed for both families and 'trend-setters,' this is not one to be missed when visiting London. If you're after a romantic restaurant in London to eat sushi, an evening date to Sticks'n'Sushi is just what you're looking for.
Sticks'n'Sushi London Locations
Boasting seven London restaurants, Sticks'n'Sushi is clearly a hit with the foodies in the city. You can find theses sushi restaurants in:
Wimbledon
Covent Garden
Greenwich
Canary Wharf
Victoria
Kings Road, Chelsea
Soho
Booking Sticks'n'Sushi
You can book a table at Sticks'n'Sushi via their website. When we went we booked only a couple of days before and had no trouble getting a table at a time that suited us. You can walk in to get a table, but they recommend booking beforehand to avoid disappointment.
What to Wear
Whilst Sticks'n'Sushi has no dress code, most people dress smart-casual or relatively formal. Wearing a nice jumper or shirt with jeans for men, and a blouse or dress for women is common to see in this restaurant.
What's on the Menu?
Serving a fusion of both Japanese and Danish food, Sticks'n'Sushi offers culinary delights. On the menu you'll find both fish, and meat and vegetable skewers. In terms of sushi, the menu boasts maki and nigiri, alongside small dishes, salads, and yakitori skewers.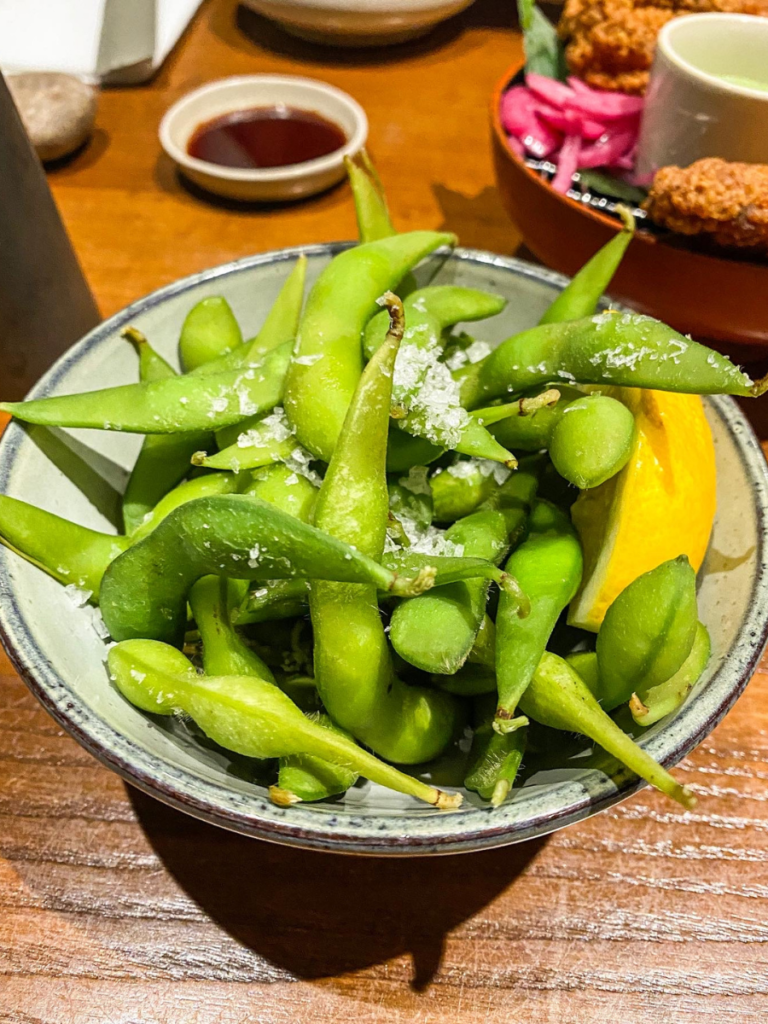 To truly experience a taste of everything this delicious restaurant has to offer, they have a number of set menus that can be shared amongst your table. However, if set menus are not for you, there is a range of smaller plates that you can either choose to share or indulge on all to yourself.
Cocktails, Wine, Sake, & Mocktails
If you're looking for a drink to accompany your meal at Sticks'n'Sushi, you won't be disappointed. The restaurant boasts a rich menu of traditional sake, alongside not only wine and cocktails. We decided to try the mocktails whilst we were here and found them to be a delicious non-alcoholic alternative.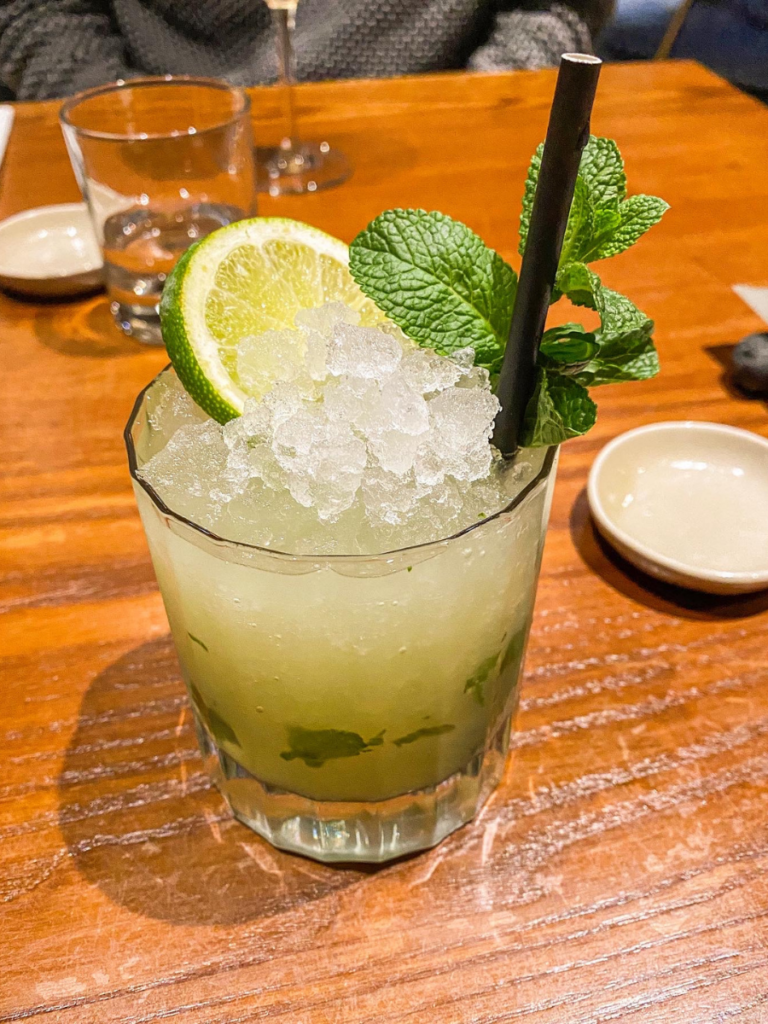 Sticks'n'Sushi Victoria Review
From the outside Sticks'n'Sushi in Victoria looked empty when we arrived, however we were quickly taken up to the main room which is located up a short flight of stairs, to a bustling restaurant. Our waitress was very attentive and friendly which made the experience very pleasant.
We opted for a set menu to share between the two of us which was just perfect. Our choice was the 'Perfect Day' which consisted of edamame with salt and lemon (this was incredible and we've since created it at home), Shake Tataki (salmon, kizami, and ponzu), Karange (chicken, pickled red onion, and wasabi caesar), Nigiri (seared salmon, tuna, and avocado with yuzu-kosho mayo), Maki (crispy ebi, spicy tuna and rice paper with duck and goma), Sticks (organic free-range pork, yuzu-miso, salmon teriyaki, and chicken meatballs with teriyaki). This was an excellent choice for us as it had a good mixture of both fish, vegetable, and meat dishes. As a pescaterian and meat-eater the mix of food balanced well allowing both of us to try a wide range of dishes.
We also decided to try out the desserts which are served in tiny pots so are a perfect sweet treat to round off the meal. We had the Crème Brulee and Matcha Financier.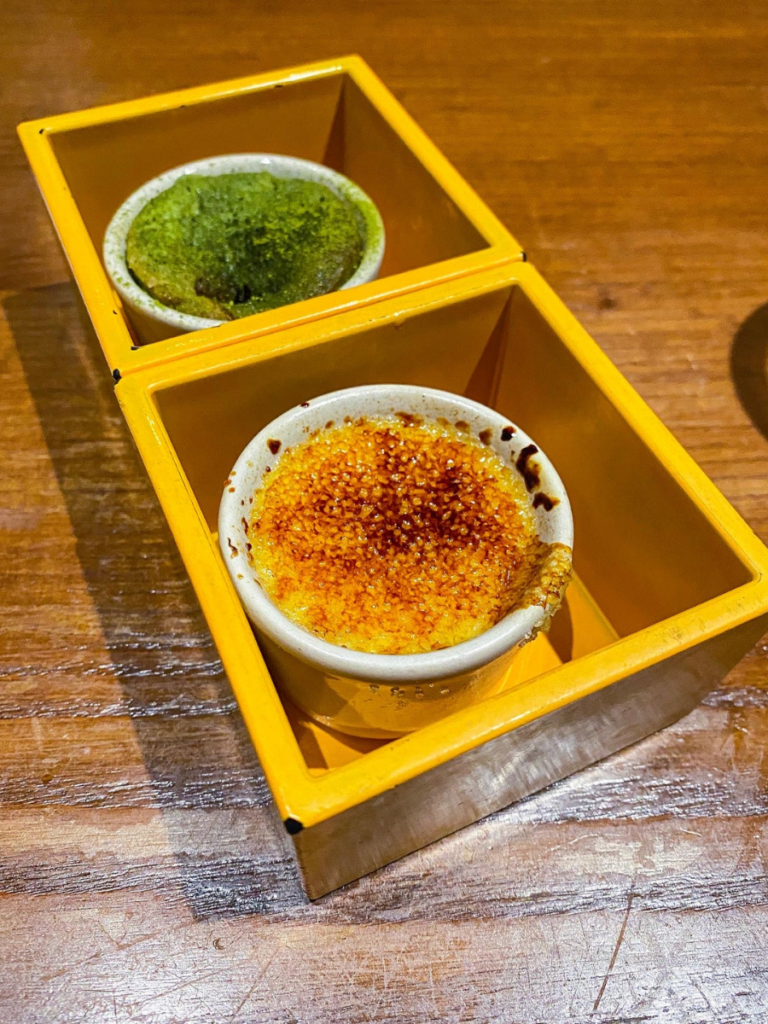 If you're attending Sticks'n'Sushi as a treat we'd definitely recommend a set menu, they're on the pricey side but you get a lot of food – all of which is delicious!
Sticks'n'Sushi Around the World
Sticks'n'Sushi is not limited to London restaurants, in the UK they also have locations in Cambridge and Oxford, both of which make for wonderful day trips from London. Beginning in Denmark, you can also visit their restaurants in Copenhagen and Berlin.
Introducing The London Eats List
We are a blog dedicated to everything London! Whether you're looking for London's Royal Parks to spend a sunny Saturday, or want to browse the city's independent bookshops, we have the guides for you!