Seeing all the Christmas lights in London is one of the best parts of living in the city at this time of year. From the much loved Regent Street angels that return to the skies every year, to the more elaborate lights that change each season, London has it all! Discover some of our favourite London Christmas lights below to see which you should be visiting!
How Long Does London Have Christmas Lights for?
Depending on the location, London's Christmas lights go up from November and remain in the city until the New Year. If you want to see the festive decorations we'd definitely recommend trying to see them during December!
Carnaby Street
Carnaby Street changes its London Christmas lights every year, and they are always used to raise awareness and money for an important cause. In 2021, the Carnaby lights are in association with Choose Love. Choose Love is a charity that supports refugees. The butterfly Christmas lights represent change and hope, two things central to the plight of refugees. Throughout the month there is also a pop-up shop where you can support the charity.
Connaught Village
Connaught Village's tree has been illuminated with LED hearts for much of 2021, but for Christmas, this quaint part of London has taken it up a notch. The tree has been adorned with quotes from London-based Christmas film, Love Actually in celebration of the season.
Oxford Street
The festive period wouldn't be complete without a shopping trip to Oxford Street. The Oxford Street lights add a magical atmosphere to London's busiest shopping street! In 2021, the sky between the shops has been illuminated by twinkling stars!
Bond Street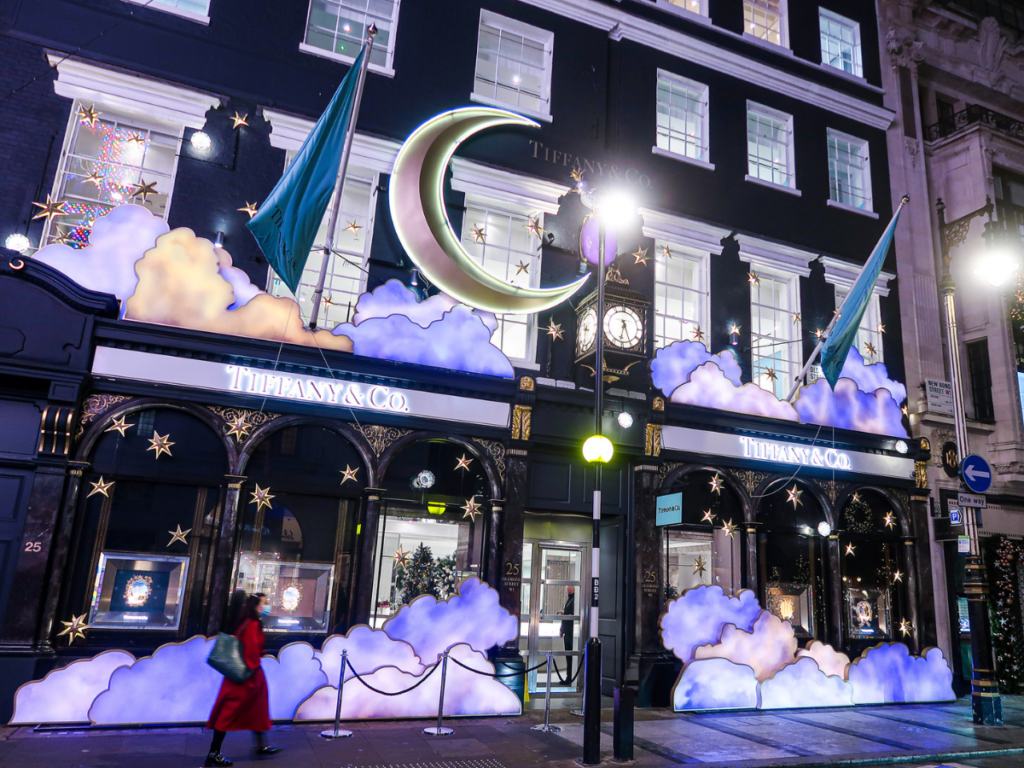 London's Christmas lights differ from traditional to modern and Bond Street takes a contemporary approach. The main Christmas lights are designed to look like peacock feathers, with the street differing between large single feathers and bowl-style lights made of lots of feathers. Down this luxury shopping street you'll also find incredible Christmas displays by shops including Cartier, Tiffany, and Stella McCartney.
Regent Street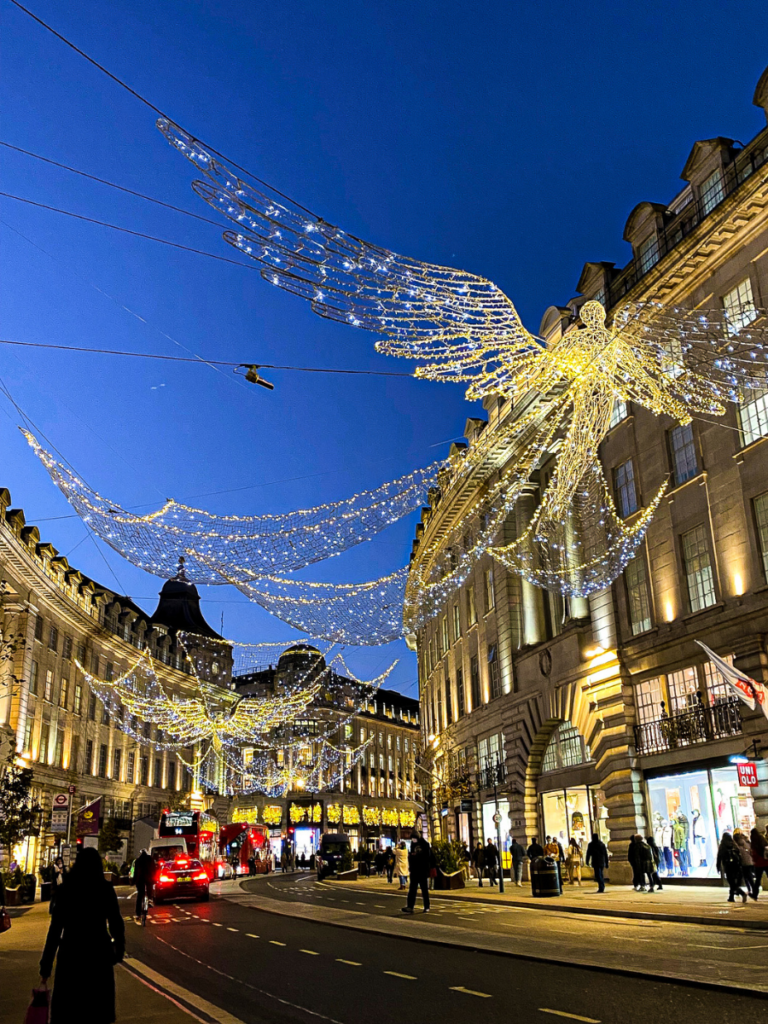 Regent Street is famed for its Christmas lights that light up London every year. The Regent Street angels have once again returned to the city and we, for one adore, adore them. The festive season wouldn't be complete without these London Christmas lights.
Fortnum & Mason
Fortnum & Mason's Christmas lights have transformed this iconic London shop into an advent calendar for December! Take a stroll here after dark to get the full effect of their stunning red display!
Harrods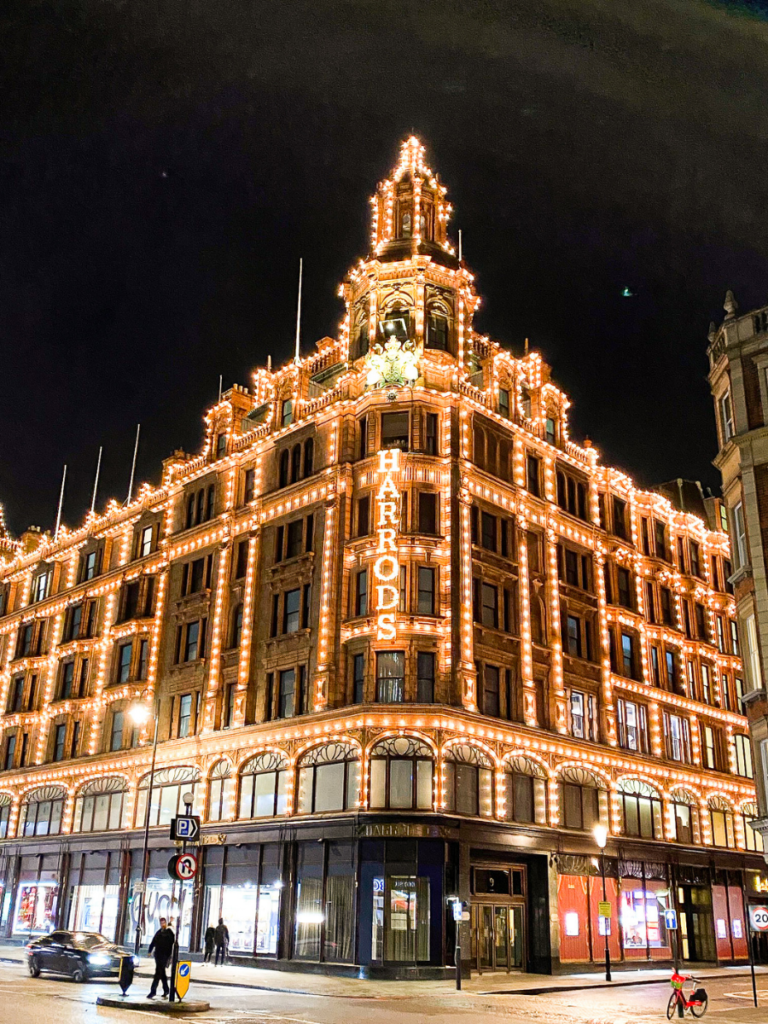 Whilst Harrods is lit up by roughly 12,000 lightbulbs each day, it seems all the more special at Christmas. With the addition of Christmas trees, you don't want to miss seeing these lights this Christmas in London.
Kew Gardens at Christmas
Each year Kew Gardens puts on a light trail for Christmas. Christmas at Kew is a magical event, with the standout of the show being the Palm a house display. The brilliant lights across the water make for a wonderful family outing each year. We couldn't think of a lovelier way to celebrate December than with these London Christmas lights!
South Bank Christmas Lights
Along with its London Christmas market, the South Bank also has a range of stunning Christmas lights. With the trees along the river lit up, this is the perfect place to take a winter stroll, admiring London's Christmas lights.
Covent Garden 
Covent Garden is an epicentre at Christmas, with shopping, food, and festive fun, it's no surprise people flock here! The Christmas lights in this London district come in the form of a gigantic Christmas tree, and mistletoe hanging from the indoor area.
Seven Dials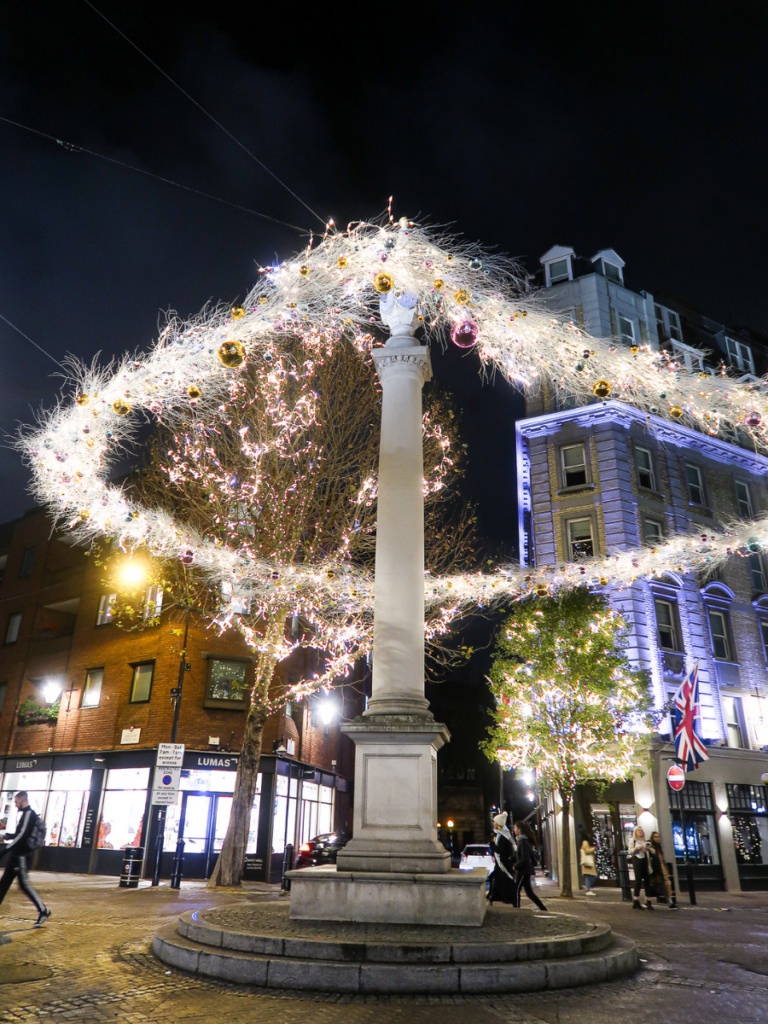 Just up from Covent Garden, you'll find Seven Dials. In 2021, the streets of Seven Dials have been lit up with white and pink decorations intertwined with lights. We love this modern take on London Christmas lights! Take a trip into Seven Dials market whilst you're here to see the independent London shops selling Christmas gifts.
Battersea 
Taking a journey south of the river, Battersea has seen some beautiful Christmas lights this year. With the tunnel leading from the bridge through to the riverfront area lined with sparkling trees and candy canes. You'll also find a large bauble sculpture and an impressive Christmas tree!
Chelsea
Chelsea has decorated its main shopping street, Kings Road, with festive crown lights. You'll also find a beautiful tree close to Sloane Square!
What's the Best Way to See London's Christmas Lights?
The best way to see the Christmas lights of London is to get walking! We created a list of all the lights we wanted to see at the beginning of the season and every time we knew we'd be close, we'd add a walk onto our trip to visit! Another fabulous way to see the lights would be to try and get the front row seat on a double decker bus – this could be particularly magical to see the Regent Street angels or Oxford Street stars!
However you choose to see London's Christmas lights, we know you'll be as impressed as us by what this wonderful city has to offer!
Introducing The London Eats List
We are a London blog, bringing you all the best of things to do, eat, and see in the Big Smoke! From London's best markets, to all the free museums in London, we've got you covered! We'd love to hear from you about places we should visit, or London businesses to feature on The London Eats List!