Pimlico Fresh is a local cafe in the heart of London neighbourhood Pimlico. Offering breakfast, brunch, and lunch, this is the perfect spot for those wanting a relaxed bite in this part of the city. It's a small cafe with a few tables inside and a few outside underneath their awning. It tends to be most quiet first thing in the morning – at other times of day expect to be waiting for a table – or order takeaway to eat at home or in a local park.
Table of Contents:
Where is Pimlico Fresh & How to Get Here?
Pimlico Fresh is on Wilton Road, in Pimlico. This road runs straight down from Victoria Station (the side with Wicked on) to Pimlico's main highstreet. It's about a 5 minute walk from Victoria station so it's very easy to get to. You could also walk from Pimlico station which would be roughly 7-10 minutes to walk from.
If you'd rather take the bus you can get the 43, 134, and 634 to Wilton Road. Alternatively get the Uber Boat to Millbank and take the 15 minute stroll to the cafe.
The Menu at Pimlico Fresh
Pimlico Fresh is a perfect location for either brunch or lunch with the menu leaning towards these meals.
You'll find the likes of french toast, avocado toast, English breakfasts, and eggs on the menu for brunch. At the counter you'll also find an array of pastries and cakes perfect as a treat for breakfast!
If you're after a heartier meal for lunch, you'll be treated to quiches, salads, pies, lasagne, and sausage rolls. For an on the go food option, choose from their range of sandwiches and toasties, from a tuna melt, to beef brisket – there's something for everyone here.
Alongside the food, Pimlico Fresh also offers delicious coffee and freshly pressed juices.
Our Review of Pimlico Fresh
We went to Pimlico Fresh for brunch with friends on a Saturday in the summer – which meant sitting outside on the tables was the perfect option! As ever this popular spot was extremely busy and we managed to grab a table outside as another group were leaving. We'd attempted to eat here before with no luck as the tables were full – and ended up across the road in the equally great Hatch 77.
On this occasion when we managed to get a table we opted for a range of breakfast/brunch options. With one of our party opting for a classic croissant with butter and jam – the pastry was flaky and buttery, and we'd highly recommend this as an option – particularly if you cannot get a table as you can get one to go.
For a cooked breakfast, we opted for French toast, with caramelised banana, crème fraiche, and maple syrup. The portion was extremely generous – we couldn't quite finish it! The French toast was cooked to perfection, with the caramelised bananas done perfectly – they weren't too chewy as we've experienced with this dish in other restaurants!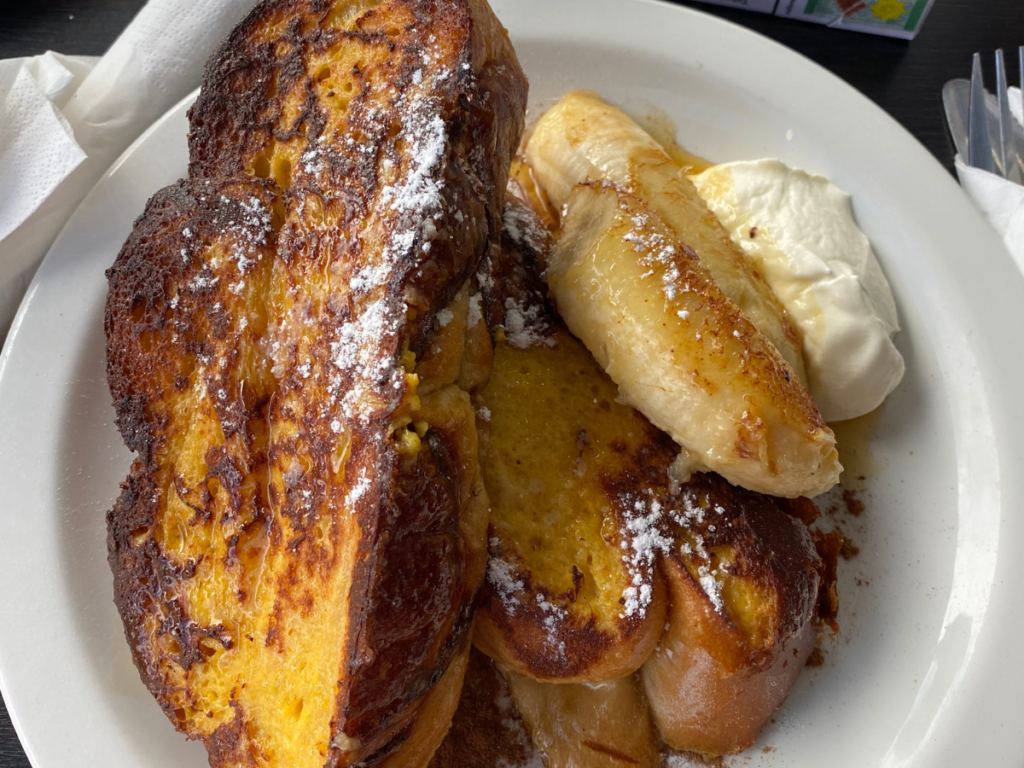 The star of the show however, had to be the freshly squeezed orange juice. Which we'd highly recommend if you're passing this spot. It was extremely citrussy – and although quite expensive (at the time it was over £5) it was definitely worth it to feel refreshed on a hot summer's morning!
If you happen to be in the area and can get a table, we'd really recommend you spot by this neighbourhood gem!
What to Do in Pimlico After Your Meal
Pimlico is a very residential neighbourhood with few tourist attractions. However, that doesn't mean there aren't lots of things to do in this quiet part of town.
Blue plaques – London has a vast number of blue plaques that detail who of note lived there, stayed there, designed the building etc. Pimlico has some really interesting blue plaques including one for former Prime Minister Winston Churchill.
Tate Britain – The Tate Britain is one of London's free museums, home to some extremely famous paintings including Ophelia by Sir John Everett Millais, as well as works by Francis Bacon and David Hockney.
Charity Shopping – The Shopping area around Pimlico Fresh has some of the finest charity shops in London. Perfect if you're looking for designer goods at a discounted price.
Pimlico is also home to some of London's most beautiful architecture, with the white stucco buildings designed by Thomas Cubitt in the 1800s.
About The London Eats List
We are here to help you plan the best trip to London and get the most out of what our wonderful city has to offer! Whether you're looking for an area guide to Victoria, or on the hunt for the best pancakes in the Big Smoke – we have the details you need!