There's nothing spooky about London's Halloween food offerings! From delicious sweet treats in the form of ghosts and ghouls, to tasty pumpkin based savoury dishes, you can even go all out with a Halloween afternoon tea. Read on to find our top picks for celebrating October in the city this year.
Table of Contents:
London's Sweet Halloween Treats
When it comes to Halloween, London's cafes and bakeries go all out. Whether you're more a fan of cute cookies, or scrumptious cakes, you'll find a Halloween offering here for you.
Humble Crumble's Famous Pumpkin Crumble
The ultimate Halloween food in London is Humble Crumble's Pumpkin offering. Presented in mini gourds, ideal for getting that perfect Instagram shot. The crumble inside is a spiced pumpkin and apple crumble – delicious! You can find Humble in two of London's best markets: Spitalfields and Borough markets.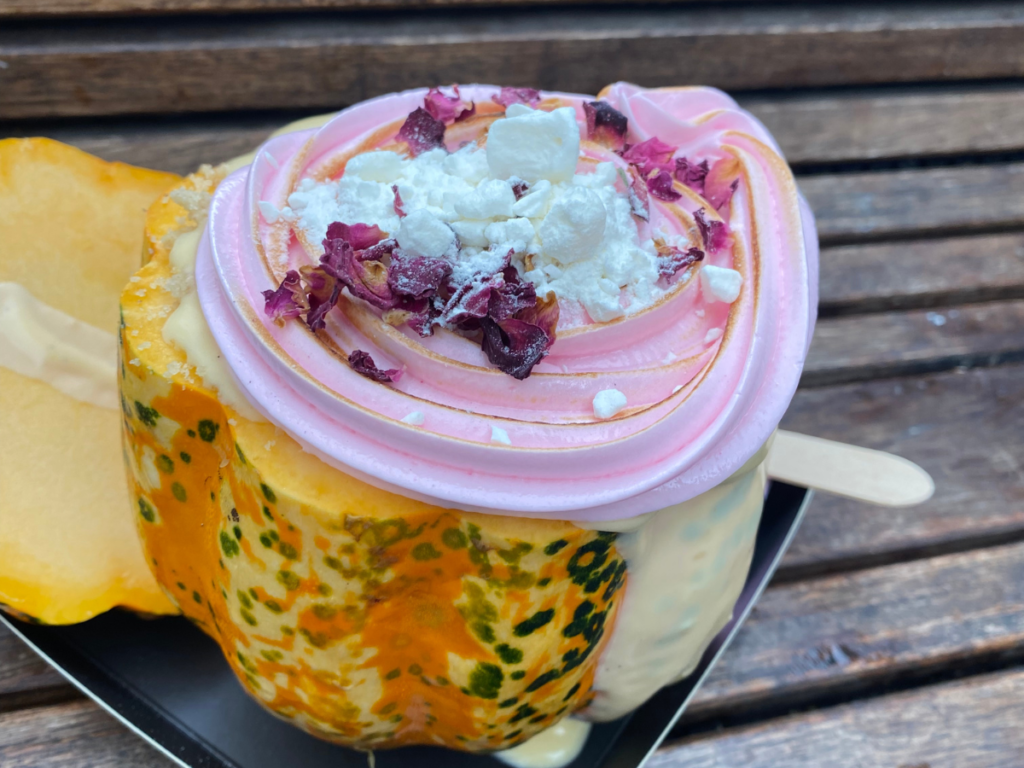 Peggy Porschen Iced Biscuits & Cakes
Peggy Porschen is the bakery of pink dreams, and their Halloween food does not disappoint. Taking on the more whimsical aesthetic of the season you can find pumpkin topped cupcakes, as well as spooky ghost biscuits! Find their locations in both Chelsea and Belgravia.
Ole & Steen Ghost Mallows
Ole & Steen is one of our favourite café chains in London. Each year they have a selection of Halloween treats, our particular favourite is the Ghost mallow. Which is a biscuit base, a tall marshmallow, covered in white chocolate. Why not pick one up when exploring Belgravia this Halloween?
Fortnum & Mason Halloween Treats
Fortnum & Mason have their Halloween iced biscuits, sweets, and treats on sale as early as September so you can stock up right in time for spooky season! From chocolate coffins, to skulls, there's something for everyone. The iced biscuits are the perfect thing to hand out to guests at a Halloween dinner party.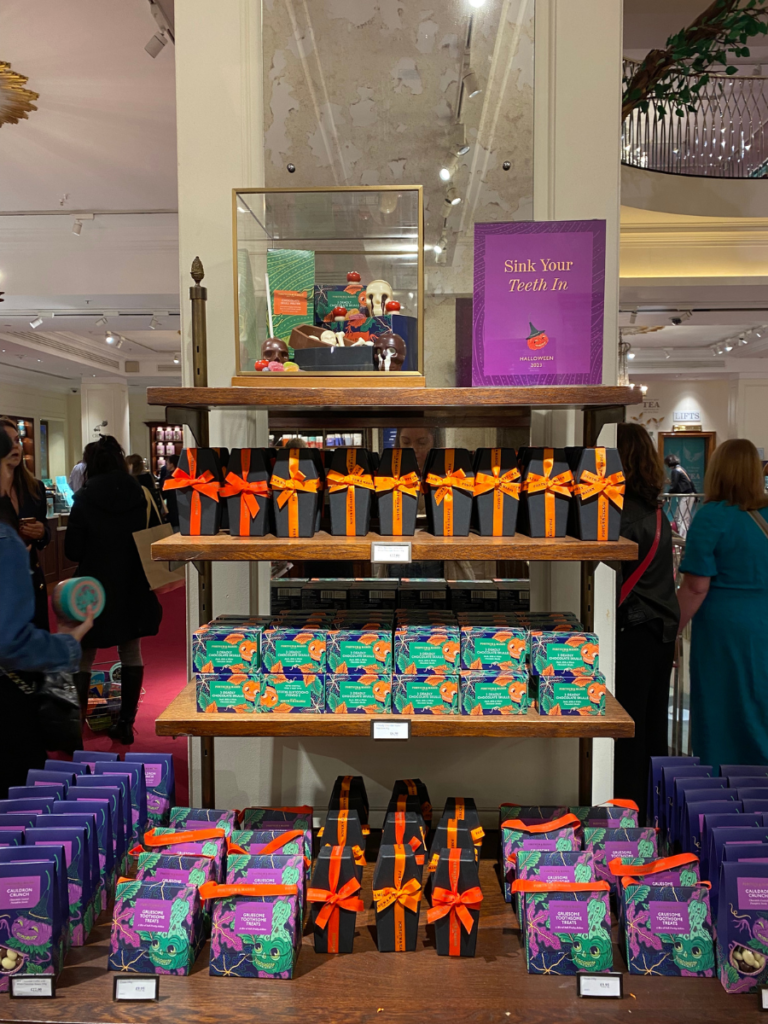 Spooky Chocolates at Charbonnel et Walker
Located on the iconic Bond Street, London chocolatier Charbonnel et Walker have a whole host of Halloween chocs to pick from. We popped in to see what's on offer and have got our eyes on the cute ghost lollipop chocolates – perfect for little ones! The individual ghost chocolates are perfect if you're looking to put together a Halloween themed chocolate box.
Lanka's Pumpkin Crème Brulee
Located in Camden, Lanka is a French Patisserie that has a sophisticated addition to the London Halloween food scene. Here you'll discover a yummy pumpkin crème Brulee – what more could you want from October themed food!
Donutelier Spooky Doughnuts
Donutelier have not disappointed for their first year in London for spooky season. With three different Halloween doughnuts on offer, we went for the pumpkin crumble one, which has this delicious spooky carved pumpkin face on top to decorate!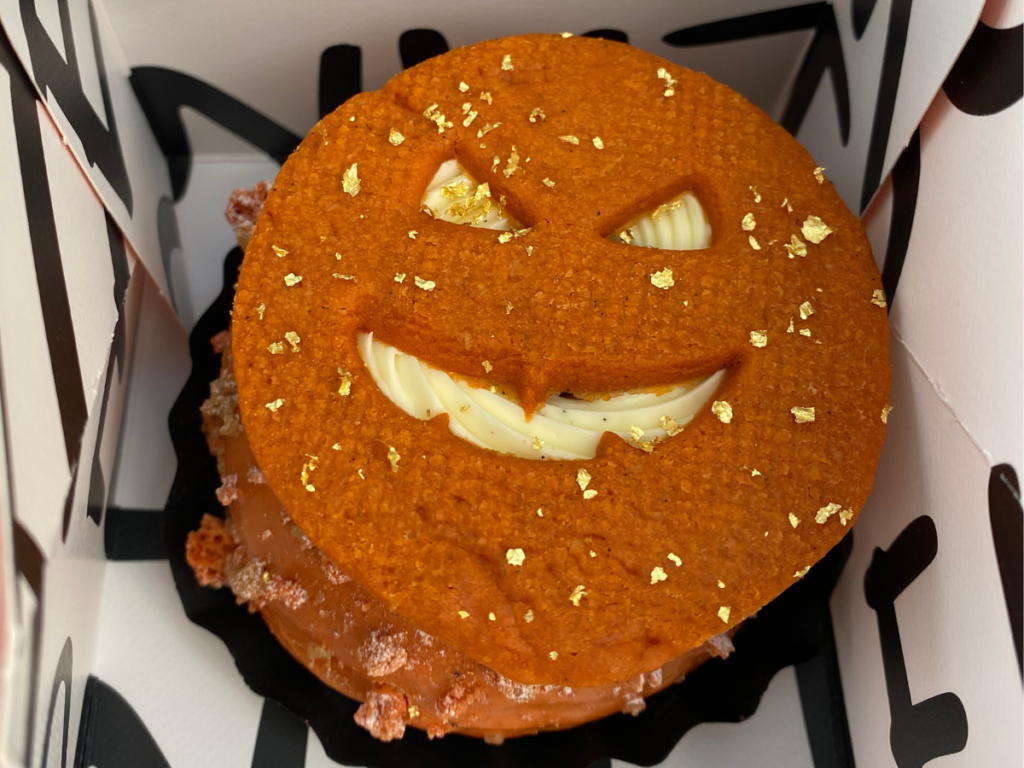 Gaya's Spiced Pumpkin Cakes
A cake studio based on Putney Bridge Road, Gaya serves up delicate pumpkin cupcakes each October. Bite into one and you'll experience the lovely flavours of pumpkin pie spice, with a brown butter maple cream cheese topping – in a wonderful pumpkin shape!
Hummingbird Bakery's Spooky Range
Hummingbird is a popular cake shop across London and they go to town with their London Halloween food dishes! From decorated cakes, to whoopies with vampire teeth – this is a great one to take the kids to!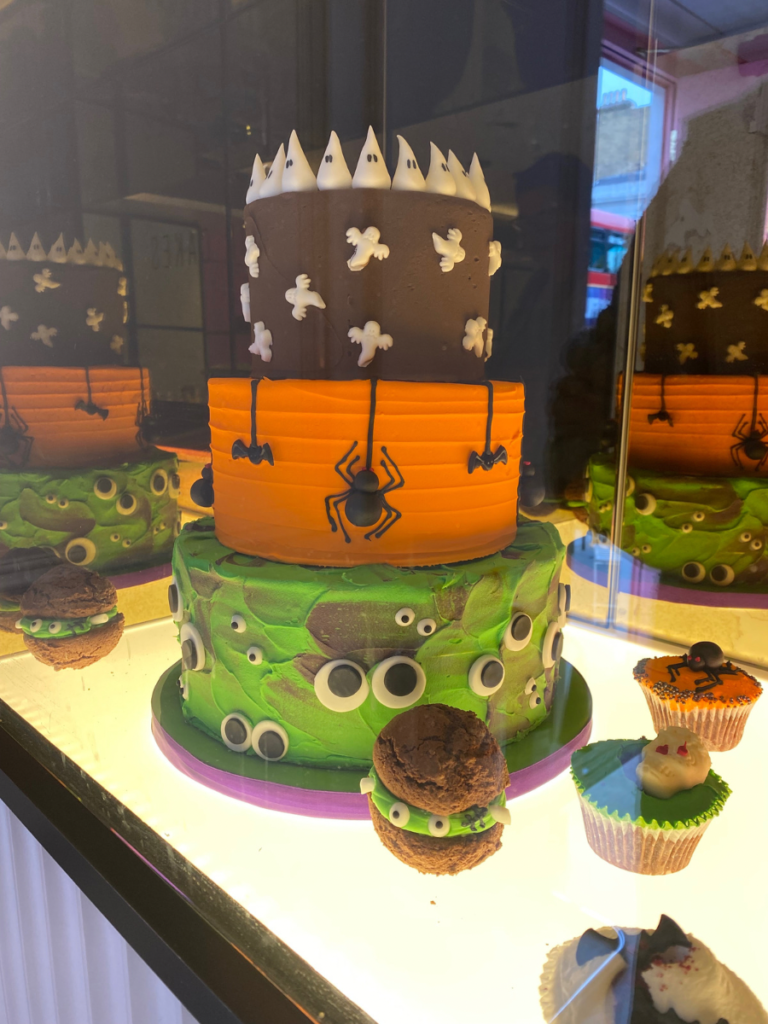 Whipped London 3D Pumpkin Cookie
A spectacular piece of London Halloween food is Whipped London's pumpkin cookie. This is a spiced cookie in the shape of a pumpkin, stuffed with butsand dulce de leche! We got our one from the Covent Garden shop that opened earlier in this year.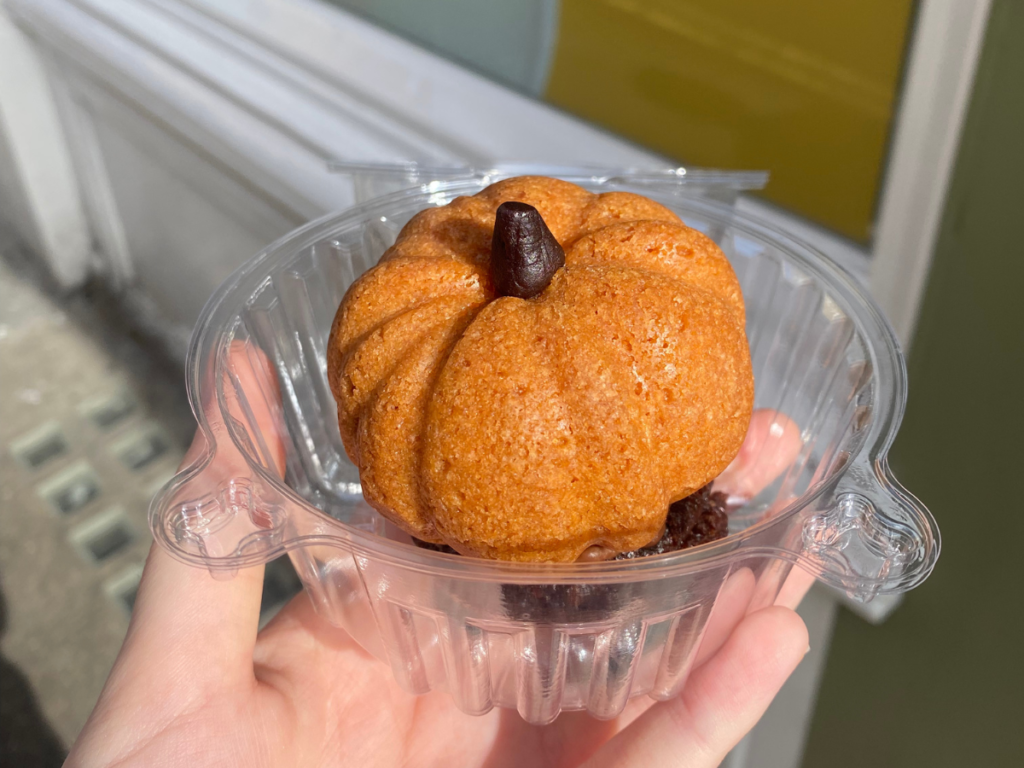 Cutter and Squidge Halloween Sweets
Another London bakery that you'll recognise the name of is Cutter and Squidge. They're serving up monster inspired cookies, biscuits, and brownies in their Soho located cafe during October!
Chin Chin Pumpkin Ice Cream
If you're still craving London's ice cream offering despite the drop in temperature then Chin Chin is for you. Their London Halloween food special is a pumpkin seed ice cream – why not have it on top of their delectable sticky toffee puddings? Find Chin Chin in both Soho and Camen.
OhLaLa Macarons
If you're after a London made Halloween treat that can be delivered right to your door – then look no further than OhLaLa macarons. They are offering up pumpkin, ghost, and skull shaped and decorated macarons!
Biscuiteers Spooky Iced Biscuits
Biscuiteers are London's favourite iced biscuit cafes and they've ramped up for Halloween this year. They have a whole range of spooky biscuit treats, from gift boxes of biscuits with everything from black cats to skeletions. You can also opt for the smaller biscuit pops that boasts cute ghost and pumpkin designs! These are super yummy! You can also book into their DIY Icing Cafes and ice your own Halloween biscuits in London. You can find Biscuiteers in both Belgravia and Notting Hill.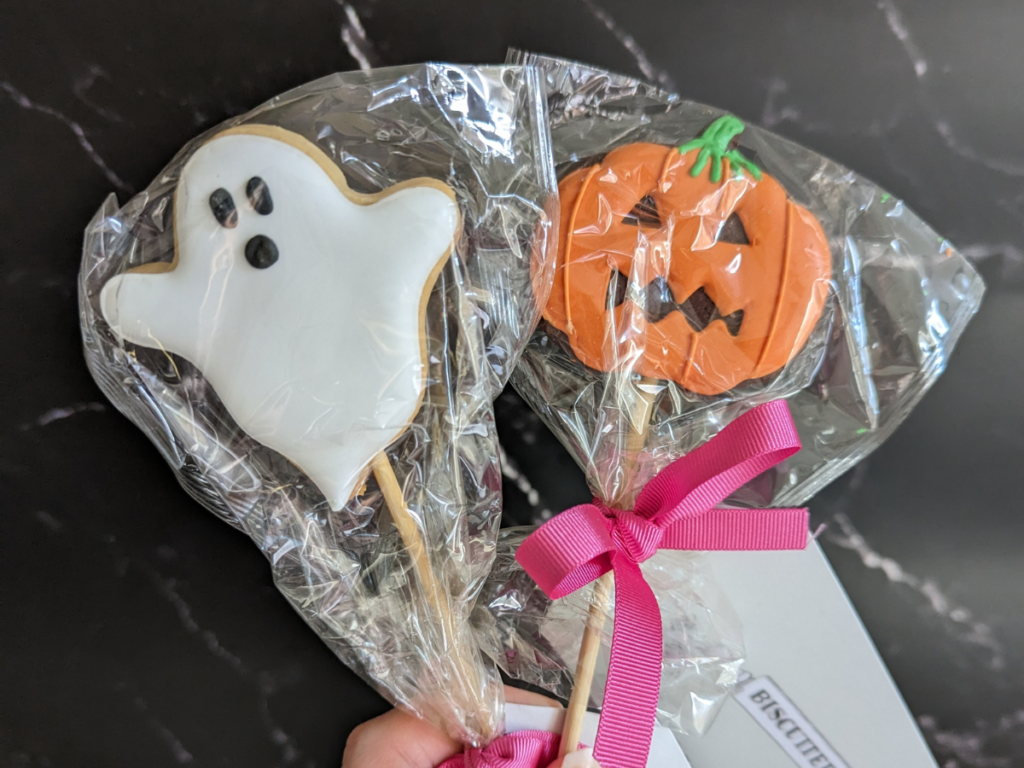 Spooky Savouries in London
We appreciate that not everyone has as sweet a tooth as us! So here are the best Halloween inspired savouries available in London this spooky season!
Bottomless Halloween Lunch at Bar + Block
Steakhouse Bar + Block in Aldgate are running a Halloween bottomless brunch from the 26th-31st October 2023. For food you choose a 2 course meal from the lunch & early dinner menu. This is paired with bottomless Prosecco or beer, or you can upgrade to treat yourself to Halloween special cocktails! The menu costs £36pp.
Latua Pasta Pumpkin Tortelloni
La Tua Pasta in Borough Market are serving up pumpkin and ricotta tortellini and we couldn't think of anything tastier to dig into this October!
Halloween Themed Afternoon Teas in the City
Nowhere does afternoon tea as well as London, and spooky themed tea-time treats are no exception. Here are our top picks for Halloween afternoon teas in London.
Peggy Porschen Halloween Afternoon Tea
Peggy Porschen always has a seasonal afternoon tea to delight in. In the Halloween season you'll be treated to autumnal cupcakes complete with cute ghosts!
Brigit's Bakery
A classic red bus tour of London and ghostly afternoon tea all in one? Brigit's Bakery is the one for you. Between the 21st-31st October, Brigit's are running a Halloween tea on their bus whilst showing you around London's landmarks.

Wizard Tea in a Georgian Hotel
Pimlico Hotel, the Georgian House has rooms dedicated to being a wizard. When you step in you'll be thinking you've entered right into the wizard in world! Their wizard afternoon tea is perfect for Halloween , especially if you're with kids. They have a normal, vegetarian, and vegan menu.
Halloween Wizard Afternoon Tea
The Wizard Exploratorium is running Halloween wizard afternoon teas. Get ready for an afternoon of spell casting, tea brewing, and spooky inspired treats! You'll find this spot on Greek Street.
About The London Eats List
We are here to inspire every one of your trips to London. From the best Chocolate Shops, to in-depth guides to areas such as London Victoria, we have everything you need!