Pimlico is a residential area in South West London that's perfect for a lazy Sunday afternoon explore! We've spent time exploring the area, finding the best things to do, see, and eat so you don't have to. Our guide walks you through the unmissable sites of Pimlico and shows you the very best places to replenish with great food, coffee, and drinks.
Table of Contents:
Where is Pimlico & How to Get Here
Pimlico is located in South West London, nestled just North of the River Thames. It is bordered by Vauxhall to the South, Victoria and Belgravia to the North, Chelsea to the West, and Westminster/Millbank to the East.
Getting to Pimlico is extremely easy as Victoria Station is its nearest large train terminal, which is on the Victoria line, as well as the Circle and District Lines.You can also get the tube to Pimlico Station which is on the Victoria line, or walk up from Vauxhall Station.
You'll also find plenty of bus routes that either come into Victoria Station or into Pimlico itself if you're travelling locally.
The History of Pimlico
Pimlico was built in the Regency Era, with the Pimlico Grid designed by Thomas Cubitt beginning to be built in 1825. The area Pimlico is built on was once called the 'Five Fields' and was owned by Mary Davies – this land extended to Belgravia. She also owned much of what is now Mayfair!
Mary went on to marry Lord Grosvener (the modern Lord still owns much of the land in this area of town). Lord Grosvener contracted Thomas Cubitt to build housing in the area, as people moved further out of the city after the plague and Great Fire of London. The land was extremely marshy and had to be stabilised using soil from St Katherine's Dock.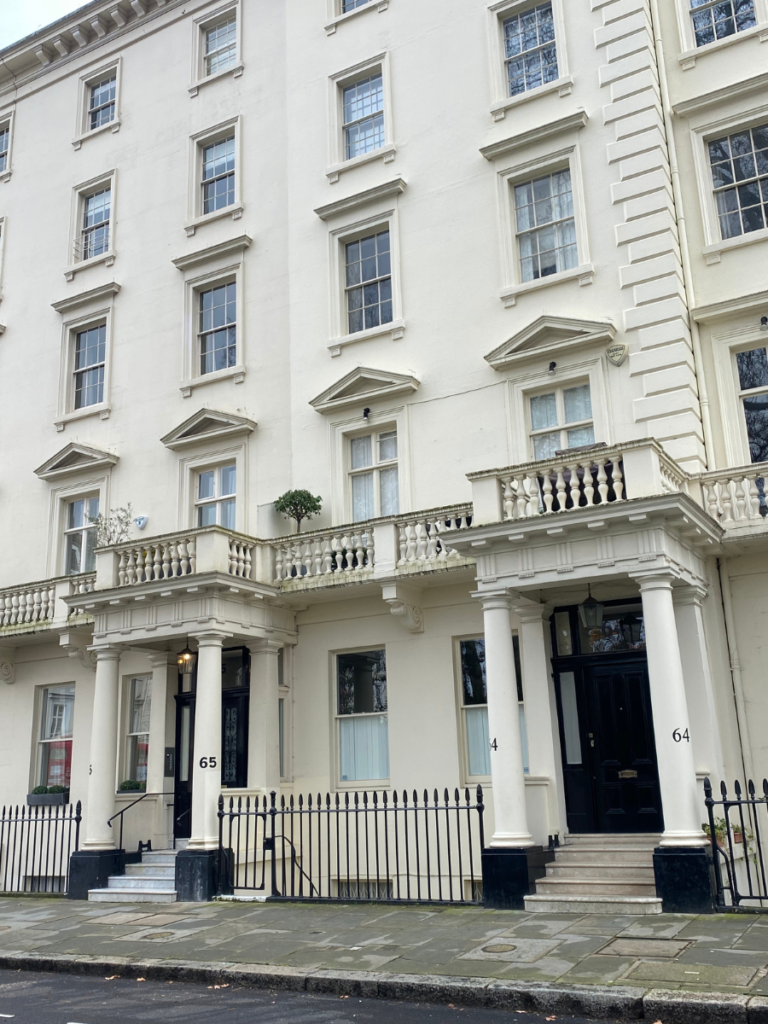 Cubitt designed two main streets: Belgrave Road and St George's Drive, as well as two garden squares: Warwick Square and Eccleston Square. His housing is easy to spot as grand white stucco houses – once they all would have belonged to singular families, but today they're home to flats popular with well off families and young professionals.
Close to Westminster, since the 10th century Pimlico has been popular amongst those working in government. With Dolphin Square, a development of upmarket flats being built. It's still home to MPs today.
Much of Pimlico survived the bombings in the war, although some parts were demolished. These areas, such as Churchill Gardens, saw redevelopment in the 1950s – with much different architecture than the classic grid.
Things to Do in Pimlico
Whilst Pimlico is primarily a residential area, that doesn't mean there isn't lots to do and explore in this quaint part of London. We've put together our favourite things to do when we're in Pimlico to help guide your visit.
Explore History & Culture
Pimlico is rich in history and boasts important cultural artefacts. For those interested in discovering this element of Pimlico here's what we recommend doing:
Blue plaques – Pimlico has its fair share of blue plaques to learn more about the important people who once lived in this area. A highlight is that of Winston Churchill's at 33 Eccleston Square.
Architecture – Take a wander around the Pimlico grid to truly take in the wonderful stucco architecture. You might even catch some influencers using the houses as backdrops for theirInstagram photos!
Tate Britain – Lovers of art will appreciate the Tate Britain which sits just on the edge of Pimlico on the river at Millbank.
Garden Squares Weekend – Whilst the garden squares in Pimlico are private to residents of the squares, for one weekend each year they are open to the public! Make sure you book tickets to the Garden Squares Weekend to get a look inside these gorgeous gardens!
Four Telephone Boxes – Opposite the Marquis of Westminster you'll find a line of four K6 telephone boxes, which are Grade II listed.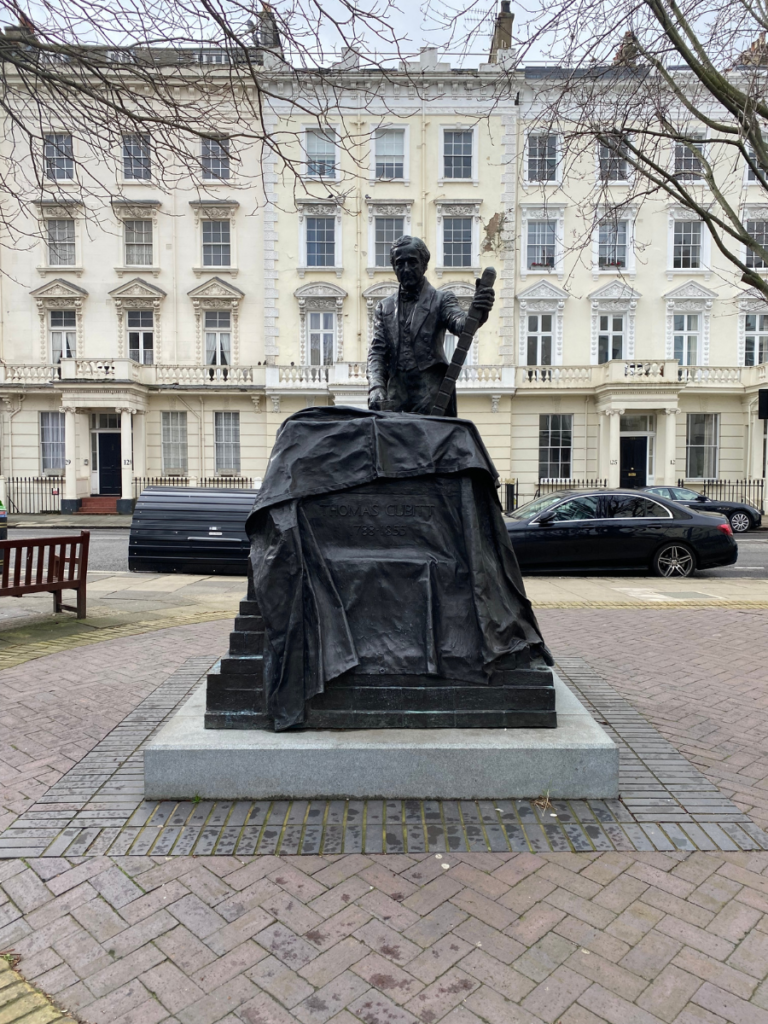 Specialist Shopping
Pimlico has a number of cute shops to explore, as well as a handful of specialist shops perfect if you're looking for something specific! Here are our favourites:
Rippon Cheese – Opened in 1999 Rippon Cheese is a staple of the neighbourhood. Specialising in French and European cheeses, this is a truly spectacular place to visit. The owners and staff are extremely knowledgeable and always on hand to help you put together a fantastic cheese board!
Mr Cad Cameras – Opening in 2013, but having moved from Croydon where it had been for many years, Mr Cad is a camera specialist. Their window of old cameras never ceases to amaze us! They are open Monday to Fridays.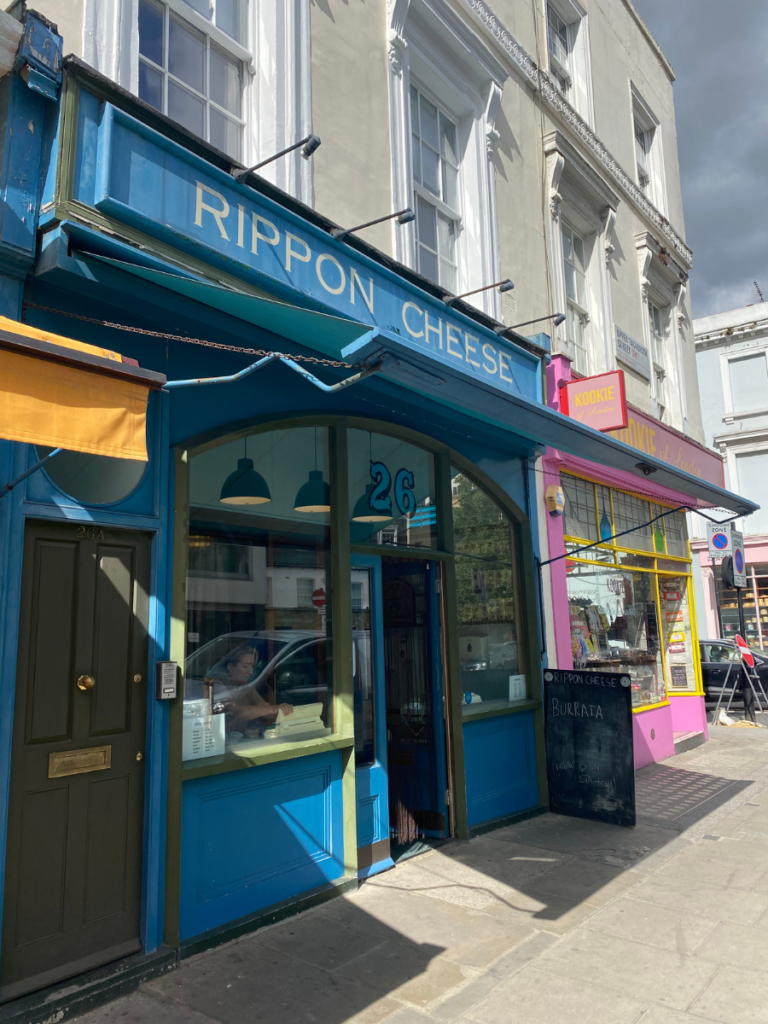 Charity Shop Exploring
Pimlico is home to its fair share of charity shops which never cease to have treasures in! As a relatively well off area, if you're looking for designer gear at a discount then the Pimlico charity shops are the place to be!
Where to Eat in Pimlico
As a dense residential neighbourhood, there are plenty of places to eat in Pimlico. Whether you're looking for a sit down meal or a light bite at a cage. Here are just a few to try out:
Tachbrook Market – Come by on a weekday lunch time to try out street food from Tachbrook Market. From Thai, to Lebanese, to Korean – there's something for everyone here!
Pimlico Fresh – Pimlico Fresh is the most popular of the area's cafes. With delicious breakfast, brunch, and lunch – we highly recommend this spot (that's if you can get a seat)!
Rosa's – For a delicious sit down Thai, make sure you stop by Rosa's Cafe on Wilton Road.
Hatch 77 – Hatch 77 is another of our favourites for brunch with friends, from French toast, to English fry ups – there's something for everyone here & we#ve always managed to get a seat!
Artist Residence – For brunch or dinner we recommend making a reservation at the Artist Residence. This is tucked away on one of Pimlico's back streets.
Cacio & Pepe – A restaurant from MasterChef Italy finalist Enrica Della Martira, this is an Italian fine dining spot for romantic evenings.
Pimlico's Pubs
A London neighbourhood would not be complete without a good pub or two, and Pimlico is no exception. Here are our favourite places to get a pint:
The Warwick
The Marquis of Westminster
Queen's Arms
Cask Pub & Kitchen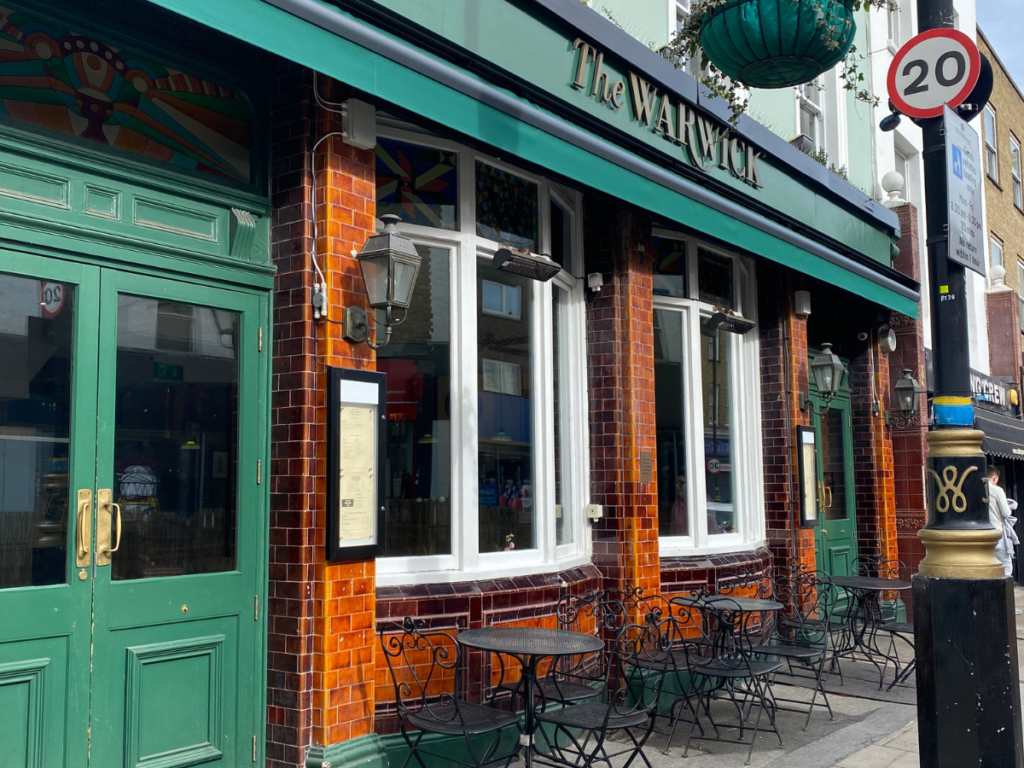 Where to Stay in Pimlico
Pimlico is a perfect Central London location to stay in if you're visiting on holiday. Away from the hustle and bustle, but a short walk from some of the most iconic landmarks. Staying in Pimlico you'll be 15 minutes from Buckingham Palace and Westminster Abbey, and with great transport links to the rest of the city! Here are some recommendations:
Artist Residence – A small chain of boutique hotels with each room decorated by a different artist.
Easyhotel – A collection of affordable hotels from EasyJet.
Belgrave Road B&Bs – There are lots of B&Bs on Belgrave Road which offer an affordable option for accommodation in London.
Pimlico FAQs
We answer the most commonly asked questions about Pimlico!
Is Pimlico Posh?
Pimlico is a relatively well off area of London. But that doesn't mean that everyone who lives here is posh! Compared to surrounding areas of Chelsea and Westminster you'll find the rent in Pimlico to be on the more affordable end of Central London housing.
What is Pimlico Famous For?
Pimlico is famous for the Pimlico Grid – and the film Passport to Pimlico (which was actually filmed in neighbouring Lambeth rather than the area itself.
Is Pimlico Safe?
Pimlico is home to families and professionals which makes it quite a safe area. As with all of London we'd recommend keeping your eyes on your belongings to avoid pickpockets.
Is Pimlico in the Congestion Charge?
As of the time of writing (May 2023) Pimlico is not in the congestion zone, however the roads surrounding it – including Vauxhall Bridge Road are – so be careful not to stray if you plan to drive!
Is Pimlico a Good Place to Live?
Pimlico is a safe area, with great transport links, and tends to be quiet at night which makes it a great place to live.
What Line is Pimlico On?
Pimlico is on the Victoria tube line. 
Why is Pimlico Called Pimlico?
It's not entirely known why Pimlico became to be known as Pimlico, however the story is told that the name came from a Publican in Hoxton called Ben Pimlico famed for his nut-brown ale.
About The London Eats List
We aim to help you get the most from your trip to our wonderful city. From the London landmarks you cannot miss, to the most romantic restaurants for special occasions.