London Victoria is probably best known for its huge train station, but have you ever explored the area beyond its walls? We've got the low down on the best things to do, see, eat, and drink in Victoria. 
Table of Contents:
Where is Victoria?
Victoria is located in Central London, and borders Chelsea, Westminster, Belgravia, and Pimlico. It's extremely close to London landmarks that you may wish to see on your trip to the city. Even Buckingham Palace is just a short walk from this central London location.
How to Get to London Victoria
Victoria Train Station is one of London's main termini as so is easily accessible from all over the country and city. With direct train lines to Brighton and the South of the UK, you'll find it super easy to get here. Whilst the London tube lines that stop here are the Victoria Line, as well as the District and Central lines.
For connections around the country Victoria coach station is a cheap and easy way to get to this part of the city. 
The History of London Victoria
The area of Victoria in London was named after the station, which was built in 1868, and actually got its named from nearby Victoria Street – not Queen Victoria as many may assume. The area is primarily commercial properties and offices, with John Lewis having their HQ located very close to the station.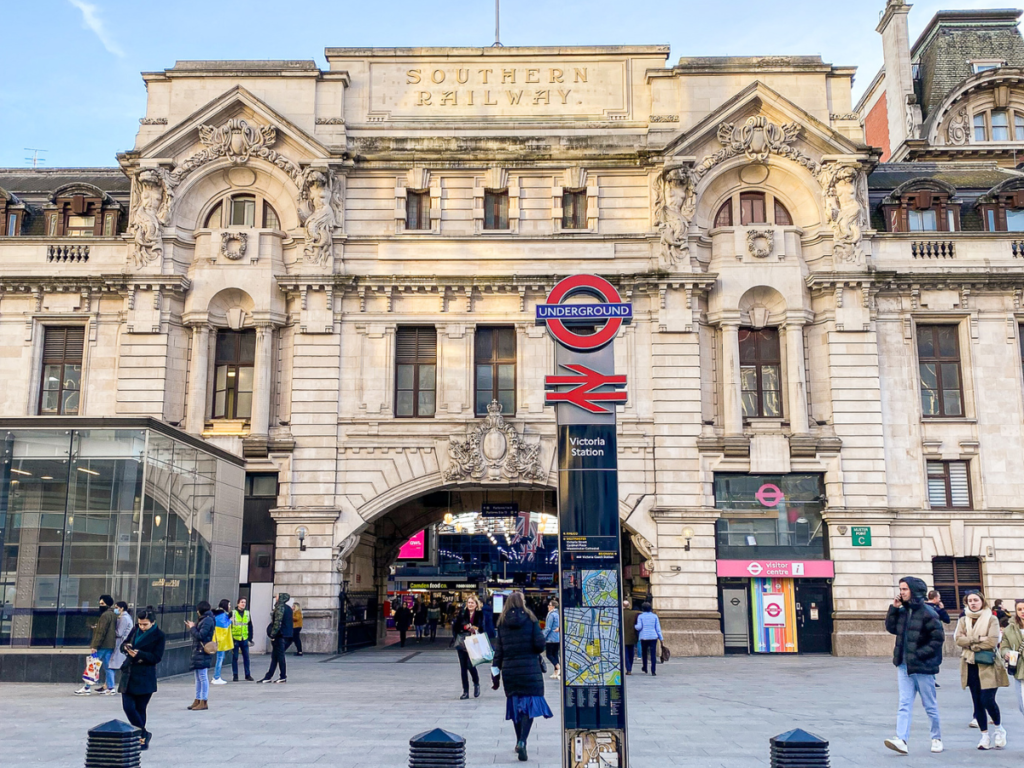 Things to Do in Victoria
As a primarily commercial area there are lots of things to do in London Victoria. From theatre, to top tier restaurants, to seeing historic landmarks. Here's our run down on things to do in Victoria.
Landmarks in London Victoria
Whilst Victoria seems like a very modern area, there are a few landmark spots you may wish to see when you're here.
Buckingham Palace
The first, whilst not technically in Victoria, is so nearby that it can't not be on this list. This being Buckingham Palace, perhaps the most iconic building in the whole of London. Whilst no longer the Queen's official residence, this palace still plays an important role in London, being one of the top tourist attractions.
Westminster Cathedral 
The largest Catholic Cathedral in the UK, this is the seat of the Archbishop of Westminster. Construction of this magnificent building was completed in 1903 and was designed by John Francis Benttley in the neo-Byzantine style. The striped red and white stone is echoed in residential housing that surrounds the area.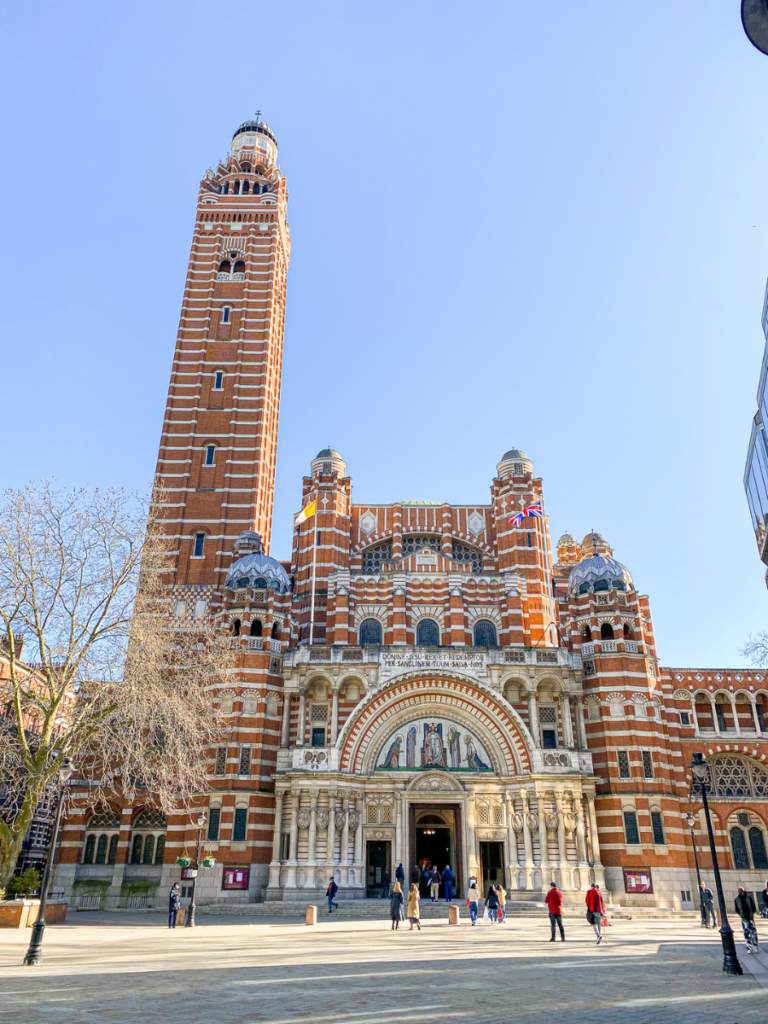 Little Ben
Little Ben sits just outside the station on a cross junction. Built in the same design as Elizabeth Tower (coloquically known as Big Ben), this clock tower was built in 1892 by Gillet & Johnston of Croydon. It was actually removed from the site in 1962, before being restored and reinstated in 1981. This clock tower is Grade II listed on the National Heritage List for England.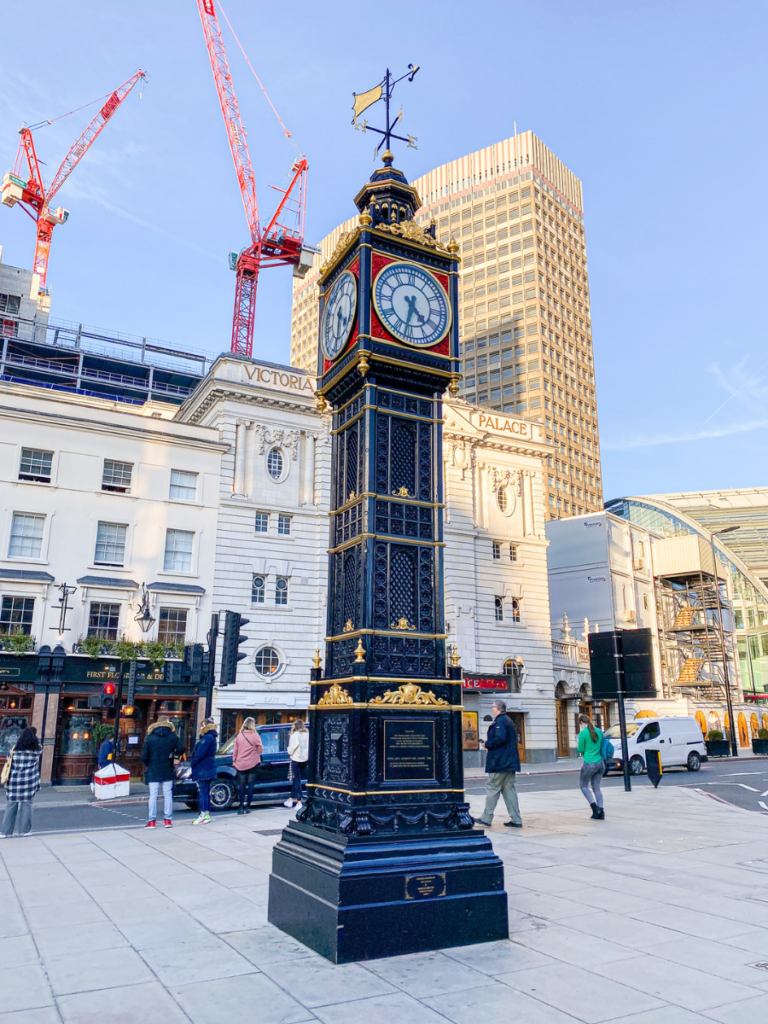 Theatres in Victoria, London
If theatre is your thing then Victoria is the place to be in London if you want to do something a little different then the West End. With some iconic theatres and shows, here's what you can expect to watch in Victoria.
Hamilton at Victoria Palace Theatre
Located opposite the station, Victoria Palace Theatre began  was built in 1910 on the site of a former tavern, hotel, and music hall. From 2005 the theatre was the home of Billy Elliot in London, and on it's ending the venue was bought by Delfont Mackintosh Theatres. After a refurbishment, Hamilton was put on stage here in 2017 and this has been its home ever since. Hamilton is a musical in song and rap form, that tells the story of founding father Alexander Hamilton.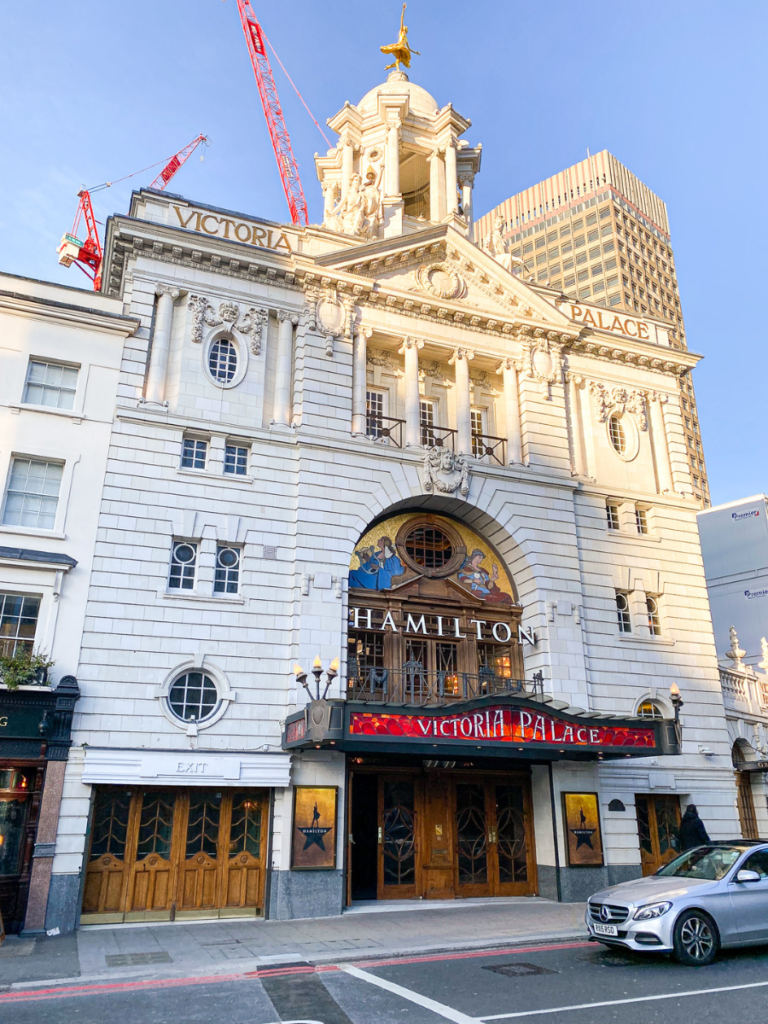 The Other Place
The Other Place is a modern theatre that opened in 2012 under the name St James Theatre. The theatre in Victoria has been home to a number of plays and musicals over the year, and prodiminenatly now is the home of Heathers The Musical.
Wicked at The Apollo Theatre
A grade II listed building, The Appolo Theatre is home to popular musical Wicked. Originally opening in 1930 as a cinema, the venue transformed into a place to see musical theatre in 1981 with The Sound of Music. Since 2006 however, it has been the home of Wicked. Wicked is a musical follows the story of Glinda and Elphaba and how they became the witches we know in the Wizard of Oz story.
The Best Restaurants & Cafes in Victoria
With so many offices around, it's no wonder Victoria is packed with fantastic restaurants. We've chosen just a few of our favourites that we think you should consider when visiting the area.
Sticks'n'Sushi
Sticks'n'Sushi is a sushi and yakatori restaurant that originated in Copenhagen. Now with various locations in London, this is a must not miss restaurant for sushi lovers visiting London Victoria.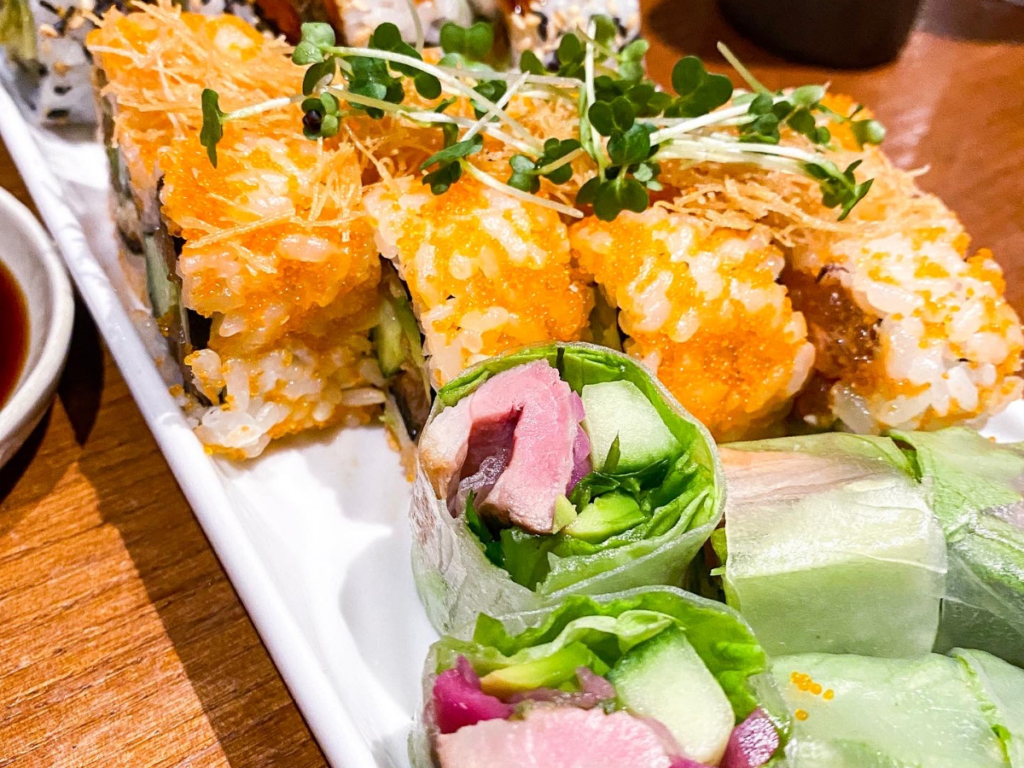 Crosstown
Just fancy a sweet treat? Crosstown located between the Nova building is the perfect spot. Serving up delicious London doughnuts and coffee, perfect for a caffeine fix inbetween meetings.
Rail House Café
If you need a London spot for brunch, Rail House Cafe in Victoria is ideal. With a range of yummy brunch food, from pancakes, to eggs royale, you'll find something for everyone at this spot.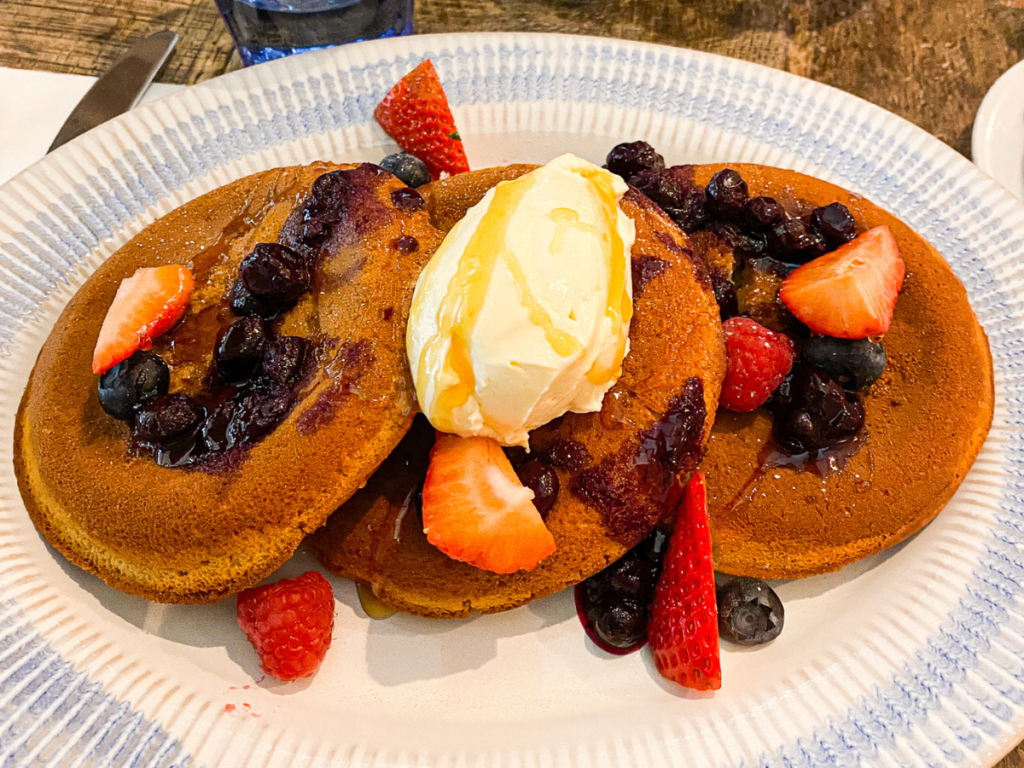 Hatch 77
Just down the road from Victoria station, and actually in Pimlico, you'll find Hatch 77. Again this spot has everything from a full English, to acai bowls. Whether you want indulgence or something a little healthier this is a fabulous off-the-grid spot.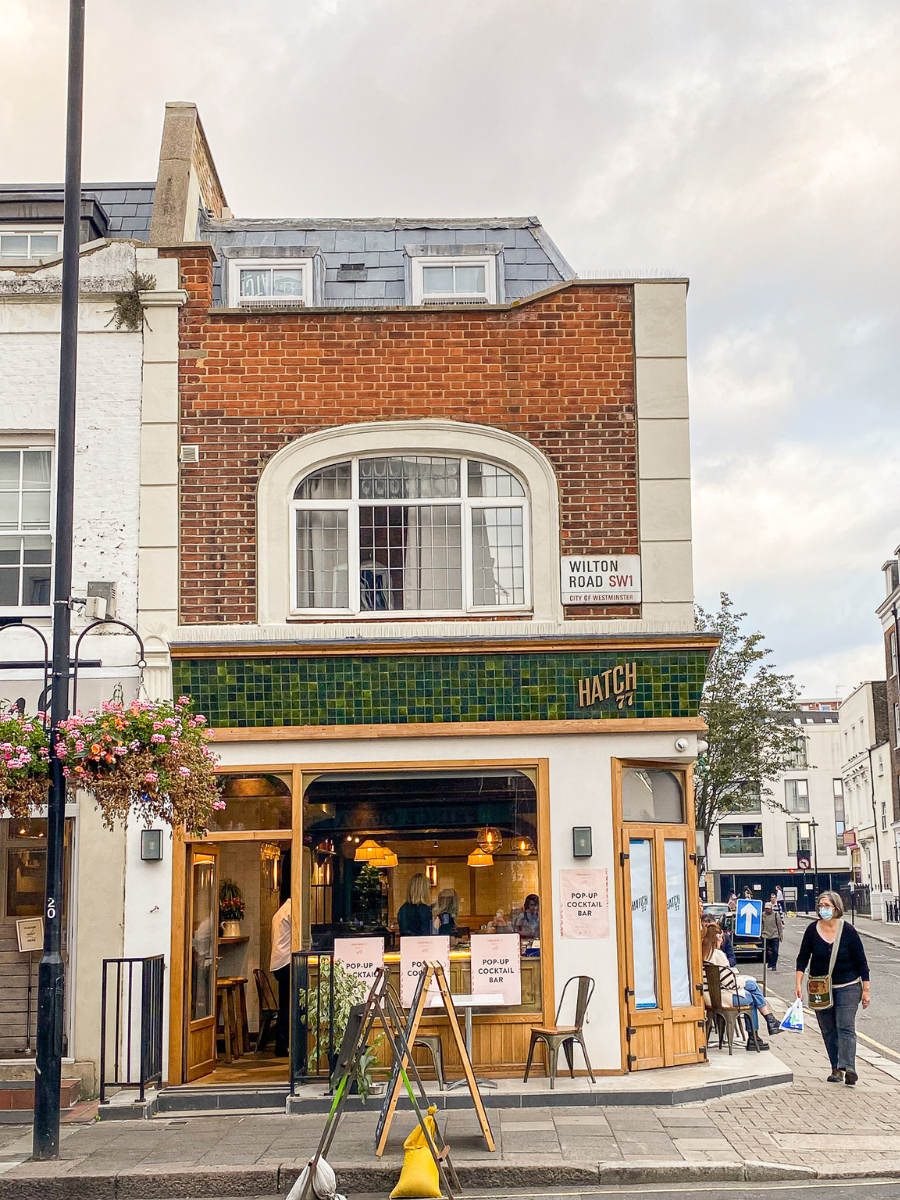 Los Mexicanas
Need an evening of good food with lots of choice in cocktails? Los Mexicanas on Wilton Road is the place to be. You'll find all the mexican food here you need from tacos to nachos, whilst their cocktails are a great way to start the night.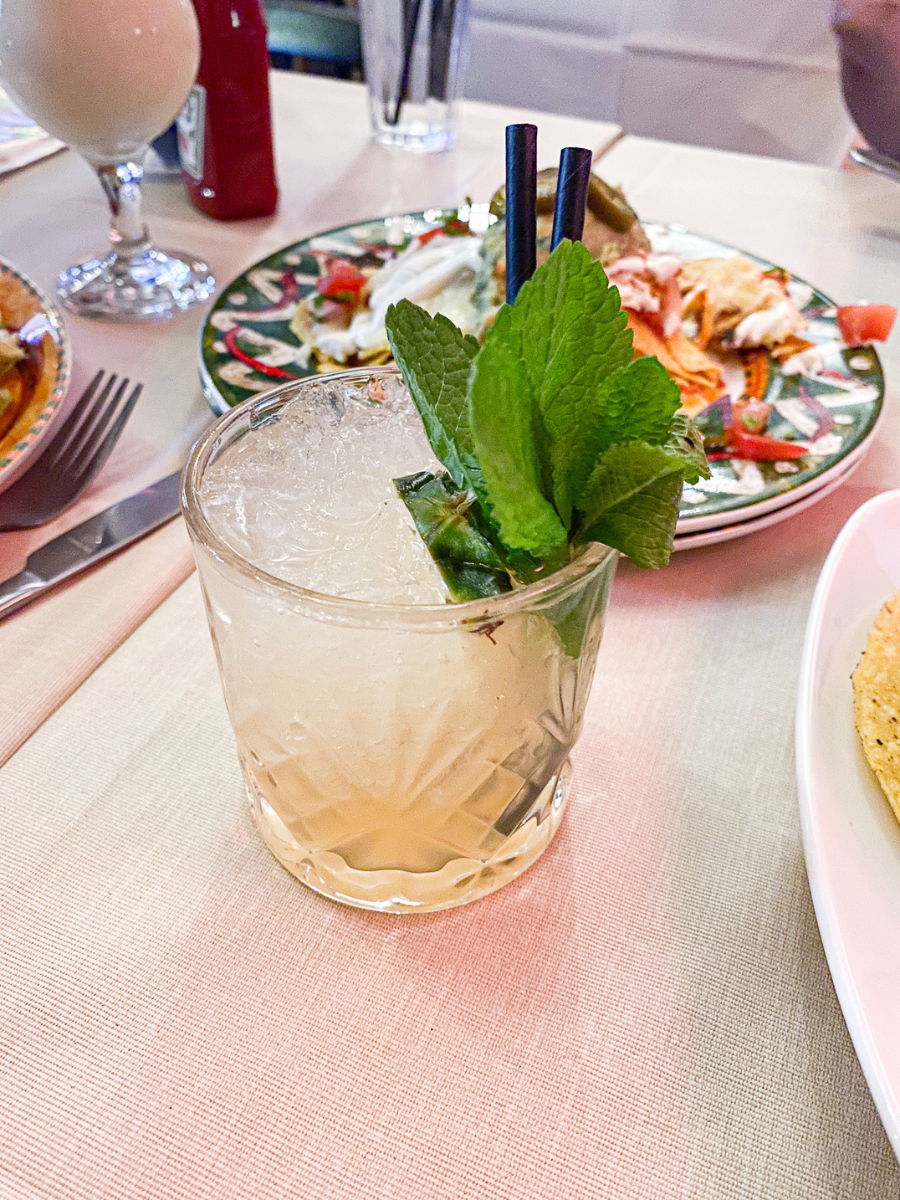 Rosa's Thai
A London chain not to miss is Rosa's Thai. Serving yummy thai food and drinks, this cozy restaurant is ideal for lunches with friends and family.
The Best Bars & Pubs in Victoria 
No central London location would be complete without a wealth of bars and pubs to visit.
Market Halls
Directly opposite Victoria Station, Market Halls is home to lots of different food vendors and bars. They even have a rooftop that is a gorgeous spot for summertime drinks in the city.
Vagabond
Lovers of wine will adore this London wine bar. Described by visitors as a 'pick and mix for wine,' you load up your money onto a card and go around the wine dispensers choosing how much you want of each. We think this is an ideal bar for a first date with a difference.
Otherworld
If you like to have your drinks with a difference then Otherworld is the spot. This is a VR bar where you can play games to earn free drinks – ideal for spending times with your friends.
Bag O'Nails
Bag O'Nails is situated just past the walls of Buckingham Palace. This Grade II listed pub serves cask ale and traditional pub food in a family-friendly environment. It has original features and even has a pub garden!
London Eats List Map
To help you navigate around Victoria, make sure you use our London Victoria map for all the hot spots.
Introducing The London Eats List 
We are a blog dedicated to bringing you all things London, from the best ice cream parlours in the city, to restaurant reviews of Mowglis London, Walkmisu and more. You'll find all the guidance you need for your trip here.