Whilst a small neighbourhood of London, Pimlico's restaurants do not disappoint! With a wealth of food from across the globe, you're certainly in for a treat in this quiet part of town. Whether you need to fill up on a bowl of traditional Italian pasta, or want to indulge in a two michelin star menu – Pimlico's the place to be!
Table of Contents:
Rosa's
Rosa's Thai is a small chain of popular restaurants around London – and it's no surprise with food as good as theirs! Their location in Pimlico is a cute corner unit painted in an inviting pale green with gorgeous large windows. This is one of our favourite Pimlico restaurants to frequent for a delicious Thai meal! Our favourites include the sweetcorn fritters to start, the pad thai for main, and an ice tea on the side.
Location: 25 Gillingham Street
Dim T
Dim T is another small chain, with 4 restaurants located in London – with one just happening to be in Pimlico. Serving up modern Asian food, ramen, katsu curries, Thai green curries, and stir frys. We personally love how well priced the cocktails are in this Pimlico restaurant, with most coming in at less than £9 (which is pretty good for the area)!
Location: 56-62 Wilton Road
Artist Residence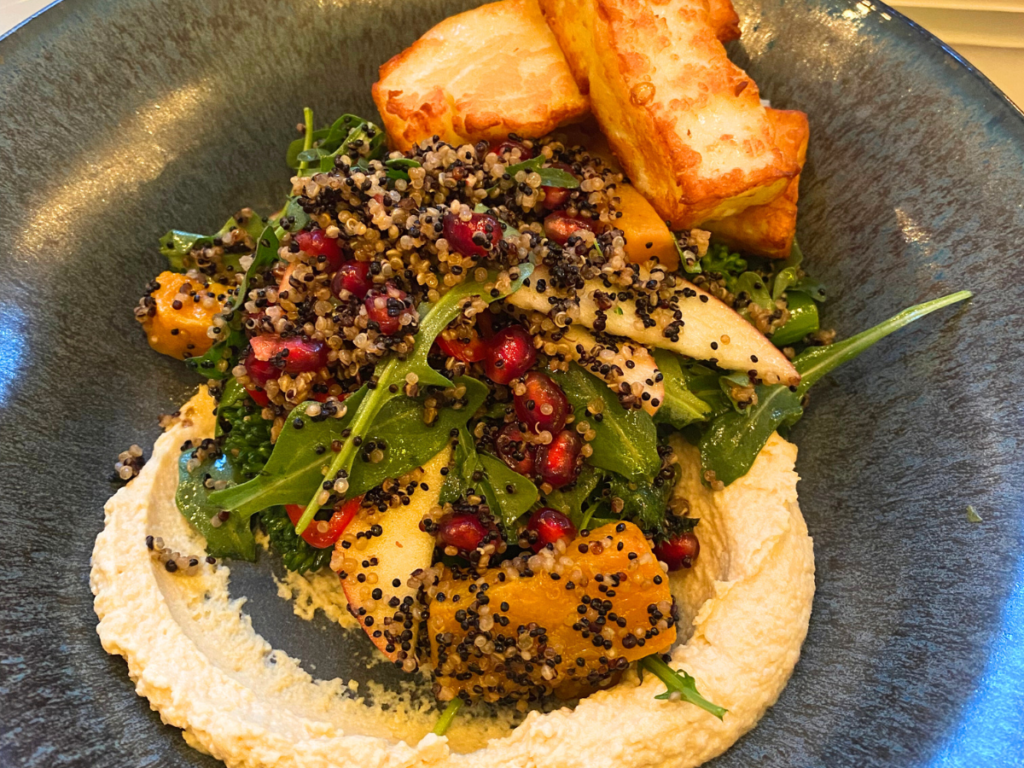 The Artist Residence is a lovely restaurant within a boutique hotel by the same name. Either pop along here in the evening when the Pimlico based restaurant serves appetising mains including sea bream stuffed with lemon and basil, or coconut curries. Or you can treat yourself to brunch during the mornings when it serves as one of Pimlico's best cafes.
Location: 52 Cambridge Street
Grumbles
Grumbles Bistro was opened in 1964 and holds a lot of history – when they originally opened the most expensive dish on the menu cost a whole 45p! Today you'll find lots of classics on the menu, from fillet steaks to fish pie. Don't forget about dessert with British favourites eton mess and sticky date pudding just being a small taste of what you could experience!
Location: 35 Churchton Street
Pimlico Thai
Pimlico Thai is another of Pimlico's additions to London's Asian food scene. The menu here is extensive and full of traditional Thai dishes made from fresh ingredients from around the world. From noodles and curries, to delicious salads, you'll find something for everyone on this menu.
Location: 22 Charlwood Street
Cacio & Pepe
Named after the famed pasta dish, Cacio & Pepe is unsurprisingly one of Pimlico's Italian restaurants. The atmosphere in this Italian establishment is cosy yet elegant, one of London's romantic restaurants for special dates. Dig into the restaurant's namesake, or opt for another tasty Italian dish! Don't forget to finish with a homemade tiramisu or affogato!
Location: 46 Churchton Street
About Thyme
About Thyme is a cure restaurant that from the outside looks like it should be in a quaint European village rather than a restaurant in Pimlico! But lucky for us it's right here in Zone 1! Sourcing most of their ingredients from the UK, they intersperse these with produce from Spain. With a wealth of tapas on the menu including the likes of courgette carpaccio salads, salt cod fritters, and pork belly – there's something for everyone! You'll also find full sized mains.
Location: 82 Wilton Road
Lorne
Lorne prides itself on being creative with British food and pairing said food with top notch wine. This is one of Pimlico's restaurants that's great as a treat for everyone. With a vegan menu that will have you salivating with the likes of ginger miso marinated aubergines. Whilst the standard menu boasts flavours including cornish cod and a saddle of lamb. One thing is for certain, we've got our eyes on the desserts here!
Location: 76 Wilton Road
Tozi
Tozi is a Venetian restaurant in Pimlico, and even have their own vintage Fiat 500 decorating their window. They aim to bring a taste of authentic Italy to Central London! From burrata to octopus to parma ham, this is the perfect place to stop to indulge in the area. If you fancy some lobster as a treat – why not get the lobster linguine to share?
Location: 8 Gillingham Street
Seafresh
Seafresh is, as the name would suggest, a seafood restaurant. A popular among Pimlico locals for their Friday fish and chips, they also have a sit down restaurant to kick your feet up and enjoy their delicious menu. From mussels, to lobster, to chowder, this is one for all the fish fanatics!
Location: 80-81 Wilton road
Morinoya
Morinoya is a small sushi restaurant hidden away in Pimlico. It's always full which is a sign of a good place in an area with so many establishments to choose from! You'll find everything your sushi loving heart desires here, with sashimi, sushi, poke. As well as hot food including teriyaki and udon noodles.
Location: 1 Gillingham Street
O'Sole Mio
O'Sole Mio is another of Pimlico's restaurants that boasts Italian food. With plenty of pizza and pasta to choose from this is the perfect place to load up on delicious carbs with a side of warm and inviting atmosphere!
Location: 35 Belgrave Road
A Wong
Last, but very certainly not least, is A Wong – the only Chinese restaurant with 2 Michelin stars outside of Asia. With a pricey menu to reflect their stars, this place is certainly fit for a special treat. You'll be indulged in tasting menus with flavours of lemongrass, tiger prawns, beef and so much more.
Location: 70 Wilton Road
About The London Eats List
Planning a trip to London? We're here to help you with everything from choosing your weekend London itinerary, to discovering the best ice cream to cool down on a summer's day!