Greenwich is a beautiful area of London rich in maritime history, perfect for days out with the family or for exploring by yourself. From the best cafes in this part of London, to the things to do that you cannot miss, we have a guide to help you plan your trip to Greenwich!
Table of Contents:
Where is Greenwich?
Greenwich is located in South East London on the banks of the River Thames. Greenwich is bordered by Blackheath, Lewisham, and Deptford.
Getting to Greenwich
Greenwich can be reached by the DLR (Docklands Light Railway), train, bus, and by Uber boat. For those who wish to drive, there are also lots of car parks to take advantage of too. For visiting the museums, we recommend getting off the DLR at Cutty Sark, rather than Greenwich station itself. We personally adore getting the Uber Boat from Central London as you'll be able to whiz past iconic London landmarks such as Tower Bridge, The Tower of London, and The Globe.
The History of Greenwich
Greenwich is a historic area of London with a rich past steeped in a maritime era gone by. Its history goes back further than this however, with evidence of early Roman settlements. In 1012 this area was taken over by the Danes, who held it until 1414, when the Duke of Gloucester built a house on the River Thames that became the Palace of Placentia later.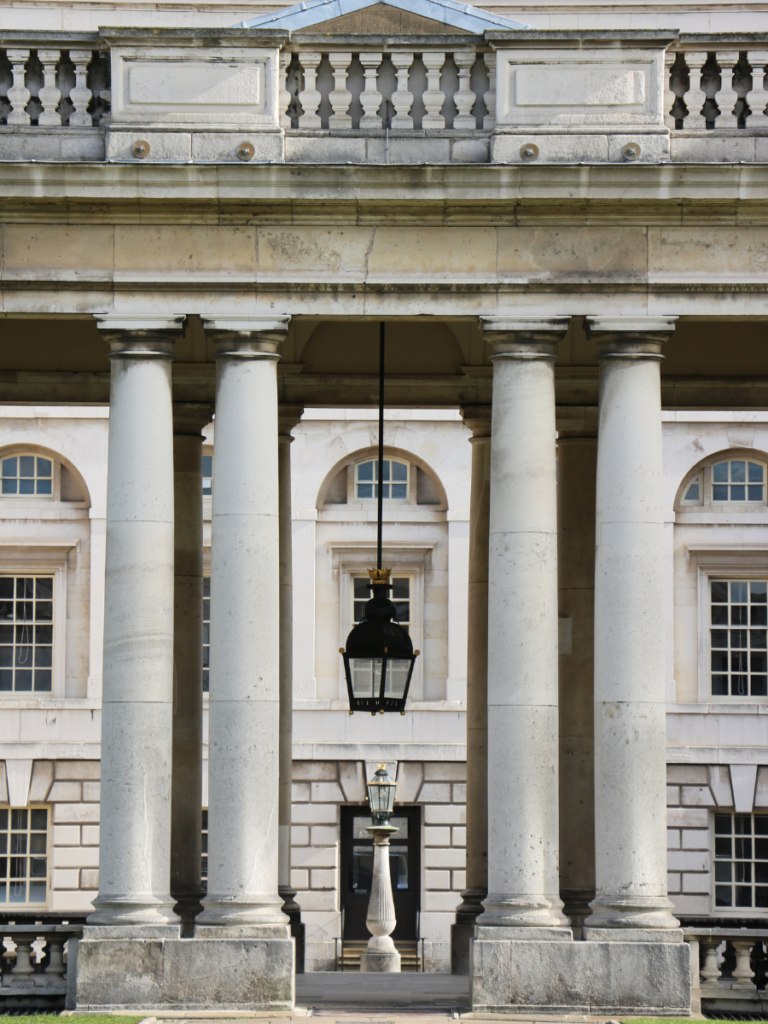 Whilst this London palace in Greenwich is no longer with us, it was the birthplace of many famous British monarchs including Henry VIII and Elizabeth I. The palace was replaced with one wing of King Charles I's court, and was later completed after his death. It eventually became the Royal Naval Hospital, which is now the Old Royal Naval College.
Greenwich lends its name to the Greenwich Meridian and Greenwich Mean Time.
Things to Do in Greenwich
As a historical area of London, Greenwich has a wealth of things to do perfect for days out by yourself, with friends, or with family. We've put together our favourite things to do whilst we're in Greenwich to help guide your own visit.
Museums
The main attraction in Greenwich is its wonderful museums, many focused on its past history as a maritime area. Here are the ones we think you should visit:
Queen's House
The Queen's House was the first Renaissance building in England and is the last remaining of the Royal Tudor buildings in the area. It was commissioned by Anne of Denmark, King James I's wife, as a gift to her from him after he shouted at her in public! It was designed by architect Inigo Jones in 1616. However, Anne passed away in 1619 when only the first floor had been completed. It was later finished in 1936.
Today, the Classical building holds a world renowned art collection, with strong influences from the maritime aspects of the local area, as well as housing paintings of Kings and Queens of the past.
Old Royal Naval College
When you think of Greenwich you most likely think of the Old Royal Naval College, with its grand white stone buildings. Here you can wander in and out of the gorgeous columns, pretending you're a character in Bridgerton (yes some scenes were filmed right here)!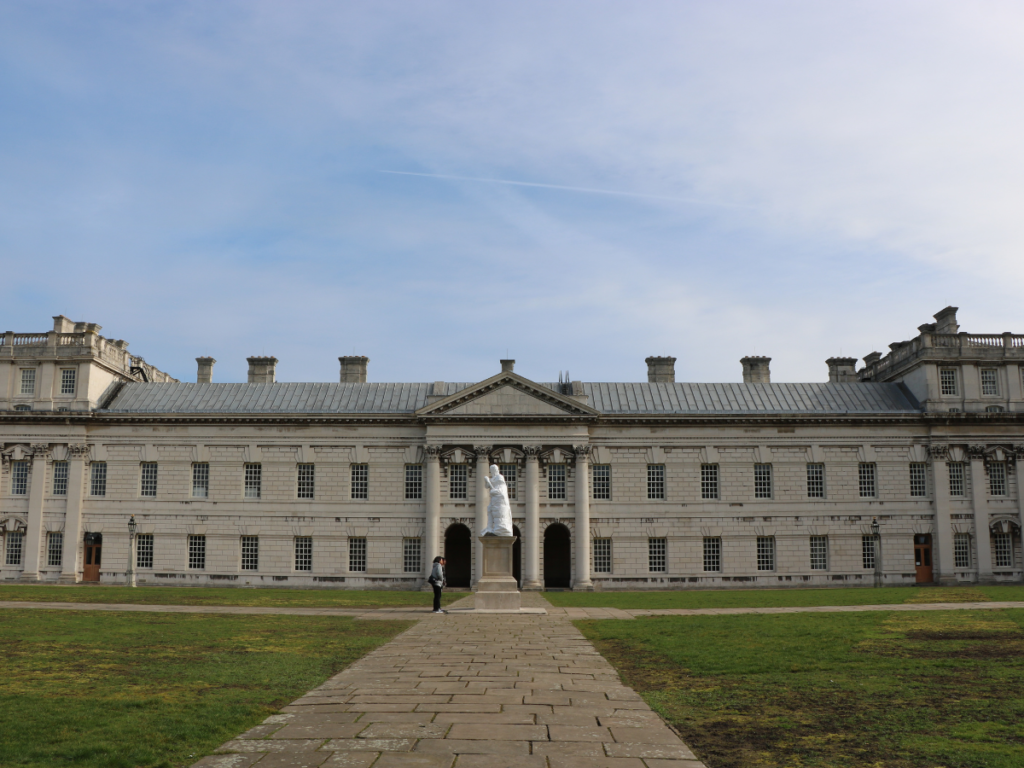 The building was designed by renowned architect Sir Christopher Wren (he also designed St Paul's Cathedral). Not only has it been a Royal Hospital but also a Royal Naval College.
The Painted Hall
Located in the Old Royal Naval College is the Painted Hall – dubbed the UK's Sistine Chapel! Designed in the early 18th century by Sir James Thornhill, the room contains 40,000 square feet covered in detailed paintings. The paintings contain 200 figures, including Kings and Queens. 
Originally it was designed as a space for the Greenwich Pensioners in the Royal Hospital to eat, but it quickly became a tourist destination. On occasion you can still eat in the hall – in 2023 they ran a Valentine's Day meal bookable by the public to enjoy this incredible room with the one they love.
The Royal Observatory
The Royal Observatory is the birthplace of Greenwich Mean Time and the Prime Meridian Line. Built on the location of Greenwich Palace, up high, and designed by Christopher Wren. Here, the first two Astronomer Generals managed to crack the mystery of longitude, setting 0' 0' 0' on the Prime Meridian, right in Greenwich. Today you can visit the Observatory and learn all about time and how it came to be tracked.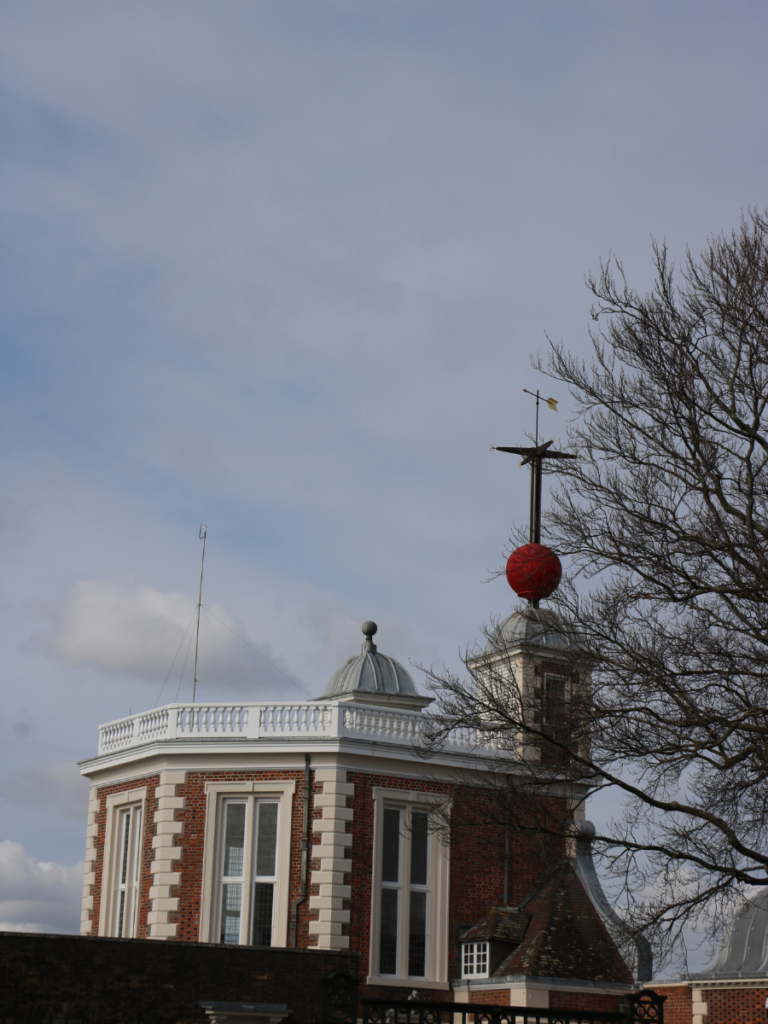 The Cutty Sark
The Cutty Sark is the large ship located next to the Thames. Originally built to be used for the China Tea trade, it was crafted in Scotland in 1869. Its first voyage was from London, heading to Shanghai on 15th February 1870, and returned the same year on 13th October. After only 8 voyages the Cutty Sark was no longer fit for purpose as the opening of the Suez Canal cut journey times and needed to be navigated by steam boats. In the 1950s the Cutty Sark came to Greenwich to undergo restorations, opening to the public in 1954. It then closed in 2006 for further restorations, when a fire ravaged it the following year. In 2012 it was once again open again for the public to visit.
National Maritime Museum
The National Maritime Museum is one of London's free museums and tells the story of Britain's maritime past. For those wanting to learn more about our Country's past, or for those wanting to take their kids on an educational day out – this is the place to be.
The Fan Museum
Less Naval focused, The Fan Museum opened in 1991 and is the only museum dedicated to the history, culture, and craft of the fan. They are located in a Grade II* listed building where you can discover their collection of fans.
Greenwich Market
Greenwich Market was first opened in 1737 with roughly 60 stallholders, at the time it was filled by butchers, a grocer, a baker, and a hatter. Originally this London market was located by the river, however it moved to its current location in the 1800s. Today it is filled with food stalls, clothes stalls, art stalls, and has permanent locations around the edge home to cute boutiques and bakeries such as Crosstown Doughnuts.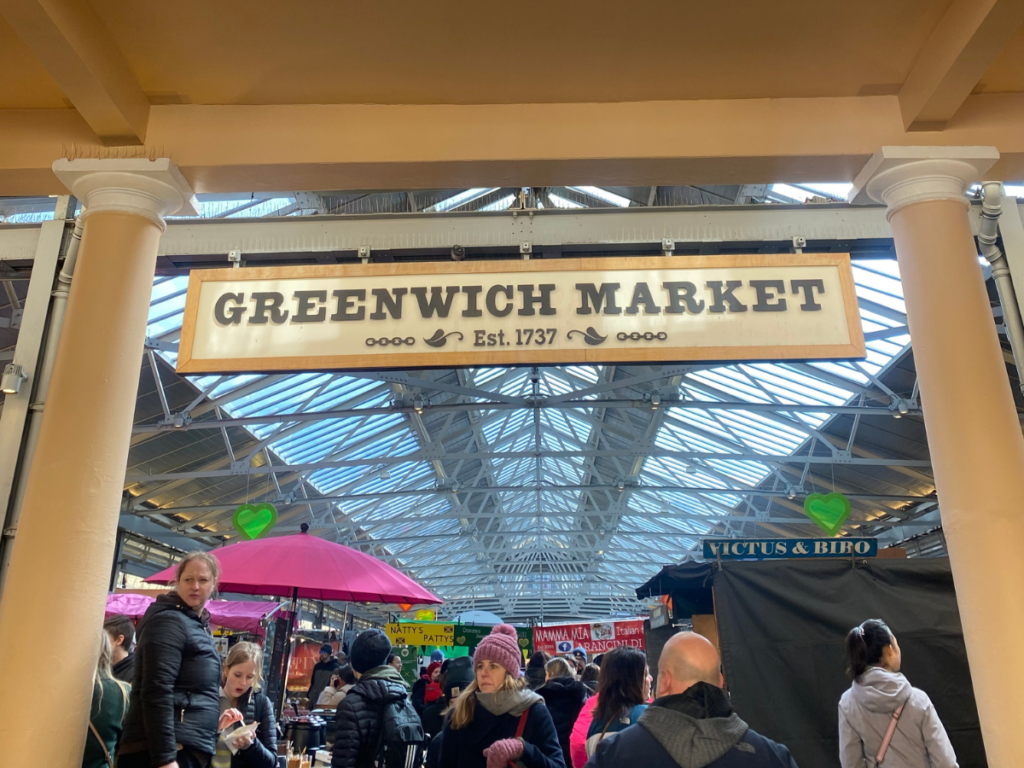 Greenwich Park
Greenwich Park is the oldest of the Royal Parks, it covers 180 acres and is part of the Greenwich World Heritage site. Open year round, this is a great South East London spot to take your dog for a walk. In Spring it comes to life, and is one of London's best places to see cherry blossoms.
Greenwich Restaurants & Cafes
After exploring the museums of Greenwich, you're bound to have built up an appetite! So we've put together our recommendations for where to eat so you can fill up on delicious food!
Cafes & Bakeries:
Grind – Grind is a collection of London cafes, offering tasty coffee, and delicious brunch options!
Gails – One of our go-tos everywhere in London is Gails bakeries. Our personal favourite items are the avocado and chickpea sandwich, the cookies, and the brownie!
Royal Teas – This local cafe serves yummy vegetarian breakfast and brunch options – perfect for those looking for a place where they can eat everything on the menu!
Peyton and Byrne – A fabulous bakery in Greenwich, stop by here to get Chelsea buns, pastries, and freshly baked bread.
Monsoon Cafe – Another local cafe serving paninis, cakes, pastries, and coffee.
Paul Rhodes Bakery – Paul Rhodes is a local Greenwich favourite and they pride themselves on having the widest range in the capital. From sourdough, to cinnamon buns and meringues – you'll find it all here.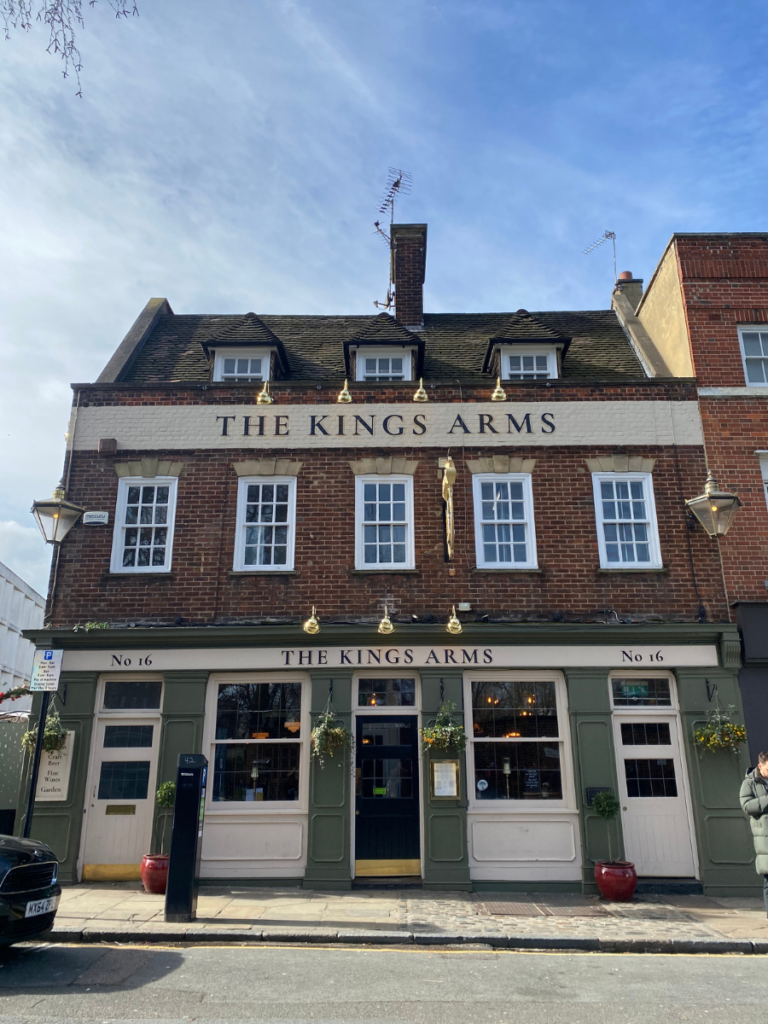 Restaurants:
Sticks'n'Sushi – Sticks'n'Sushi has numerous locations throughout the city and Greenwich is just one of them. Here you'll find delicious sushi and skewers, perfect for a special occasion!
Goddards – For those looking to get a proper taste of London, you'll adore Goddards which is a traditional Pie & Mash shop.
Champagne+Fromage – As the name suggests Champagne+Fromage serves bubbles and cheese. We think that this would be an ideal spot for a first date, where you can get a sharing platter of cheese and nibbles and bond over a glass of champagne.
Map of Greenwich
To help guide your day in this neighbourhood of London, we've put together a map of Greenwich that you can follow to find all the best spots!
FAQs
How is Greenwich pronounced?
As with many of London's neighbourhoods and places, it would be easy to fall into the trap of pronouncing Greenwich wrong – after all it does look like it should be said 'green witch.' However, it is actually pronounced like 'gren-itch.'
Is Greenwich a posh area?
Like many areas of London, Greenwich is steeped in history which makes it an attractive place to live. Here you'll find a diverse range of residents. 
Why is Greenwich famous?
The main thing Greenwich is famous for is the prime meridian, which is where GMT was created.
About The London Eats List
We are here to bring you the very best that our favourite city has to offer. From a guide to the best magnolias in London, to the restaurants with the best views in the Big Smoke. Start planning your next trip to London now.