Belgravia is one of London's most exclusive areas. With its impressive white stucco houses – many still single family homes, abundance of embassies, and high end restaurants, this is a luxurious spot to discover in London. Our complete guide to Belgravia will take you through the history of the area, where to eat, what to do, and where to stay! 
Table of contents:
Where is Belgravia?
Belgravia is primarily located in the borough of Westminster, with a small part being in the borough of Chelsea & Kensington, between Victoria, Chelsea, and Knightsbridge. The area is nestled between bustling areas of Central London, but remains relatively quiet – perfect for days when you want to enjoy a slower pace of city life.
Belgravia History 
This area of London started being built in 1826, being completed by the 1840s. Belgravia was designed by Thomas Cubitt, who is responsible for much of the surrounding area's architecture – including Pimlico. It was commissioned by the 2nd Earl of Grosvener (who later became the Marquis of Westminster). It takes its name from the town of Belgravia in Cheshire, which was just 2 miles from the Grosvener family's county seat of Eaton Hall. Cubitt's main focuses were Belgravia and Eaton Square. However, Belgravia expands much beyond these two iconic squares. Much of Belgravia is still owned by the Grosvener family to this day.
Before being developed, the land that Belgravia now stands on was known as the 'Five Fields' and was notorious for robberies and highwaymen – a far cry from the elegance of the area today. In fact, Belgravia is home to some of the most expensive properties in the world, reaching even £100m!
Things to Do in Belgravia 
Whilst a relatively small area of London, there is plenty to see and do in Belgravia. You could easily spend a full lazy Sunday exploring this hidden London spot. We've put together some of our favourite things to do in this part of town to inspire your next trip to Belgravia.
Shopping
There's nothing that compares to a London shopping trip, and Belgraiva has some of the most luxurious shops to explore. The main shopping districts of Belgravia centre on four roads: Elizabeth Street, Pimlico Road, Motcomb Street, and Eccleston Street
Elizabeth Street is a stunning road that leads from Victoria north into Belgravia. The charming street is lined with gorgeous shops, including renowned florist Moyses Stevens, luxury candlemaker Jo Loves, upmarket grocery shop Bayley & Sage, and gorgeous Summerill & Bishop homeware shop.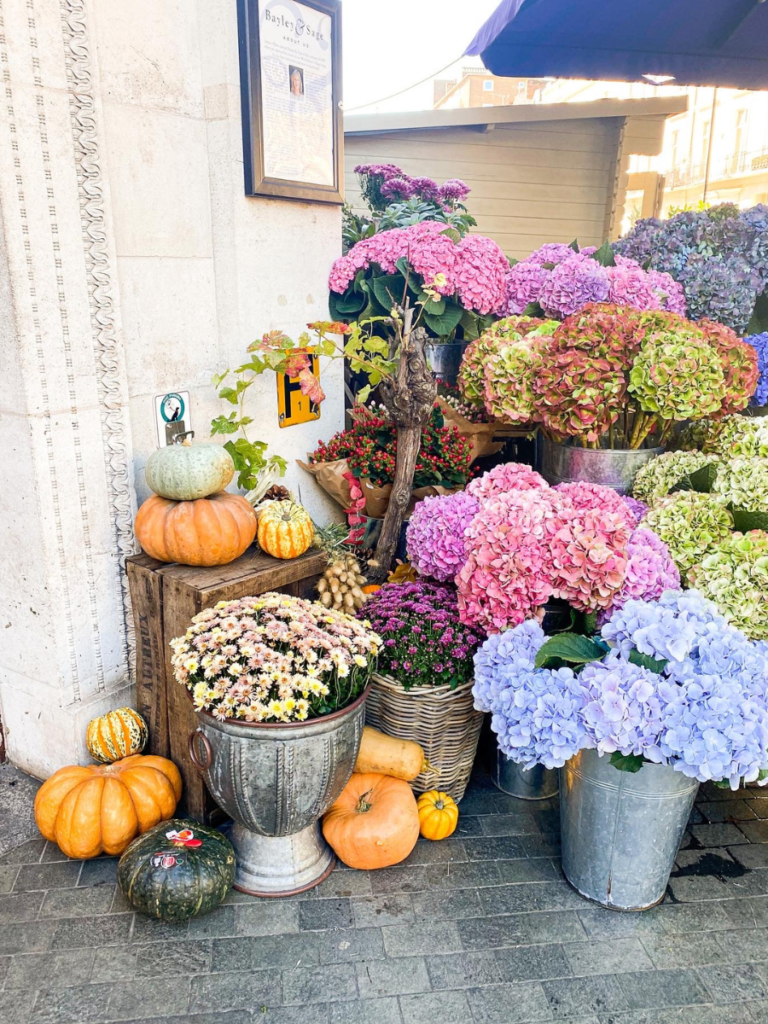 Pimlico Road is at the bottom end of Belgravia and leads from Pimlico to Chelsea. This particular street is full to the brim with luxury furniture and antique shops. This includes Bonadea, The Odd Chair Company, Fermoie, and LINLEY. If you're looking to furnish your home with the highest quality items – this is the street for you!
Motcomb Street is a pedestrian street right in the heart of Belgravia. With a mixture of shops and restaurants, we particularly love exploring the shopping area of the Pantechnicon on this road! You'll also find one of London's cheese shops here: The Fine Cheese Co, as well as one of our favourite London chocolate shops: Rococo. 
Eccleston Street runs parallel to Elizabeth Street, and is again home to lots of lovely shops to spend your day exploring. Our personal favourite is Belgravia Books – a stunning addition to London's book shops! You can also find Run & Become – a dedicated shop to all things running, as well as Le Spose de Gio, a stunning bridal shop for those planning their nuptials.
Sightseeing in Belgravia
Whilst Belgravia may not be home to any of London's most famous landmarks, it doesn't mean there aren't many things to spot and admire in this part of the Big Smoke.
Embassy Spotting
After World War II, many of the large residential houses – particularly in Belgrave Square – ceased to house families, and instead turned their use to foreign embassies. We love flag spotting in this area on the grand houses to see which countries have chosen to make this their home in Britain. Look out for Spain, Germany, Turkey, Trinidad & Tobago, Ghana, and so many more!
Blue plaques
Built in the mid 1800s, Belgravia has had time to have many notable residents in its time, which means there are plenty of London Blue Plaques to spot in this part of town. With four former Prime Ministers, as well as many writers, and entertainment icons having their life remembered with a plaque on houses in Belgravia. Here are just a few to spot here (there are many more you will stumble across though):
Mary Shelley – 24 Chester Square
Ian Fleming – Ebury Street
Lord Tennyson – 9 Upper Belgrave Street
Neville Chamberlain – 37 Eaton Square
Mozart – 80 Ebury Street
Vivien Leigh – 54 Eaton Square 
Film & TV Locations
It's no surprise that Belgravia is often transformed into a film set, with its beautiful houses and architecture it truly is a draw for the creative eye. Most recently it featured in Season 5 of Netflix's The Crown, in a scene where Diana runs a red light by Eaton Square after her brakes fail. 
It has also been used as the set for iconic sitcom Upstairs, Downstairs, Margret Thatcher biopic The Iron Lady, reality series Made in Chelsea, and many more tv shows and films.
Funnily enough, the TV series Belgravia, based on a London book by the same name, was filmed in Edinburgh instead of its namesake.
Luxury Squares
Belgravia is known for its grand garden squares, with 4 main ones in total:
Belgrave Square – The heart of Belgravia, this square is one of London's largest 19th century squares. Apart from the embassies located here in the modern time, you may also want to spend time spotting the statues that call this home. You'll find Christopher Columbus, Simon Bolivar, Jose de San Martin, Prince Henry the Navigator, the 1st Marquess of Westminster, George Basevi, and a homage to Leondaro by sculptor Enzo Plazzotta.
Eaton Square – Eaton Square is the largest square in London, in 2016, it was awarded "the most expensive place to buy property in Britain." The adjoining gardens that make up Eaton Square have been awarded Grade II listed. With many of the houses also being Grade II* listed.
Chester Square – Named after the city of Chester, this square is elongated and much of it is Grade II* listed. At one end you'll find the Anglican Church of Saint Michael, built in 1844. Famous residents have included Margret Thatcher, Mick Jagger, and Nigella Lawson.
Lowndes Square – This square is at the Northern end of Belgravia, and you'll even be able to spot Harvey Nichols in Knightsbridge from here. About 40% of this square is owned by a mysterious shell company. 
Belgravia in Bloom
In line with the Chelsea Flower Show, each year this area of London puts on Belgravia in Bloom. A free flower installation exhibition that lots of the shops, cafes, and restaurants partake in. Each year has a different theme and the local businesses compete to win the best installation. 
We recommend taking a full day to explore the gorgeous displays in both Belgravia and Chelsea in Bloom.
Where to Eat in Belgravia
Belgravia is full of wonderful places to eat and drink. If you're looking for a spot away from the roads that offers a taste of Belgravia, we adore Eccleston Yards. This pedestrian square, hidden away between Elizabeth Street and Eccleston Street, is full of gorgeous restaurants just waiting for you to step in.
Cafes in Belgravia
If there's one thing Belgravia does well, it's cafes. The most iconic of which is Peggy Porschen, famed for their spectacular decorations year round, and more so for their delicious cupcakes! This is the perfect spot for a mid-afternoon cake and coffee!
Tom Tom Coffee on Elizabeth Street is a specialist coffee house who also puts on a fabulous brunch. From avocado on toast, to berry compote pancakes, and even acai bowls – there's truly something for everyone here.
Chestnut Bakery is a London chain that focuses on crafting delicious bread, but that's not all they do. For those at this location for breakfast we recommend indulging in some of their spectacular pastries, in the summer we had the strawberry and elderflower one which was divine. 
Ole and Steen is another much loved London chain coffee shop. Specialising in danish pastries, cakes, and savouries, we can't recommend the food here enough! Their most famed food is the cinnamon social – a doughy take on the cinnamon bun (a particular favourite of ours)!
EL&N is an Instagram famous cafe that has locations across the world, including one in the heart of Belgravia. If you're looking for the perfect floral background shot, complete with a vibrant coffee, you'll adore this cafe!
Restaurants in Belgravia
Chucs is an Italian inspired restaurant on Eccleston Street. From ambitious pizzas such a truffle flavoured, to delicious cod, lamb, and ox cheek. At The London Eats List we have a sweet tooth and cannot get enough of their tiramisu and lemon tarts!
The Pantechnicon is located in a stunning white building on Motcomb Street. The building is home to a number of cafes and restaurants, including: Sachi, Cafe Kitsune, Roof Garden, and Sakaya. The food in each restaurant is Japanese and will appease any cravings you have for Japanese flavours. We adore stopping by at Cafe Kitsune for a light lunch.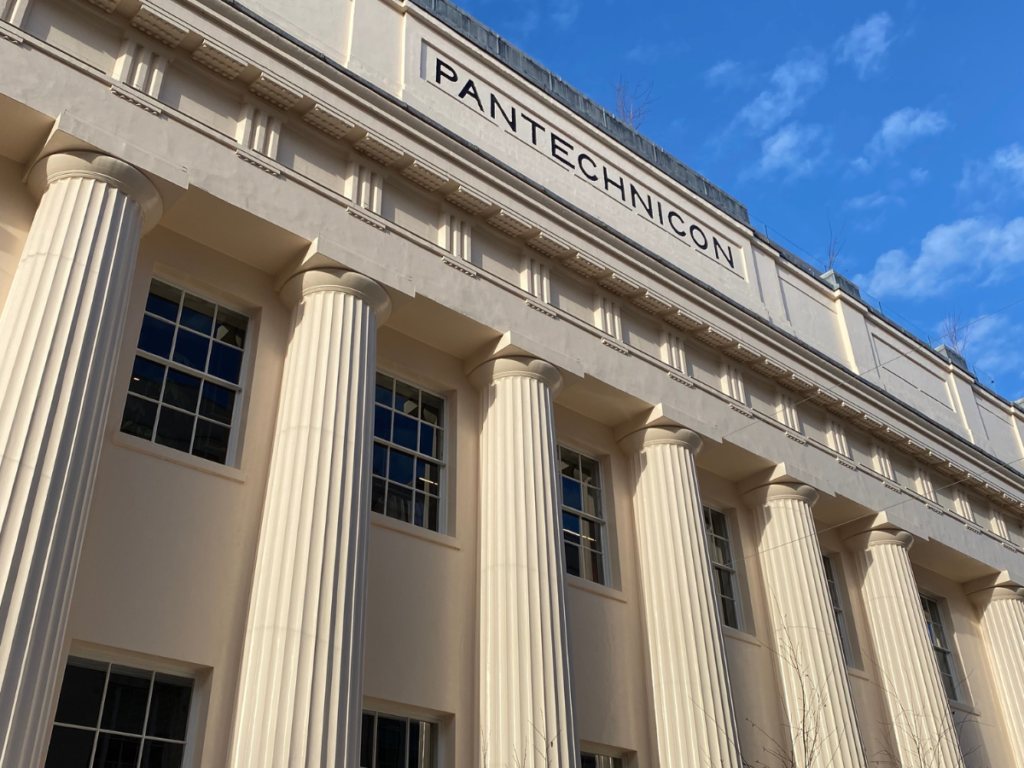 La Poule au Pot is a main feature of Belgravia, this French restaurant has been a part of the community for years. Here you'll find a fantastic atmosphere, paired with tantalising French dishes. In the summer you can even sit outside and pretend you're in Paris!
Petrus is one of Gordon Ramsey's Michelin starred restaurants and is perfect for those wanting to celebrate a special occasion. You'll find a variety of set and a la carte menus here, boasting everything from confit salmon, to French desserts and cheeses.
Pubs in Belgravia London
If you're looking for a cosy spot to grab a drink with friends in Belgravia, look no further as we have the recommendations for you!
The Thomas Cubitt is located on Elizabeth Street and is always bustling with people – showing just how popular it is with the locals! Named after the man who designed many of Belgravia's streets, The Thomas Cubitt is a long-standing Victorian institution. Belgravia is a well-to-do area and the prices in The Cubitt reflect this – expect to be paying upwards of £30 for your Sunday roast!
The Horse & Groom is located down a cobbled mews, an idyllic London spot for enjoying a cool pint. It claims to be one of the cosiest pubs in London and we have to agree! On a summer's evening expect to be standing outside this pub with your beverage enjoying the warm rays. Open for over 150 years, this pub has a rich history with famous guests such as The Beatles, as well as featuring in films such as Ab Fab!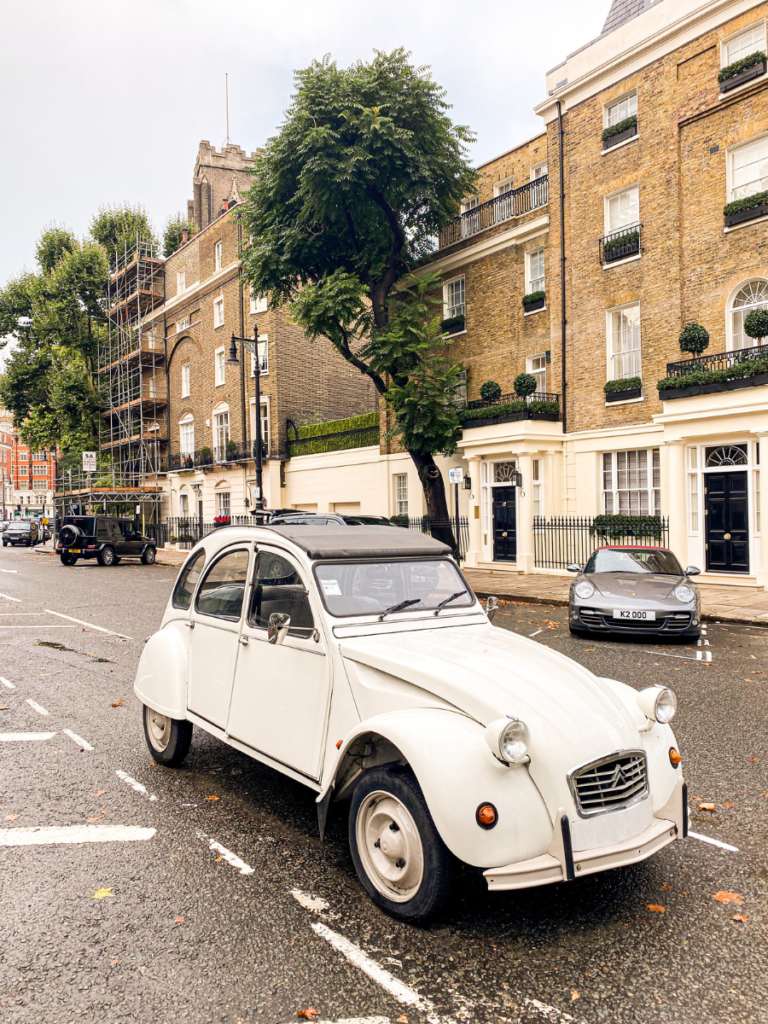 The Antelope dates back to the 17th century and boasts a wealth of character. With wood floors and ceilings, this is another perfect pub for a winter's day by the fire. If you're looking for a reasonably priced place for lunch in Belgravia we'd recommend this pub.
Belgravia is also home to a number of London's haunted pubs including The Grenadier said to be haunted by the ghost of a young officer who cheated at a game of cards – the ceiling is covered in money from around the world that people have brought to pay off his debt. As well as The Plumbers Arms, which was visited by Lady Lucan (who lived a few doors down) the night her husband tried to kill her, and killed their nanny, Sandra Rivett. Lord Lucan then disappeared himself, never to be seen again.
Where to Stay
If you've fallen in love with Belgravia and want to make it your home whilst staying in London, here are our top choices for hotels:
The Hari – is a 5 star hotel, right in the centre of Belgravia. Providing comfort and elegance, you'll be close to Hyde Park, Chelsea, and Victoria whilst staying here.
The Goring – is a luxury hotel that's been family-run for over a century. Even if you don't plan on spending the night, you can make use of their gorgeous cocktail bar and afternoon tea!
How to Get Here
Getting to Belgravia couldn't be easier – even though it does not have its own train station. The closest station to come from is Victoria. Victoria also has a coach station that is located at the bottom of Elizabeth Street if you're coming from further afield.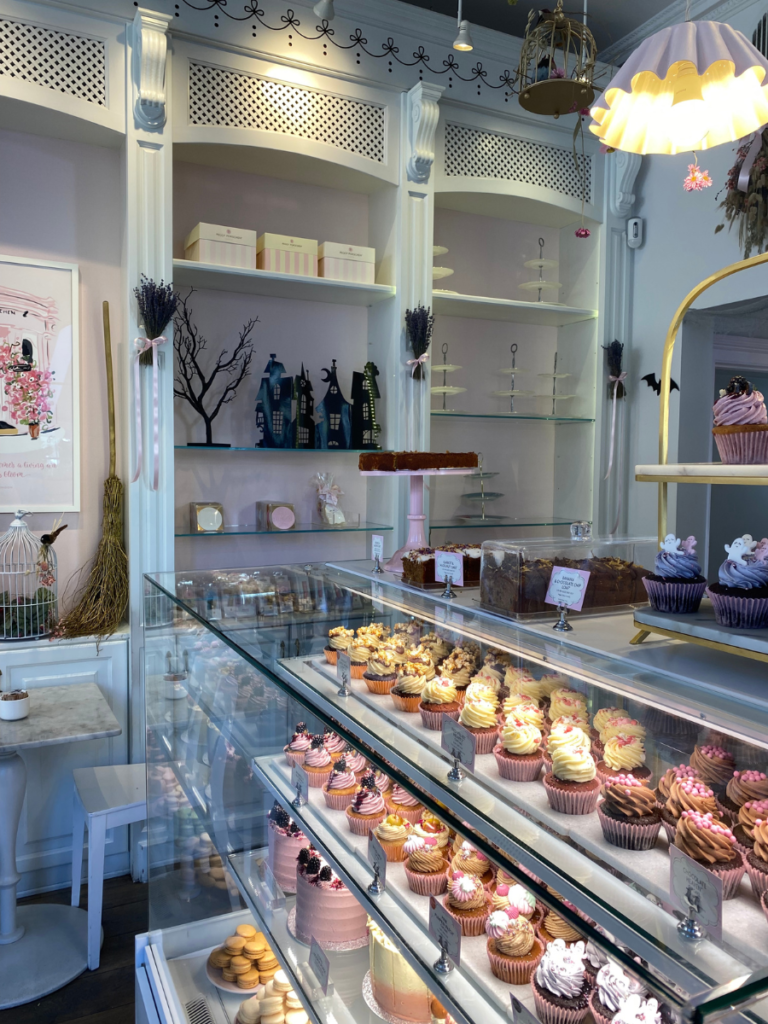 You'll also find Hyde Park Corner, Knightsbridge, and Sloane Square tube stations a short walk from this part of London. There are also many buses that service this area, with Victoria Station and Hyde Park Corner being a good location to get off a bus.
FAQs About Belgravia 
What is Belgravia Famous for?
Belgravia is most well known for its garden squares. You'll also be able to spot lots of London blue plaques in this area, with historical figures who have famously lived here.
Is Belgravia Posh?
Belgravia is home to some of the most expensive properties in the whole of the UK, as well as fine restaurants and shops. It would be fair to call it posh – but don't let that put you off visiting this gorgeous part of London. Despite its upper market vibe, there is plenty to do for those on a budget.
Is There a Real Belgravia?
Whilst there is a TV show of the same name, yes Belgravia is a real place located in Central London near Victoria Station.
About The London Eats List
We aim to bring you the best that London has to offer, from independent bookshops to spend a Sunday afternoon in, to romantic restaurants perfect for date night. Let us help you plan your trip to the Big Smoke.