In need of a peaceful sanctuary in Central London? Look no further than Pimlico's cafes. Nested between London Victoria and the River Thames, this pretty residential neighbourhood is full of cafes that locals love for coffee and brunch. We've rounded up our top 10 Pimlico cafes to help you choose where to visit.
Table of contents:
Pimlico Fresh
First up on our list of the best Pimlico cafes, is namesake Pimlico Fresh. This one is certainly a hot spot with locals and it's no wonder why. We suggest getting there early if you want to bag a seat to eat in. Offering up delicious breakfast and brunch options, from French toast, to avocado on toast, and so much more. Our top drink choice to try here is their freshly squeezed orange juice – you won't find better in London.
Location: 86-87 Wilton Road
Hatch 77
Just across the way from Pimlico Fresh, you'll find Hatch 77. With its inviting green tiled facade and fully stocked bar – this is the perfect spot if you're looking for a Pimlico cafe for a slightly boozy brunch. With full Englishes on the menu, alongside waffles and aperols, this is one of our personal favourites in the area.
Location: 77 Wilton Road
Gail's Pimlico
A staple of London, Pimlico is home to one of Gail's many bakeries. This small branch is the perfect Pimlico cafe to stop in for a coffee and a sweet treat. We recommend the chocolate white chip cookies, cinnamon buns, and smashed avocado and chickpea sandwiches.
Location: 26 Churchton Street
The Roasting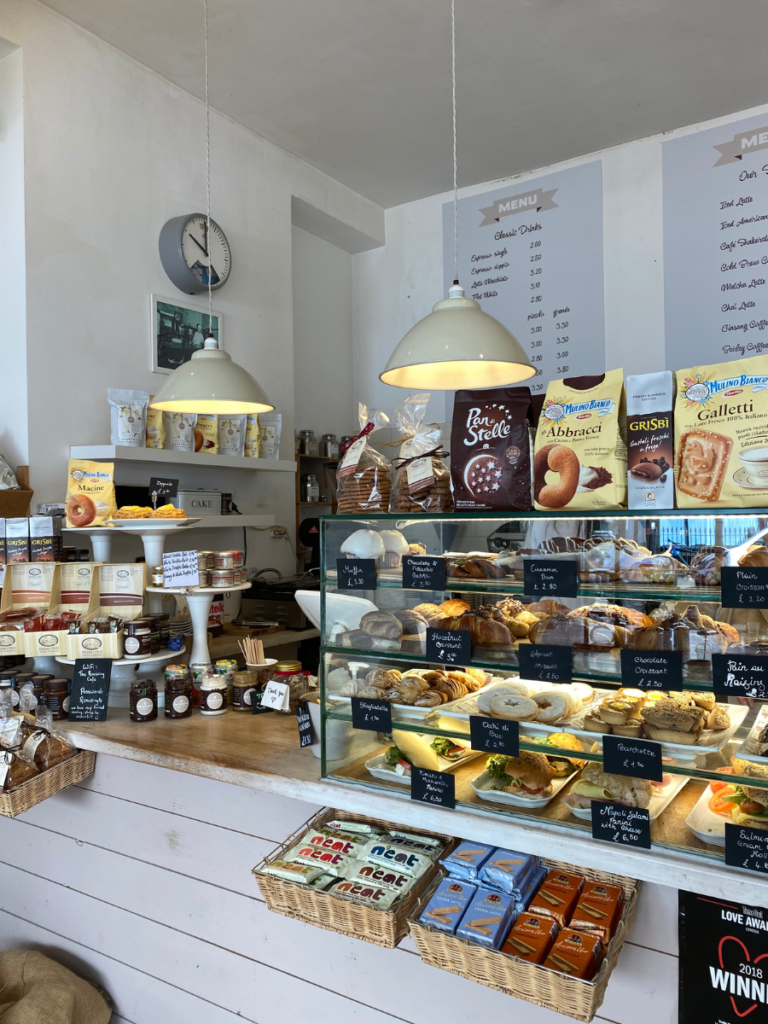 For a quick spot to pop in and grab a coffee on the go in Pimlico. Or to take a rest at one of their tables, we love The Roasting. Not only is the aesthetic of this Pimlico cafe something to be admired, their coffee and pastries are also ideal for breakfast visits.
Location: 31 Churchton Street
Regency Café
A classic English greasy spoon, Regency Café is the ideal spot to visit if you're in need of a proper fry up. With its authentic décor and traditional British menu, we'd highly suggest stopping in this London café if you're a tourist to the area to experience a truly English breakfast.
Location: 17-19 Regency Road
Coco & Nut
Coco & Nut is located on the way towards Victoria from Pimlico. This Pimlico cafe serves organic coffee, juices, sandwiches, and freshly made cakes and pastries. For those who are exploring the neighbourhood with their furry friend, you'll be happy to know this particular spot is dog-friendly.
Location: 10 Upper Tachbrook Street
Iris
If you're looking for the perfect cosy spot for breakfast, Iris is the place to be. With friendly staff, plenty of comfy seats, and a menu packed with your favourite smoked salmon, bagel, full English, and continental treats – you'll adore this little spot first thing in the morning.
Location: 43A Warwick Way
Coffee House
If you're looking for a locals' spot, step away from the shops of Pimlico and head to Coffee House. A small and friendly cafe, this is the ideal place to warm up with a hot cup of coffee and fill up with a fresh pastry. With outdoor seating this is also the spot to be to catch the summer sun whilst enjoying the lovely surroundings of Pimlico.
Location: 95A Charlwood Street
The Little Bread Pedlar
The Little Bread Pedlar is another local favourite. They take pride in their pastries with the process to make a croissant taking a full 36 hours – and it's well worth the wait. We'd recommend getting to this spot early as when we've been by later in the day all the sweet treats and sourdough have been finished already!
Location: 34 Moreton Street
The Pimlico Grid
Named after Pimlico's Grid (the straight line layout of Pimlico's white stucco houses), this is a gem nestled away. With full English breakfasts, veggie options, avocado on toast, and yoghurt pots everyone in your party will find something they enjoy.
Location: 142 Warwick Way
About The London Eats List
We aim to bring you the very best that our city has to offer. From the best ice cream to cool down in London, to our most romantic restaurants for special dates. Get planning your trip to London now with our itineraries.