Oddono's is an Italian ice cream shop that first opened in South Kensington in 2004. With locations across London that often have long queues outside, we wanted to see what all the hype was about. Find out from our guide if you should be stopping by Oddono's on London's next sunny day.
Table of Contents:
What Type of Ice Cream is on the Menu at Oddono's?
Oddono's specialises in fresh Italian gelato. Gelato is the Italian type of ice cream, it tends to have less air in than ice cream, making it denser. It also contains more milk and less cream than the typical ice creams we're used to in the UK. Oddono's was founded by Christian Oddono inspired by the rich gelato his Grandmother used to make in Italy.
Every day their gelato is made in their 'Artisan Laboratory' in South Kensington, entirely from scratch with each ingredient being added individually. As well as being a London ice cream parlour, they also have a coffee menu which you can combine with the gelato for indulgent affogatos.
Oddono's Gelati Flavours
Oddono's has a range of gelati flavours, that include vegan gelato (soy based) and no added sugar sorbets. To create their delectable flavours they use the finest natural ingredients, including pistachios from Sicily, and vanilla pods from Madagascar.
Oddono's say they have made over 130 flavours of gelato to date – and obviously all of those aren't on the current menu (they'd need some much bigger shops)! Their best sellers include chocolate, pistachio, mango, hazelnut, and strawberry and coconut. They also serve up more experimental flavours including chocolate and chilli, vodka lemon, basil, cinnamon and much more.
As well as picking up some scoops from your local Oddono's, you can also order made to order ice cream cakes for special occasions.
Oddono's London Locations
Oddono's currently have 7 locations across London, this is where you can find them:
South Kensington – Bute Street
Battersea – Northcote Road
Hampstead – Flask Walk
East Dulwich – Lordship Lane
Chiswick – Chiswick High Road
Stoke Newington – Stoke Newington Church Street
Wimbledon – The Broadway
Our Review of Oddono's South Kensington
We decided to visit the original Oddono's in South Kensington on a sunny Sunday afternoon in late April. Despite being the weekend and around lunchtime we got lucky and didn't have to face any queues!
There were lots of flavours on offer when we stepped inside the cafe – with tables available inside and some still available to sit on outside if you'd wanted to eat it. If you're eating in you could choose to have your gelato on a Belgian waffle with a coffee to compliment. We chose to get gelato to go in cones.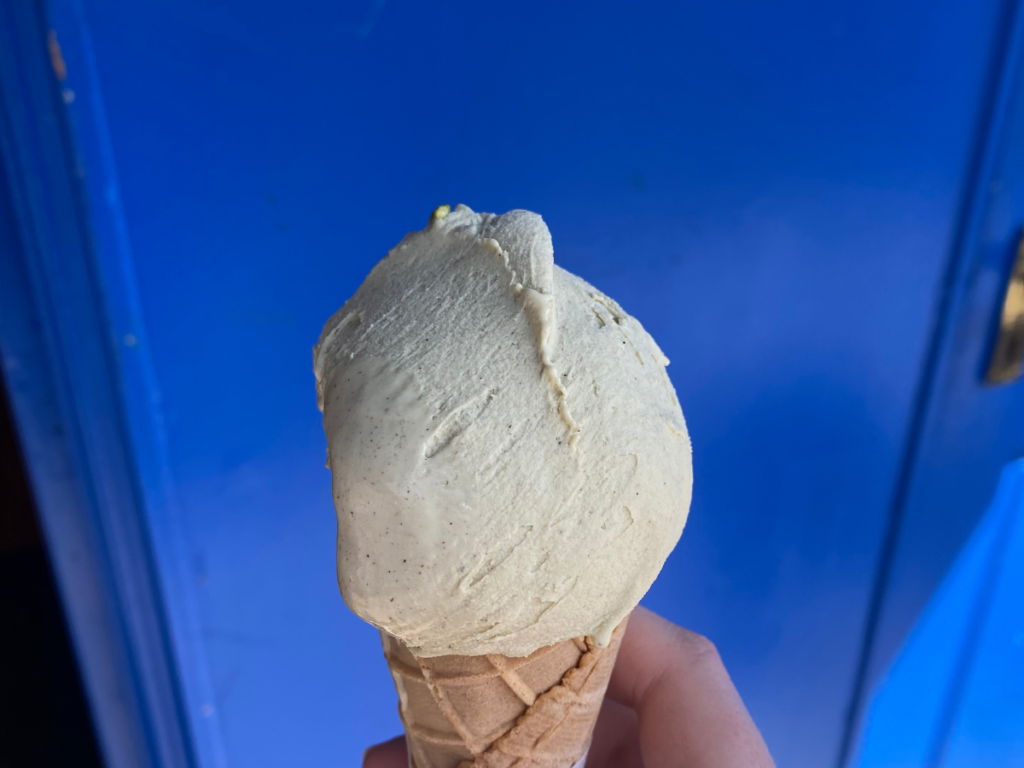 We opted for two of their most popular flavours: pistachio and hazelnut. The pistachio gelato was rich in flavour, creamy, and delicious. Opting for just one scoop the portion size was very generous and I wouldn't think – unless you wanted to try multiple flavours, that you'd need anymore. The cone was also equally delicious.
Whilst a little on the pricey side, we think it's definitely worth it given the quality of the gelato and the portion size.
About The London Eats List
We are here to help guide your next visit to London. From guides to local areas including Pimlico, Notting Hill, and Greenwich. You'll also find our top recommendations for romantic restaurants, restaurants with incredible views, and the best London based films to enjoy.