Hatch 77 is a cute and delicious spot for brunch in the heart of Pimlico. With all the classics you'd expect from pancakes, to a full English, this is not one to miss. You may even catch them open in the evenings, perfect for dropping in for a late cocktail! We've got all the things you need to know about Hatch 77 so read on to hear our thoughts!
Table of Contents:
What is Hatch 77?
Hatch 77 recognise themselves as a London brunch cafe – but we think they're much more than that. From sit in meals, ideal for spending my time with friends catching up, to freshly squeezed orange juice to go. They even have a cocktail residency where you can pop in for a candle lit drink.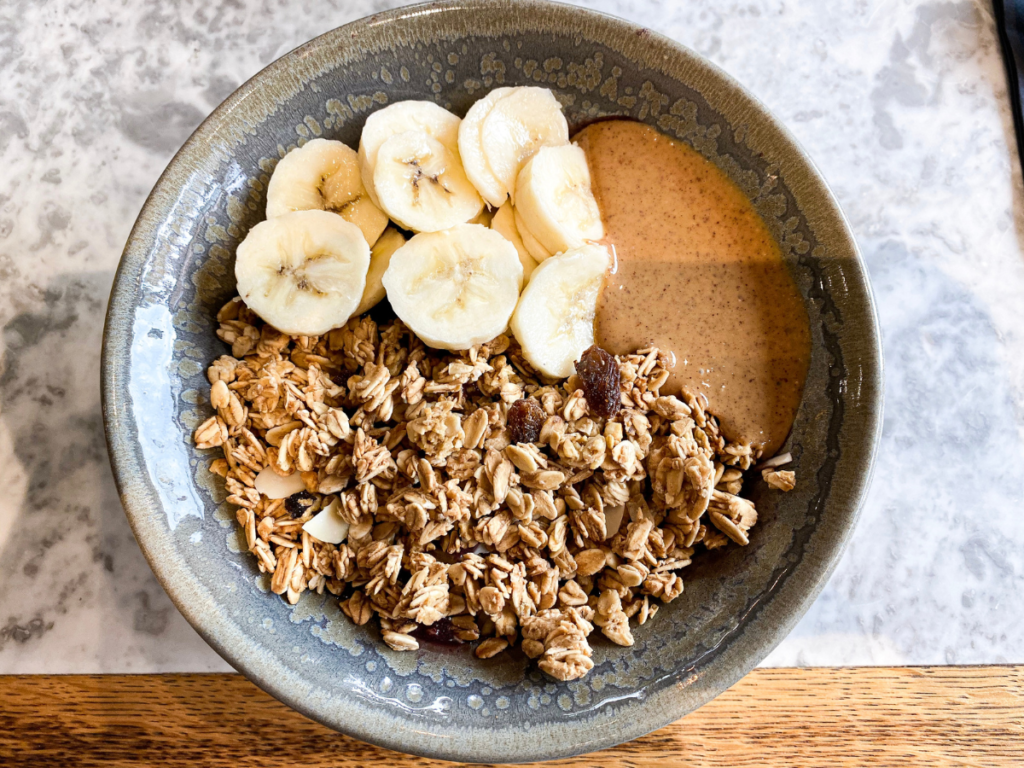 On Hatch 77's website you'll find that their motto is 'Dawn to Dusk,' and that they're three generations deep into catering.
What's on the Menu at Hatch 77? 
The menu at Hatch 77 is what you'd expect from an aesthetic brunch spot in London. From pancakes and waffles, to a full English, to eggs Benedict, and smashed avocado on toast – there's something for everyone here. 
You'll find they also do açai bowls – perfect for those wanting something a little healthier in the morning. You can also get your hands on a smoothie, including our favourite The Roxy which is a blend of frozen yoghurt, espresso, vanilla milk, and banana.
You'll also find pressed juices, and a variety of coffee to give you your morning caffeine boost.
In Good Co Cocktail Residency 
Whilst it markets itself as a brunch spot, Hatch 77 sometimes has a cocktail residency from In Good Co, serving up delicious alcoholic drinks late into the evening.
The atmosphere here changes in the evening, with the tables being decorated with candles to bring that ultimate relaxed cocktail vibe to this Pimlico joint.
Hatch 77 Pimlico Review 
We've been to Hatch 77 on multiple occasions, for both brunch and evening drinks. We've never had to make a booking and never had any trouble with fitting in despite it being a relatively small cafe for such a popular spot!
Over our visits to Hatch 77 we've tried a fair amount of their delicious food! Particular favourites include their pancakes, banana french toast, and peanut butter acai bowl! The full English breakfasts that we've seen coming out of the kitchen also look incredible! 
Our only thing to note when visiting this London brunch location is that the service does tend to be on the slow side. They're always super busy and for this reason it can take a little time for food to come out – so we'd recommend not visiting when you're on a time constraint. Perfect for a casual Sunday morning where you have nowhere to be!
If you're just passing by but still want to experience Hatch 77 we'd recommend picking up a freshly squeezed orange juice to go and a doughnut to eat on the go!
Where is Hatch 77?
You will find Hatch 77 on Wilton Road in Pimlico. It's super easy to get to this cafe, you can either get the Victoria line to Pimlico and walk north. Or get the train, bus, or tube to Victoria Station and travel down past Wicked and into Pimlico along Wilton Road.
Too Good to Go Offerings 
If you're a Londoner looking for a good deal, Hatch 77 puts their leftovers up on Too Good to Go – from our experience it seems as though they have stuff available pretty much everyday with pick-up being between 3-4pm. 
We've ordered Too Good to Go from this cafe before and received a delicious selection of doughnuts, pastries, cannolis, and croughnuts.
Too Good to Go is a way restaurants, cafes, and shops can ensure their food does not go to waste. They can place it on the app, and customers can reserve a magic bag, with the contents a surprise for them for when they pick up. You can often get really yummy food at quite a hefty discount!
What to Do Whilst You're in Pimlico
Pimlico is one of London's villages, and it is very much a residential neighbourhood. However, that doesn't mean there's nothing to do whilst you're here! We recommend spending the afternoon strolling the Pimlico grid and admiring the white stucco houses.
Pimlico is full of lovely gift shops, charity shops to strike a bargain at, and even one of London's glorious cheese shops – called Rippon Cheese.
If you finish your walk of Pimlico, we recommend strolling up to and exploring Victoria. Victoria is home to many theatres, showing the likes of Hamilton, as well as fun bars like Vagabond wines.
About The London Eats List 
We aim to bring you the very best that London has to offer. From the most romantic places in the city, to the independent bookshops you must peruse, plan your trip to the Big Smoke with our help.