Chelsea is one of London's most iconic neighbourhood's so it's no wonder you want to explore it! With its cute cafes, pretty streets, and plentiful shops, there's lots to do in Chelsea all year round. We've put together the ultimate guide to London's Chelsea to help you get the most from this gorgeous district!
Where is Chelsea?
Chelsea is located in West London, bordered by the north bank of the River Thames, Pimlico, Belgravia, Kensington, and Fulham. Being so close to other popular areas of London makes it super easy to wander in and out of Chelsea's borders.
Getting to Chelsea
For those looking to travel to Chelsea, the best train station to aim for is Sloane Square which is located at one end of the King's Road – close to all the shops!
The History of Chelsea
The name 'Chelsea' comes from an Old English word meaning 'landing place on the river for chalk.' Chelsea was first noted as being part of Ossulstone in Middlesex. It has always been an area for the affluent, with Henry VIII even using Chelsea Manor (which no longer exists) as a home for two of his wives: Catherine Parr and Anne of Cleaves. In 1965 Chelsea was merged into the London Borough of Kensington and Chelsea.
Things to do in Chelsea
Chelsea is bursting with things to do! Whether you're after a relaxing day strolling the pretty streets, or want to spend a cultured afternoon appreciating art – this neighbourhood has the activities for you! Here are just a few of our suggestions of things to do in Chelsea:
Saatchi Gallery
The Saatchi Gallery is located just off Duke of York Square. Opening in 1965, the Saatchi Gallery is home to contemporary art exhibitions. Much of the gallery is free to wander round, whilst featured exhibitions may require a ticket charge.
King's Road
Love to shop? King's Road is for you! The King's Road is one of the best places to go shopping in Chelsea. With the likes of Space NK, All Saints, John Lewis, Peloton, and so many more you could spend all exploring the shops on this street.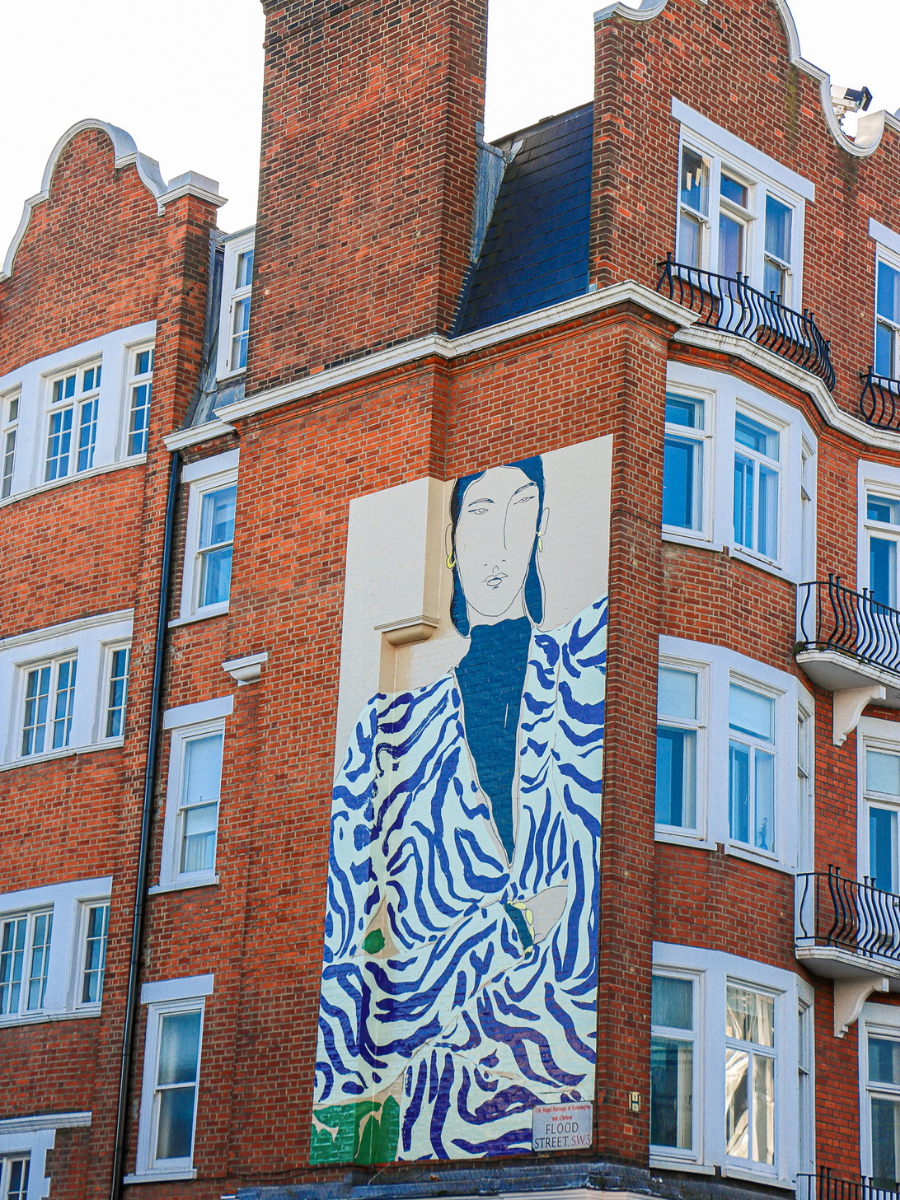 Chelsea Arts Club
Chelsea Arts Club is a home for artists in the heart of London. Whilst this is a private club, the building is always decorated on the outside so it is well worth a trip to see what their current art work is!
Physic Garden
Chelsea Physic Garden is one of the oldest botanic gardens in Europe. On the north bank of the Thames and sheltered by high brick walls, this garden was first set up in 1673 as the Apothecaries' Garden to grow plants that they could use in medicines. Now they are run as a charity and are open 6 days a week for the public to come and enjoy their peaceful grounds.
Chelsea Embankment
For those who enjoy a river walk in London, Chelsea Embankment is the perfect place to be. This stretch along the Thames's north bank is just over a mile long. Along the Embankment, you'll find many London treasures, including the beautiful Albert Bridge, and Swan House at no.17.
Royal Hospital Chelsea
Often referred to as Chelsea Pensioner's home, the Royal Hospital Chelsea is a retirement home for veterans of the British Army. The gardens at the hospital are grade II listed and are home to the annual Chelsea Flower Show. The hospital was founded in 1682 by King Charles II.
Places to Eat in Chelsea
This area is home to a host of beautiful cafes and restaurants, so there's lots to choose from and definitely something to suit everyone! Finding a romantic London restaurant is easy in this up-market part of town. From The Ivy to Sticks'n'Sushi, whether you're with friends or your partner you're sure to find food you love in Chelsea.
For an afternoon treat and a cup of tea, why not indulge in the delicious cakes, biscuits, and afternoon teas at Peggy Porschen on the King's Road.
A Guide to Chelsea's Colourful Houses
One of the most charming aspects of London is the colourful houses and streets dotted around the city, and this neighbourhood is home to quite a few, including Bywater Street, Burnsall Street, Godfrey Street and Swan Walk. Make sure that you explore Chelsea's colourful streets whilst exploring this area!
Blue Plaques of Chelsea
Blue Plaques are one of the most fascinating things to stumble upon in London, and this area has many. A blue plaque is an official sign on a building that states who of note previously lived in the house. Chelsea's blue plaques include the home of Oscar Wilde, George Elliot, Marc Twain, and Bram Stoker.
Seasonal Guide
The Chelsea area has many events and seasonal sights to catch throughout the year. Here are our top picks of what you should not miss in this location throughout the year!
Chelsea Flower Show
Chelsea Flower Show is one of the biggest annual events in the British calendar, with people from across the country coming to view the wonderful displays, and many people watching the goings on on TV. The local shops take part in Chelsea in Bloom during this time, adhering to a theme and decorating their London shop fronts with beautiful flowers.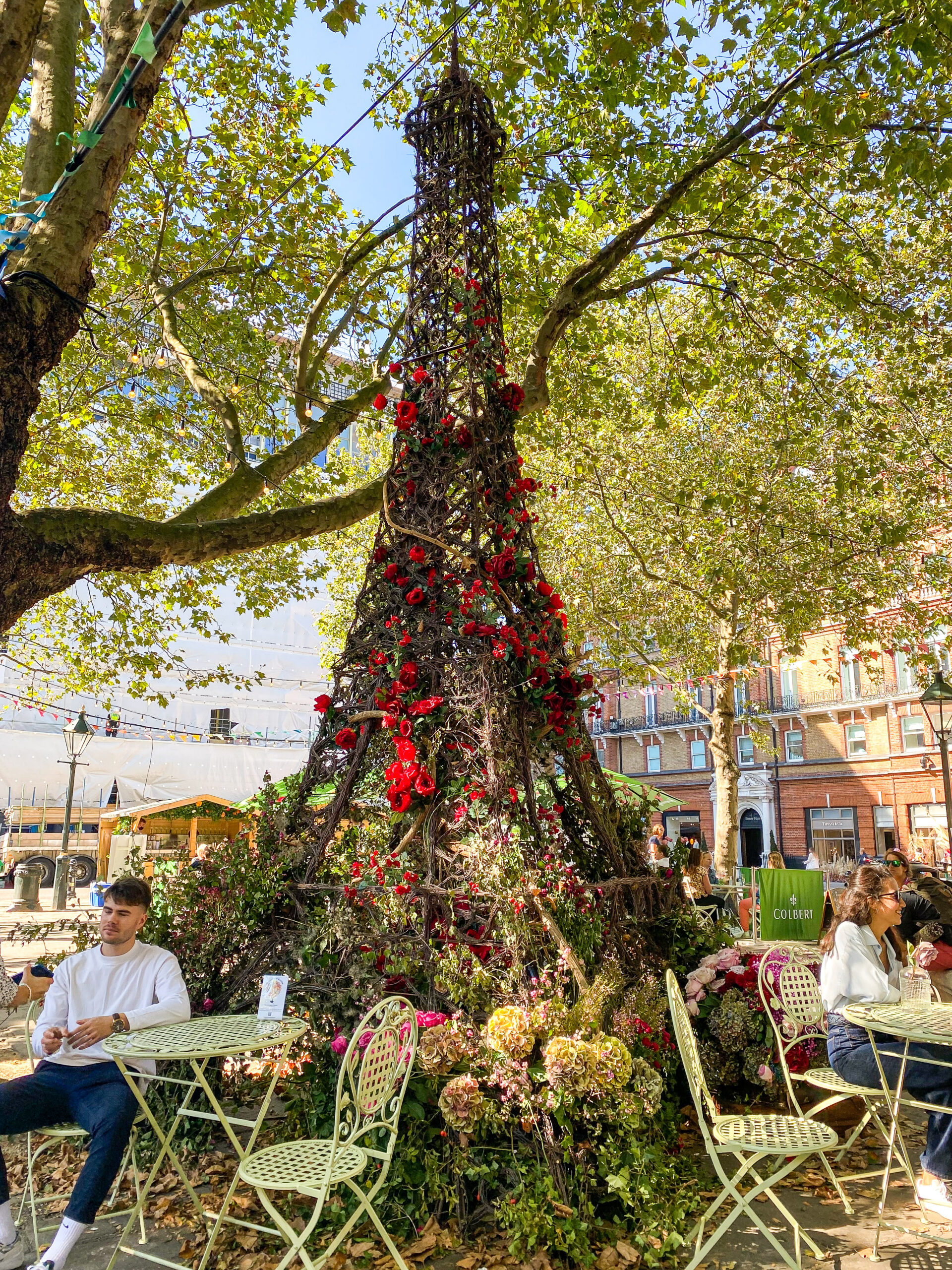 Cherry Blossom
Throughout these west London streets you'll stumble upon beautiful cherry blossoms and wisteria if you explore at the right time! Normally the blossoms bloom in April.
Christmas
London at Christmas is a magical place, and Chelsea doesn't disappoint with it's additions to the festivities. Make sure you don't miss seeing their Christmas lights, in particular The Ivy always puts on a whimsical display!
The London Eats List Map of Chelsea
We've put together a map that marks the best things to see, do, and places to eat in Chelsea! Use this Google map of Chelsea when exploring the area to help you decide where to go! Make sur you follow the map as we'll add more places as we discover them ourselves.
Commonly Asked Questions About Chelsea
If you're looking to visit Chelsea in London you may have a few questions. We've drawn together the answers to some of the most popular questions about the area!
Is Chelsea a Safe Area of London?
Home to many of London's most affluent residents, Chelsea is considered relatively safe. However, due to the high volume of wealthy residents and tourists it is an area that reports thefts and snatches relatively often. Like with all areas of London, you should keep belongings safe, be vigilant, and aware of your surroundings.
What is Chelsea London Known For?
Chelsea, London is famous for a number of things. Most recently, the area has gained popularity through British TV show Made in Chelsea. Whilst historically this neighbourhood has been famed for its Chelsea Buns (a currant bun from the 18th century), and Chelsea Porcelain, made in a factory located in the area.
Internationally, this part of London is probably most recognised for its football team Chelsea F.C. However, the football stadium is actually based in next door Fulham, whilst their training ground is in Cobham in Surrey.
Is Chelsea Expensive?
Whilst most of central London is deemed expensive, as home to some of the most affluent Londoners, Chelsea leans towards the expensive end of expensive. With houses costing in the millions, and local shops including Dior and Cartier.
Introducing The London Eats List
We are a blog dedicated to all things London. From the best London independent bookshops, to a guide of London's Royal Parks, and even where to eat the best pancakes in the city! Whatever you're looking for, we have the articles and guides for you!