Whether it's for Valentine's days, a special occasion, or simply a well-deserved treat, it's always lovely to go to a romantic restaurant in London with your partner. London is home to so many romantic spots, and many of those just happen to be serving food! Our guide dives into some of the most romantic restaurants in London, perfect for dates and celebrations!
What Makes a Romantic Restaurant?
Whilst London boasts many romantic restaurants, what actually makes an eatery romantic? Well, it's a few things – a cosy atmosphere, plush seats, floral decorations, candlelight, perhaps some soft background music. Above all, romantic restaurants in London are made so by those who sit and eat at them. Wherever you choose to eat with your loved one, so long as you're together you'll have a wonderfully romantic time!
Romantic London Restaurants with a View
London is a beautiful city and what better way to take it than in a sky-high restaurant sitting across from your love.
The Shard Restaurants
The Shard is one of the most iconic buildings in London, and the views from that high up do not disappoint. An evening meal at any of The Shard's restaurants will be made romantic by the pretty lights that spark from London at night. On the 31st floor, find Aqua Shard serving contemporary British dishes. On the 32nd floor, you'll discover Oblix which boasts casual dining with incredible views. The 33rd floor is home to Hutong, which serves delicious dishes inspired by Northern China. The highest romantic restaurant in The Shard is Ting, which serves British dishes with an Asian twist. 
Sky Gardens Restaurants
Sky Garden is one of London's free attractions, and it is home to two of London's romantic restaurants. The greenery and incredible view of Sky Garden make it the perfect location for a London Valentine's date, or simply a place to celebrate your love. Fenchurch Restaurant offers a menu full of contemporary British food and a fabulous wine list. Whilst the Darwin Brasserie is the ideal spot for a romantic breakfast in London.
Duck and Waffle
Instagram favourite, Duck and Waffle, is located in the Heron Tower on the 40th floor, boasting incredible views of the city. With such gorgeous views, it's no wonder this is one of London's most romantic restaurants. This is one of the best places in London for waffles, so why not share this delicious sweet or savoury treat with your amore. 
Romantic Italian Restaurants in London
Italian food is always romantic, and London is home to some delicious Italian restaurants that will feel like you've been whisked away to Venice!
Franco's 
Franco's was one of London's first Italian restaurants and it's classic decor and impeccable service makes it one of London's romantic restaurants too. With burrata, scallops, delicious pastas and risottos, desserts perfect for sharing you'll adore spending time in this romantic spot.
Circolo Popolare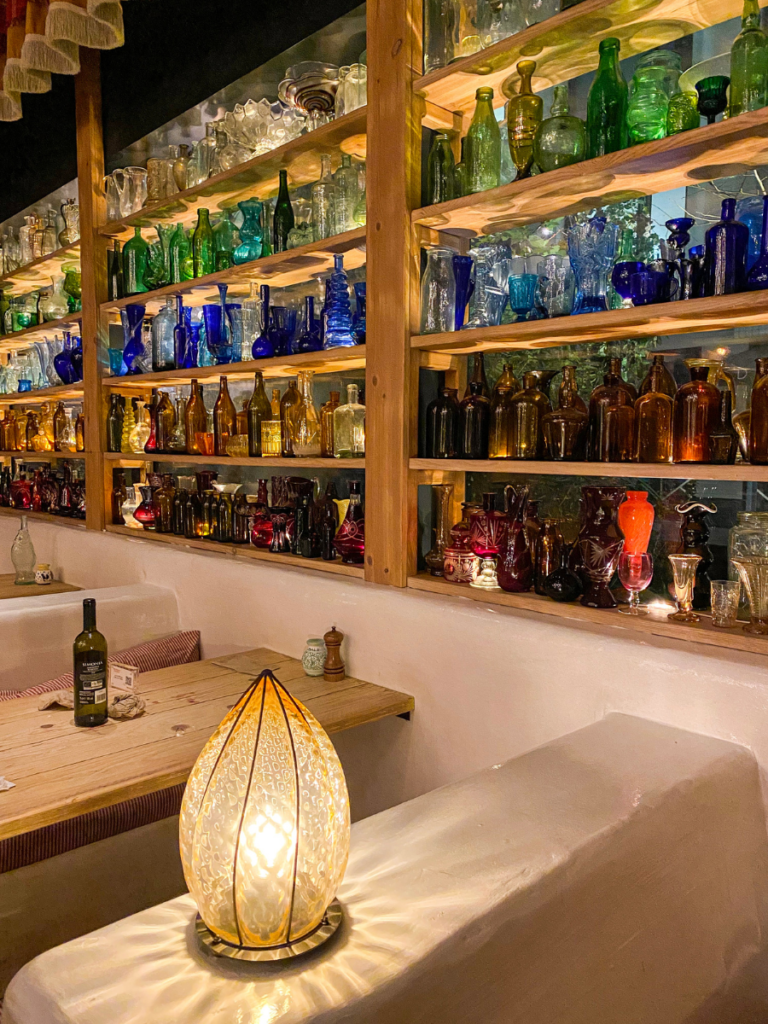 Part of the Big Mamma group, Circolo Popolare boasts stunning interiors, with walls lined with colourful bottles and greenery. Here you'll find yummy truffle pasta, pizzas, and a lemon meringue pie that's simply to die for. You can't go wrong with this romantic restaurant in London.
Daphne's
Daphne's has been decorated with Italian style in mind, which makes it a stunning romantic restaurant in London. Whether you're visiting for lunch or dinner you'll be spoiled with a menu that holds seabass, pasta, steaks, and indulgent cocktails.
Romantic Spots for Sushi in the City
Sushi is often considered one of the most romantic meals, making it ideal for dates and anniversaries. Here are some of the most romantic sushi restaurants in London!
Sticks'n'Sushi
Sticks'n'Sushi has locations across London and is one of the city's most popular spots for sushi. Their menu boasts sushi classics including sashimi, nigiri, maki, and vibrant salads. With contemporary Japanese inspired decor, this is a perfect spot for celebrating a special occasion in the company of the one you love the most.
Sushisamba
Another romantic London restaurant located in the Heron Tower as well as a location in Covent Garden, Sushisamba celebrates Japanese, Peruvian, and Brazilian culture and food. This vibrant romantic restaurant in London offers beautiful food and delicious cocktails, what more could you want!
Sweet Spots to Fall in Love
Love is sweet and here at The London Eats List, we have a particularly sweet tooth. Here are the most romantic places in London to indulge in a treat!
Humble Crumble
Located in two of London's best markets, Humble Crumble offers a modern take on the classic British crumble. The artisan desserts of Humble Crumble combine cooked fruit with crunchy shortbread toppings. Layer with yummy custard (a vegan option is available), chocolate, and even a pink toasted marshmallow! We recommend buying a large size and sharing between you for a perfect romantic pudding in London.
Peggy Porschen
For delightful cupcakes, afternoon tea, and lunches, Peggy Porschen is the place for you! The pink decor of this famous bakery and pretty London cafe makes it a gorgeous place to sit and enjoy a cup of tea and slice of cake with your special someone.
Romantic Restaurants for Special Occasions
If you're celebrating a special occasion such as an anniversary or promotion, a romantic restaurant in London is the perfect location. Here are our top picks!
Sketch
Sketch has to be one of London's most popular romantic restaurants. Located in an 18th-century townhouse, and with 5 different restaurants inside, there's something for everyone here. Their romantic restaurants include one of London's Michelin star eateries. With its pink and floral interior and funky bathrooms, you'll want to make sure you get a couple goals picture here!
Lucky Cat
Lucky Cat is one of Gordon Ramsey's many London restaurants, with an Asian inspired menu. Located in upmarket Mayfair, the decor of this eatery is inspired by Tokyo's 1930's kissas and Shanghai's drinking dens. The outside of this romantic London will welcome you with neon signs and a floral archway. 
14 Hills
14 Hills is located on the 14th floor, with beautiful views over London. The food looks to combine British and French cuisine. It's the perfect romantic London restaurant to spend a late evening meal, as it transforms into a late-night bar later in the evening.
Unique Culinary Experiences to Share
London is home to the weird and wonderful, and dining experiences are no different! If you're looking for a different way to spend your romantic evening, here are our top picks.
Dans le Noir?
Dans le Noir? Is a restaurant with a difference. You'll be eating in complete darkness with a mystery menu. Without visual stimulation, your focus will be on connecting with one another and enjoying the delicious food!
Bob Bob Ricard
We've all seen the pictures of the 'Press for Champagne' button, and Bob Bob Ricard is its home. With 2 restaurants, one in the city and one in Soho, you'll be treated to a British/Russian fusion menu at this romantic London spot.
Turn up the Spice with Delicious Indian Food
London is home to many fabulous Indian restaurants, and you can never go wrong with one of these as your romantic setting.
Dishroom
Dishoom is one of London's most popular Indians, and it's no surprise as to why. With various locations across the city, including in Shoreditch and Coal Drops Yard, you'll find one in the perfect spot! We adore this restaurant for sharing dishes, simply choose a few that make your mouth water and share as a couple!
Mowgli
Mowgli focuses on Indian street food. First opening in Liverpool, and with various locations across the UK, including in Cardiff. Mowgli has finally brought their delicious food to London. With both a normal and vegan menu, this is a perfect spot for romantic vegan food in London.
A Taste of Paris Romance in London
Whilst we think London is the ultimate romantic city, a touch of Paris love is never a bad idea. So bring the French romance to the UK with these French-inspired restaurants.
Clos Maggiore
Named one of London's most romantic restaurants, Clos Maggiore is decorated with beautiful flowers and has equally stunning food. With a next-level wine list and gorgeous tasting menus, this is the perfect spot to celebrate your love.
La Poule au Pot
Located in upmarket Belgravia, La Poule au Pot has been voted 'best for romance' in Hardens Guide. On their menu, you'll find French classics such as ratatouille, and beef bourguignon! 
How to Choose Which Romantic London Restaurant to Attend
With so many wonderful romantic restaurants in London, choosing where to go can be a little tricky. Our top tip is to focus on the type of food you and your partner enjoy, and the atmosphere you want to be in. For something a little more lively, opt for Sushi Samba, whereas somewhere more intimate would be Dans le Noir? Wherever you go, we know you'll have a fabulous time celebrating your love in London's romantic restaurants!
Introducing The London Eats List
We are a London blog, bringing you the best things to do, eat, and see in our gorgeous city. From the Royal Parks in London to visit, to London themed books to cosy up with on a cold winter's day. You'll find all the London knowledge you need here.