Chestnut Bakery is a favourite among many locals in Belgravia and Covent Garden. With their delightful and tasty selection of pastries, alongside mouthwatering flatbreads it's no surprise. We've been to the location in Belgravia a few times, and are ready to share our thoughts and review with you of this pretty cafe.
Table of Contents:
Chestnut Bakery: The Menu
The menu at Chestnut Bakery is slightly different depending on whether you are planning on eating in or taking away.
For those wanting to eat in, you can indulge in a more substantial meal of a sourdough flatbread topped with delicious foods, including burrata, figs, kalamata olives, and so much more.
If you're in want of a sweet treat or a smaller lunch, then look no further than the fine pastries and doughnuts on offer. Chestnut are famed for their croissants, but they also have a tasty range of cinnamon buns, vegan specials, and jam filled doughnuts!
Don't forget to pick up a barista coffee alongside your pastry – we particularly enjoy their chai lattes in the colder months of the year, but their iced lattes are fabulous on those super hot London days!
Seasonal Specials
London's cafes are particularly good at putting on seasonal specials and Chestnut Bakery are no different. Their specials tend to be different croissants, from black croissants for Halloween, to delicate floral flavours for summer – make sure you check out the seasonal menu before ordering a standard pastry!
Our Review of Belgravia's Chestnut Bakery
We've visited Chestnut Bakery in Belgravia on a couple of occasions now. It's situated on Elizabeth Street (our favourite street in the Belgravia area) and is just a short walk from both Victoria Station and Victoria Coach Station.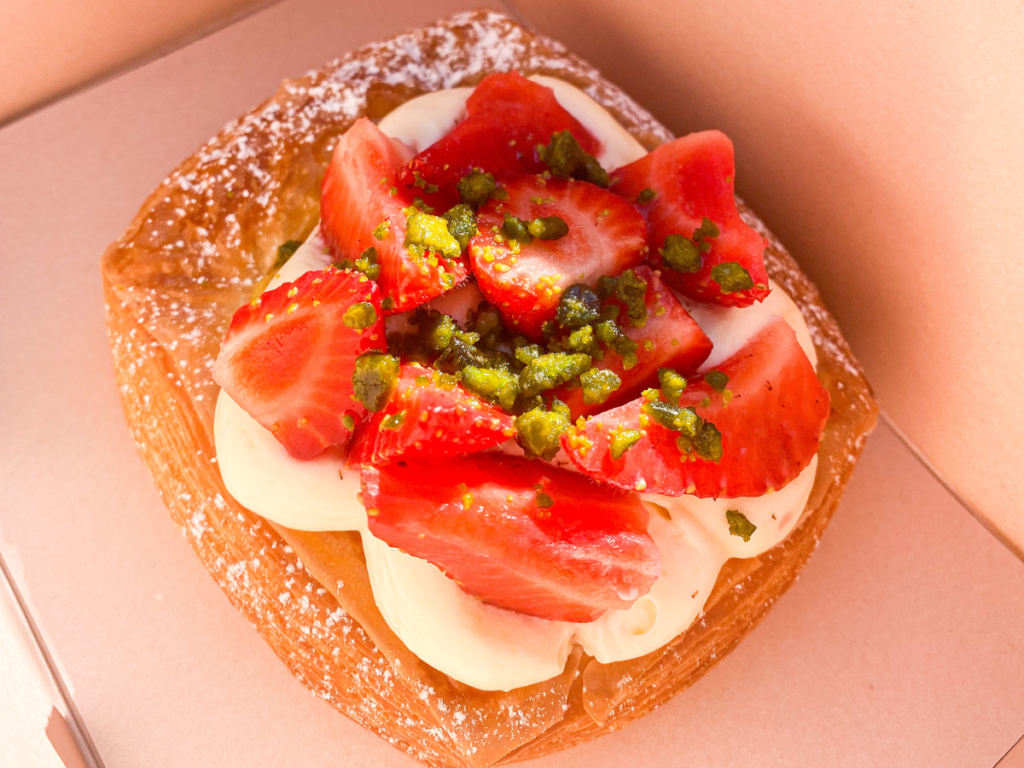 Inside there is some seating, but not a lot, so if you're looking for one of their meals rather than just pastries and coffee to go you might want to try and time your visit for quieter periods.
We really like Chestnut Bakery for popping in to grab some pastries for breakfast, particularly if we're about to go on a stroll for the day. We've tended to opt for the seasonal specials when we visited, and a particular highlight was a summer danish pastry that featured elderflower and strawberries – delicious! They also do a really good chai latte!
I'd like to visit and try their sourdough flatbreads – but as we've said it can be a little tricky to get a seat! But we'd definitely recommend popping in one of their bakeries if you're wanting a sweet treat that won't disappoint!
Chestnut Bakery Too Good to Go
Chestnut Bakery is often on Too Good to Go, which is a food waste app where you can buy cafe or restaurant leftovers for a very reduced price.
A few months ago we ordered a magic bag from Chestnut of their leftover goods. Cafes differ with how they approach Too Good to Go, but at Chestnut we were told the full price equivalent we could choose items up to. The lady behind the counter said we could choose from everything, but after we tried to select a couple of items it transpired that it wasn't across all items.
We ended up choosing the Aubergine Parmigiana Croissants as we were planning on eating them for dinner.
Compared to other Too Good to Gos it was relatively little food. However, if you live nearby and this is one of your favourite Belgravia cafes then it might be worth taking a look to pick up a magic bag. For us, it's not one we'll be rushing back to as the experience and cost wasn't great compared to other places we've tried in the nearby area.
Locations & Opening Hours
Chestnut Bakery has two London locations, both in Central London:
Belgravia:
17-21 Elizabeth St, London SW1W 9RP
Open 7:30am – 6pm everyday
Covent Garden:
24 Floral St, London WC2E 9DS
Open 8:30am – 6pm everyday
Introducing The London Eats List
Planning your next trip to London? Allow our guides to help inspire your stay, from the best mulled wine in the winter months, to the tastiest ice-cream to cool you down on a hot day – we have the recommendations for you!