Peggy Porschen is one of London's most instantly recognisable cake shops. With its pretty pink frontage, seasonal decorations, and intricate cupcakes, it's one we're sure you've seen all over your instagram feed. But is it really worth the hype of eating here? We've tried both their cakes and biscuits now and are ready to share all the details with you!
Table of Contents:
The Food at Peggy Porschen
Not only is Peggy Porschen a bakery serving up cakes, biscuits, scones and more, but they also offer breakfast, brunch, and light lunches. Here is our rundown of their menus:
Cakes & Biscuits
Peggy is best known for its cakes, with their decorative swirls, and nods to the seasons; they seem to be the first on everyone's checklist for seasonal treats in London. You can opt for classic flavours such as chocolate, red velvet, or banana, or choose the rotating specials which include flavours such as lemon, blackberry, and cinnamon.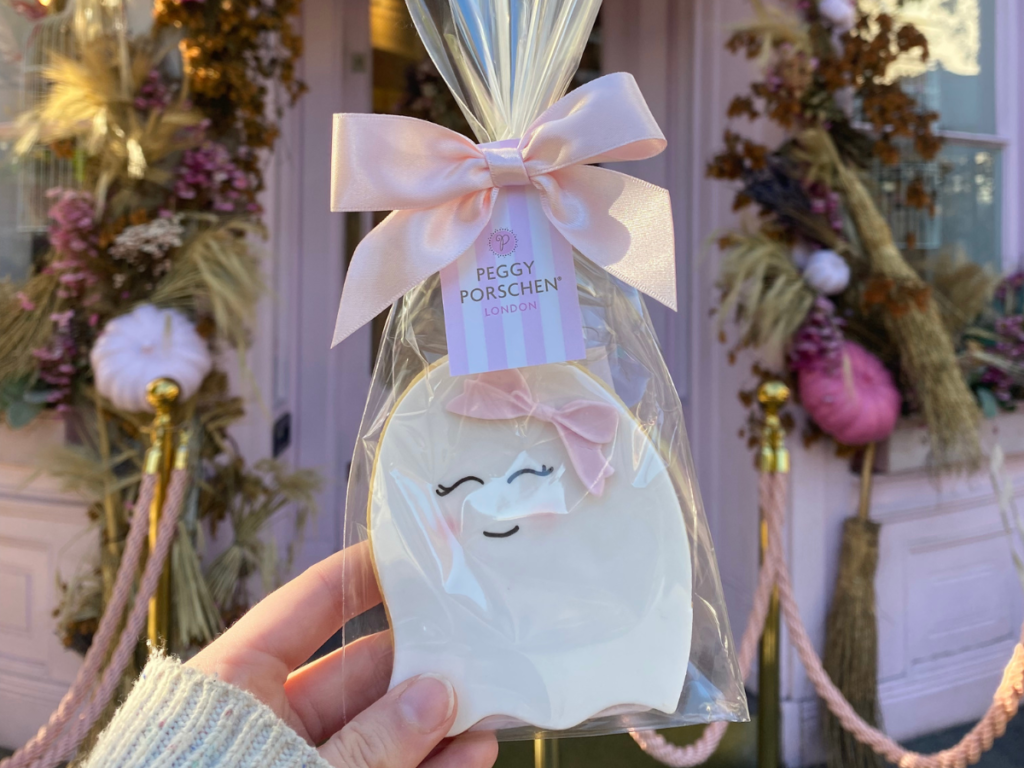 You'll also often find iced sugar cookies, that are the perfect choice to take away and enjoy later.
Breakfast & Afternoon Teas
For those wanting more than just a sweet treat, Peggy Porschen also offers a range of breakfasts and lunches. You can order anything from avocado on toast, to french toast, to pumpkin soup and open sandwiches.
We've personally got our eyes on their 'Morning Tea,' a twist on the classic afternoon tea, but serving up a range of mini breakfasts instead of cakes. Each season they also put on afternoon tea, which features a selection of their cakes and macarons, alongside scones, and delicate sandwiches.
Our Honest Review of Peggy Porschen
Peggy Porschen's cakes truly are pieces of art, from their autumnal cakes having piped pumpkins on top, to their decorated Christmas cupcakes – they really do look incredible. We tried a mixture of their cupcakes, including some of the Christmas specials, and whilst the cupcakes themselves were tasty – the icing was a bit of a let down after all the hype. The thick swirls of icing, to us and to friends who have also eaten there separately to us, tasted and felt in the mouth like they were just butter. As someone who loves cupcakes, particularly those covered in icing, I found this to be quite disappointing, and felt like we were paying for the name rather than the quality.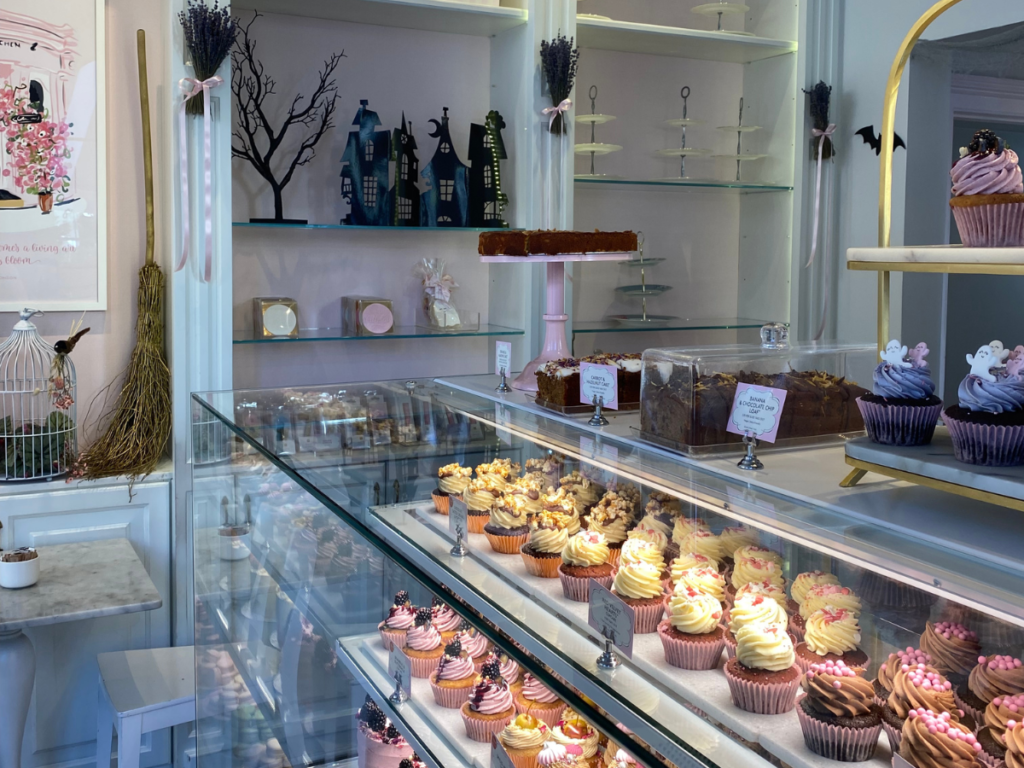 Now, whilst we tried a range of cupcakes I cannot say that all the icing is like this – and I would think that those with different icings other than buttercream, such as cream cheese frosting may be an entirely different experience.
However, we have also tried the cookies that Peggy Porschen makes seasonally and have much more positive things to say about these! The cookies are generously sized and feature cute designs, such as ghosts – so if you do want a small treat from this cake shop, that is what I'd recommend choosing.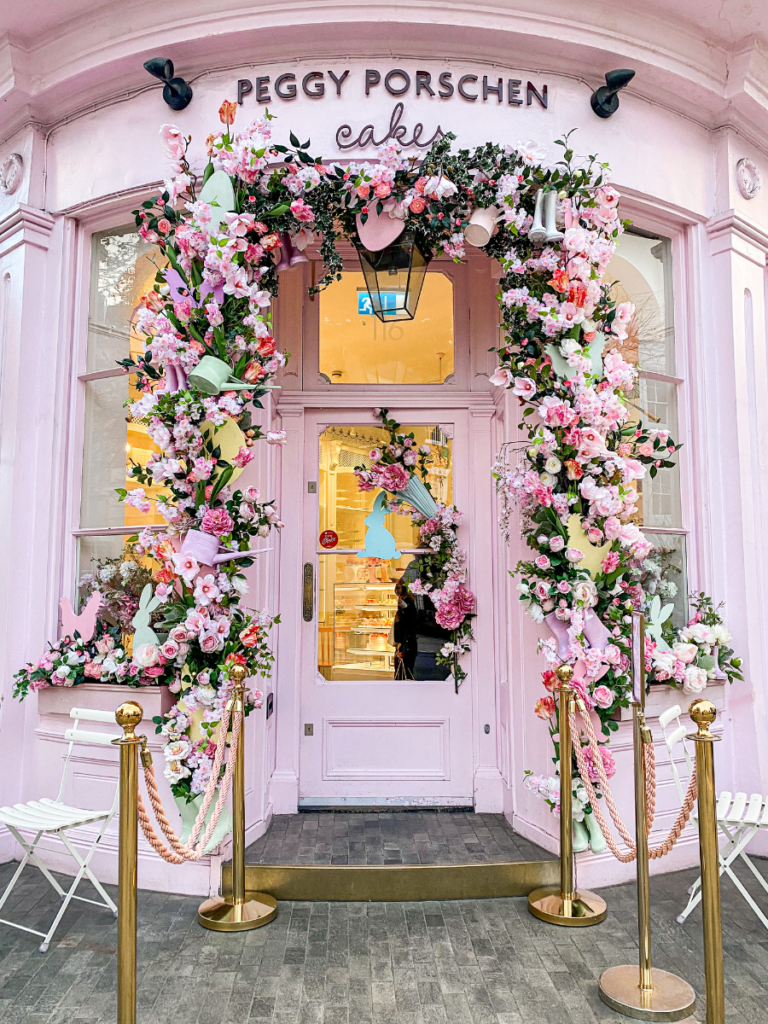 We're yet to treat ourselves to breakfast at either of their cafes, but I do have my eye on the breakfast 'afternoon tea' as it gives you the chance to try miniature versions of menu favourites!
So if you're looking for a tasty cupcake, rather than just a shot or Instagram, I'd recommend trying other bakeries nearby and in London such as the Hummingbird Bakery.
Seasonal Decorations at Peggy Porschen
An area when Peggy Porschen does not let down is decorations. Their front doors in both Chelsea and Belgravia are never without a seasonal arch, from the beginnings of autumn, to Christmas, to Valentine's day – this is a spot we like to see change throughout the year.
The decorations are always on brand and pink – perfect if you're looking to explore Barbiecore London!
Peggy Porschen Locations & Opening Times
Chelsea:
219 King's Rd, London SW3 5EJ
Open: 9.30am-6pm Weekdays, 9.30am-7pm Saturdays, & 10am-6pm Sundays
Belgravia:
116 Ebury St, London SW1W 9QQ
Open: Monday-Saturday 9am-6pm, Sunday 10am-6pm
FAQs
Who is Peggy Porschen?
Peggy Porschen is a pastry chef, who in 2010 opened the first of her cake shops in Belgravia, with her husband as Managing Director. She was trained at Le Cordon Bleu in 1999.
Which Peggy Porschen is Better?
Both branches of Peggy Porschen offer the same food and dining experience. However, which is better simply falls down to whether you prefer the quiet of Belgravia, or the hustle and bustle of shoppers in Chelsea more.
Why is Peggy Porschen so Popular?
We think Peggy Porschen is so popular due to the wonderful displays that rotate seasonally on the outside of their shops, along with the visual aesthetics of the cakes themselves.
Can You Book a Table at Peggy Porschen?
Yes – you can book a table for breakfast, brunch, lunch, morning tea, and afternoon tea. If you're wanting coffee and cake they also accept walk-ins.
About The London Eats List
Make the most of your trip to London by following our ultimate guides. From the Halloween foods you must try, to the Christmas sweet treats perfect to finish a festive day out.