Sunday in Brooklyn has become an Instagram sensation, and top of every Londoner's must try brunch spots in the city. But are their pancakes really worth the hype? And should you add it to your restaurant bucket list? We visited the popular location to try it out for you!
What is Sunday in Brooklyn?
Sunday in Brooklyn is a restaurant originally opened in Williamsburg and is a much loved New York feature. Their London location is known for its original take on classic American dishes, being particularly popular for their brunch offering. The restaurant is a beautiful open room located in Notting Hill, with green decor and a cool vibe, it's no wonder this is such a favourite amongst Londoners.
What's on Sunday in Brooklyn's Menu?
The most notable thing on Sunday in Brooklyn's menu is their Sunday Pancakes™ which are large, dense pancakes topped with hazelnut maple praline and brown butter. But that's not all their menu is limited too – you'll also find avocado toast, chia puddings, shakshuka, and burgers on their menu.
Whether you visit for breakfast, lunch, or dinner there's something on the menu for everyone. At dinner you can opt for sharing plates for the table, including pita and hummus, heritage tomatoes, and watermelon. For dessert you can opt between American and British classics, from apple crumble to chocolate s'mores.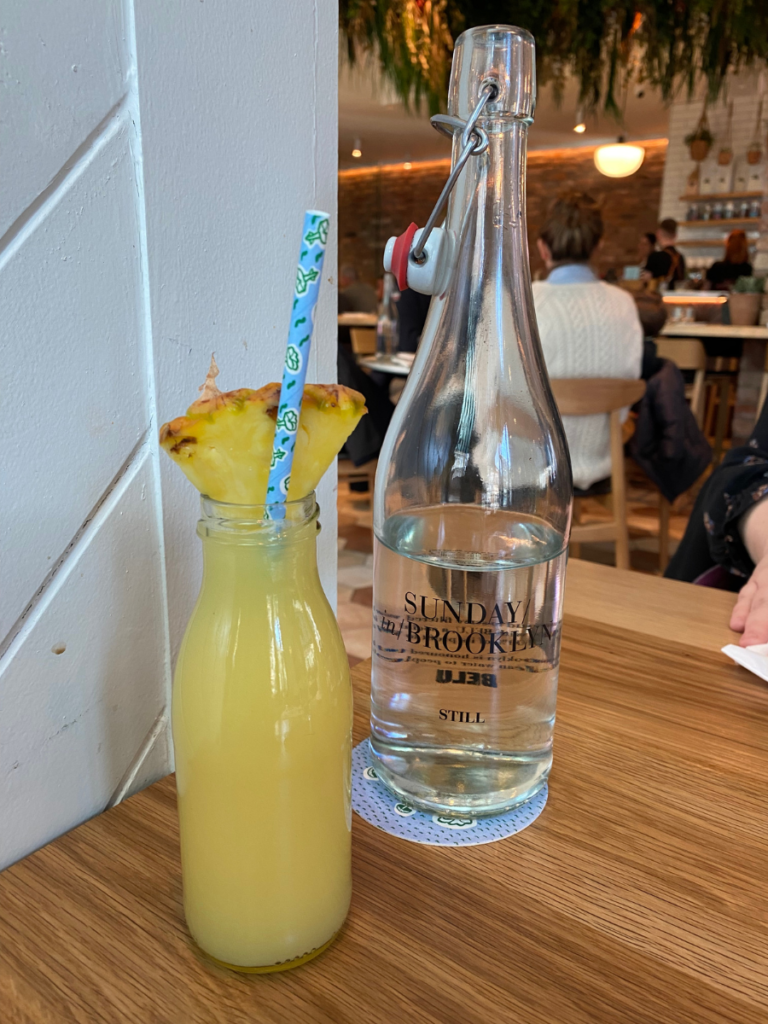 For those looking for a morning or evening tipple, Sunday in Brooklyn boasts a fabulous cocktail menu which features a range of their own recipes including the Sunday Espresso, Champagne Problems, and Honeybear on Holiday.
Staying off the alcohol? No worries – because Sunday in Brooklyn also offers delicious juices.
Sunday in Brooklyn: A Review
Aptly, we visited Sunday in Brooklyn on a gorgeous Sunday morning in Notting Hill. We got there early as we wanted to spend the day exploring the wonderful area. At opening the restaurant only had a couple other groups in there, and was a nice environment to start the day with breakfast at.
We opted to stick with juice instead of cocktails as we'd had drinks the previous couple of days and wanted to fully enjoy the rest of our day! The juices were super yummy and an excellent way to start the day.
For breakfast we opted for the biscuits and gravy – an American classic that neither of us was familiar with. The 'biscuits' aren't what we'd classically call biscuits in the UK – they're described as a soft dough biscuit – but are obviously savoury. They came served with white sausage gravy, poached eggs, and hot sauce.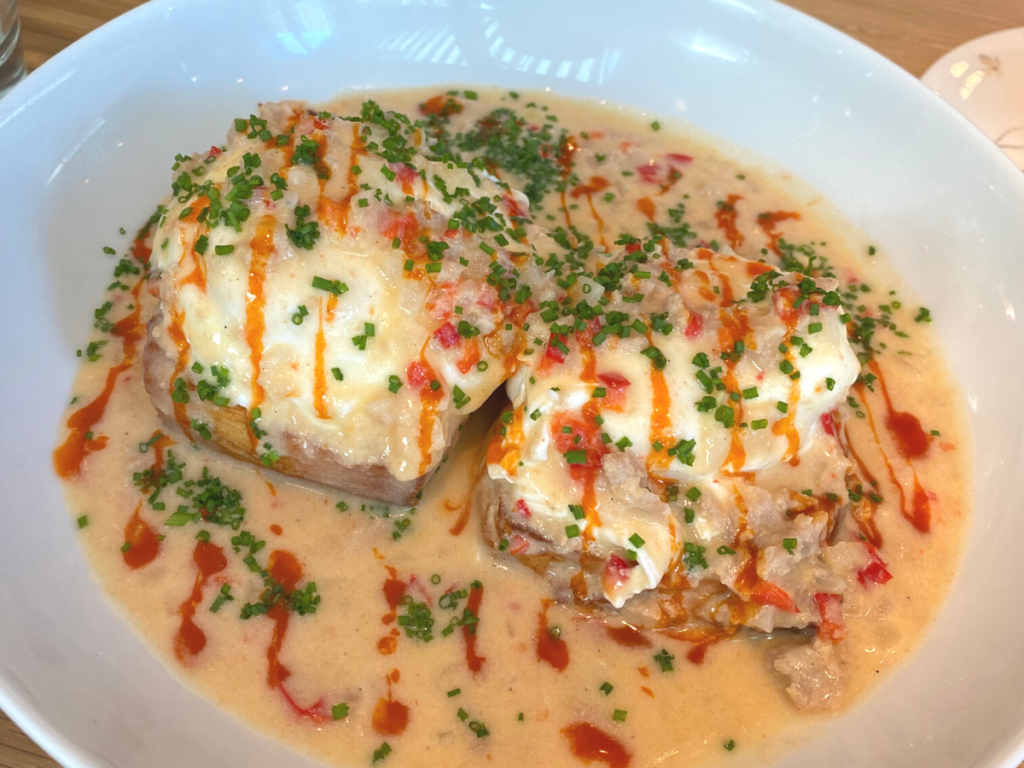 We also opted for the ricotta and jam on toast. This was an interesting combination which we haven't seen before. The savoury nature of both the ricotta and the toast paired perfectly with the sweetness of the jam – leaving for a refreshing breakfast choice.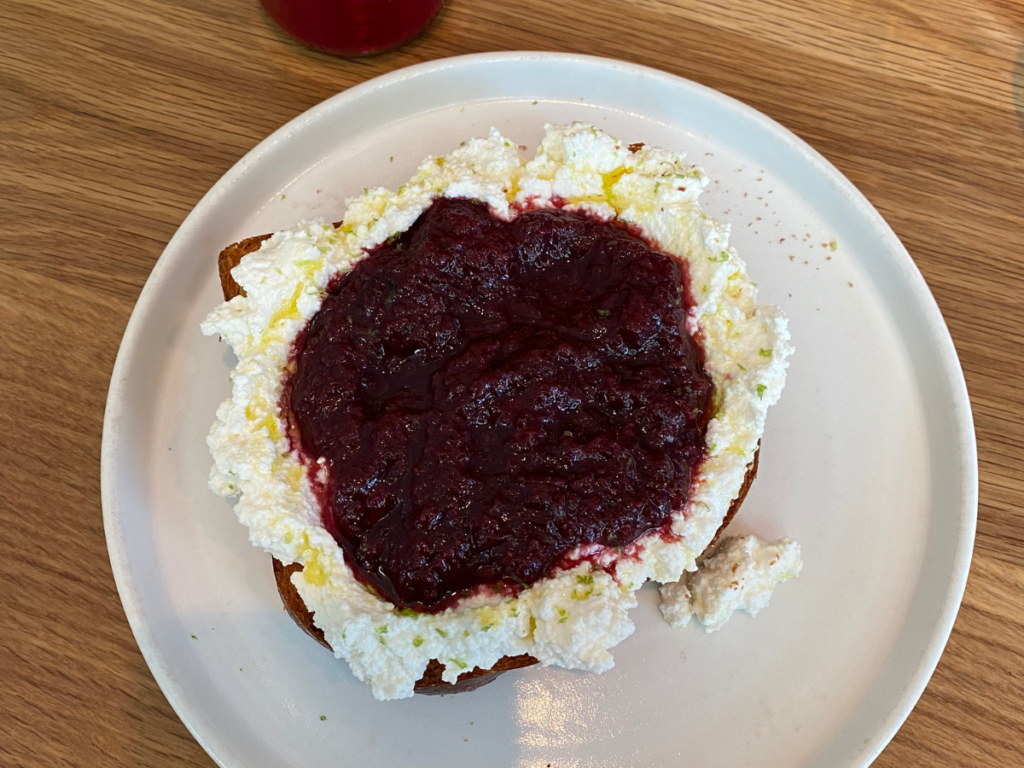 Neither of us decided to try the infamous pancakes – primarily because one of us really doesn't like hazelnuts, and the size of the pancakes we'd seen others having were absolutely huge! If you're not too hungry we'd recommend sharing between 2!
Where is Sunday in Brooklyn?
Sunday in Brooklyn is located at 98 Westbourne Grove in Notting Hill. The nearest tube station is Bayswater, or Notting Hill Gate is also very close.
Do You Have to Book Sunday in Brooklyn?
We did not book Sunday in Brooklyn, however we did get there at opening to ensure we got a table. They state that the majority of the restaurant is available for walk-ins, also they do offer reservations.
Is Sunday in Brooklyn Dog Friendly?
According to Sunday in Brooklyn's Instagram, you can in-fact bring your dog into the restaurant. We however always recommend that you only bring well-behaved dogs when dining in London to ensure you and others diners have a wonderful experience.
Who Owns Sunday in Brooklyn?
Sunday in Brooklyn was founded by Todd Enany, Adam Landsman, and Jamie Young in 2016.
About the London Eats List

Planning your next trip to London? We are here to help! From the best London restaurants with a view, to where to indulge in ice cream in the city – we're here to help!