Notting Hill is well known among Londoners for its brightly coloured houses, fabulous restaurants, rare antiques, and famous market. This beautiful area has lots of things to do all year round. We've put together the ultimate guide to London's Notting Hill to help you explore this area with ease.
Where is Notting Hill?
Notting Hill is located in West London in the Royal Borough of Kensington and Chelsea. It is bordered by Holland Park, Kensington, and Bayswater. With its close proximity to high end Kensington, it's a great location to be based to explore the city.
Getting to Notting Hill
For those looking to travel to Notting Hill by train, there are a number of stations you can use that are in, or in walking distance of the gorgeous area:
Notting Hill Gate
Bayswater
Queensway
Holland Park
Ladbroke Grove
You could even use the mainline station Paddington and take a slightly longer walk to Notting Hill.
The History of Notting Hill
Notting Hill was originally a hamlet in the old county of Middlesex, before joining ever-expanding London in the 19th century. During the 19th Century James Well Ladbroke developed his Notting Hill estate which would become home to upper middle class families as well as attracting the artistic class of London. After the war many properties became Home of Multiple Occupancy (HMOs) as a way to tackle the housing crisis. In the 10th century, the upper middle class once again were drawn to Notting Hill and many of these HMOs were reconverted back into large family homes.
Things to Do in Notting Hill
There is a wealth of things to do in Notting Hill. From simply wandering the pretty streets, to visiting markets, and taking yourself on a walking tour. Here are our top activities in the area of Notting Hill:
Portobello Road Market
One of the most famous parts of Notting Hill is the Portobello Road Market. Known as one of the best markets in London and dating back to the 19th century, this is not one to miss if you're visiting Notting Hill. Open Monday – Saturday with each day offering something slightly different, from fruit and veg stalls, to fashion, to bric-a-brac, there's something to please everyone here.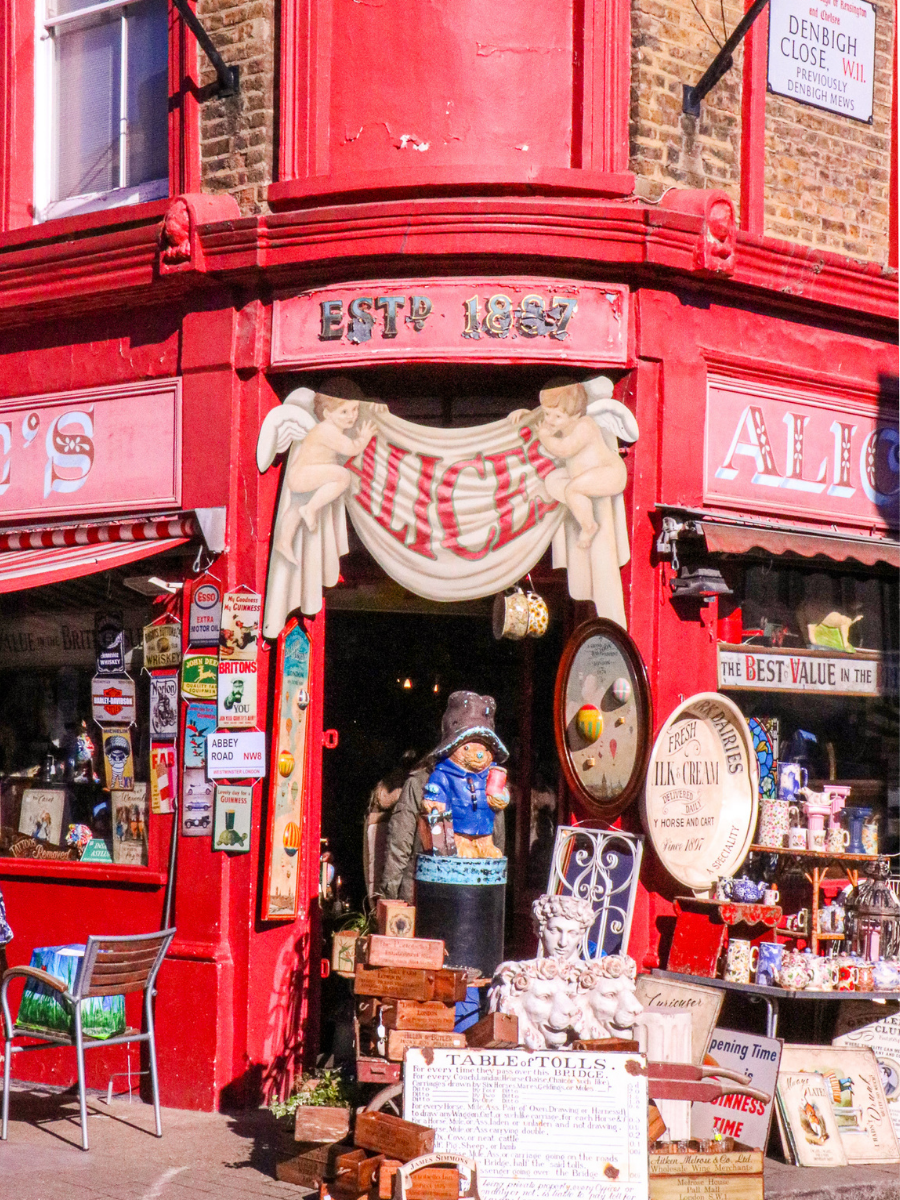 Electric Cinema
Notting Hill is home to one of the oldest working film theatres in Britain, the Electric Cinema. It also holds the title of the UK's first black-owned cinema, from 1993 – to 2000 when it was sold. Opening originally in 1910 it was one of the first purpose built buildings specifically for cinema. Today you can catch the latest movies at this historic cinema.
Rom-Com Tour
If you're planning on visiting Notting Hill then you have to take yourself on a rom-com tour of London. Notting Hill not only boasts a classic rom-com, featuring Hugh Grant and Julia Roberts, by the same name, but is also home to many other famous scenes from British rom-coms. From Will Thacker's blue door, to the famous bookshop, and even Juliet's pretty mews house from Love Actually.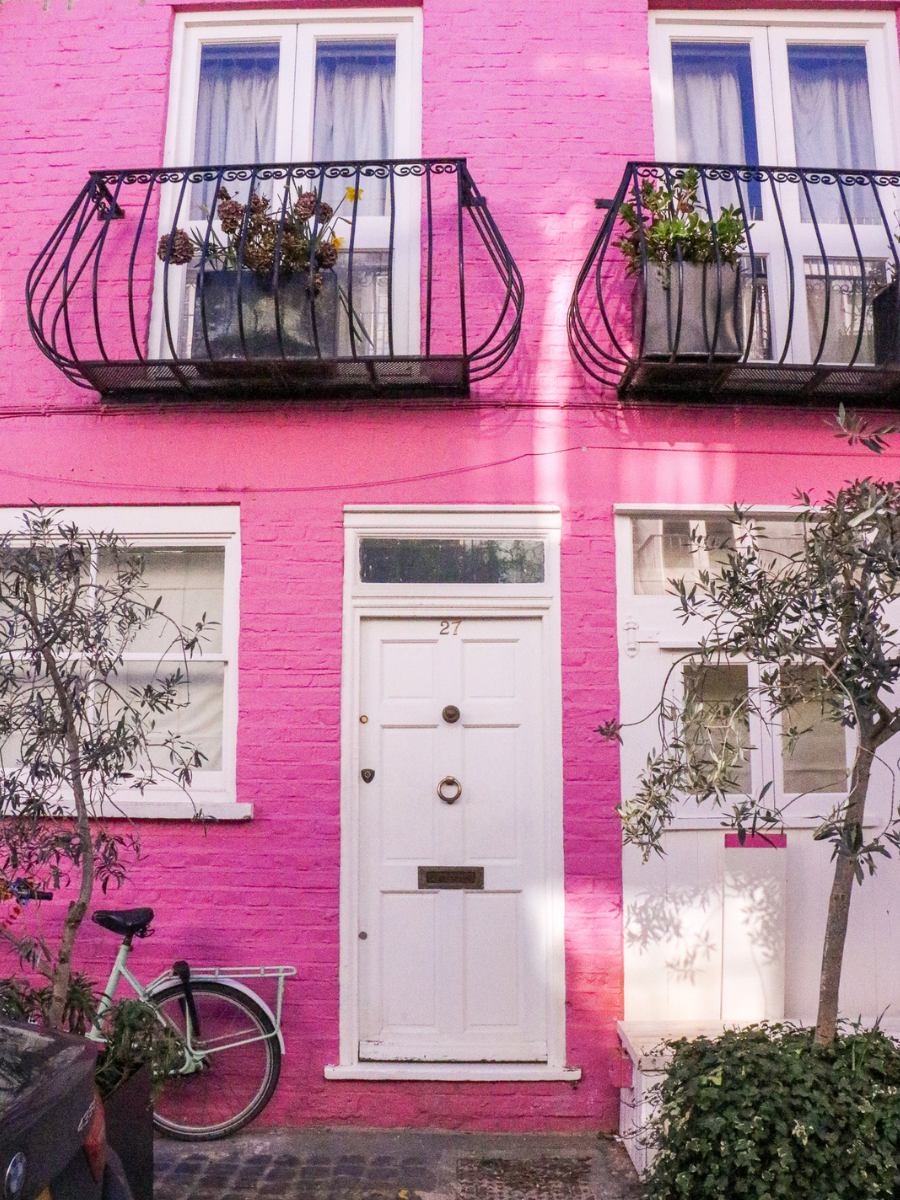 Museum of Brands
For those looking for a dose of nostalgia, the Museum of Brands in Notting Hill is the place to visit. The museum explores 150 years of brands. You can expect to see how the brands we use daily have changed since the Victorian era.
Notting Hill Restaurants
A popular spot for insta-famous restaurants, Notting Hill is bursting with delicious spaces to eat food! Here are some of our top picks:
Brunch in Notting Hill
For those after a spot of morning brunch, we adore Sunday in Brooklyn. Originally from New York, this restaurant brings a spot of New York cool to London. From their famous pancakes and breakfast cocktails, to delicious savoury options to get your day started!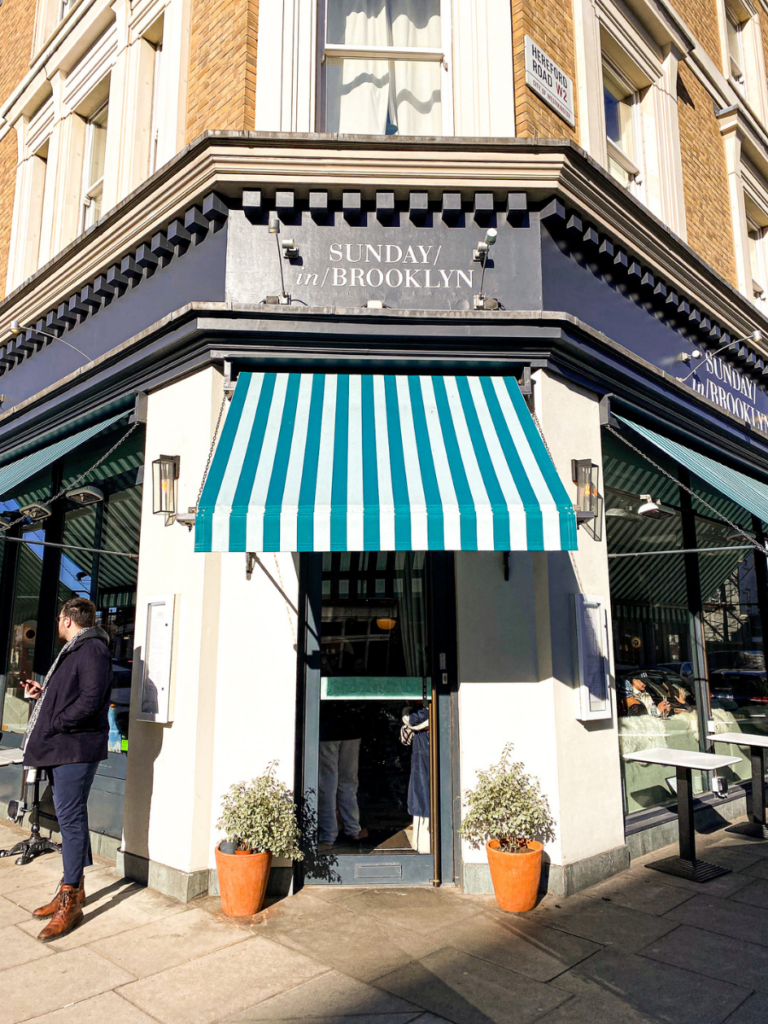 Farm Girl is another popular brunch spot – serving their yummy dishes all day long. From acai bowls, to avocado on toast, and unique lattes, you'll not be stuck for choice in this stunning Notting Hill restaurant.
Notting Hill Cake Spots
If you're not after a full meal and just need a sweet treat to tide you over, Biscuiteers is a must visit in Notting Hill. This famous biscuit shop creates beautifully iced biscuits, from London themed cookies, to the perfect gifts, these taste just as good as they look!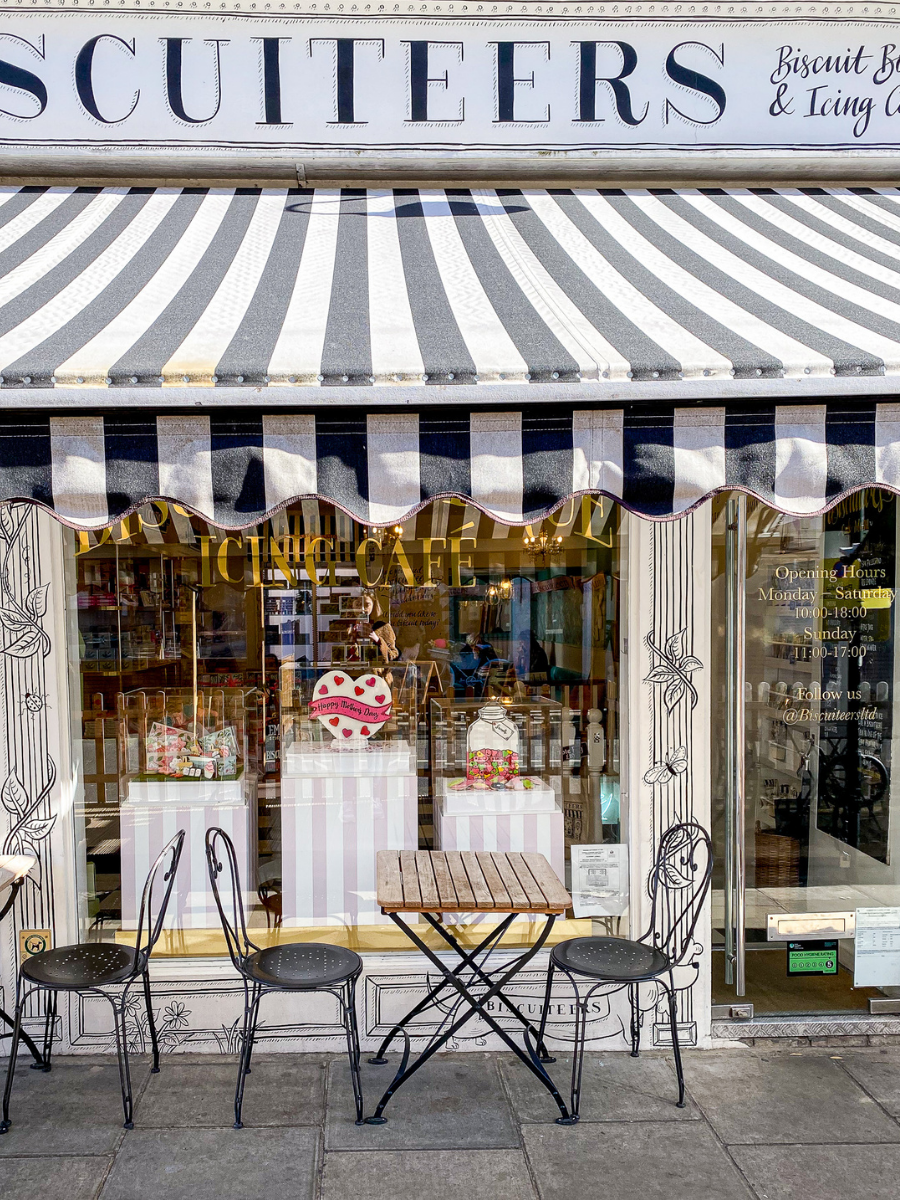 Notting Hill's Colourful Houses
Just like the area of Chelsea, Notting Hill's pretty streets boast a range of stylish colours. The beautifully decorated houses are one of the main attractions to the area. With so many gorgeous buildings you'll enjoy just wandering the streets of Notting Hill to take them in in all their glory.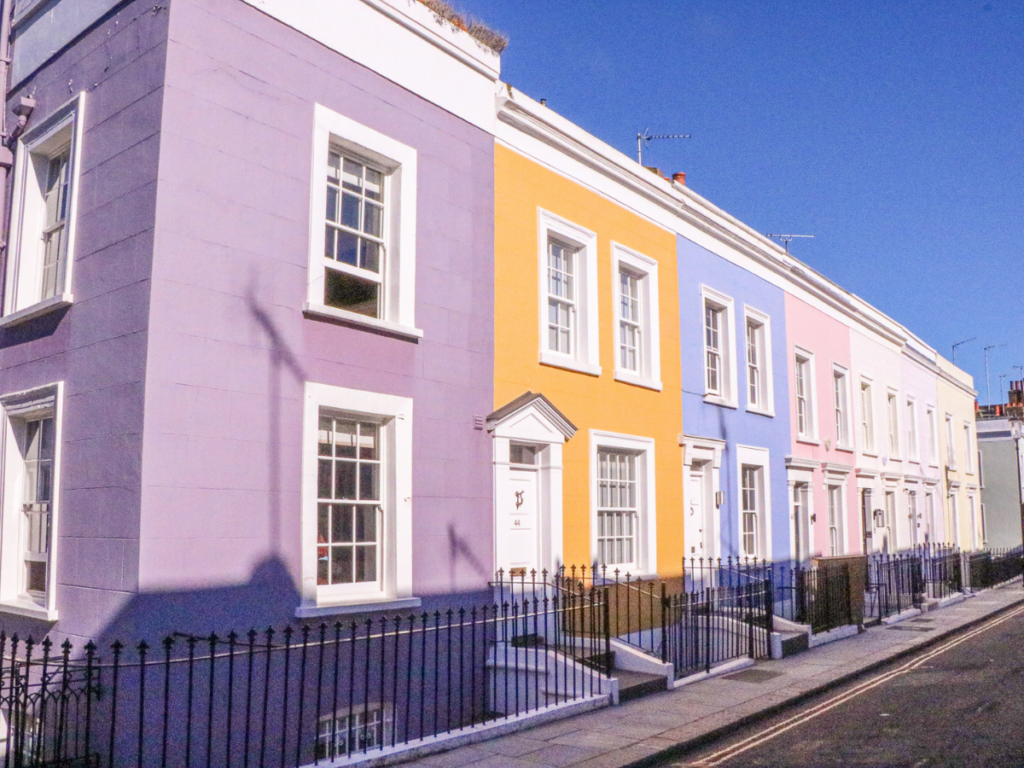 Seasonal Guide to Notting Hill
London changes through the seasons, keeping Londoners and tourists on their feet all year round and Notting Hill is just the same. Here are our top picks of things to do during different times of the year.
Notting Hill Carnival
Notting Hill carnival is world famous, attracting over 1 million visitors each year and is in fact the largest carnival in Europe. The carnival began as a way to improve race relations in the area with the BBC televising it to help celebrate afro-caribbean culture.
Blossoms
Notting Hill's streets are lined with pretty trees that come into bloom around April time, dusting the streets a beautiful white and pink. Our floral London guide can help you find the perfect spots to see delicate flowers throughout the city.
London Eats List Map
Take yourself on a self-guided tour of London by following our map of Notting Hill!
Commonly Asked Questions
There are lots of common questions about Notting Hill – we've tried to answer the most popular questions for you!
What is Notting Hill Famous For?
Notting Hill is famous for its association with artists, the Portobello Road Market, and Notting Hill Carnival. For film lovers, Notting Hill is most famous for its titular film starring Hollywood actors Hugh Grant and Julia Roberts.
Is Notting Hill Expensive?
Like a lot of London, Notting Hill real-estate can be very expensive with flats beginning at around £500,000. Whilst larger homes can cost millions of pounds. However, if you're just visiting the area on a tour of London there are lots of things to do that won't cost you the earth!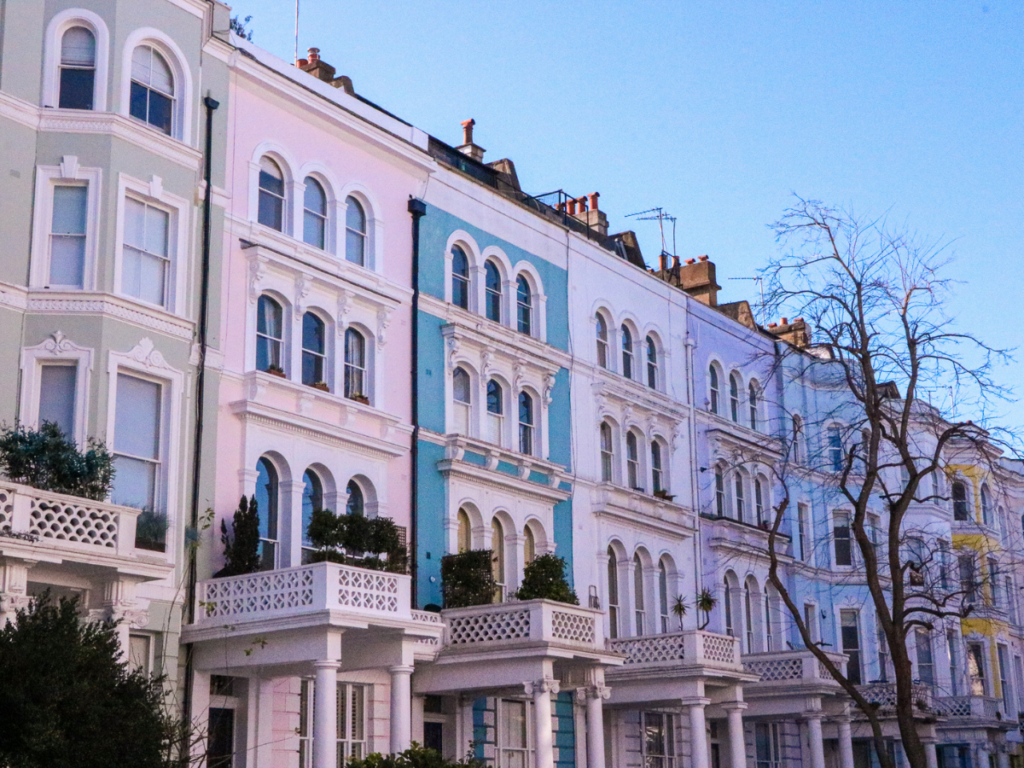 Is Notting Hill a Real Place in England?
Yes, Notting Hill is a real place in England. It is located in West London in the Royal Borough of Kensington and Chelsea. Many of the film locations are also real and can be visited in real life.
Introducing The London Eats List
We are the place for all things London. Whether you're looking for London chocolate shops to buy a gift for a friend, or want to discover the history of the area such as the Great Smog of London, we have the information for you. Don't forget to follow us on Instagram, Pinterest, and Twitter.