Belgravia in Bloom 2023 is almost upon us, but what can we expect from the floral festival this year? We've got the inside details on installations, events taking place, and special offers from local businesses! Keep reading to plan your trip to Belgravia to see their stunning blooms!
Table of Contents:
When is Belgravia in Bloom 2023?
Belgravia in Bloom is running from the 22nd – 29th May 2023. As usual this is in line with the Chelsea Flower Show that takes place at the Chelsea Pensioner's Home. If you adore seeing the floral installations in Belgravia, don't forget to schedule time to see Chelsea in Bloom that's live the same week.
What is the Theme for this Year's Belgravia in Bloom?
To celebrate the King's Coronation in their own way, the theme of Belgravia in Bloom is 'Into the Wild.' The theme is a chance to celebrate the Kings and Queens of the jungle, whilst acknowledging the King's passion for conservation.
What to Expect from 2023's Installations
Belgravia will come alive with flowers from a week in May, celebrating all things wild! We've had a cheeky glimpse into what to expect we've got the details to share with you:
Family of peacocks – Motcomb Street by Neill Strain
Floral Jeep – by Moyses Stevens
Tunnel of exotic orchids – by Judith Blacklock
Underwater Utopia – Peggy Porschen
A bark owl – Biscuiteers
Floral orangutan – The Hari
In Partnership with London Wildlife Trust
This year Belgravia in Bloom has partnered with the London Wildlife Trust in support of their mission to boost biodiversity and to bring Londoners closer to nature. The installations this year will utilise biodiversity boosting flowers as part of the collaboration.
To help visitors to the festival learn about biodiversity and its importance, they will be hosting a Hedgehog Van in Eccleston Yards. Here you'll be able to create 'seed bombs' to use in your own garden. There will also be plenty of chances around the area to donate to the Wildlife Trust through QR codes.
Events & Offers by Local Businesses
With increased footfall to the area, it's no surprise there are going to be lots of events and offers from local Belgravia businesses, including:
Buiscuiteers – learn how to ice floral themed biscuits. Tickets on sale now.
The Lanesborough – the bar will have a special cocktail for the occasion with an 'Into the Wild' theme.
Pantechnicon – will offer 'Into the Wild' themed cocktails at their bars.
Peggy Porschen – will have Corals & Florals cakes for collection.
Bayley & Sage – will have an 'In Bloom' biscuit on sale using an adapted design from William Hogarth.
Belgravia Books – 20% off when you present a Belgravia in Bloom map.
Masterpeace – hosting a wilderness themed workshop with their Jellyfish Art Kit on Saturday 27th May.
How to Get Here
Getting to Belgravia is easy despite it not having its own tube stop! The nearest stations are:
Victoria Station
Hyde Park Corner
Sloane Square
Knightsbridge
Previous Year's Installations
Whilst we look forward to seeing this year's installations in person, let's reminisce on Belgravia in Bloom's of the past. Here are some of our favourite installations from 2021 and 2022:
2022:
Bodea Corgis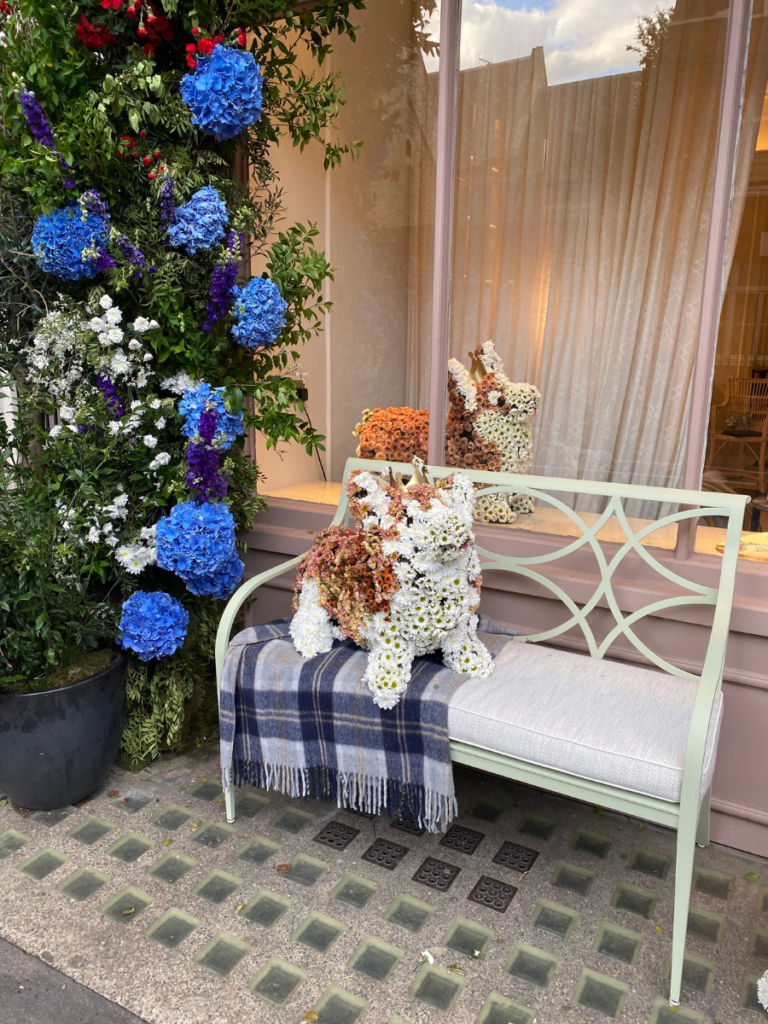 Big Ben
Tea Pot in Eccleston Yards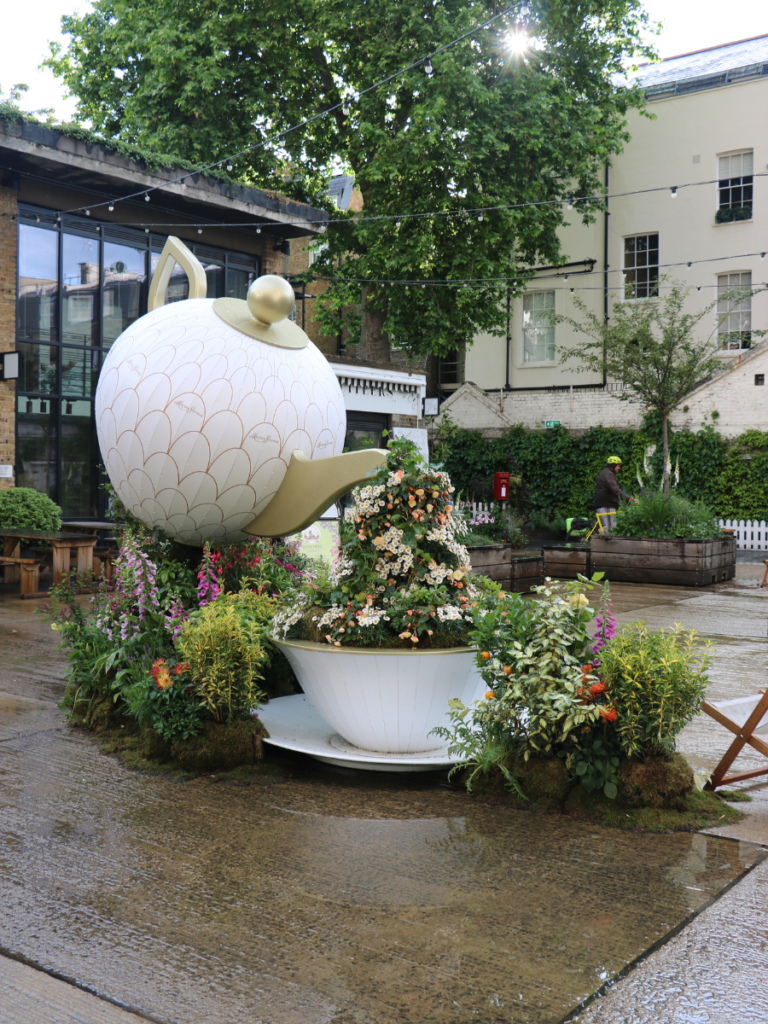 Floral Paddington Bear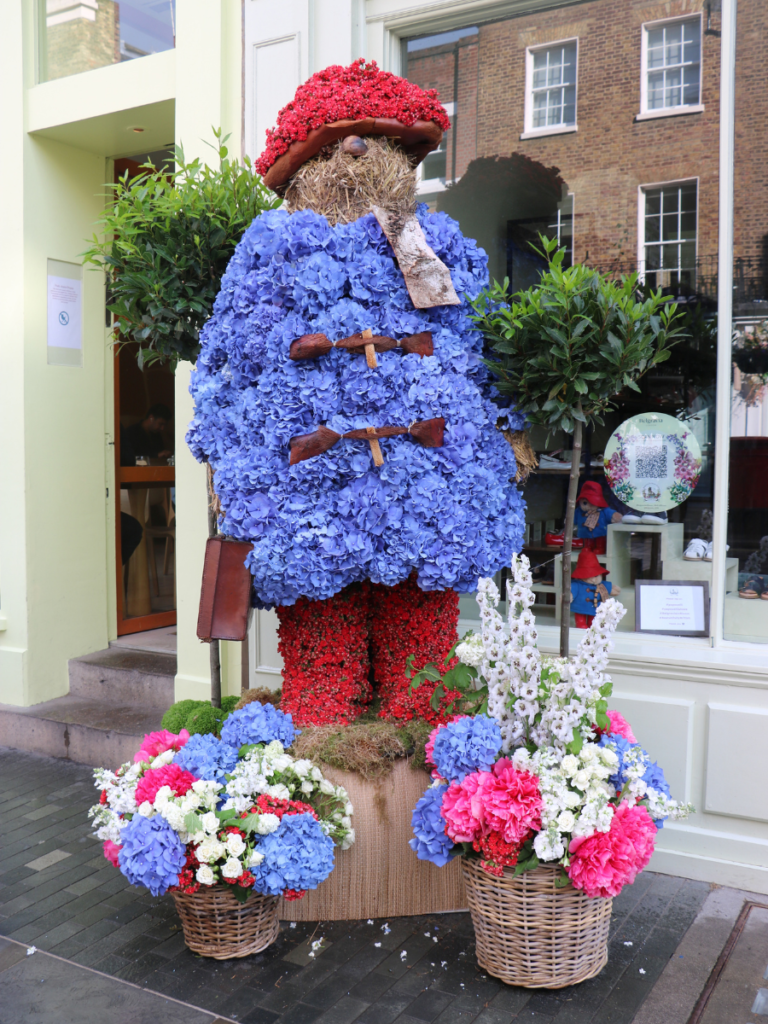 Motcomb Street Display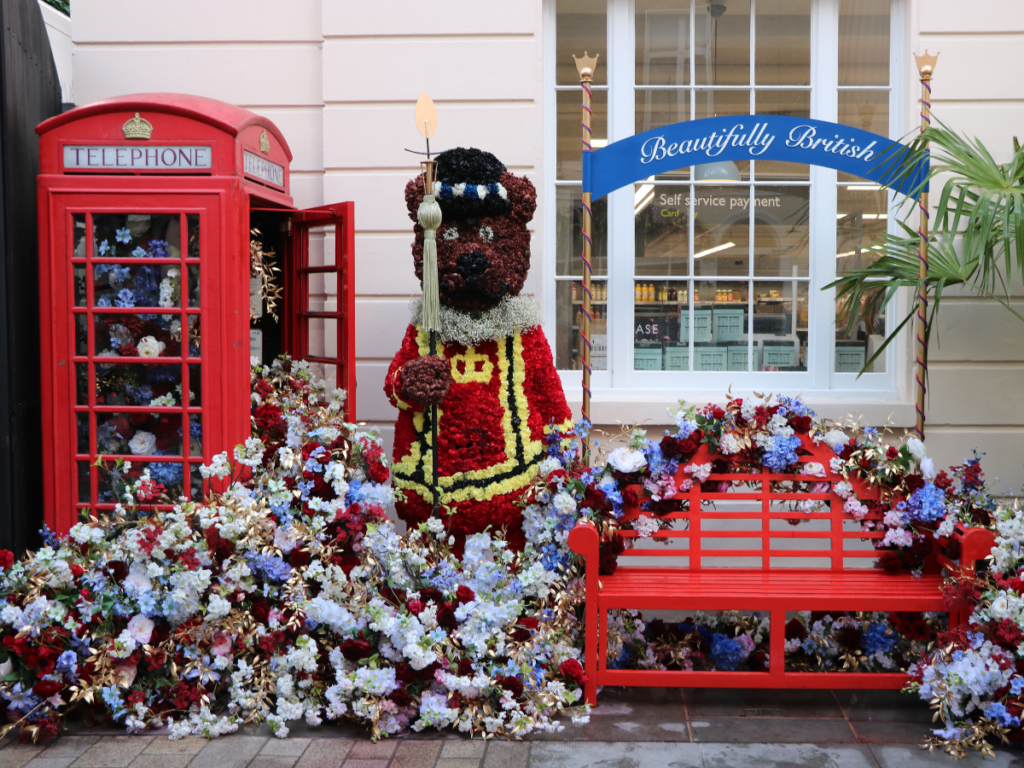 2021:
Motcomb Street Elephants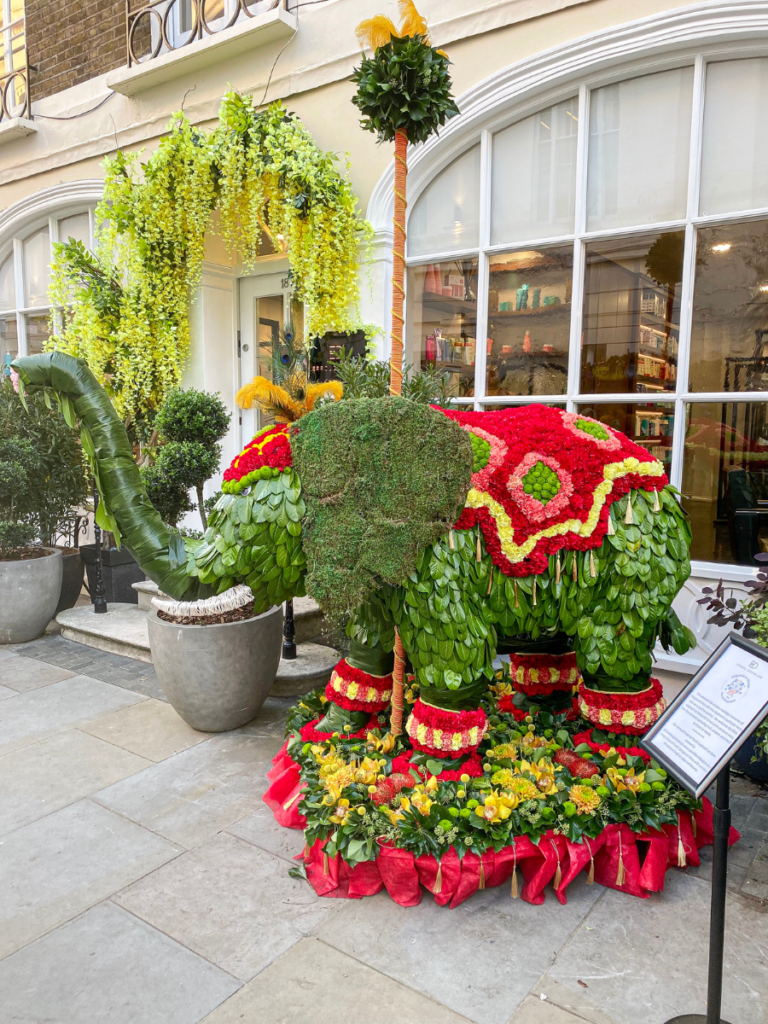 Eccleston Yards Helter Skelter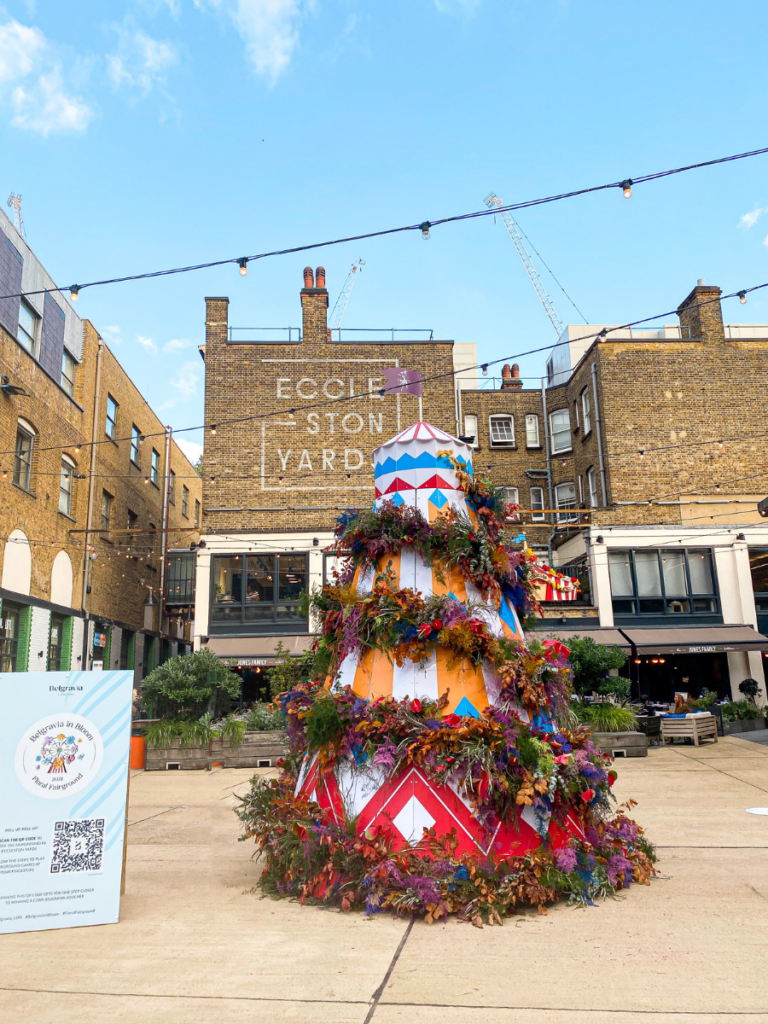 Carousel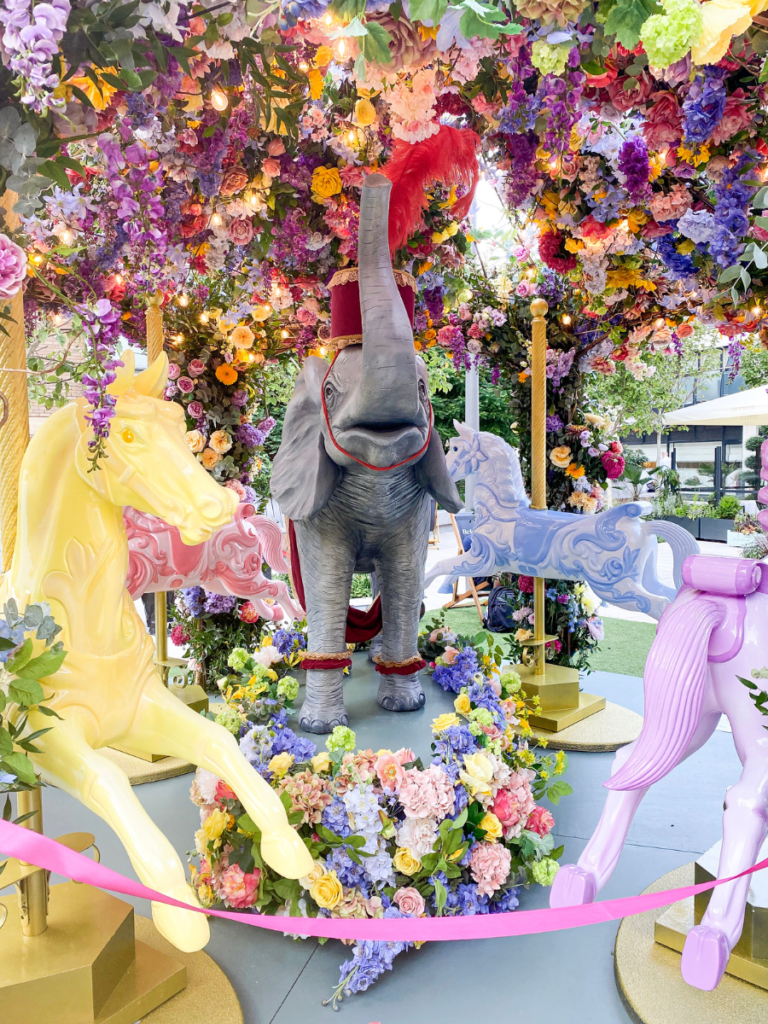 About The London Eats List
The London Eats List is here to bring you the very best that London has to offer. From an area guide to Greenwich, to the prettiest lavender fields in the city, discover a new part of London with us today.