The Artist Residence in Pimlico is one of the neighbourhood's best places to eat. The trendy hotel chain have made their London home in this quiet area of town, from classic brunches to healthy dinners, there's lots to discover at this restaurant and bar.
Table of Contents:
What is the Artist Residence?
The Artist Residence is a collection of boutique hotels with restaurants throughout the UK. The first location was in Brighton (a fabulous short break away from London), when co-founder Juston took on his family B&B and decorated the rooms with the help of local artists. In 2014 they converted an old pub in Pimlico into their London destination.
Alongside quirky rooms, that are dog-friendly if you're looking to stay. Pimlico has a cafe come bar come restaurant that is open for both guests and public alike to enjoy. They aim for it to be an 'all day hangout' for both work and play. In the restaurant you'll find they serve every day from breakfast through to dinner.
What Food Does the Artist Residence Serve?
The menu at The Artist Residence differs throughout the day depending on which meal you choose to dine for.
For breakfast you'll find delicious smoothies and juices, light bites including pastries, toast and jam, and house granola. If you're looking for something larger to fuel you for the day you can choose from the likes of french toast with caramelised apple, eggs royale, and even a Full English.
Weekend brunch you'll find many of the same dishes, alongside some more substantial lunch options such as butternut squash ravioli, and chicken schnitzel.
Lunch is split between small and large plates, with small plates featuring the likes of sundried tomato focaccia, crispy squid, and cauliflower dahl. Large dishes include roasted sea bass and Bavette steak.
The dinner menu again boasts similar dishes with a few differences to lunch, including Devon crab and fig with serrano ham for starters. With pork belly, superfood salad, and dry aged sirloin on the mains menu.
Alongside your meal, you'll have the selection of both house cocktails and classics.
Our Review of Pimlico's Artist Residence
We visited The Artists Residence for dinner on a Saturday evening. You could choose whether to sit outside on the patio tables, or inside within the restaurant itself. We chose inside as it was quite quiet at the time we went with only one other table seated.
We opted to go for both small plates (starters) and large plates (mains). We also got cocktails to go alongside our dinner which were the first things to be served.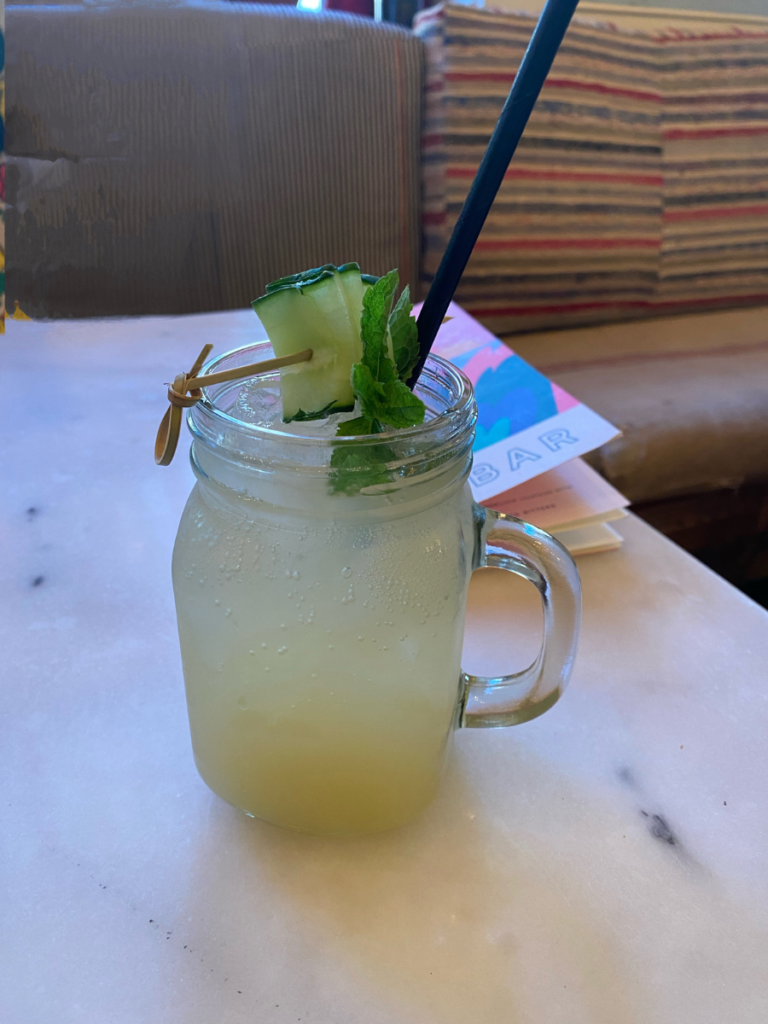 For drinks we opted for one of the house cocktails called 'The Secret Garden' which was a blend of gin, elderflower, apple, cucumber, ginger ale, and lemon. This was the perfect accompaniment for a summer evening and extremely refreshing!
The small plate we chose was the hot smoked salmon with chicory, quail egg, and mustard dressing. This arrived as a vibrant plate full of food which was as delicious as it looks! The portion size was also just right to ensure we had enough space for our main course!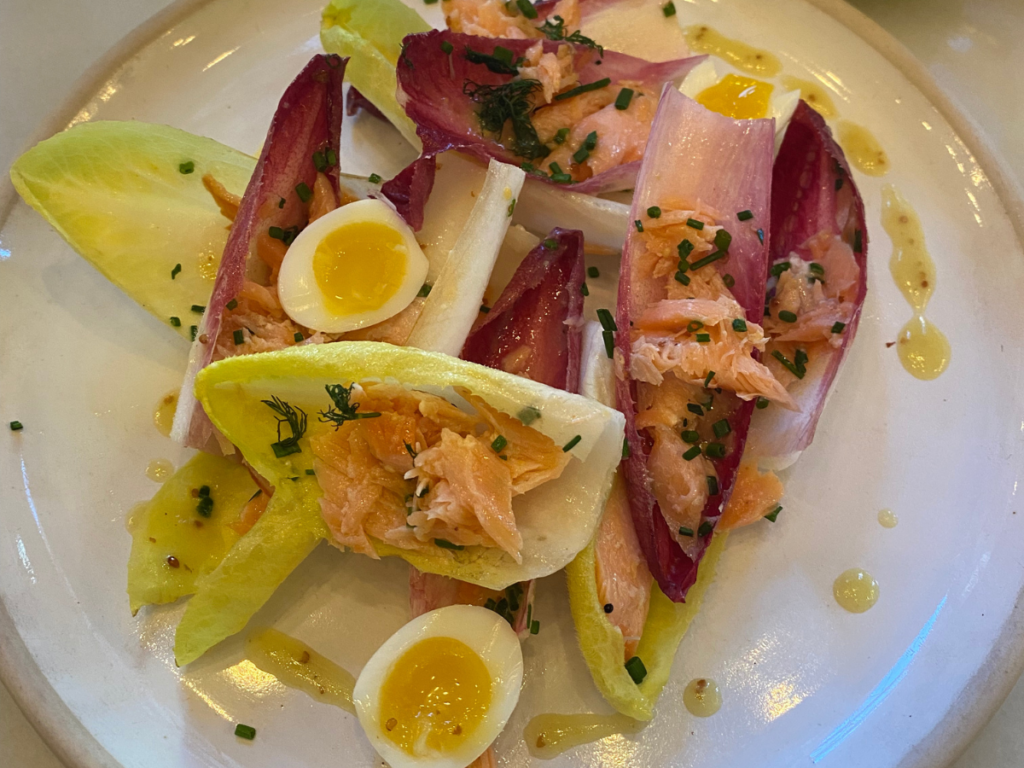 For mains we selected the superfood salad with halloumi as an extra. This salad appears to change seasonally, when we ate a little while ago we had a version with quinoa, houmous, butternut squash, pear, pomegranate, and rocket. This was a great healthy option packed with flavour!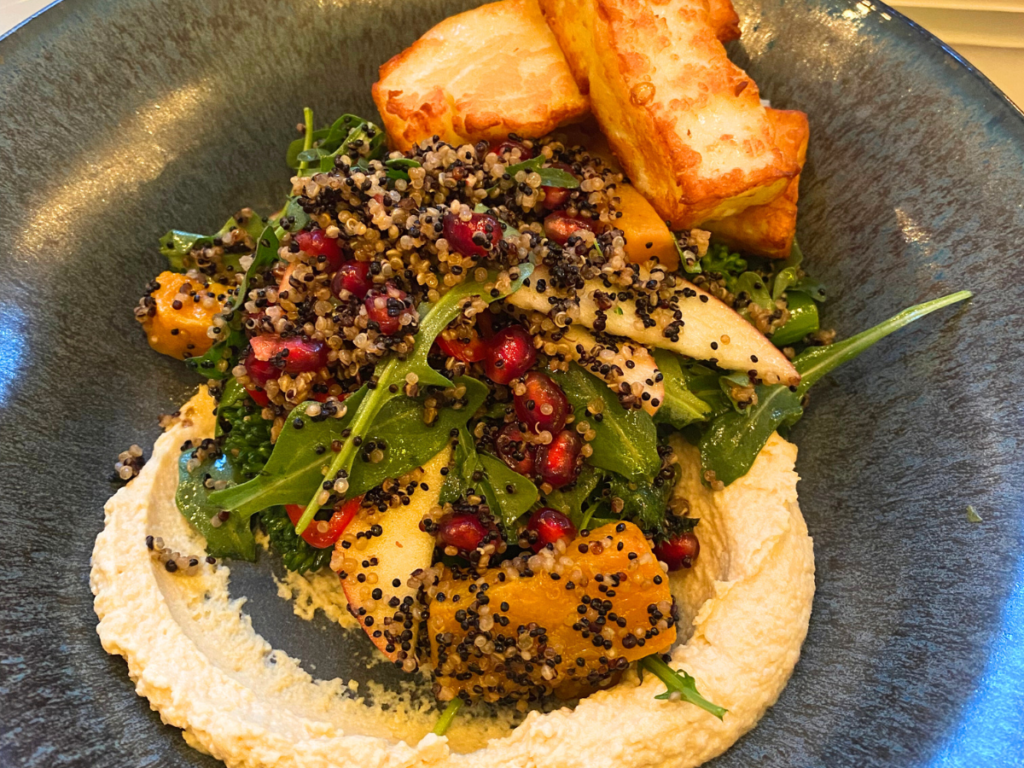 Overall, the food at The Artist Residence in Pimlico was lovely for dinner and really tasty. However, going for brunch on a weekend day would be the best option if you're looking for a little more ambiance as it is always busy when we walk past at this time – compared to our quiet Saturday evening sitting.
Where is the Artist Residence London?
The Artist Residence London, is located in the neighbourhood of Pimlico in South West London. It's located at 52 Cambridge Street, Pimlico, SW1V 4JD.
It's a quiet residential street in Pimlico, close to both the shops of Pimlico Road and the heart of the neighbourhood itself.
How to Get to The Artist Residence in Pimlico
The closest stations to get to The Artists Residence in Pimlico are Pimlico tube stations (Victoria line), Victoria Station (Victoria, Circle & District lines, and train services), Victoria Coach Station, Sloane Square (Circle & District lines).
Whilst they have no parking themselves, there is free on-street parking during the weekend in Pimlico – just check signs when you park. As well as paid for car parks on both Winchester Street and Guildhouse Street.
What to do in Pimlico After Your Meal
Pimlico is a pretty residential neighbourhood in London, often not on the maps of tourists visiting our wonderful city. However, there are still lots of things to do in the area after you've eaten at The Artists Residence, here are just some of our favourites:
Cheese shopping at Rippon Cheese
Explore Tachbrook Street Market
Go blue plaque spotting – you'll find one for Winston Churchill on Eccleston Square
Spend time admiring the art in the Tate Britain
If you want to take a walk away from Pimlico, the neighbourhood of Chelsea is just a short stroll and full of high street shops, boutiques, and London bookshops to spend the day in!
About The London Eats List 
We're here to bring you the very best that London has to offer, from area guides to London neighbourhoods. To showing you where to find the best Wisteria in London. You'll find everything you need for your city break to the Big Smoke here.