Lavender fields in London are not necessarily one of the first things that comes to mind when you think of our big city. However, you'll be surprised to discover that we have some of our very own lavender gardens within the city, and lavender farms just a short trip away. We've put together the ultimate guide to discovering these fragrant blooms in our favourite city.
Table of Contents:
What is a Lavender Field or Farm?
Lavender is an herb, which presents itself as an evergreen plant that flowers in the summer. You'll find this popular herb is used in fragrances, as well as delicate and delicious food and drink, it's also an important part of London's floral scene. A lavender field or farm is a whole area of land dedicated to housing the lilac blooms, the plants can then be used for products.
When is Lavender Season in London?
Lavender blooms in London and the rest of the UK between June and September. Making London in the summer the perfect time to go and immerse yourself in their gorgeous purple hues and incredible relaxing scent!
Lavender Map of London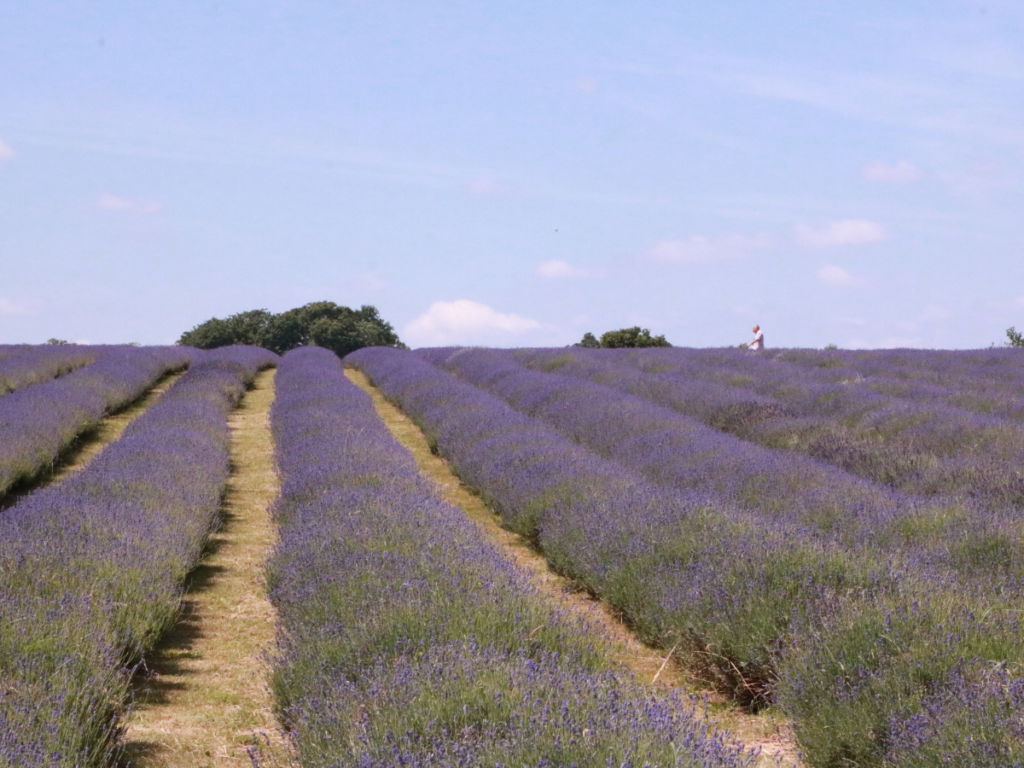 We've put together a map of London's lavender farms to make it super easy for you to discover the pretty flowers!
Top 11 Places to See Lavender in & Near London
We've put together a list of the best places to see Lavender in London or a short train ride away. From smaller lavender gardens to large fields that indulge the senses, discover our favourite spots now.
Kew Gardens
Kew Gardens is a beautiful spot in London to get away from the hustle and bustle of the city. The botanical garden is located in London and boasts some gorgeous lavender plants. Whilst you're here take in your surroundings that include tropical plants, green houses, and even cherry blossoms in London.
The Chelsea Physic Garden
One of our favourite neighbourhoods for blossom hunting, Chelsea, boasts an incredible physic garden. Chelsea Physic Garden has been around since 1973 and specialises in plants that can be grown for medicine. Lavender is well known to have soothing properties and so makes an appearance in this haven of calm in the city.
Kennington Park
Kennington Park in Lambeth is a Victorian Park open to the public for free. Kennington has an Old English Garden, much like Battersea Park, and you'll stumble across the wonderful purples of Lavender in this London spot.
Lavender Garden Vauxhall Park
Vauxhall Park is a smaller local area but it comes complete with its very own Lavender garden! Just a short walk from Vauxhall station, this is the perfect place to stop and smell the beautiful aromas of lilac lavender blooms.
Historical Fields in Lavender Hill
Lavender Hill is a residential street in the borough of Wandsworth, and it gets its name from the lavender fields that once grew in the area. While the fields are no more, the name is a nice nod to what once was a place for lavender in London.
Mayfield Lavender Farm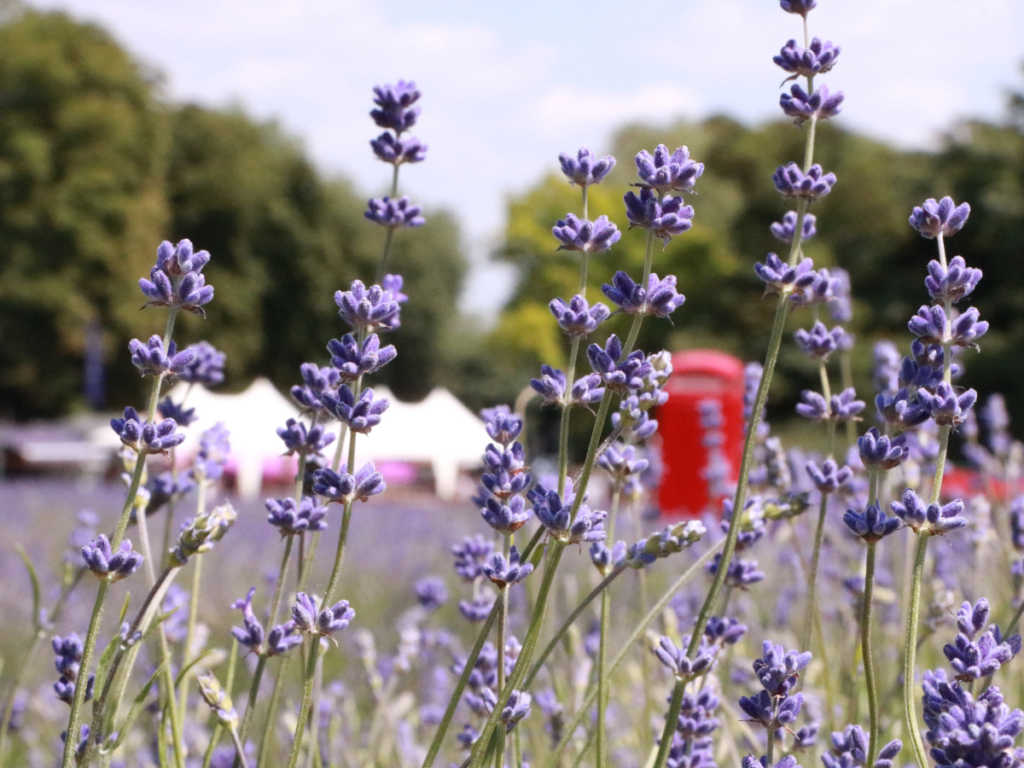 Located just outside of London in Surrey, Mayfield Lavender Farm is a picturesque spot with over 25 acres of lavender fields. Mayfield is our personal favourite place to see lavender in the city, and with a lovely cafe and gift shop filled with lavender goodies it's no surprise why!
Hitchin Lavender
Found in Hertfordshire, Hitchin Lavender is a great spot for visitors looking to wander through rows of lovely lavender. The lavender farm claims that the plant stems back as far as the 1500s in this particular location – if that's not a reason to visit we don't know what is! You'll also find a range of wonderful lavender gifts at this spot near London.
Castle Farm
Castle Farm is a family-run lavender farm in Kent that has been going for 5 generations! Today it is still run by the family and they have over 130 acres of lavender! They produce their own range of lavender products, with gorgeous hampers and formulas to aid sleep!
Carshalton Lavender
Carshalton Lavender is another lavender spot in surrey. It is a not for profit that looks after 3 acres of lavender, in what was once the 'lavender capital of the world.' Each year they have an annual lavender picking volunteering event that the public can join in with!
Finchingfield Lavender
Finchingfield Lavender is located in Essex and is a farm come campsite. The lavender here is relatively new being planted in 2018, all 27 rows of it! You'll find the deep purple flowers in bloom here from July through to September.
Hartley Park Farm
Located in Hampshire, Hartley Park Farm has its own crop called The Lavender Fields. The lavender here was reintroduced in 1999 and has been going strong since, becoming a local landmark. They use their lavender to create their own products which can be bought in the shop.
Catch London in Bloom this Spring
Before lavender comes into season, there are lots of blooms and blossoms to look forward to. From the early spring daffodils that pop up in the royal parks, to the magnolia seen throughout London's streets! Slightly later in the spring towards early summer you'll be in awe of London's pretty wisteria climbing up the architecture!
About The London Eats List
We aim to bring you the very best that London has to offer. From London restaurants with a view, to area guides of Belgravia, Notting Hill and many more! Explore our content to help plan your trip to London today!