Crosstown Doughnuts are dotted across London, from Victoria to Spitalfields. With a wide selection of sweet treats, from doughnuts to cookies, and with great options for vegans, it's no wonder this place is so popular with Londoners.
What is Crosstown?
Crosstown was first opened in 2014 on Leather Lane in Farringdon. They now have over 20 locations all over London, and a few in other parts of the UK. From permanent shops like those in Soho, Victoria, Marylebone, and Canary Wharf. To doughnut vans in Spitalfields and London Bridge.
Crosstown rolls all their own dough by hand, with all the fillings, jams, and glazes also made by them. Although this takes extra time, they don't believe quality should be sacrificed for quality – and that's easy to see in their products.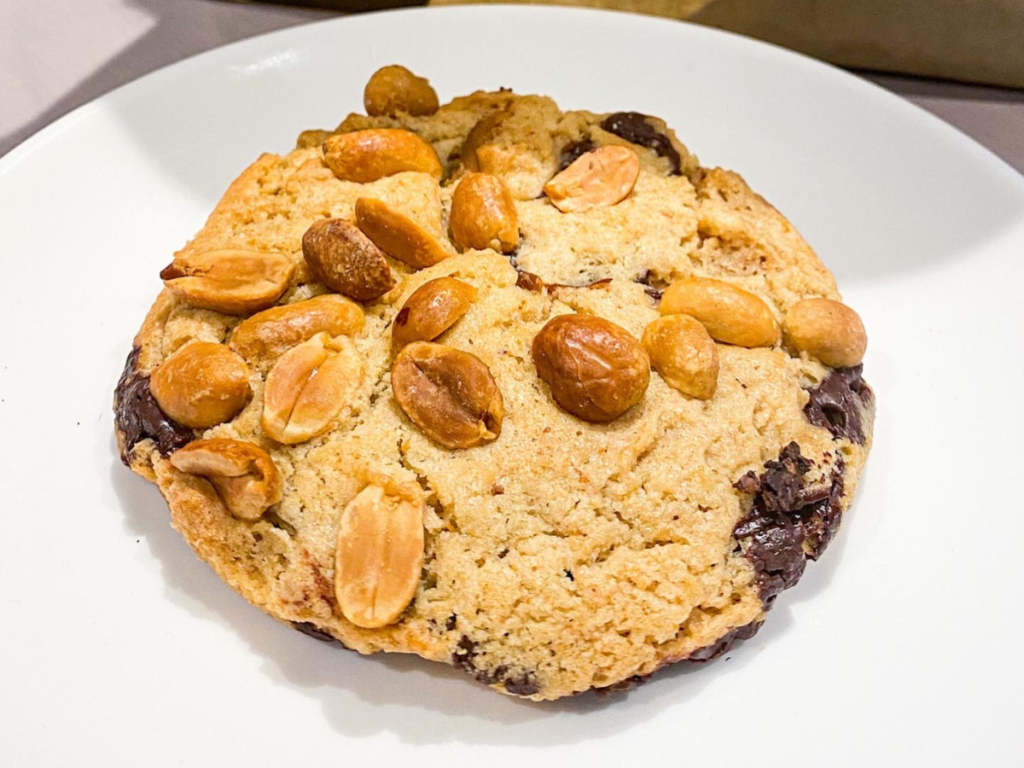 What's on the Menu at Crosstown?
Whilst Crosstown is most well-known for their doughnuts, in particular their vegan doughnuts, they make lots of other tasty treats for Londoners to get their hands on. Their doughnuts come in a vast number of flavours including: raspberry jam, almond butter scroll, matcha, and chocolate truffle.
You'll also find delicious cookies with flavours including: peanut butter and chocolate chip, oat and apricot, and chocolate chip.
Some of Crosstown's locations serve up ice cream with flavours including: double chocolate caramel brownie, mango sorbet, pistachio, and cookie dough.
Crosstown Doughnuts Review
We visited the Crosstown truck in Spitalfields and ordered the peanut butter cookie and pistachio doughnut. We're big fans of Spitalfields Market and it's the perfect home for Crosstown which has its own industrial feel that matches Spitalfields' own.
The pistachio scroll was a seasonal flavour that is no longer available. However, it was created using their vegan dough which is rolled before being filled with pistachio custard. It was then dipped in a pistachio glaze and topped with crushed pistachios. We really enjoyed this flavour (who doesn't love pistachio) and would highly recommend it if they decide to bring it back!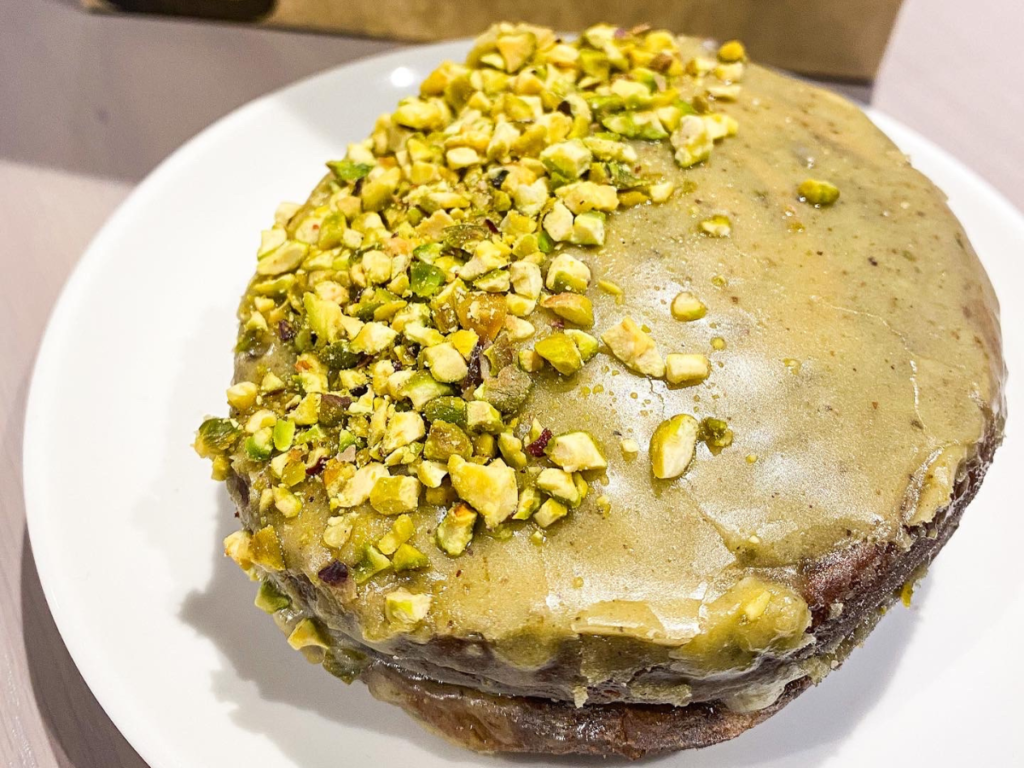 The cookie we tried was the vegan peanut butter and choc-chip. It's created using deep-roasted peanut butter with dark chocolate chips. Again, this London crafted cookie was delicious and the perfect snack for a cold autumn or winter day.
Crosstown Doughnut London Locations
Crosstown has 23 London locations and they are as follows:
Cannon Street
Piccadilly
Soho
Fitzrovia
Marylebone
Shoreditch
Canary Wharf
Greenwich
Victoria
Hammersmith
Fenchurch
Swingers
Battersea
Walthamstow
London Bridge
Spitalfields
Victoria Park
Venn St Market
Kings Cross
Lloyd Park
Crystal Palace Park
Brockley Market
Broadway Market
Crosstown FAQs
Who Started Crosstown?
Crosstown was founded by Adam Wills and JP Then. They are a kiwi and Australian duo who wanted to create a coffee place with a difference in London.
Are Crosstown Doughnuts Vegan?
Crosstown has a wide selection of vegan donuts, cookies, and ice creams. You'll also find non-vegan food at Crosstown too.
How Much are Crosstown Doughnuts?
Crosstown's food ranges from £2.50 to anywhere up to £5. With such delicious recipes, they're definitely worth the price as a treat once in a while!
Are Crosstown Doughnuts Fried?
Yes, Crosstown Doughnuts are fried. With the vegan doughnuts being fried in a separate vat of purely vegan oil.
The London Eats List
We are a blog dedicated to bringing you the best in London. From the best restaurants in London with incredible views, to things you should know before visiting London for the first time. You'll find all the advice you need here!