Pimlico's hotels are just waiting for you to arrive and explore the area! We've rounded up our 5 favourite hotels in this quiet corner of London. These are the perfect spots to rest your head if you're looking to get away from the noisy city centre at night, and some of them are even home to some incredible restaurants!
Why Stay in Pimlico?
Pimlico is a lesser known area of London, particularly to tourists, due to it not having any of its own London landmarks. However, there are so many reasons why we'd recommend booking a hotel in Pimlico during your stay:
Proximity to attractions – With no attractions itself, Pimlico is just a short 15 minute walk from Buckingham Palace & Westminster. As well as being on the doorstep of some of London's top theatre shows. Being so central, it's easy to walk everywhere from Pimlico.
Quiet evenings – Away from the hustle and bustle of Soho, Pimlico is a residential area which means for the most part it's pretty quiet at night! A blessing if you've just arrived after a long journey!
Great transport links – Whether coming from elsewhere in the UK or abroad, Pimlico has fantastic transport links. With Victoria a short walk away, with both direct trains to Gatwick as well as coach services from multiple airports and around the country. Pimlico station is on the Victoria line and just two stops from Oxford Circus.
Fantastic local restaurants & cafes – This part of town has some fantastic restaurants and cafes, that you'd be unlikely to discover had you stayed elsewhere!
The Artist Residence
The Artist Residence is not only one of our favourite hotels in the area, but also home to one of Pimlico's best restaurants. Each room at this boutique Pimlico hotel is designed by a different artist, with 10 bedrooms boasting stunning art you'll want to keep coming back! Nestled in a townhouse in Pimlico, you'll be within easy walking distance of Chelsea, Westminster, and the South Bank.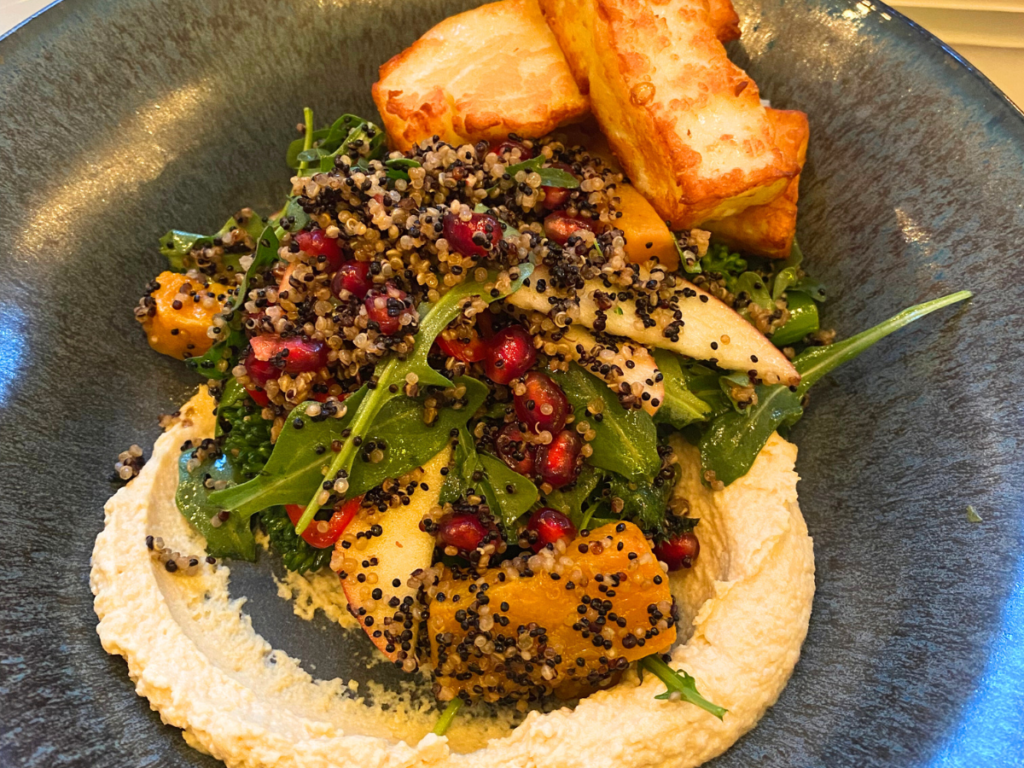 Rooms start at £325 a night and breakfast is not included. We do however recommend booking a table at the Artist Residence restaurant for either breakfast or dinner – as their food is delicious.
The Belgrave 
The Belgrave Hotel is a family-run boutique set in a London townhouse. Taking inspiration from nearby Buckingham Palace, the rooms are decorated in a regal purple with blue accents. This Pimlico hotel has 4 types of rooms, ranging from Small Single to Signature, each room comes with a desk and internet access.
Rooms start at £130.50 and breakfast prices start at just £6.
Eccleston Square Hotel
Eccleston Square Hotel is lucky enough to be located on one of Pimlico's grand garden squares. As a guest you'll even have access to the garden – a very rare privilege for non-residents. This is an award winning boutique hotel that has newly refurbished and high tech rooms.
For history buffs, we recommend keeping an eye out for one of Pimlico's most notable blue plaques just a few doors down.
Rooms start at approximately £280 and breakfast starts at £14.50.
Georgian House Hotel
The Georgian House Hotel aims to combine townhouse chic and Victorian charm. Located in a Grade II listed property (like much of Pimlico), you'll be in for a treat staying at this grand property. Whilst they have regular themed rooms, the most exciting part of this Pimlico hotel is their Wizard Chambers! In these rooms you'll take in stone walls, stained glass windows, velvet curtains and much more.They even have a magical afternoon tea that we're dying to try!
Room prices start around £90 including breakfast.
EasyHotel
Our favourite budget hotel in Pimlico is the EasyHotel. Whilst they call themselves EasyHotel Victoria, you'll find that this spot is actually in the heart of Pimlico. With rooms costing as little as £90 a night, EasyHotel offers compact rooms that are ideal if you only plan on using your hotel as a spot to rest your head at night. Clean and tidy, these rooms are simple but do the job.
You won't find any breakfast at this hotel, so have a mooch around Pimlico's cafes to find yourself some morning grub.
About The London Eats List
We're here to guide you towards the very best that London has to offer. From the ultimate London weekend itinerary, to the Barbie themed London spots you just have to visit!