Ice skating in London is the perfect festive way to celebrate the Christmas season! We've put together a list of the best places to skate in London this year. Whether you enjoy being in the presence of a palace or want to get in one last skating session at the museum before it's gone forever, we have the places for you!
When Do London's Skating Rinks Open for Winter?
London has many ice skating rinks, with a few that are open all year and some that open specifically for the coldest season of the year. Most of the London ice skating rinks in this list open in November and close in January, although some may be open longer.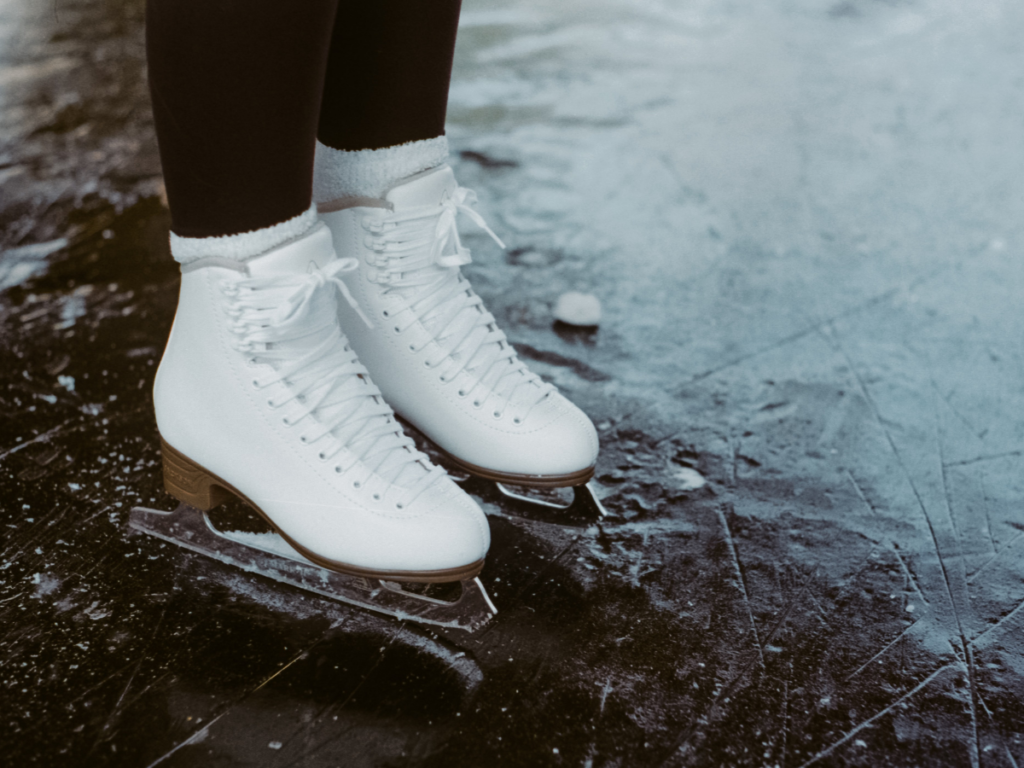 Winter Wonderland
Open: 18th November 2022 – 2ndJanuary 2023
Hyde Park's Winter Wonderland has long been held as one of London's most loved Christmas attractions, and it wouldn't be complete without its ice rink! Ice Skate in this famous London venue through til January. Once you've completed your skating session you'll be able to explore this London Christmas Market and enjoy mulled wine from one of the stands.
Glide at Battersea
Open: 11th November 2022 – 8th January 2023
2022 sees the first Glide at Battersea. The new winter London ice rink will feature a 30ft Christmas Tree set against the stunning backdrop of Battersea Power Station. For those who will miss the traditional Natural History Museum rink this year – not to worry as this new spot is from the same masterminds!
Hampton Court Palace
Open: 7th November 2022 – 8th January 2023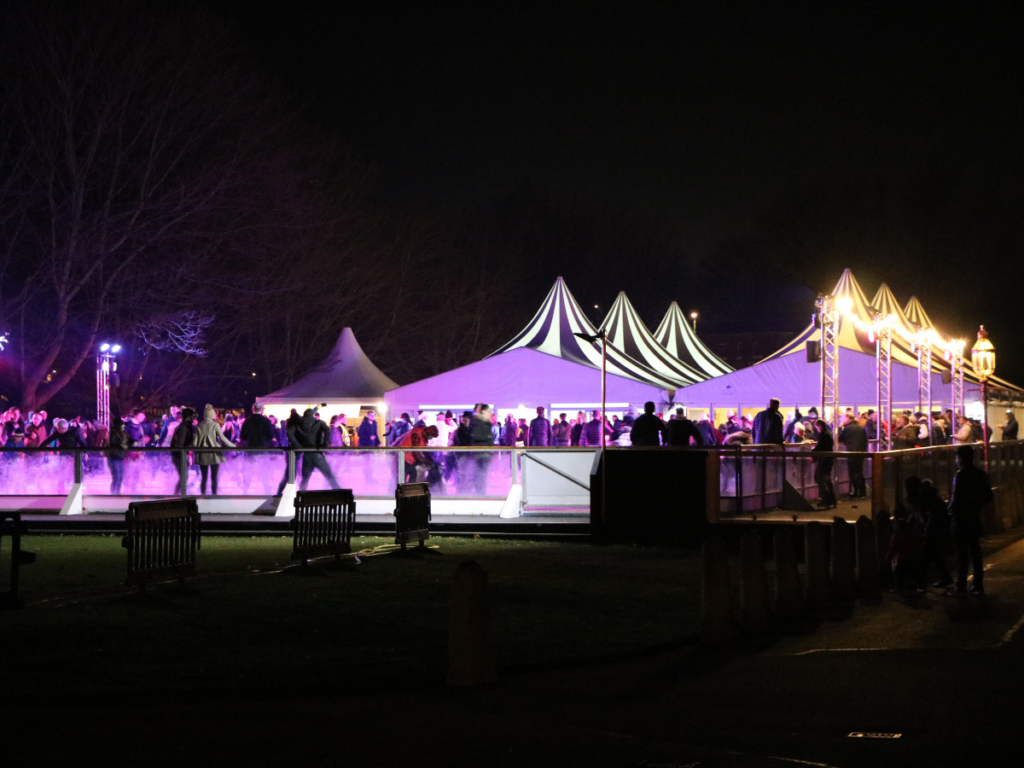 Each year Hampton Court Palace hosts a truly royal ice skating experience in London. Located less than an hour away from Waterloo via train, Hampton Court is a magical place to skate. With the palace lit up on festive lights after dark, you can experience the home of Henry VIII in a new way! You'll also be able to indulge in festive treats at the cafe and bar!
Queen's House
Open: 17th November 2022 – 8th January 2023
Located on the grounds of the Royal Museums Greenwich, the Queen's House Ice Rink has beautiful views of both South and North London.
Somerset House
Open: 16th November 2022 – 16th January 2023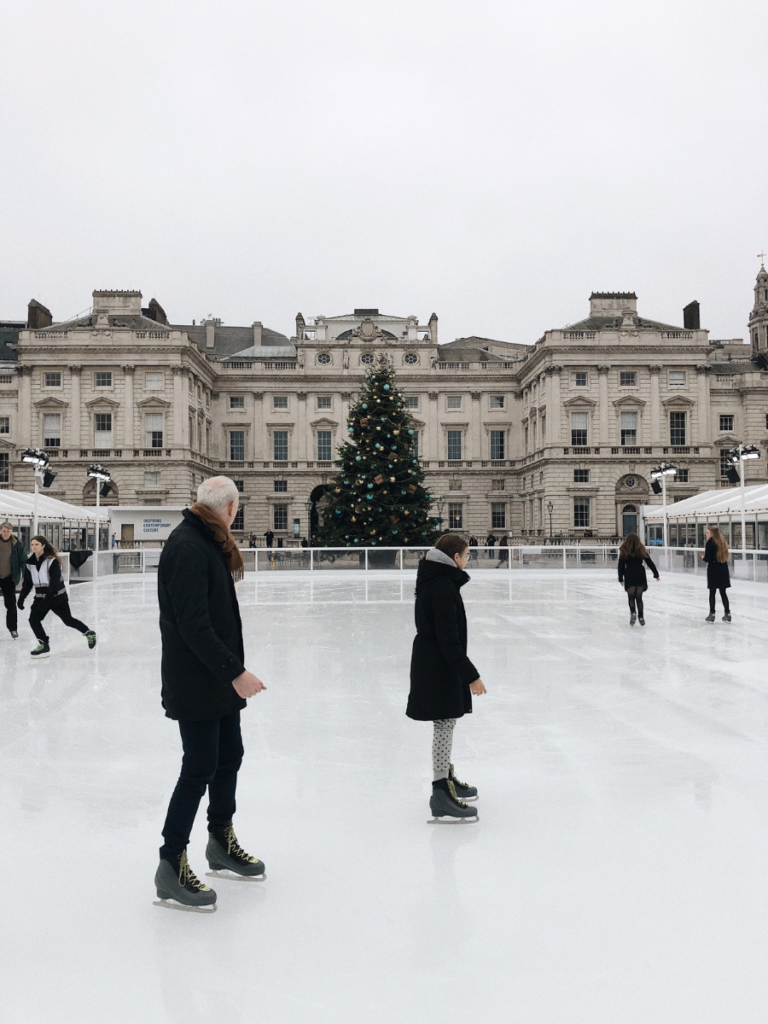 In partnership with Moët and Chandon, you can skate at Somerset House, right in the heart of London. Not only can you enjoy the ice rink in the courtyard of this stunning building, you'll also be able to do some London Christmas shopping!
Skylight
Open: TBC
London's only real rooftop ice rink, Skylight, is open at Tobacco Dock. Tickets can only be purchased on the day, but there are lots more festivities to explore here too!
Alexandra Palace
Open: Year-Round
Alexandra Palace ice rink is the perfect place to get your skates on. This is the destination for ice skating in London all year.
Canary Wharf
Open: 22rd October 2022 – 25th February 2023 
Ice skate beneath the Canary Wharf skyline. Canada Square Park is hosting the ice rink this winter, with it being open from Halloween straight through to Valentine's Day. With a covered rink, you'll be able to skate in all weathers!
Natural History Museum
Open: Sadly 2021 was it's final year
London's Natural History Museum holds an iconic ice skating rink every winter. However, 2021 was the last time you could skate at the museum as they will be turning their 5 acres of open space into an urban wildlife hub. The Natural History Museum's ice rink features a gorgeous Christmas tree decorated with fairy lights. As well as a café bar that features warm festive drinks as well as a viewing area for anyone who doesn't want to participate in the winter skating!
Why You Should Go Ice Skating in London
Our pretty city of London is completely transformed for the festive season. And what better way to celebrate than to ice skate in some of London's most iconic venues!
About The London Eats List
We are a blog dedicated to all things London! Whether you're on the hunt for the best free museums in London, or are looking for the best place to buy London Christmas gifts, we have the content for you!