Christmas in London transforms our city into a magical festive wonderland of twinkling lights and delicious food. We're here to guide you to the very best of Yuletide experiences in London. Discover where to indulge your taste buds in festive flavours, where to find the most dazzling of lights, and which Christmas markets are worth your time exploring. Come with us now to help create the best festive memories in the capital.
Table of Contents:
Is Christmas a Good Time to Visit London?
Christmas is a fantastic time to visit London – and the season starts early with the first festive decorations being lit up in early November. We recommend waiting until at least the end of November/beginning of December for your Christmas trip to ensure that all things festive are fully in place for you to enjoy!
If you plan to visit the city over Christmas day it's important to note that lots of things will be shut – and you will need to book your Christmas lunch well ahead if your hotel is not offering one.
With the streets lit up, a jolly atmosphere in the air, and some of the best food the city sees all year around, we do recommend visiting the Big Smoke during December for some festive cheer.
What to Pack for a Festive Trip to London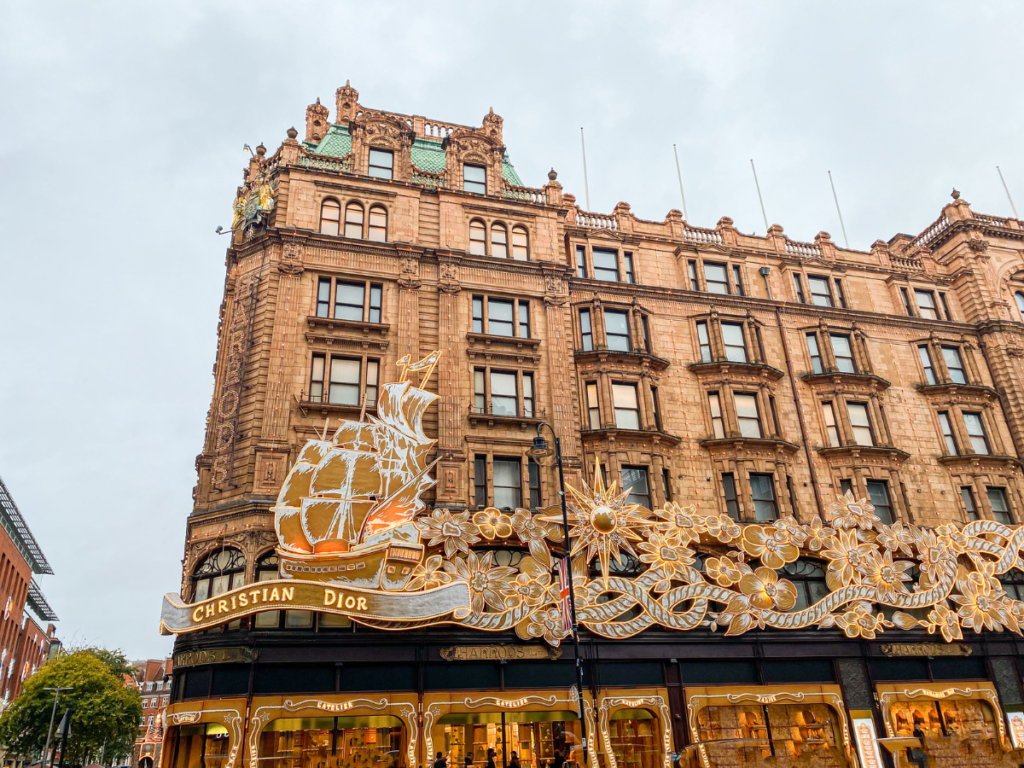 Bought your train tickets and booked your hotel? It's time to start packing for Christmas in London! Here are our top tips for what to bring to enjoy the festivities:
Comfy walking shoes – the best way to take in the Christmas lights is walking around, so make sure you've packed a super comfy pair of trainers that you're happy to get lots of steps in with!
Umbrella – there's always a chance of drizzle in London so make sure you have a trusty brolly!
Warm coat – December can be cold in London so make sure you've got a cosy coat to keep you wrapped up and warm!
Scarf and gloves – the evenings can be even colder than the days so make sure you bring a scarf and gloves to keep you toasty.
Cross body bag or secure backpack – London is the capital city and it's particularly busy at Christmas. We'd recommend using a crossbody bag or backpack as your day bag whilst you're here to keep your belongings safe. This will help you keep them close to you and make it more difficult for pickpockets.
Tote bag – if you're going Christmas shopping bring a tote bag with you to put all your finds in – lots of shops charge for bags in London so this will save you money.
A phone with Citymapper or Google Maps – to help you navigate around London, we recommend using either Google Maps or Citymapper to plan your journeys as they tend to have up to date information on public transport times.
Top 3 Christmas Markets
Nothing beats a Christmas market in London. With delectable treats like chocolate and strawberries, waffles, and hot dogs, to mulled wine, and handcrafted shops to purchase presents. Here are just a few of our favourites to visit this year:
Winter Wonderland – the biggest of London's Christmas markets is Winter Wonderland in Hyde Park. Not only does this market have food, drinks, and shops, but it also has lots of rides that are perfect for both adult and kid fun!
Southbank Centre – a wholesome market along the River Thames on the South Bank. Treat yourself to a toasty mulled wine and take in the cosy lights from each of the cabins.
Leicester Square – if you're in Central London stop by Leicester Square's market to indulge in Christmas treats, before going to a film in one of the Square's iconic cinemas.
Best Pop Up Ice Rinks
If you're a big fan of winter sports, being in London at Christmas doesn't mean you have to miss out. Iconic locations across the city welcome pop up ice rinks at this time of year. Say hello to our favourite London ice rinks this Christmas:
Somerset House – the magnificent Somerset House plays host to one of London's largest and most popular ice rinks each winter. This is one of the best things to do for Christmas in London.
Battersea Power Station – since it's opening in 2022, Battersea Power Station has placed an ice rink in between the shopping centre and the riverfront. The rink is surrounded by a bar as well as winter igloos that are available to rent.
Hampton Court Palace – skate in the presence of one of London's royal palaces: Hampton Court. Hampton Court is a 30 minute train ride from Waterloo and is well worth the trip to skate under the shadows of Henry 8th's home.
Take Yourself on a Free Walk of the Christmas Lights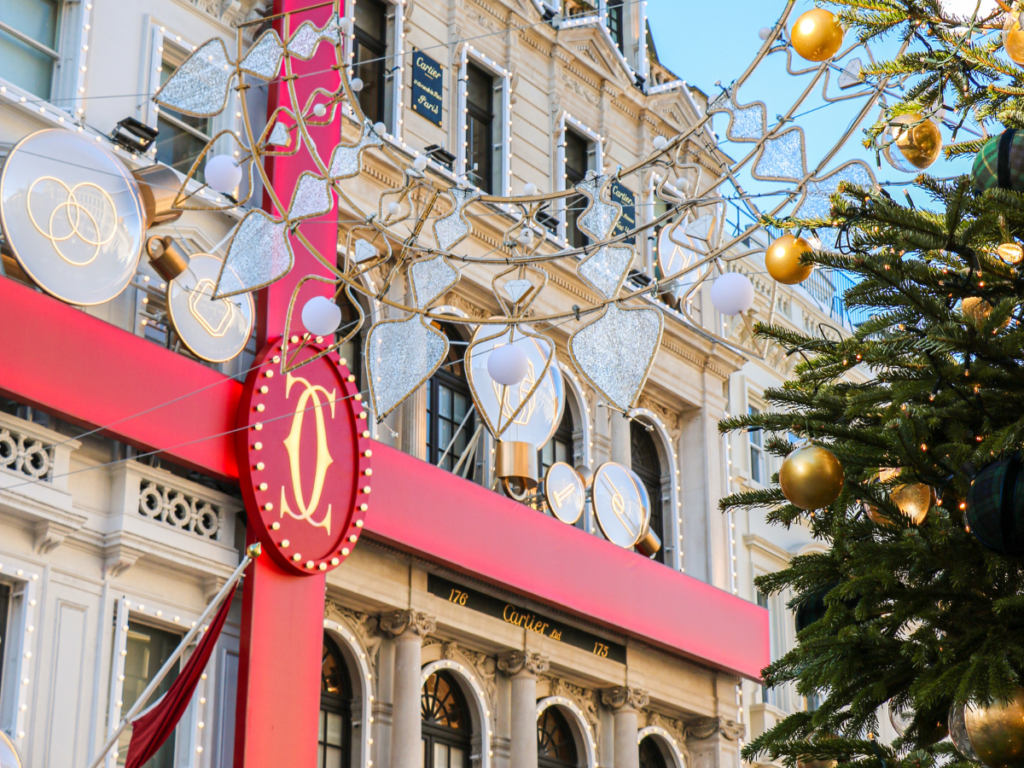 One of the best things about Christmas in London is there is so much to take in that's free to see. London's Christmas lights are (in our opinion) some of the best in the world. We've put together a walking route to take in some of the most spectacular lights:
Fortnum & Masons – Begin your walk outside Fortnum & Masons to take in their wonderful advent calendar lights on the outside of the shop. Nearest tube station is Green Park.
Bond Street – Walk up Bond Street taking in their dazzling lights, as well as the decorations each of the shops has put up. If you want to take a festive coffee break, step into Ralph's coffee shop here.
Oxford Street – When you get to Oxford Street take a right and continue walking along, taking in the starry skies of London's most popular shopping street.
Regents Street – When you reach Regent Street (the large intersection with Oxford Circus tube) take a right and walk down – enjoying the wonderful angel lights that the street has become known for.
Carnaby Street – To end your Christmas lights walk in London, take a left and head towards Carnaby Street. Carnaby often has the most fun Christmas light and they switch them up every year!
If you're in want of a complete lights trail, head to Kew Gardens where they host a spectacular Christmas lights walk every year.
Impressive Christmas Installations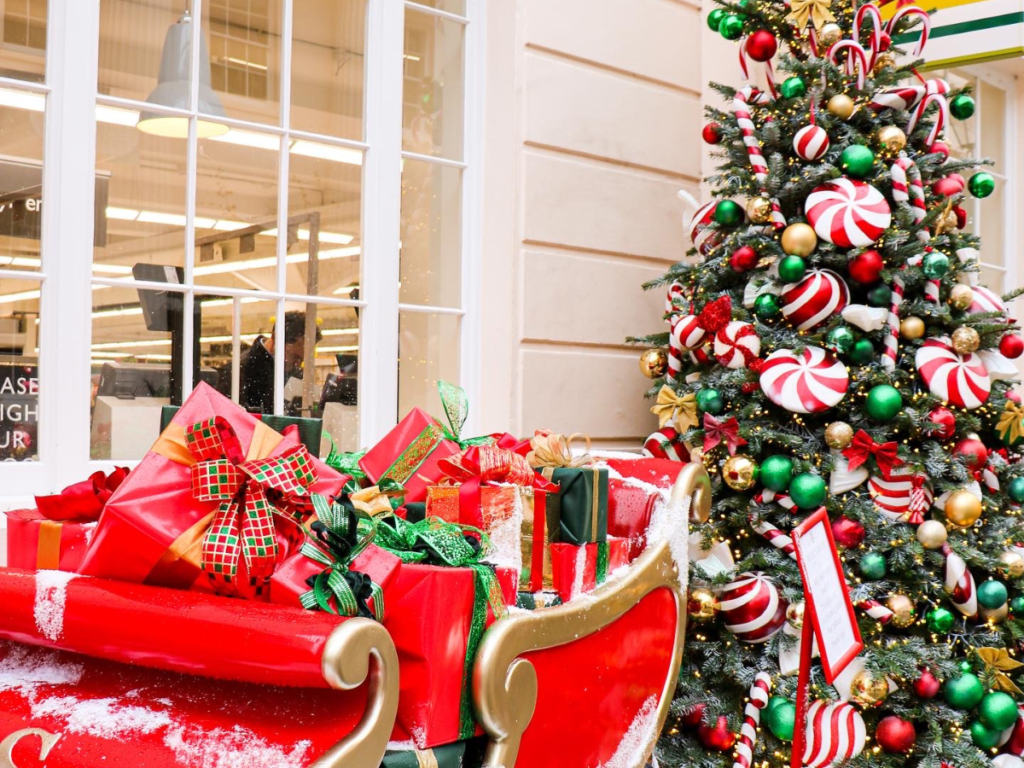 Lots of London establishments put up installations for Christmas – these go a little beyond just pretty lights and are well worth putting in your schedule for your Christmas trip! Here are our favourite Christmas installations to see:
Burlington Arcade – Burlington Arcade often puts an installation around Christmas that's in collaboration with the latest blockbuster. Previous years have seen James Bond inspired decorations for tourists to take in.
Annabel's – an exclusive Mayfair club, Annabel's gets decorated for lots of occasions throughout the year but they're particularly known for their Halloween and Christmas decorations.
Belgravia Motcomb Street – Belgravia goes big at Christmas and always has a wonderful installation beside Waitrose on Motcomb Street – perfect if you're looking for somewhere to get family photos!
The Ivy – The Ivy's locations – particularly on the Kings Road and in Covent Garden – often have great installations outside to celebrate Christmas. 
Warm Up with Hot Festive Drinks
The cold winter days and nights leading up to Christmas in London call for just one thing: hot drinks! Whether you're a drinker or not, London has the winter warmers for you!
Mulled Wine in London is very easy to come by – particularly if you're anywhere near a Christmas market!

Covent Garden – during Christmas, Covent Garden has multiple stands around offering delicious mulled wine to drink.
Trafalgar Square – the Trafalgar Square market also offers mulled wine – although you have to drink it in their designated area as they are not licensed to let you take it away with you.
Mr Foggs – for a sit in drink, head to one of Mr Foggs' locations. You'll also find lots of other Christmas cocktails on offer here!

London has some delicious hot chocolate on offer that's a real treat for kids and adults alike!

Chin Chin – thick hot chocolate topped with toasted marshmallow fluff. This tasty treat is served with a spoon. It's so thick – but it's very tasty!
Badiani – traditional Italian hot chocolate, served with whipped cream, and a waffle biscuit. For lovers of pistachio opt for the pistachio option that has a thick nut sauce laddled on the glass before the chocolate is put in. (We have tried Badiani hot chocolate through a PR invite)
Dark Sugars – created in front of your eyes with real chocolate flakes melted into hot milk – this East London spot isn't to be missed!
Treat Yourself to Christmas Nibbles & Meals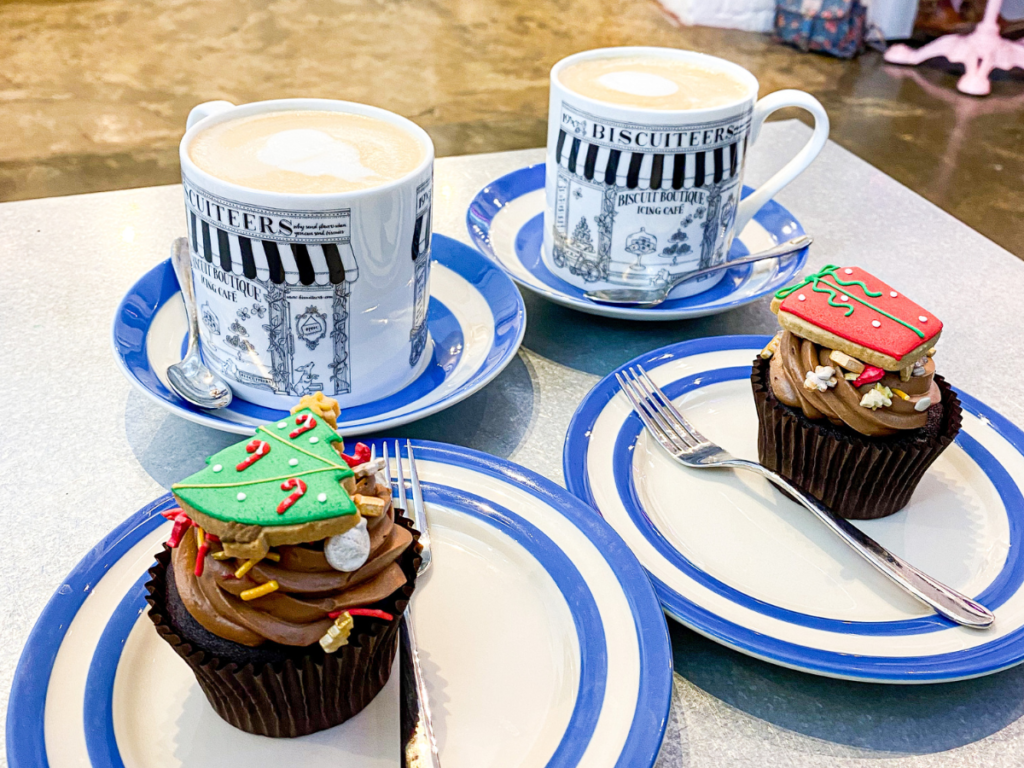 There's no doubt that one of the best parts about Christmas in London is the food! We've rounded up some of our favourites to help you decide where to eat!
Sweet Christmas treats in London do not disappoint. You're sure to find a mince pie in every cafe you enter, but for something a little different this is where we'll be heading:

Humble Crumble – say hello to Christmas crumbles with festive flavours and even topped with chocolate orange custard at Humble Crumble. Find in Spitalfields, Borough Market, and Camden Market.
Whipped London – the cheesecake shop in Covent Garden has some delectable Christmas food that's just as cute as it is sweet. We've got our eyes on those cheesecakes topped with reindeer antlers!
Buns from Home – mince pies in a different way – topped with a Christmas tree we can't wait to get our hands on their Christmas specials this year.

Christmas Afternoon Teas are a fabulous way to celebrate the season with loved ones.

Biscuiteers – Biscuiteers is one of our favourite London spots for a sweet treat and their Christmas afternoon tea looks delectable!
Peggy Porschen – with cupcakes that are intricately iced for the season, this is a perfectly pink spot to enjoy Christmas.

Enjoy a sit down meal inside a festively decorated restaurant. Here are our top choices:

The Ivy – The Ivy welcomes a Christmas menu every single year and with their festive decorations it's a must visit.
Daphne's – if you're looking for somewhere extra special, Daphne's in Chelsea is the ideal place. With their ceilings fully decked out in baubles, you'll feel like you're in a movie.
Watch a Festive Show in the West End
There's nothing like visiting the theatre as a Christmas treat and London has some spectacular shows to offer during the festive season!
Elf the Musical – the popular Christmas film in musical format at the Dominion Theatre!
The Nutcracker – a classic winter ballet, do not miss The Nutcracker at The Royal Opera House this year.
The Snowman – the wonderful cartoon comes to life at the Peacock Theatre this season.
Peter Pan Panto – with a star-studded cast, including Jennifer Saunders, take the kids to this fun panto at The London Palladium.
Take in the Large Christmas Trees
Discover the enchanting allure of London's Christmas trees at these iconic locations:
Covent Garden – Wander through the heart of Covent Garden, where the central piazza comes alive with the festive glow of a magnificent Christmas tree.The Covent Garden Christmas tree creates a magical ambiance, perfect for capturing holiday memories and enjoying the festive atmosphere of this lively district. They tend to have 'snow flurries' once an hour to really ramp up the festive spirit.
Trafalgar Square – Experience the grandeur of Christmas at Trafalgar Square, where an awe-inspiring Norwegian spruce takes centre stage. A gift from Norway, this towering tree is a symbol of international goodwill and has been an annual tradition since 1947. Lit with thousands of lights, the Trafalgar Square Christmas tree serves as a focal point for carol singers and festive gatherings, radiating holiday spirit throughout the iconic square.
Leadenhall Market – Step into the historic Leadenhall Market, adorned with festive decorations and a beautifully decorated Christmas tree. Surrounded by Victorian architecture, this tree adds a touch of holiday magic to the market's enchanting atmosphere. The twinkling lights and festive ornaments make Leadenhall Market a picturesque destination to embrace the Christmas spirit while indulging in seasonal shopping and dining.
Get Your Christmas Shopping Done in London's Department Shops
Get a true London shopping experience by visiting the most festive of shops – which happens to be our iconic department stores.
Liberty's – Explore Regent Street's Liberty's for unique gifts, blending British elegance with exclusive finds like Liberty print scarves and artisanal chocolates. Their Christmas shop opens months before and you can find beautiful London inspired decorations!
Harrods – In Knightsbridge, Harrods offers opulent Christmas shopping, showcasing luxury goods, festive displays, and a Christmas World section for enchanting decorations. We're hoping for outside decorations as spectacular as 2022's Dior gingerbread house!
Selfridges – Oxford Street's Selfridges is a mecca for fashion and trendsetters, transforming into a dazzling spectacle with a Christmas Shop featuring designer ornaments and unique gifts.
Peter Jones – In Chelsea, Peter Jones provides a sophisticated and intimate Christmas shopping experience with curated selections of fashion, beauty, and homeware in a cosy, festive setting. This shop is often less hectic than the super central department shops and Chelsea is a fantastic place to go Christmas shopping!
About The London Eats List
We're here to help inspire your next trip to our wonderful city. Take in the sights of the 7 magnificent cemeteries, treat yourself to a healthy lunch at Acai Girls, or take in the history of Pimlico – we have the guides you need.