London's Christmas Lights tend to switch on in early-mid November. We've rounded up all the dates and times of 2023''s lights that have been confirmed so far. Each set of lights and each area tends to have a dedicated event for light switch on, complete with celebrities to switch on the lights, and lots of food and activities on the day. Start planning your trip to admire the lights with us now.
Table of Contents:
Confirmed Dates & Times for London Christmas Lights Switch Ons 2023
Each area switches its lights on at different times and days, meaning for the real lovers of London Christmas lights, you could attempt to see all of them switch on this year!
Carnaby Street – 2nd November 2023, 4-8pm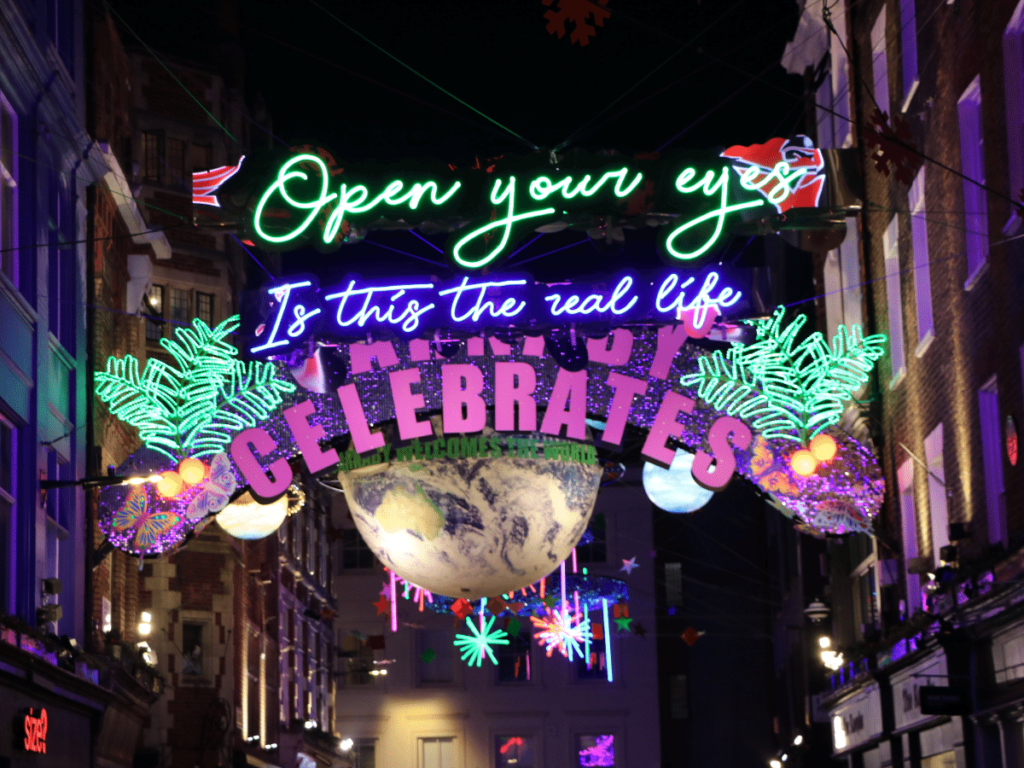 Carnaby Street's Christmas lights this year are set to a pop of neon with the theme 'Carnaby Universe.' The switch on event on the 2nd November is set to see activations from many brands in Carnaby. You will need to register for a free ticket to attend.
Oxford Street – 2nd November 2nd November 2023
Oxford Street will see its starry Christmas lights returning for 2023. The stars are made from LED bulbs that can be recycled into future displays.
Covent Garden – 7th November 2023
Covent Garden's Christmas lights are being switched up this year as we say farewell to the mistletoe of years gone by. 2023 will see the installation of 40 gigantic bells, with baubles, and mirror balls. If you want to be the first to see them, make sure you head down on the 7th November! The Christmas sleigh photo spot will arrive earlier on the 1st November.
Regent Street & St James's – 9th November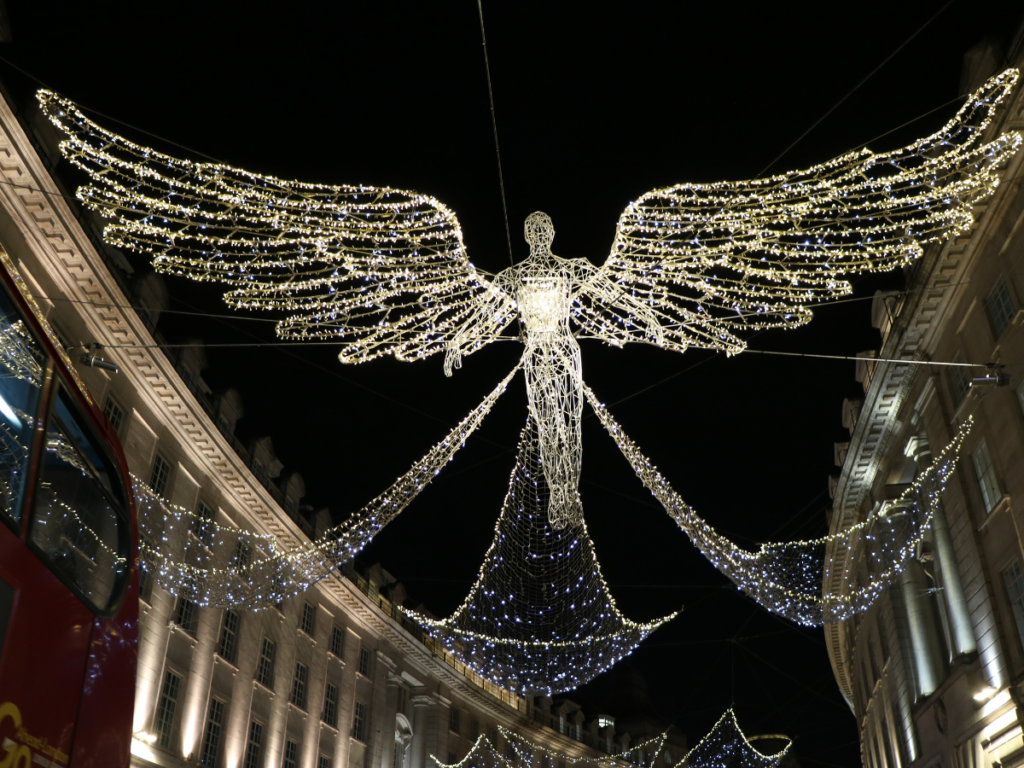 Whilst there will be no big event for the turn on of Regent Street's Christmas lights – you will be able to see the iconic angels lit up from the 9th November. As with Oxford Street, these use low energy LED bulbs.
Marylebone Village – 9th November, 3-8pm
The quaint Marylebone Village is raising money with their Christmas lights switch on for Mind in Brent, Wandsworth, and Westminster. They are another area that has brand new sustainable lights for the 2023 season. The event on the 9th November will be hosted by the BBC's Jo Good from 6pm, with a secret celebrity guest.
Belgravia – 15th November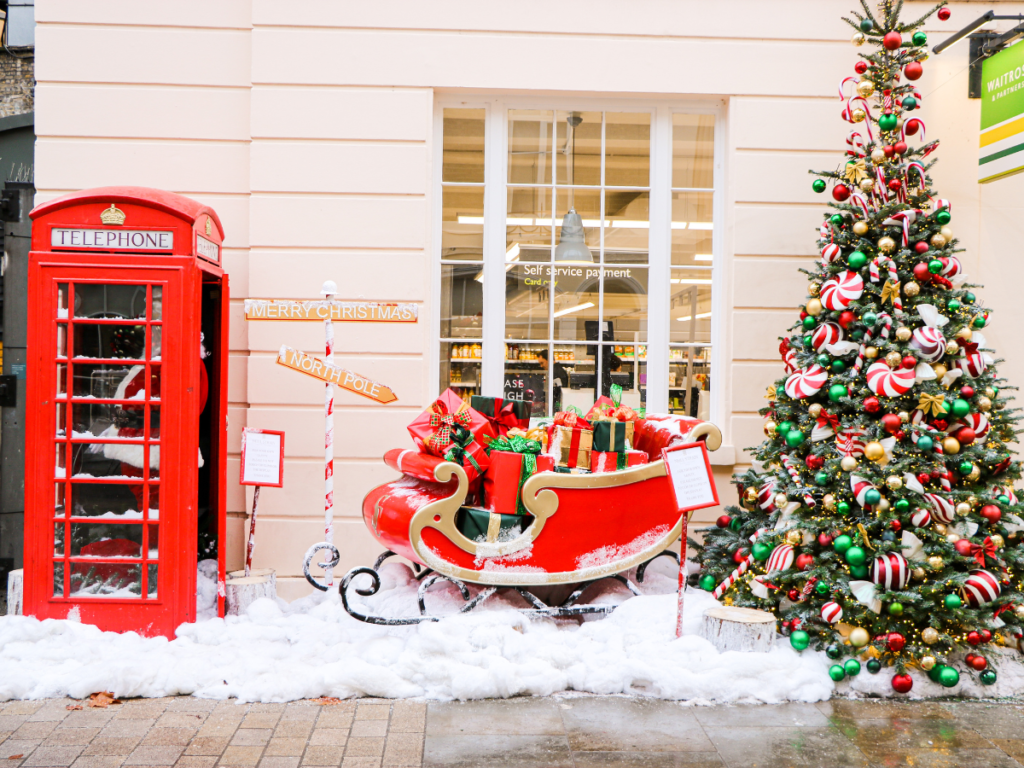 Belgravia is hosting a night of cheer for their London Christmas light switch on. On the night of the 15th November, you can expect music from the London Gay Men's Chorus, Father Christmas and some of the reindeers, a pop up Christmas market, and the launch of Belgravia's floral Christmas trail.
Kew Gardens – 15th November
Kew Gardens holds a wonderful light trail around their ground every single year and you can start visiting it from the 15th November! We highly recommend doing this as it's always beautiful!
Mayfair – 16th November
Join Mayfair by the Connaught Hotel where you'll see them unveil their addition to London's Christmas tree scene for 2023. With wooden chalets, a performance from the Nutcracker, as well as lots of shops offering hot chocolate, warming drinks and so much more, Mayfair's Christmas lights switch on is bound to be fun!
Chelsea – 18th November
Chelsea's Christmas lights switch on, is always spectacular, with entertainment, Christmas markets, workshops and so much more! Don't miss out on this West London gem!
Trafalgar Square Tree – 7th December
Trafalgar Square's Tree is a gift from Norway every year as a thank you for London's help in the Second World War, which makes the switch on ceremony all the more special. The Mayor of London often joins the Mayor of Oslo to fell the tree in Norway before it makes its way to the square.
Other Christmas Lights You Can Expect to See
These are just the confirmed dates for Christmas lights switch ons in London so far. You can expect there to be ceremonies, events, and lots of festive fun. Here are the other top spots for London's Christmas lights:
Bond Street
Battersea Power Station
Connaught Village
St Martin's Lane
King's Cross
Greenwich
Leadenhall Market
St Christopher's Place
You can also expect there to be lots of Christmas installations across London in 2023 that we recommend making time to see too!
About The London Eats List
We're here to help inspire the best trip to London you'll ever have. From the best Christmas treats in the city, to the spots you can warm up with a mulled wine – we've got all the recommendations for you!