In 1832, to deal with the ever expanding population of London, Parliament allowed 7 large cemeteries to be built on the outskirts of our city Magnificent Seven Cemeteries of London. Today the city has expanded and these are now within the bounds of London itself. Whilst a day out to a cemetery may. These are now known as the not sound like the funnest idea, these locations each have their own distinct features that make them enchanting and historic places to explore.
Table of Contents:
The History of London's Cemeteries
In times gone by, London's passed would be buried in local parish churchyards, but with time as the city got more crowded (in the first half of the 19th century London's population doubled to 2.3 million), so too did the cemeteries. This is why in 1832 the government passed a law to encourage larger private cemeteries to be created on the outskirts of the Big Smoke. Many of these cemeteries are still active to date, with funerals being held often for new residents.
Highgate Cemetery
Highgate Cemetery is the most well known of London's magnificent seven, and is home to approximately 170,000 people, including many famous residents including German philosopher Karl Marx. The West half of Highgate Cemetery first opened in 1839 and this side is home to the famous Egyptian Avenue and Circle of Lebanon which are instantly recognisable.
In 1860, the East Side of Highgate Cemetery opened and this is where you'll find the prominent resetting place of Karl Marx. The cemetery runs regular tours where guides will tell you the history and take you into the otherwise inaccessible catacombs. You can also book regular tickets and wander around the grounds yourself.
Abney Park Cemetery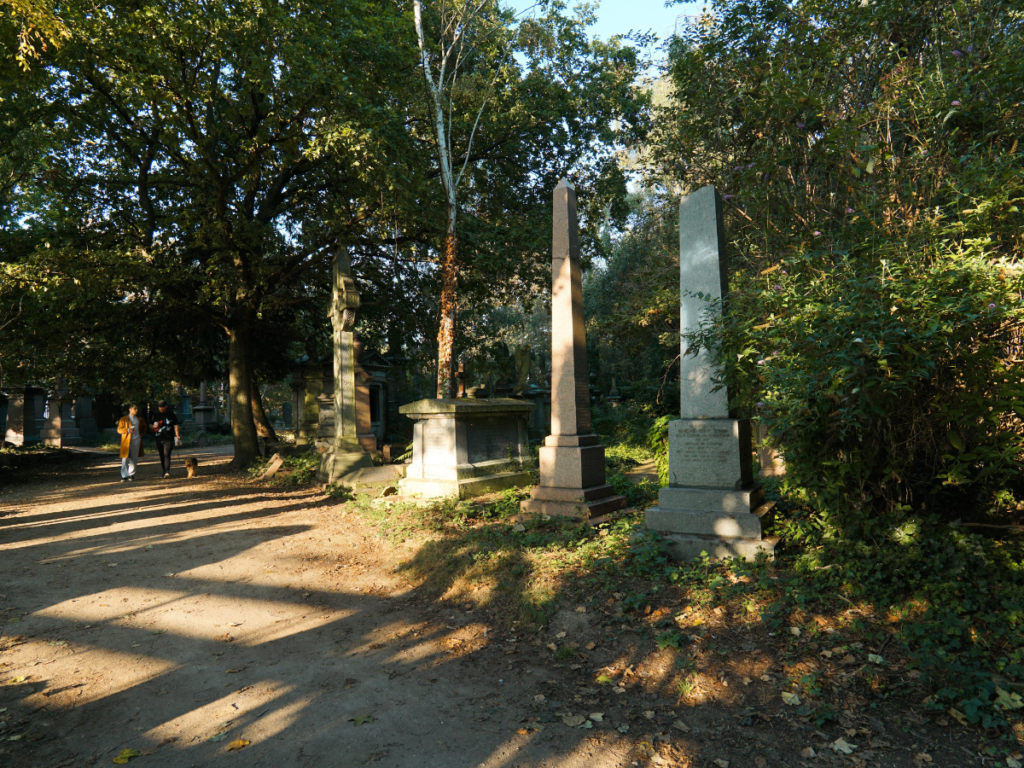 Abney Park was first opened in 1840 and is located in Stoke Newington. With over 196,000 burials this is a very large private cemetery in London. The cemetery is named after Sir Thomas Abney who was Lord Mayor between 1700-1701, and his house Abney Manor used to sit on the site. When it first opened it was a 'garden cemetery' and was non-denominational – which was pioneering for its time.
The entrance to the cemetery was built in the Egyptian Revival style, with hieroglyphics that denote the "Abode of the Mortal Part of Man." Abney Park was also Europe's first arboretum combined with a cemetery – intended to also be a place of education, not just burial. Abney Park is open to visitors despite current restoration work.
Brompton Cemetery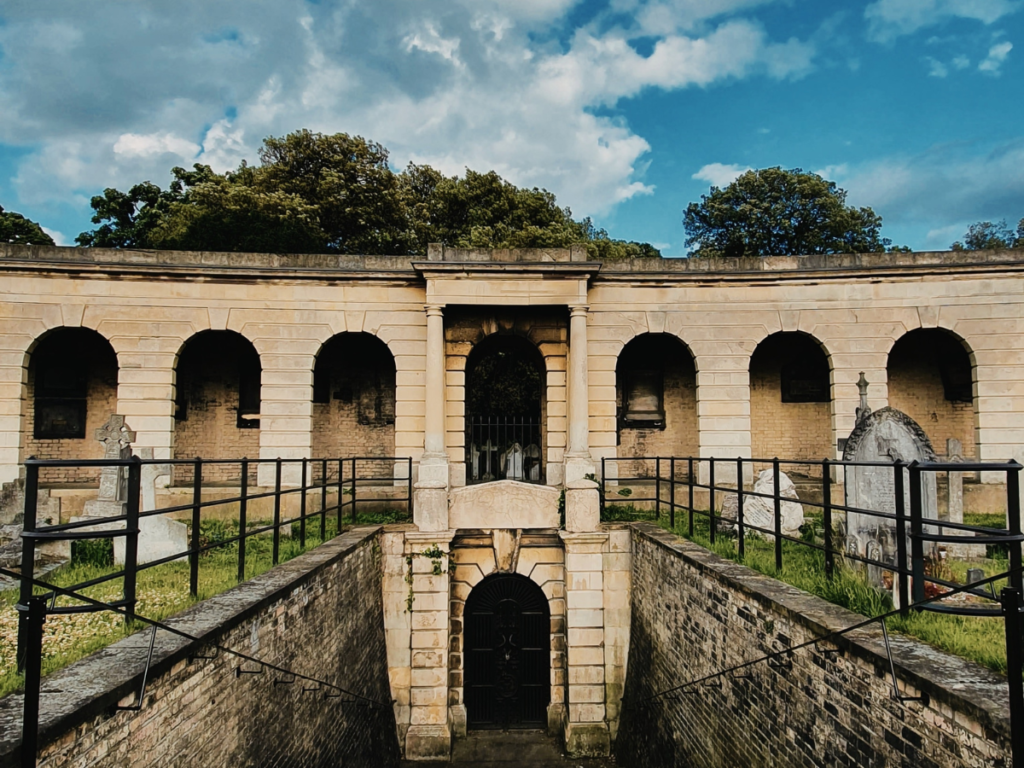 Not only is Brompton Cemetery one of the magnificent seven but it is also one of London's Royal Parks. Brompton opened in 1840, founded by inventor Stephen Geary. The design of the cemetery, by Benjamin Baud, was designed to be a tree lined open air cathedral. More than 205,000 people have been laid to rest here since it first opened.
Like Highgate, Brompton Cemetery has catacombs that can be viewed on the regular tours run by the Friends of Brompton Cemetery. The catacombs had space for 1000s of people, yet only 500 people were ever laid to rest here.
If you're looking for some famous headstones in this particular magnificent cemetery you'll find lots. From Emmeline Pankhurst to Dr John Snow. The cemetery is completely free to visit.
Tower Hamlets Cemetery Park
Tower Hamlets Cemetery Park opened in 1841, and today is a local nature reserve as well as historical burial ground. Whilst it closed for burials in 1966, it still has a large number of 350,000 people laid to rest here. During its history, it has also been known as Bow Cemetery.
The 27 acres was originally split into an Anglican burial site and an area for every other denomination. The Second World War saw the cemetery be bombed 5 times, and shrapnel damage is still visible on graves in the North West corner. The park is open from dawn to dusk and is free to visit.
Kensal Green Cemetery
First opening in 1933, Kensal Green Cemetery was London's first commercial one to ever open. A competition was held for the design of Kensal Green with a brief that stipulated the need for two chapels with catacombs, an entrance way, and lodges. 48 people entered with the winner being Henry Kendall who designed in the gothic style. However, Kendall's designs were never built with the final cemetery being planned by John Griffith who favoured the Greek Revival Style.
The cemetery was made of two halves: one consecrated for Anglican burials and one non-consecrated for non-Anglicans. The cemetery has also seen vast landscaping taking it to an Arcadian style.
Many well-known names have been laid to rest here, from both Isambard Brunels, to the daughter of Winston Churchill. You'll even find a couple of royal burials here too. The cemetery is free to visit each day, and you can also book guided tours.
West Norwood Cemetery
West Norwood Cemetery first opened in 1837, with the layer addition of a crematorium in 1915. Originally it was called the South Metropolitan Cemetery. Today it holds around 200,000 people laid to rest. With all the plots now full, they no longer offer burials. It is said that this was the very first cemetery in the UK to be built in the new gothic style.
The land the cemetery sits on was once part of the Great North Wood, and some of the trees that are still present date back to the 1500s! In 1842, part of the cemetery was acquired by the Greek Orthodox community and subsequently holds grand monuments and mausoleums.
The original chapels were damaged and destroyed over time and have since been replaced with a memorial rose garden which sits over the catacombs.
The Friends of West Norwood Cemetery hold guided tours on the first Sunday of every month. The cemetery is also open for free to visitors year round.
Nunhead Cemetery
The final of our seven magnificent cemeteries is Nunhead, first opening in 1840. Originally known as All Saints' Cemetery, this is the least well known of the 7 but is the second largest at 52 acres. The chapel here was designed by Thomas Little.
Today the cemetery is a local nature reserve and is often described as unkempt with vines running across older graves. Nunhead Cemetery is free to visit by the public daily. The Friends of Nunhead also offer monthly tours of the cemetery that do not tend to require booking and are completely free.
Introducing The London Eats List
We're here to help guide your next trip to London. From how to navigate London, to the best places to indulge in Halloween treats – you'll find all the inspiration you need.