Navigating London can be super easy once you know how. From how to know where you're going on foot, to how to use the tube, we have the top tips to guide you. With our help you'll be navigating London like a local in no time.
Table of Contents:
Best Navigation Apps for London
Nowadays to navigate London you don't have to carry around a big A-Z map, instead you can turn to your phone. As Londoners we're always using maps on our phones to find the hottest new restaurant or hidden spot. We've tested them all so you don't have to.
CityMapper
CityMapper is a local favourite navigation app for London. It will give you direction on foot, which tubes to get, what bus to get on, etc. Where CityMapper differs from other London map apps is the detail they go into.
When looking at options for getting to your destination you can filter to get:
Step Free journeys
Routes with the least walking
The simplest route
The quickest route
As well as sort by price
It gives you all the available options, from walking through to hire bikes and scooters. On hot days it will even suggest the most airconned route for you.
Our favourite feature is how it tells you the optimum carriage to get on the tube to line up with exits/transfers at your destination.
Google Maps
Google maps is a classic choice of app for navigating London. You can discover which buses to get, which tube or train, how to walk there, or how to drive.
It also gives you price estimates for popular taxi apps should this be his you want to travel.
There are a few unique features of Google maps that makes it one of our most used ways to get around London.
Ability to save places to lists – we find this perfect for when we're exploring a new neighbourhood of London as we can pin cafes, pubs, and things we want to see to make navigation super easy once we get there.
Street view – if you're travelling around London by yourself it can ease a lot of anxiety to get familiar with a place before you go. With street view you can take a look at your destination and surrounding area ahead of time.
Check busy-ness – for certain locations in London, Google Maps will tell you just how busy the place is and how this compares to usual so you can find the best time to visit places.
Apple Maps
Apple Maps is very similar to Google, but only available for iPhone users. As with Google Maps, you'll be able to filter between different transport modes from walking to tubes.
You can also save places on Apple Maps to create your own bucket list map. We tend to use this interchangeably with Google Maps. But it's our presence of map when driving around London as the directions can link up to your watch and buzz when you need to turn.
How to Use the Tube
The tube, formally known as The London Underground, is one of the best ways to get around and navigate the city. They are trains that travel through underground tunnels (and sometimes overground). 
There are 11 tube lines in total spanning across Central London and its suburbs. With the lines intersecting at various stations.
You will either need to purchase an Oyster Card from a main line station or convenience shop. Or use contactless to pay on the tube. You can also buy physical tickets at ticket machines.
Inside the stations you'll find it's well signposted as to where each line is located and the direction. Some platforms have multiple lines on, or different variations of the same line so make sure you check the map and the destination to where you're going! We recommend planning your route in a map app first.
Some tube lines run into the night so are great if you're planning on having a night out.
How to Use London Buses
Buses are one of London's most iconic landmarks, but they are also very handy for getting around the city!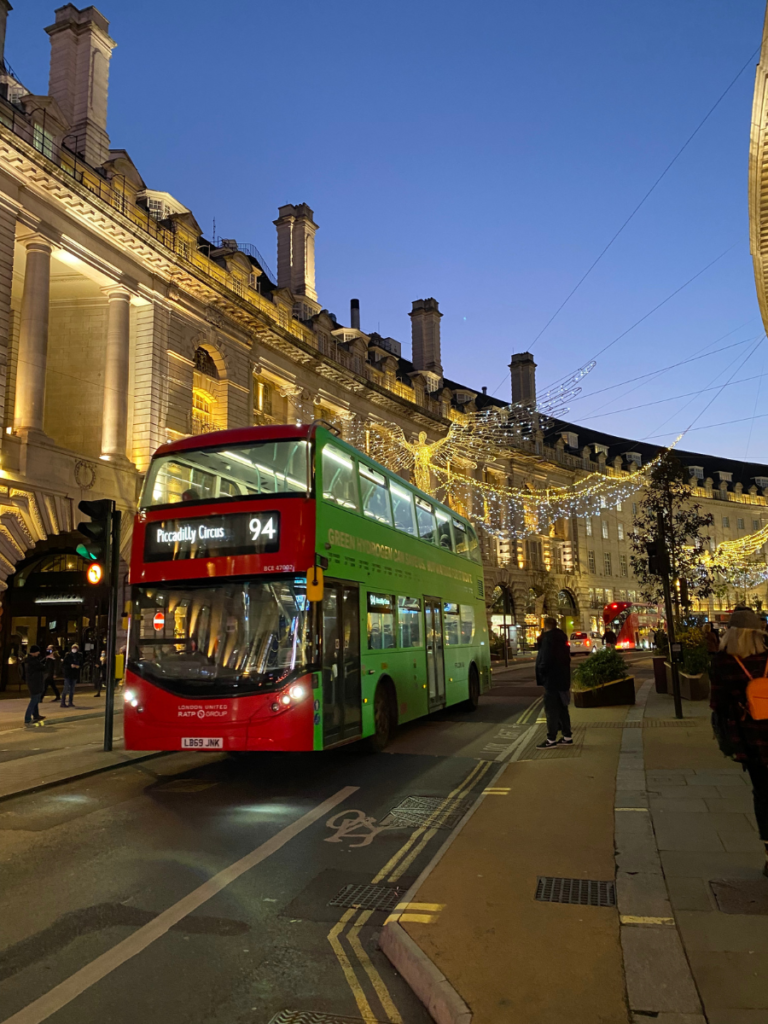 Like with the tube you'll either need to use an Oyster Card, contactless payment, or ticket purchased ag a train ticket to pay. You cannot buy a ticket once on the bus and they do not accept cash.
There are lots of bus stops around the city – to use the bus, find which one you need to use on a map and head to the stop. When the bus you want is approaching make sure to stick out your hand to signal you plan to get on – if you don't do this they may not stop. 
How to Hail a Black Cab
Black Cabs are the official London taxis – and can be identified by their iconic look. You can pick one up at taxi ranks at the main London stations, or you can hail one around the streets of the city.
Firstly, look for a cab that has its orange taxi light switched on – this means it's available. Then all you need to do is flag it down, do this by signalling with your hand.
London black cab drivers have to take a test called "The Knowledge" which ensures they know every street in the city – so they'll know exactly where you're going.
Most London cabs now take card and contactless payment as well as cash.
4 Tips for Exploring London on Foot
For those that are able, we would always recommend navigating around London on foot. Our city is full of wonderful sights, pretty buildings, and hidden gems that you're likely to miss if travelling underground.
Wear comfy shoes – if you plan on walking everywhere in London, then comfy shoes, like trainers are essential.
Don't forget to look up – London is full of stunning and historic architecture. Don't spend so much time looking at directions on your phone that you forget to actually take in the city.
Plan your days – if you know where you want to go, why not plan a walk that takes you to each attraction. Sometimes we like to do all of our waking for the day in one direction and then take public transport home.
Keep to the side of the pavement – checking directions on your phone whilst walking? Step to the side of the pavement to avoid getting in the way of angry Londoners!
Driving in London
If you're staying in Central London we'd highly recommend against getting a car. The public transport system is one of the best in the world, and much of the city is walkable.
However, if we can't change your mind there are a few things to be aware of before driving in London:
Drive on the left – if you're visiting from abroad, remember that us Brits drive on the left hand side of the road.
Congestion & ULEZ Zones – depending on where you are in London, and what car you are driving you may have to pay a fee for the congestion zone and the ULEZ zone. We recommend looking these up before you drive anywhere.
Hiring Bikes in London
Love exploring a new city by bike? You're in luck as London has plenty to navigate the city!
From Santander Bikes (locally known as Boris Bikes), to Lime bikes, and even e-scooters to rent, there's lots of transport around the city just waiting for you to jump on.
We suggest researching London hire bikes before getting here and making sure you're all set up on the right apps to be able to pay in an instant once you arrive.
Please remember that it's illegal to cycle on pavements in the UK. London has lots of bike lanes as well as the cycle superhighway designed to move cyclists around the city.
About The London Eats List
We're here to help you plan your next trip to our wonderful city. From a weekend itinerary for London, to nicknames for the city, and even the best library bars for a cosy drink.