Mowgli brought their delicious Indian street food to London's Charlotte Street in 2021, and have been serving up yummy dishes ever since. With their success up and down the country it's no surprise that they've opened their doors in London. We headed down to try out their street food inspired dishes for ourselves.
What is Mowgli?
Mowgli Street Food aims to take a step away from the stereotypical curries expected of Indian restaurants. Instead their dishes show that real homemade Indian food is healthy, most often vegan, and packed with mouth-watering flavour. With the first Mowglis opened by founder, Nisha Katona, in Liverpool in 2014, shortly followed by Manchester – this Indian restaurant has seen great success with their approach to food.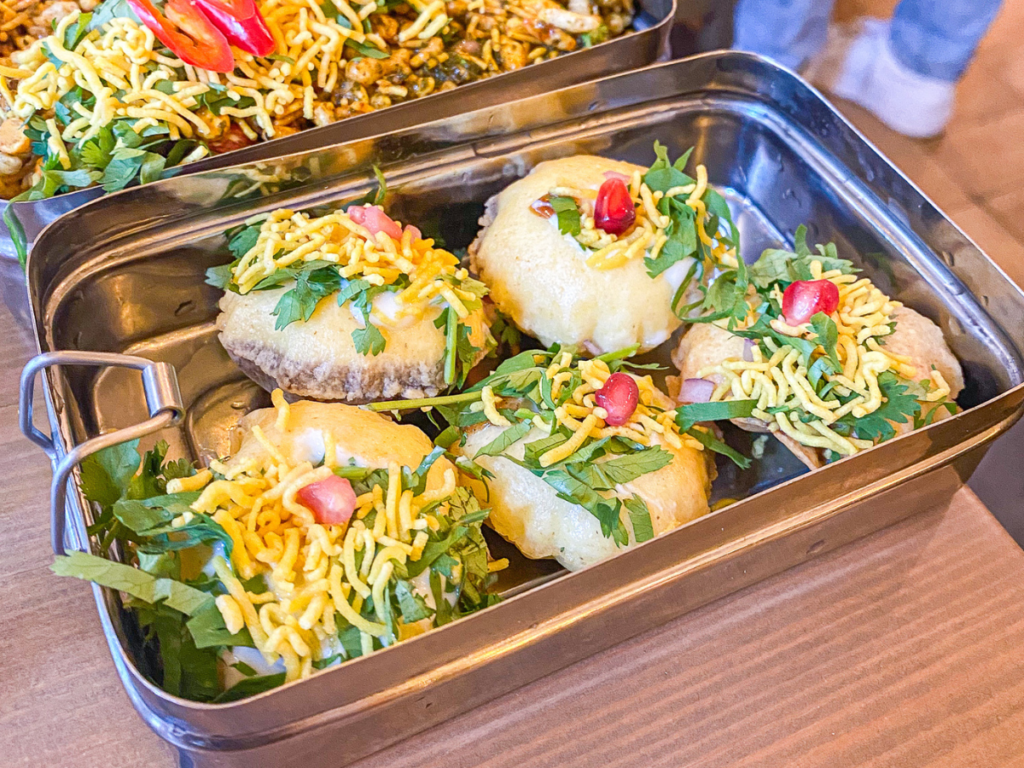 Booking Mowgli, London
Mowglis is simple to book and can be done online at their website. Unlike other popular London restaurants, we had no trouble booking the exact time we wanted to dine in the evening just a week before. However we did dine mid-week so it may be wise to book further in advance if you're looking for a weekend booking to avoid disappointment.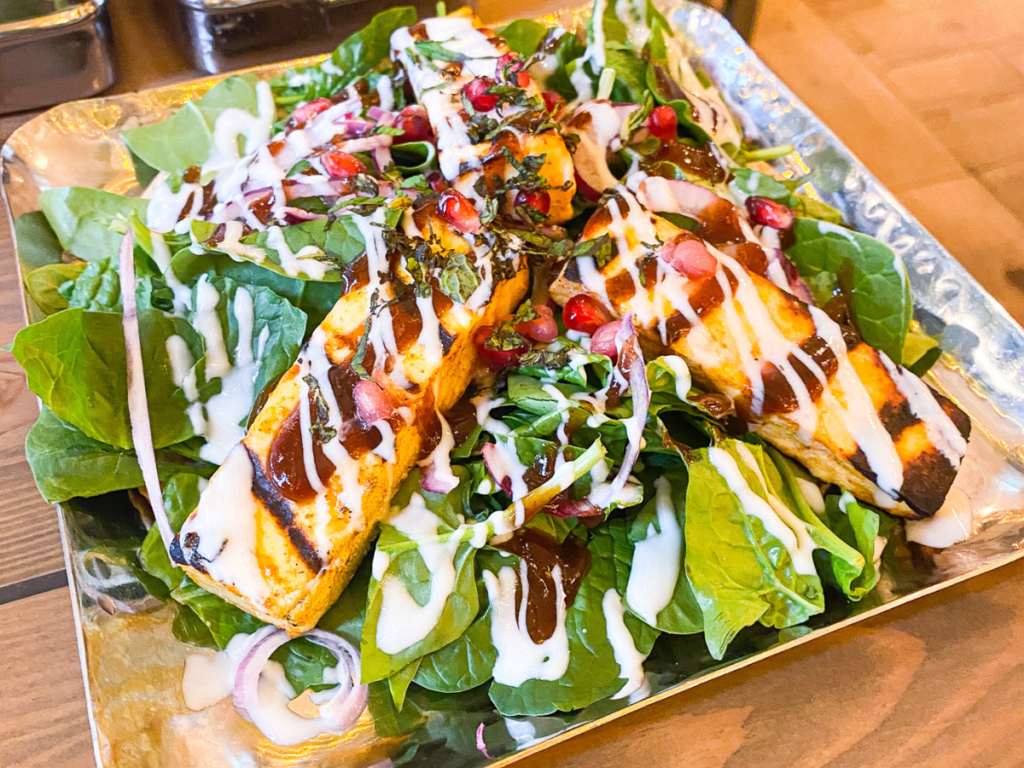 The Mowgli Street Food Menu
The Mowglis' menu consists of lots of smaller dishes that are ideal for sharing! Think of it like Indian tapas! The menu is split into sections: Street Chat and The Hindu Kitchen focus on vegetarian and vegan dishes, whilst Street Meats and The House Kitchen have fish and meat based foods. There is also a section dedicated to carbs as these do not come automatically with your meal.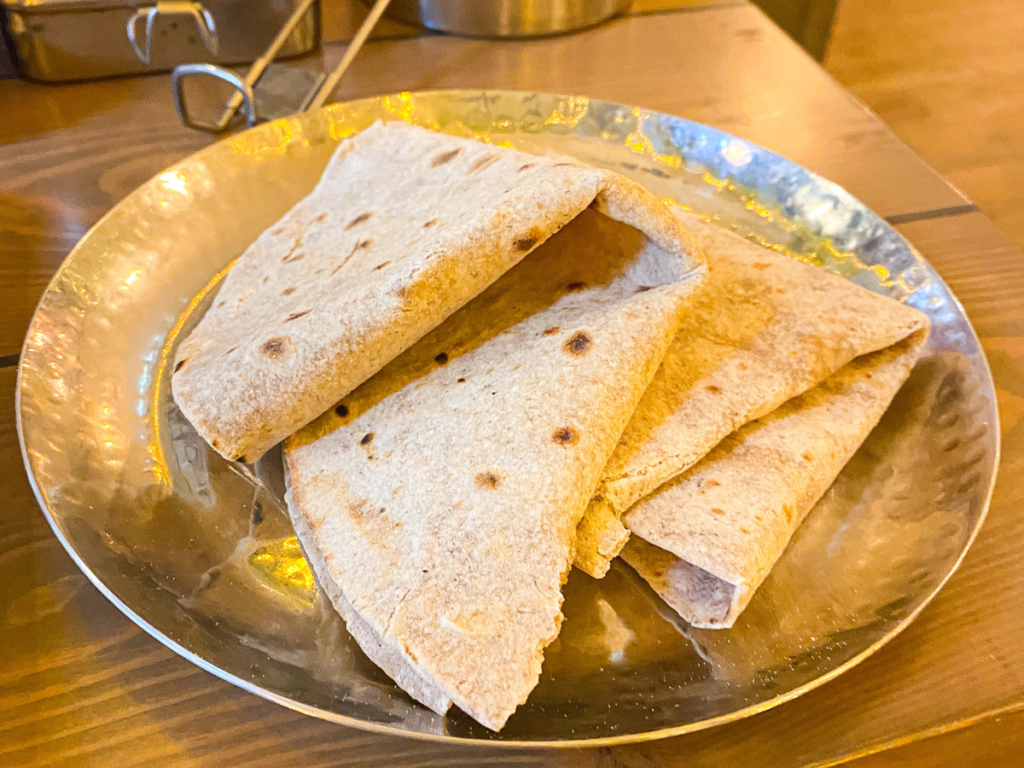 If you haven't stuffed your face with delicious savoury mains, then you can also discover the dessert menu! (Admittedly we were too full to try the puddings ourselves but shall certainly leave space on a future visit as they sound scrumptious)!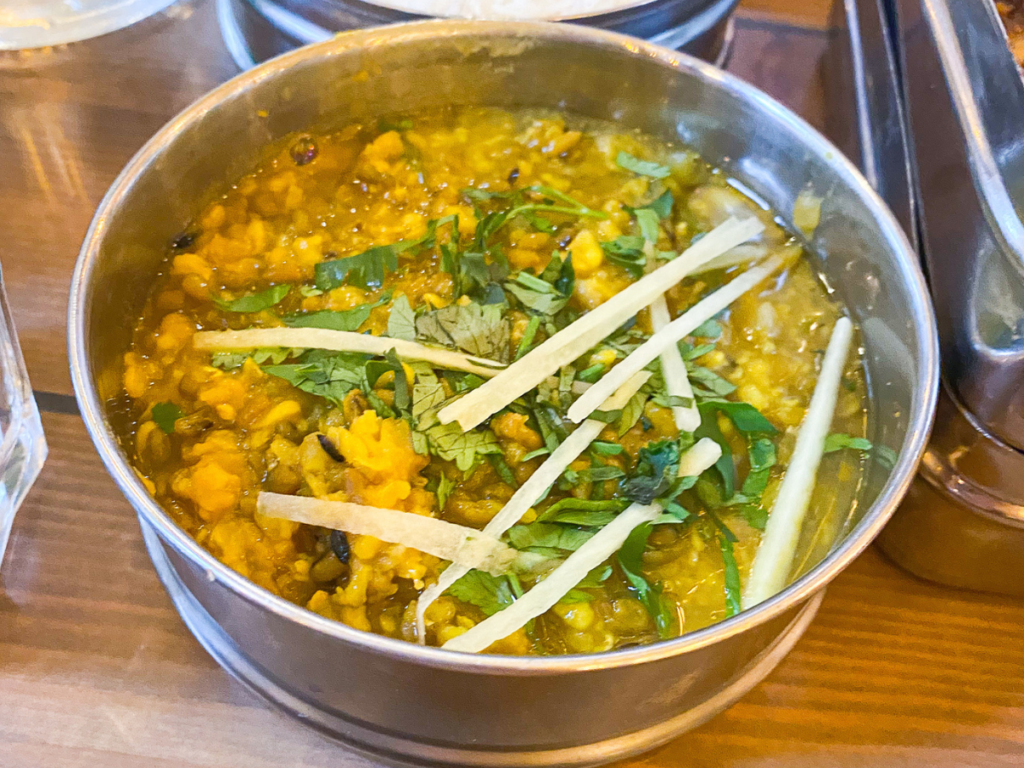 For those with dietary requirements you can ask for a vegan or gluten free menu. Also on offer is a kids' menu for if you've brought your little ones along.
Delicious Cocktails with a Twist
If you're celebrating a special occasion, or simply fancy a lovely cocktail with your meal – no worries, Mowglis has you covered with their unique drinks. Taking their own twists on classic cocktails, you'll be delighted by the assortment of flavours on offer. If you'd rather go alcohol free – you can also indulge in their mocktail menu!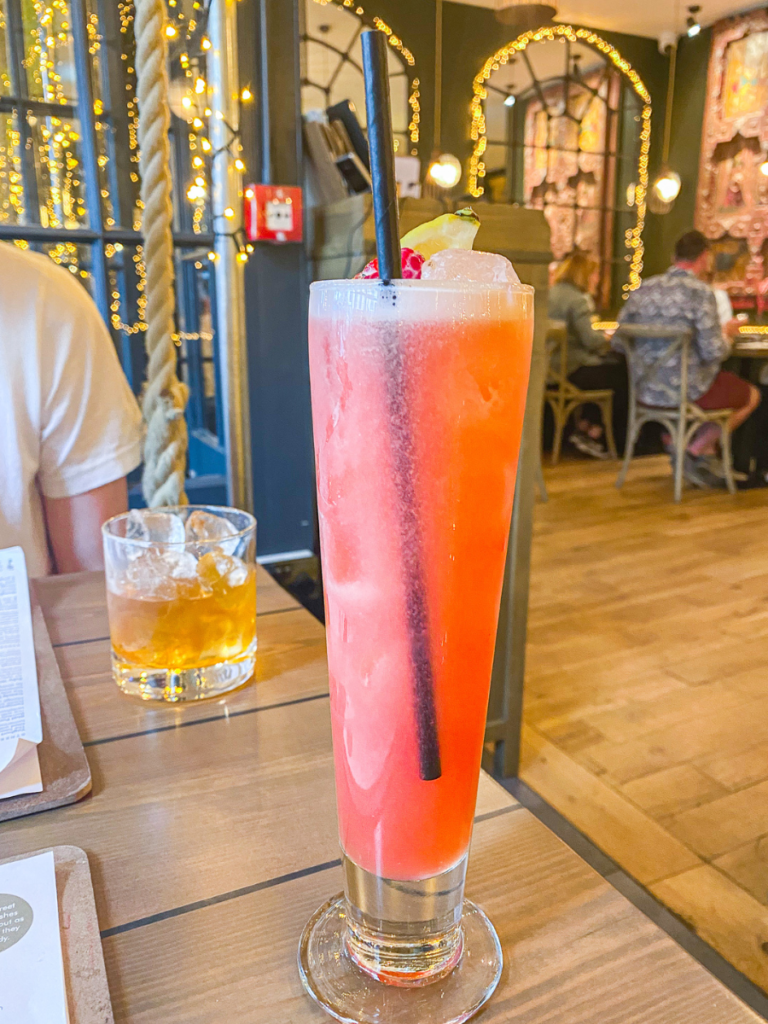 Mowgli Street Food, Charlotte Street: A Review
We visited Mowglis on a May evening for dinner. Upon arrival the staff were quick to seat us (on their gorgeous swing seats no less – these are not bookshelves so it's luck of the draw if you get seated here or not). All the staff that served us were friendly, knowledgeable about the food, and full of recommendations.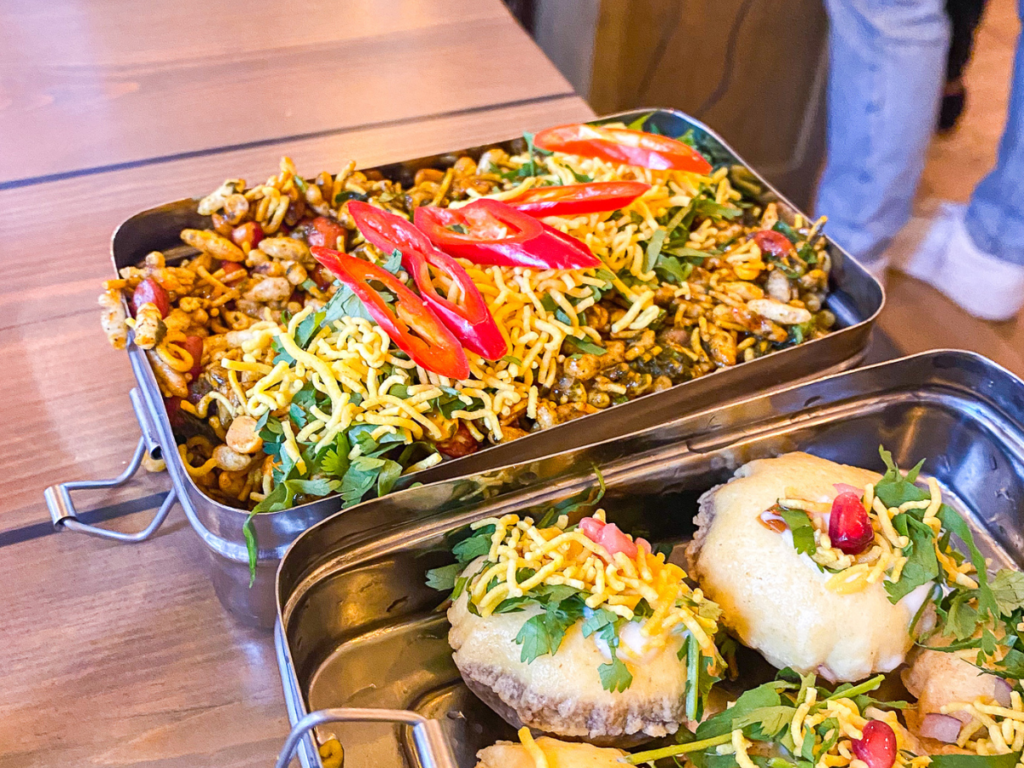 We ordered two cocktails from their menu:
Sweet Delhi Heights and a Smoked Cardamom Old Fashioned. Both were delicious, offering different flavours to suit each of us. 
Then we moved onto food! You order all the dishes you want at the same time and they bring them out as and when they're ready. Food wise the dishes we went for were:
Yoghurt Chat Bombs – these were our absolute favourite on the menu and are certainly a must try! They're unlike any dish I've tried before.
Treacle Tamarind Fries – slightly spicy fries in a delicious sticky sauce.
Bhel Puri – a puff rice salad.
Ruby Wrap – paneer and salad served on a roti wrap.
Green Ginger & Rhubarb Dahl – a dish we'd tried before but a home-cooked version from the wonderful Mowgli's cookbook.
Goan Fish Curry – another one of our favourites to cook at home – it was great to taste the original version in the restaurant and would definitely recommend this dish.
Roti Breads – delicious flat breads brushed with ghee. 
Basmati Rice – a classic that no trip to an Indian restaurant would be without.
Between the two of us we couldn't finish all of the dishes above as they are extremely filling! Next time we visit, we'll certainly be leaving space for their puddings. Mowgli offers a beautiful romantic London restaurant setting that you're sure to adore, with yummy food to match.
Mowgli FAQs
We know that there may be some questions that are still on your mind before visiting Mowgli's London restaurant in Fitzrovia, and we have the answers for you!
Are Dogs Allowed in Mowgli?
Mowgli's website states that they are a dog-friendly restaurant and are open to dogs joining your party. So long as they are well-behaved, this is also on the manager's discretion. 
Who Owns Mowgli?
The Mowgli restaurants are owned by Nisha Katona, who is a TV presenter as well as a chef.
How Many Mowgli Restaurants are There?
Starting its journey in Liverpool, there are now 15 restaurants across the UK, with 3 more destined to be opened by the end of 2022.
How Many Dishes Does Mowgli Have?
As of writing, the Mowgli's menu consists of 34 dishes across mains and desserts. With separate menus available for gluten-free and vegans.
Does Mowgli Do Vegan Food?
Yes, many of the dishes on the Mowgli menu are suitable for vegans. Making it the ideal destination for a get together with friends.
Introducing The London Eats List
We are a blog dedicated to all things London, from the best ice cream parlours in the city, to the history of the Great Smog, to the perfect independent London bookshops to visit on a rainy day. We have everything you need to inspire your next visit to our wonderful city.