We have visited Badiani 1932 on both personally paid visits & on one invite by the brand. All opinions however are our own and honest.
Badiani 1932 is one of London's popular destinations for authentic Italian gelato. Offering up delicious gelatos, crepes, waffles, gelato burgers, and moreish hot drinks. We've visited a couple of their locations to let you know if it's worth your time to go there yourself!
Table of Contents:
What is Badiani 1932?
First opening in Florence in 1932, Badiani is a gelato parlour with multiple locations across London. In 2015 the popular Florence gelato shop first opened its doors in London. As well as offering delicious food in-store you can also order gelato direct to your door!
Indulgent Gelato Flavours & Desserts at Badiani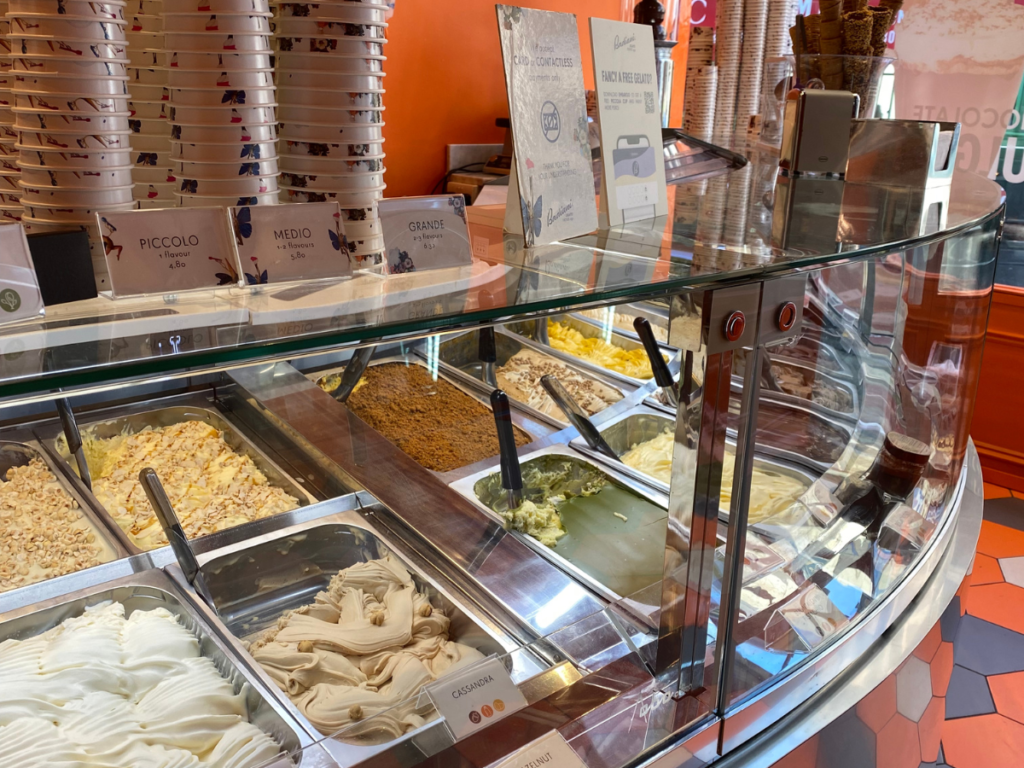 Badiani continues to use the traditional Florentine methods to create its gelato. They have a huge range of delicious flavours, each created using high quality and seasonal ingredients. Gelato is different from the classic types of ice cream in London we're used to. It is far creamier, created in a slower way to stop bubbles and ice particles forming.
Badiani has some incredible flavours, from their trademarked Buontalenti created with just milk, cream, eggs, and sugar. To their delectable nut flavours, from the popular hazelnut, to indulgent pistachio. Those who prefer sorbets will be treated to fruity flavours, as well as 100% vegan chocolate!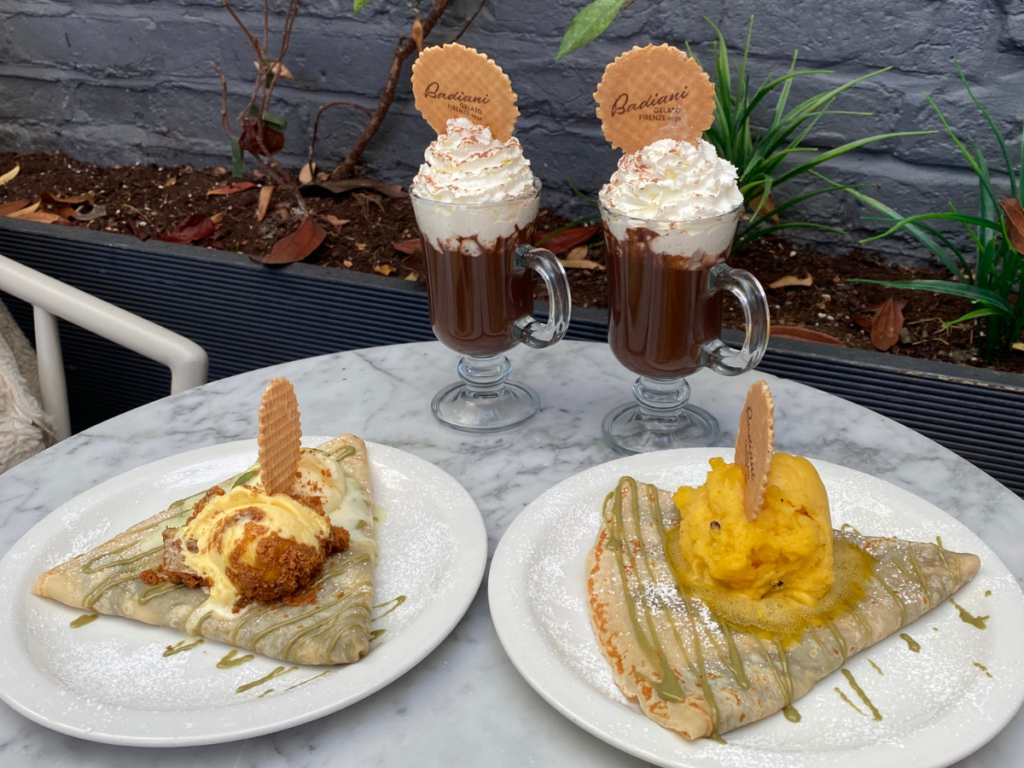 Badiani's menu is not limited to gelato though, they also have scrumptious crepes which can be topped with sauces and gelato, as can their waffles. They also have a range of hot drinks that include coffees and hot chocolate.
Our Review of Badiani 1932
Our first visit to Badiani was on a trip to Mercato Mayfair on a warm summer's day. Before a walk around Hyde Park we decided to treat ourselves to some gelato from the stand there which happened to be Badiani. I had the pistachio gelato which has a thick layer of pistachio sauce on top of the main ice cream – this is super tasty and is definitely the flavour I'd recommend you try the most!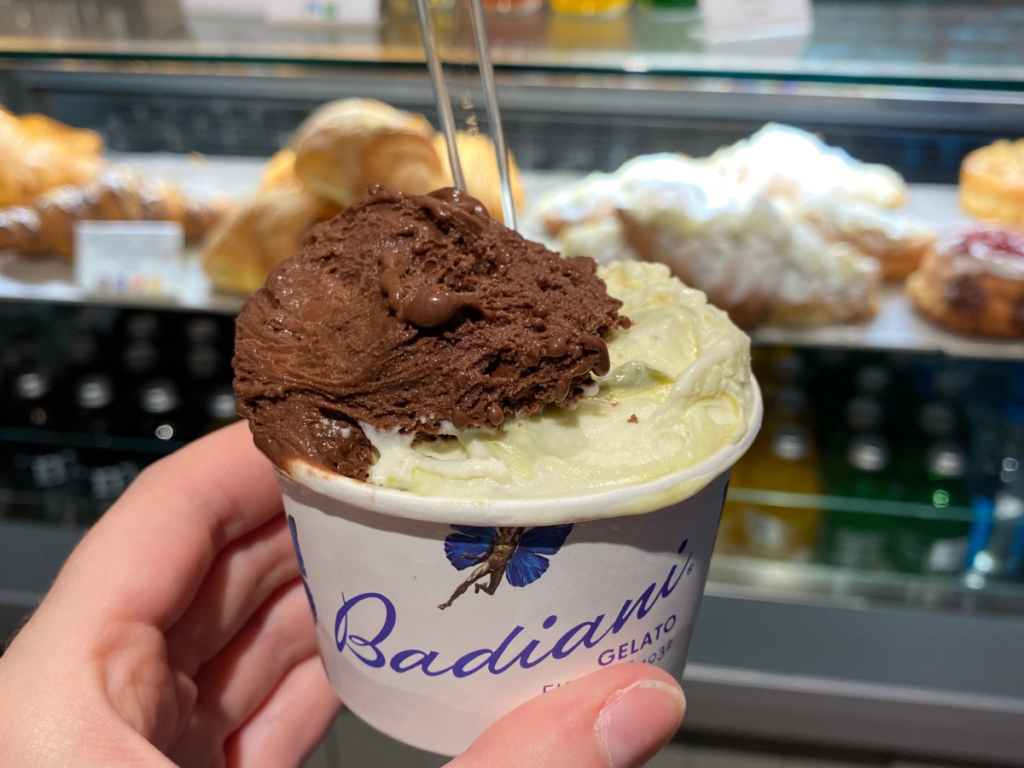 Our second visit to Badiani was to their Chelsea store (we were invited by the brand, but all opinions are our honest thoughts) to try their brand new London hot chocolate! The hot chocolate is a classic Italian version that is super rich, thick, and creamy – a real treat during the hot weather! Topped with cream and a waffle biscuit, you can also opt for the pistachio version where the glass is decorated with an indulgent pistachio sauce! Both options were super tasty – I'd also recommend trying it in the Chelsea store on Fulham Road as it was relatively quiet and has a gorgeous covered patio (complete with heaters for the colder months).
We also got to try some of their desserts, with both of us choosing a crepe covered in pistachio sauce. We went for a passion fruit sorbet on top, as well as toffee apple crumble gelato, and of course our favourite pistachio. These were some of the best crepes we've had in London and are also really reasonably priced.
The staff have also been really lovely and welcoming at both stores that we've eaten in.
Badiani London Locations
Since launching in London in 2015, Badiani has opened a lot of gelato parlours in the city – so hopefully there's one close to you so you can try their super tasty treats! Here's where you can find their parlous:
Canary Wharf
Elephant Park Mercato Metropolitano
Angel
Elephant & Castle
Mayfair Mercato Metropolitano
Covent Garden
Wood Wharf
White City
Balham
About The London Eats List
We're here to help inspire the best trip to London, from weekend itineraries, to the most romantic places for dinner.