Walkmisu is a quirky London cafe that serves its delicious food straight from a classic red telephone box. For those visiting London who love this creamy Italian dessert and want a unique dining experience, Walkmisu is not to be missed. Keep reading for our full review of this Bloomsbury staple!
What is Walkmisu?
Walkmisu is a London cafe that serves its food from iconic phone boxes, right on Russell Square. Located in the heart of Bloomsbury, they serve fresh food and coffee in a wonderfully quirky London way. Their primary focus is on tiramisu which is 100% alcohol free – perfect for enjoying as a family – however they do also serve other Italian classics like lasagne.
With two locations in total, both a permanent restaurant at 47 Russell Square which is open Monday – Thursday. As well as their famous telephone boxes which you can catch open at the weekends from Friday – Sunday. If you're looking for a new place to pick up a sweet treat in the city – this is it!
What is Tiramisu?
Tiramisu is a coffee-based Italian dessert. Featuring rich layers of whipped cream, pipped between coffee and marsala soaked sponges. This truly is a decadent dessert. At Walkmisu you'll find those yummy creamy layers with coffee-soaked sponge – but you can rest assured they only serve alcohol-free tiramisu!
What Makes Walkmisu Different?
There are plenty of dessert spots in London to pick up your favourite pudding, but can they all say they boast quite the same aesthetic and photo opportunity? Walkmisu is unique in that it fuses a classic London landmark (the bright red phone box), with a traditional Italian dish. And we couldn't be more happy in the collision of these two cultures! The phone boxes feature fridges, storage, and the payment systems for the shop.
Walkmisu Menu
Everyone enjoys different flavours and the team at Walkmisu appreciate just that and boast a selection of tiramisu options. From the classic coffee flavour with a touch of cocoa, to indulgent pistachio, yummy coconut and nutella, salted caramel, and even banana and chocolate! Whatever your preferences, you'll find a tiramisu you adore here! They are always expanding and changing the flavours available however so you may get a surprise one on the day!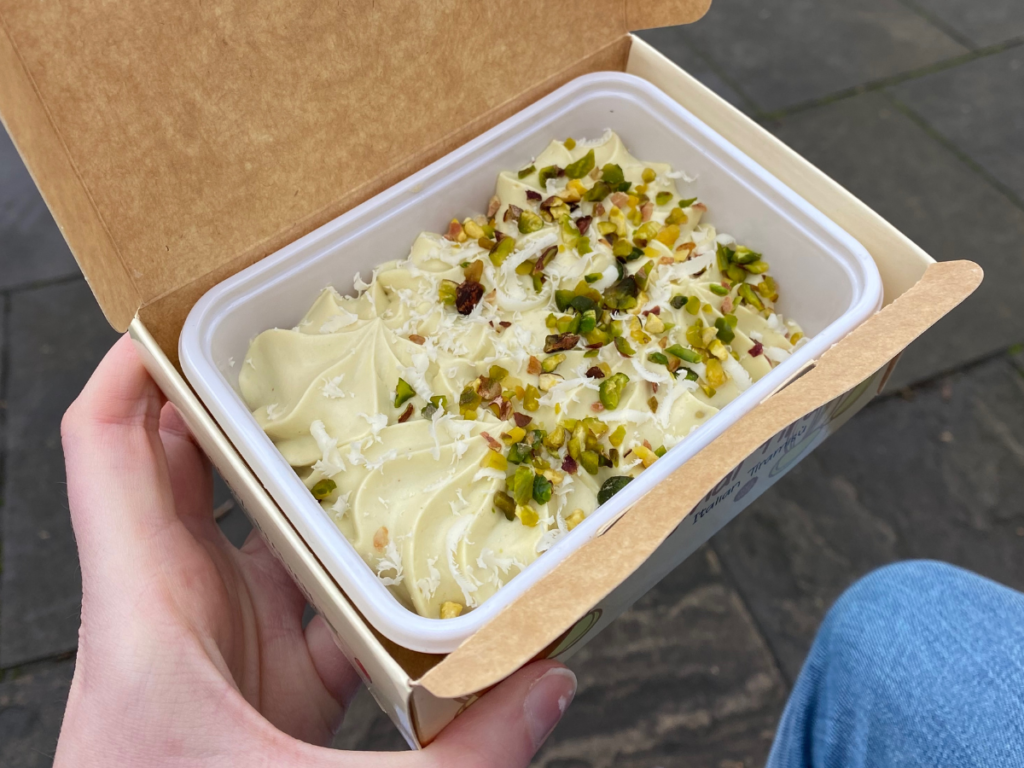 Alongside their tiramisu, they also offer lasagne, pastries, a variety of soft drinks, and coffees.
Walkmisu London: A Review
We visited Walkmisu on a chilly Sunday afternoon in London. Situated just outside of the gardens in the centre of Russell Square, we spent a while perusing the menu to decide which flavour we wanted to try. We settled on pistachio as we thought it sounded a little different to the classic coffee flavour (which we're sure is equally as scrummy)!
After purchasing our dessert, we headed into Russell Square and sat on a bench whilst we enjoyed taking each mouthful of creamy pudding slowly. The pistachio flavour was rich and indulgent – exactly as tiramisu should be!
Walkmisu is certainly a cafe we plan to return to the next time we are in the area of Bloomsbury!
How to Get to Walkmisu
Located in Russell Square, Walkmisu is simple to get to. Russell Square itself has a tube station that is accessed via the Piccadilly Line. The restaurant is also a very short walk from The British Museum – just simply head north and you will stumble across it in no time!
What to do in the Area
Whether you're looking for an activity to do before your tiramisu, or looking for a way to spend the day after your treat – Bloomsbury has a variety of choices! The most obvious of which is The British Museum – this large museum has plenty to see and you could easily spend hours here. It is one of London's free museums and you should certainly take advantage of that!
For those who would rather walk around outside, Bloomsbury is packed with literary history. From the Charles Dickens Museum to blue plaques dedicated to Virginia Woolf and E M Forster. You'll discover lots of London history just by wandering the streets!
About The London Eats List
We are a blog dedicated to bringing you the best of London. From where to eat and drink, to the best chocolate shops to buy a sweet treat, and even neighbourhood guides including Notting Hill and Chelsea. Don't forget to follow us on Instagram, Pinterest, and Twitter to never miss a post!