Rippon Cheese is one of Pimlico's beloved independent shops. Founded in 1990 by Phillip and Karen Rippon, they've been an institution in this part of London for over 30 years. Not only do they do wholesale, but they have a quaint shop in Pimlico that people travel from all over London to visit!
Table of Contents:
What Cheese Does Rippon Stock?
Rippon stocks up to 500 different cheeses from across Europe. Most of their stock is a mixture of British and French cheese, and you'll find a range of hard and soft cheeses. There really is something for every cheese lover at Rippon in Pimlico.
We find that they have the biggest selection of cheeses around Christmas time. The shop can get very busy during the holidays so do leave lots of time for your visit if you're coming then!
They also stock jams, chutneys, and crackers – perfect if you're putting together a hamper style present for a friend.
If you're in the process of planning a wedding and want something a little quirky to add to the food selection for the day, Rippon is also stocked to help you create a cheese wedding cake!
What You'll Experience at Rippon in Pimlico
Walking up to Rippon Cheese you'll be greeted by their wonderful blue façade, complete with an A board outside detailing some of the current produce they have in stock. The front of the shop is a small space with cheese cutters, some of the non-cheese produce they stock, and the tills.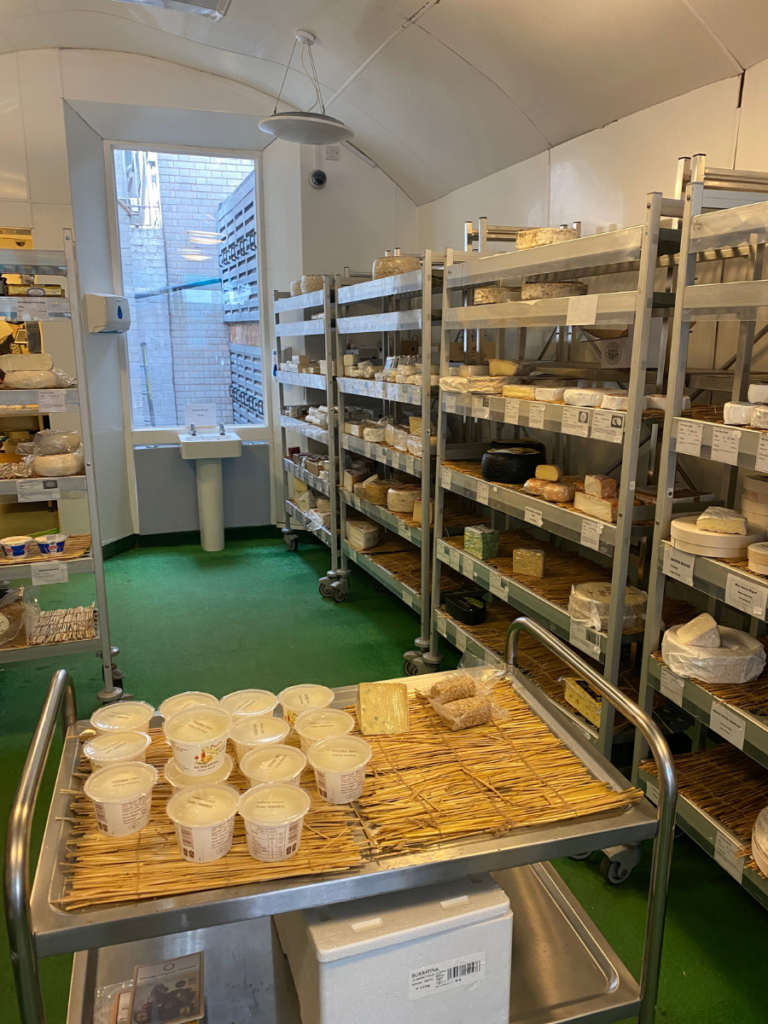 To get to the cheese, you'll walk through the curtain (designed to keep the smell in), into the fridge room that's fully stocked. You can either browse this area yourself, or ask one of the super helpful cheesemongers to assist you. We've done both – sometimes it's wonderful to browse for yourself, taking time to really explore all the delicious dairy on offer. Whilst other times, it's beneficial to have someone knowledgeable guide your decisions.
Once you've bought your favourite cheese, why not stop into one of Pimlico's best pubs on the way home?
Where is Rippon Cheese?
Rippon Cheese is located in the London neighbourhood of Pimlico.
To get here we recommend aiming for either Pimlico or Victoria station and taking the short walk from either to the shop. There are also plenty of buses that go to either Vauxhall Bridge Road or Victoria Station.
Location: 29 Upper Tachbrook Street
When is Rippon Cheese Open?
Currently, Rippon is open Tuesday – Friday from 9am to 6pm. It is also open on Saturday's from 9am to 5pm.
About The London Eats List
We're here to help guide you to find the very best that London has to offer. From the most romantic restaurants, to haunted pubs to soak up London's history!