Acai Girls is a popular healthy cafe with locations across London. As the name would suggest, they dish up delicious bowls of acai topped with peanut butter, fruits, granola and so much more. This has become one of our favourite lunch spots when working from a nearby office, and we can't wait to share the highlights of this cute spot with you!
Table of Contents:
Treat Yourself to a Plant Based Lunch at Acai Girls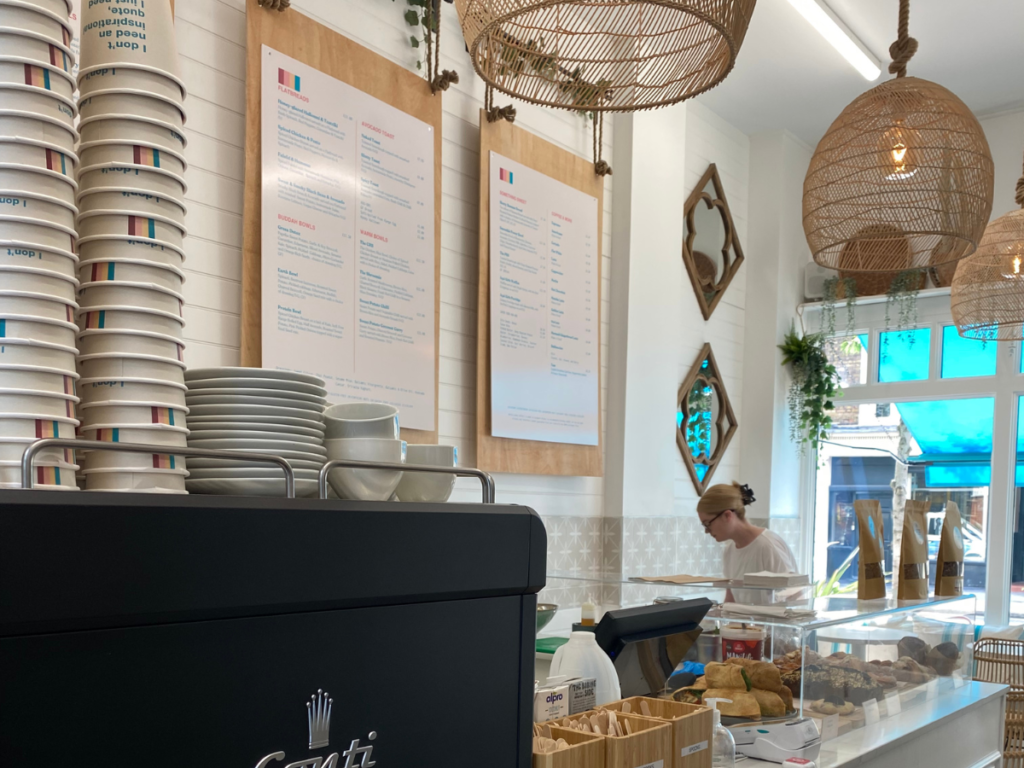 Acai Girls was created by sisters, Georgia and Megan, who were inspired by their travels to places ranging as far as Bangkok to Budapest. Their love of travel has culminated in a small chain of London cafes offering super tasty dishes that balance both health and happiness. So yes, whilst you can get yourself a Green Superfood smoothie here, you can also indulge in a slice of oreo brownie!
Their menu consists of:
Acai Bowls – These bowls of blended smoothie can be created with a variety of toppings. Choose from a pre-crafted bowl, or pick your own toppings, including berries, peanut butter, banana and so much more.
Warm Bowls – Warm bowls at Acai Girls are perfect for lunchtime. Choose between a vegan chilli or butternut squash chilli.
Buddha Bowls – Treat yourself to a super-healthy Buddha Bowl featuring edamame beans, giant couscous, avocado, sweet potato and lots more!
Smoothies – Looking for a quick drink to get your vitamins in for the day? Each blended drink at Acai Girls is packed with goodness with fruit and veg.
Sharing Dishes – Whether you're on a date, or catching up with a friend. Treat yourselves to a sharing plate of nachos, available in both vegan and meat options.
Flatbreads – For those wanting something a little more substantial, the flatbreads are the perfect choice. Each bread wrap features handmade goodies, from falafel, halloumi, houmous, and more.
Sweet Treats – For a little pick me up mid-afternoon, we reach for Acai Girls' yummy cakes. You'll find cookies, brownies, banana bread, and pancakes.
Toast – If you're stopping in or breakfast, you'll love the avocado on toast – which comes in multiple varieties, truffle mushrooms, and peanut butter and jelly choices. You can even add an additional honey glazed halloumi (which we've got our eye on for our next visit)!
What is an Acai Bowl?
An acai bowl is simply a thick smoothie, made of acai berries, and other fruit all blended together. This is then put in a bowl and topped with other nutritious foods. They are a popular breakfast choice around the world with travellers, and lucky for us have found their way to London!
What is a Buddha Bowl?
A Buddha Bowl tends to be a vegetarian dish. The food within a Buddha Bowl can vary from restaurant to restaurant but they tend to be made up of smaller portions of lots of food and are often packed with vegetables. Which makes them a perfect healthy choice for weekday lunches.
Where to Find Acai Girls
Acai Girls has two London locations currently:
Fulham:
705 Fulham Road, London SW6 5UL
Belgravia:
18 Eccleston Street, SW1W 9LT
What We Order & Review of Acai Girls
When we find ourselves working in the Victoria and Belgravia area we always take a short stroll to the Acai Girls on Eccleston Road. They have lots of vegetarian and vegan options which is perfect for those who do not eat meat. If it's a nice day, we'd recommend getting your food to go and taking it across the road to eat in the peaceful and charming Eccleston Square.
Our go-to order at this Belgravia Cafe is the 'Load Me Up' acai bowl that comes complete topped with strawberries, bananas, Manilife peanut butter, and granola. We've indulged in this on a couple of occasions now and it's been just as delicious every time. 
The workers in Acai Girls make each bowl to order, so whilst you wait you can watch them chop up fresh fruit to put on your food. The staff are also always super-friendly which is always a bonus.
We've also treated ourselves to their delicious oreo brownie, which is super tasty and ideal to stash away in your desk for a mid-afternoon snack when you start hitting that post-lunch slump!
If you're in the area, we'd definitely recommend visiting Acai Girls for either breakfast or lunch, if you're looking for something both delicious and nutritious!
About The London Eats List
Plan the perfect trip to London inspired by our ultimate guides to the Big Smoke. From the most romantic restaurants, to where to treat yourself to London's best hot chocolate! We've got all the guidance you need.