Discovering the wisteria in London is one of the most magical things you can do in our city.
Wisteria is a beautiful plant that has been a part of London's landscape for over 150 years, with its lavender flowers cascading up the historic homes. We guide you through the best places in London to see wisteria.
Table of Contents:
What is Wisteria?
Wisteria is a genus of flowering plants in the pea family that is native to East Asia and North America. They have woody vines that can climb up walls or other supports which makes them stunning plants to decorate the outside of a London house with. Wisteria boasts clusters of bountiful flowers in shades of purple, pink, blue, and white that hang down in long trains. 
When is Wisteria Season in London?
Wisteria in London tends to bloom in the late spring or early summer. You can expect to see it whilst wandering the streets of London in May or June. Depending on the weather, which if you've ever spent spring in London you'll know is temperamental, it can bloom at different periods.
Wisteria in London Map
If you've fallen in love with the look of wisteria and want to explore the blooms that London has to offer then you're in the right place. We've put together a map of our favourite wisteria in London to guide you on your adventure.
Best Parks & Gardens to See Wisteria in London
Whilst the streets of London are our favourite places to see wisteria as it creeps up the different beautiful architecture,there are a few parks and gardens where you can find this stunning plant too:
Old English Garden at Battersea Park
Kew Gardens
Chelsea Physic Garden
Where to see Wisteria in Chelsea
The neighbourhood of Chelsea is a mainstay in floral London, and its contributions to wisteria do not disappoint. Here are our top recommendations for where to see wisteria in London's Chelsea:
Cheyne walk
St. Luke's Church
Chelsea Embankment
Dovehouse Green
Tite Street 
Where to See Wisteria in Notting Hill
No matter the time of year, Notting Hill is always awash with colour, however there's something extra special about the wisteria being out in this part of town.Here are our top tops to take a look on your wisteria tour:
Westbourne Grove
St. Luke's Mews
Ledbury Road
Pembridge Square
Elgin Crescent
Blenheim Crescent
Ledbury Road
Where to See Wisteria in Kensington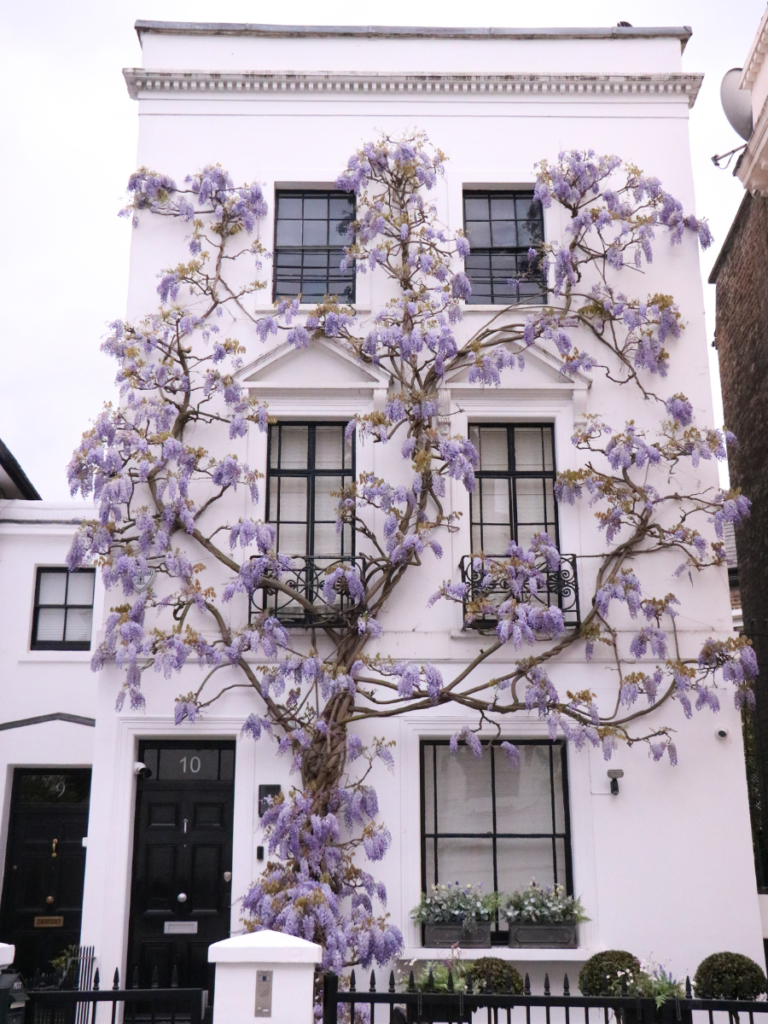 Kensington provides the perfect architecture for wisteria to climb up, the beautiful purple blooms stand out against the white backdrops of the townhouses here. These are some of our favourite roads in Kensington for wisteria:
Holland Park
Cottesmore Gardens
Vicarage Gate
Abingdon Road
Holland Park Avenue
Melbury Road
Canning Place
Where to See Wisteria in Hampstead
Hampstead is a neighbourhood in London that feels more like a village than a city. The beautiful London brick houses located here are no stranger to wisteria:
Church Row
Willow Road
Holly Walk
Whitestone Pond
Frognal Lane
Tips for Photographing Wisteria in London
Catching London's wisteria on camera is just part of the fun of this season. You'll get the best photos early in the morning or late in the afternoon when the light is glowing! Make sure to include the buildings the wisteria is climbing as well as the flowers themselves for the ultimate London shot.
About The London Eats List
We're here to provide you with the inspiration you need to plan your next trip to London. From London's cherry blossoms, to the best chocolate shops in the city, we've got everything you need to know here.