Daunt Books is a very popular chain of independent bookshops here in London. If you're a bookworm like us, you've most likely seen beautiful photos of their Edwardian Marylebone shop. With huge windows, multiple floors, and an inviting balcony – it's no wonder Londoners flock here to sort their books needs!
Table of Contents:
A Short History of Daunt Books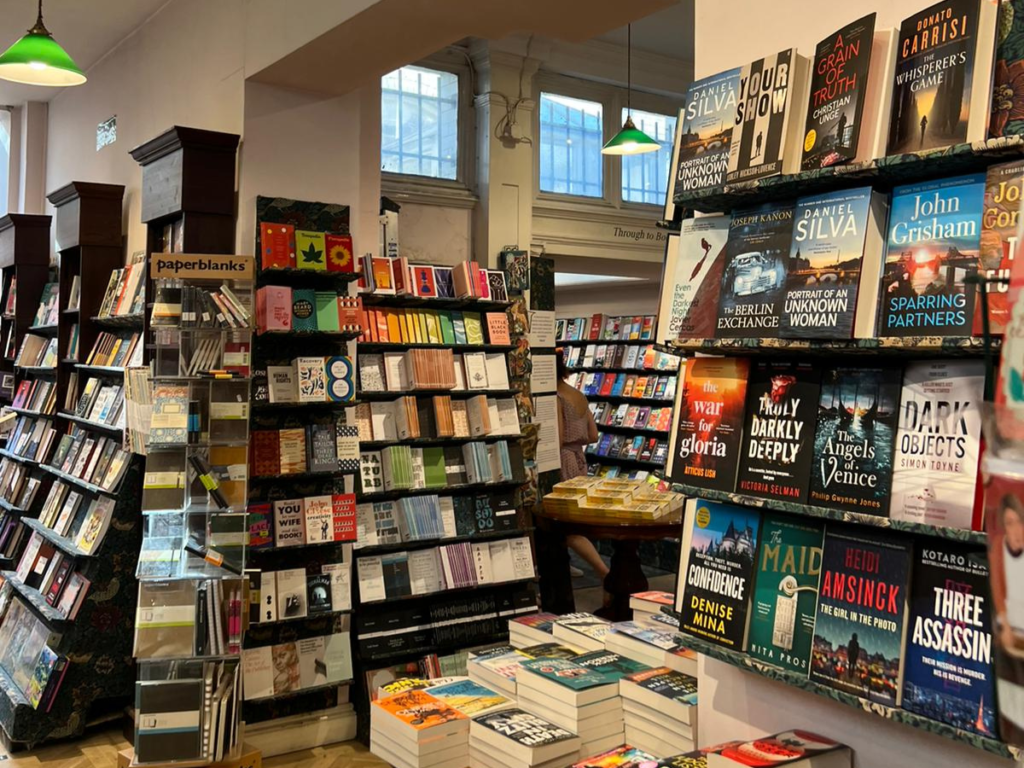 Daunt books, one of London's best independent book shops, was founded in 1990 by James Daunt. Daunt later became the CEO of Waterstones and Barnes & Noble – however Daunt Books remains an independent business.
James Daunt used to be a banker and began his book empire by purchasing a lovely bookshop on Marylebone High Street. This wasn't the first time this Edwardian building was a bookshop, with it previously being an antiquarian shop named Francis Edwards.
Daunt Books specialises in travel guides, with the older section of the building, a long gallery with wooden balcony holding their travel collection. You will also find a large range of fiction and non-fiction here too.
Why is Daunt Books Famous?
Daunt Books is most famous for its Marylebone location, and having visited ourselves on numerous occasions – it's no surprise as to why. Supposedly the building was the first ever custom built bookshop, with oak galleries designed to shelve a wealth of books just waiting to be read.
Those on Bookstagram will most likely be familiar with the Edwardian bookshop due to its stunning appearance – and most likely it's on your London bucket list!
How Many Branches Do They Have?
Today Daunt have more than just their Marylebone location. Having opened 4 locations since 1990:
Hampstead
Holland Park
Cheapside
Belsize Park
They also own Owl Books in Kentish Town – but they retained the shop's former name. For those outside of London, they have locations in Essex, Oxford, and Buckinghamshire.
4 Reasons to Visit Daunt Books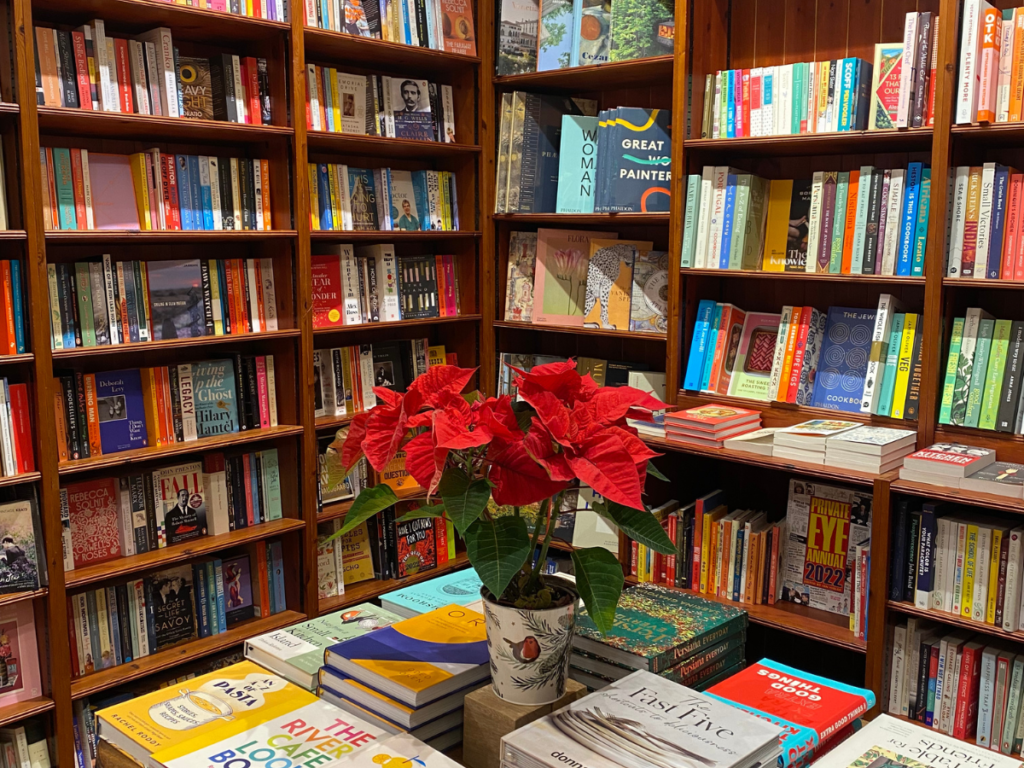 Wondering if you should be adding Daunt Books to your London weekend itinerary? We've got some reasons to persuade you!
Beautiful location – Whilst all bookshops are beautiful (or at least we think they are), Daunt Marylebone really takes the crown. If you're after a shot for your Instagram, this is the place.
Top quality books – With such a wide range of books covering lots of genres, there really is something for everyone here. You could even pick up a book that Daunt have published themselves.
Inspire your next holiday – Beginning as a travel bookshop, Daunt still has a mass of travel books that span the globe. Make sure you head in here before going on your next adventure!
Lovely staff – Bookshop staff are always lovely and helpful, and Daunt is no exception. If you need help picking a tome make sure you ask for recommendations!
Our Top 2 Daunt Book Branches
Living in London there's lots of bookshops to frequent but Daunt is one that definitely has our heart. Here's what to expect if you're visiting either Marylebone or Hampstead.
Daunt Books Marylebone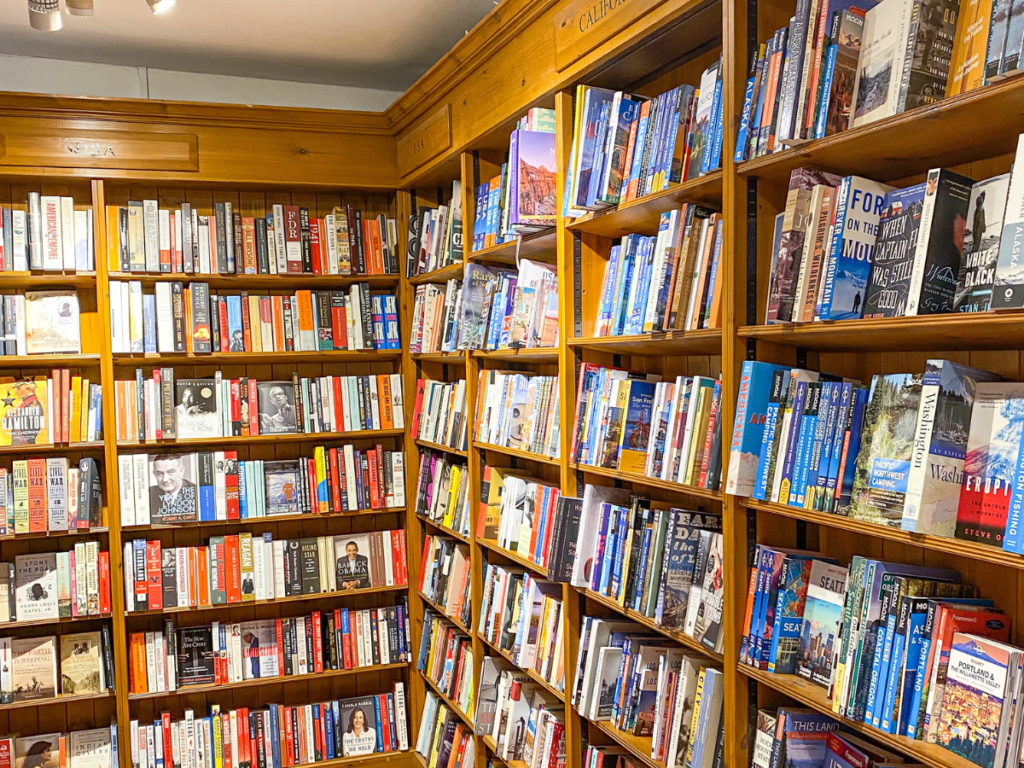 Their first and most famed store, if you're visiting Daunt Marylebone on a weekend expect it to be busy. We've been at opening time before when there's already been a small queue dying to get in to find their next read. This shop is beautifully decorated and you could easily spend hours here browsing the shelves. Our favourite shelf is up on the balcony where they keep all the travel books about London!
Daunt Books Hampstead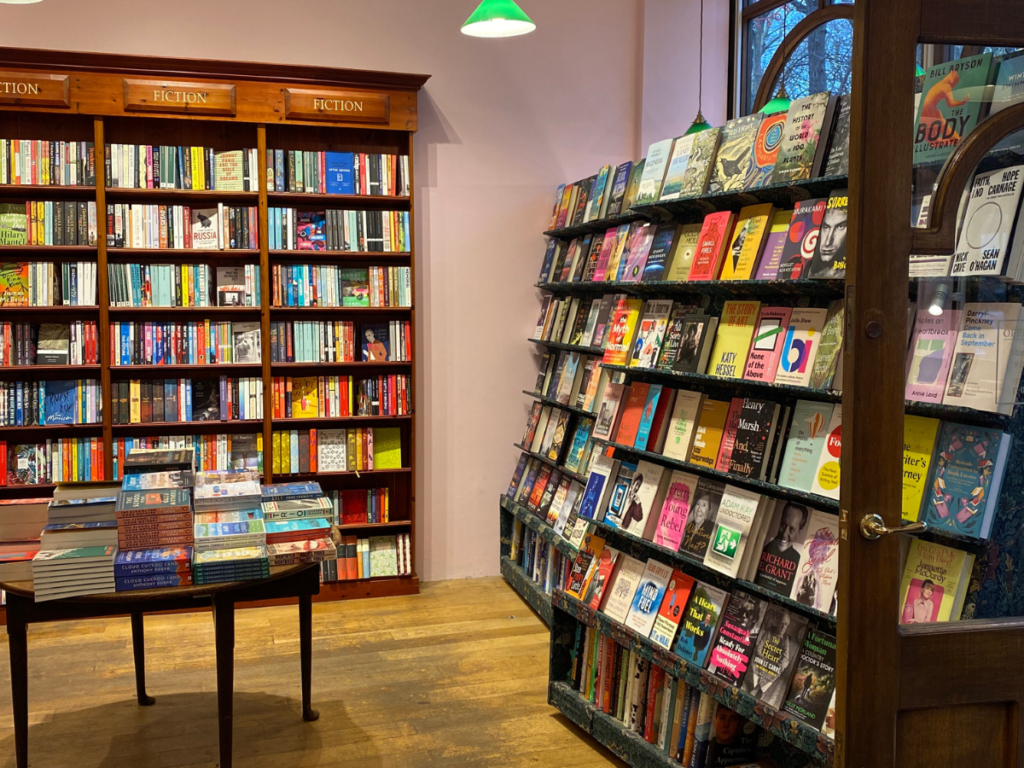 Daunt Hampstead is a slightly smaller but no less lovely affair. We'd recommend popping in here to pick up an afternoon read before heading to Hampstead Heath with a picnic blanket to take in the afternoon summer sun.
The Tote Bag Every Londoner Has
If you've spent any time wandering around our wonderful city, taking in the landmarks that London has to offer, then we're certain you've seen someone with a Daunt Books tote bag. It's almost an essential item for London readers at this point. If you're visiting London and looking for a gift for a literary fiend to take home, we know they'd love this bookshop tote bag! (We use ours all the time)!
Books We Recommend Picking Up
We're self-confessed book nerds, so it wouldn't be a review of our favourite bookshop without telling you which your next read should be! Here are some of our favourite London based books to sink your teeth into:
Rivers of London – Peter Grant (Fiction)
London: A Guide for Curious Wanderers – Jack Chesher
Queenie – Candice Carty-Williams (Fiction)
Hoxton Mini Press – An Opinionated Guide Series (aesthetic guides for London)
Daunt's Publishing Offshoot
In 2010, Daunt Books, began publishing themselves. It prints a range of works ranging from both out of print books to brand new fiction and non-fiction. They do so in collaboration with Saki's Improper Stories.
About The London Eats List
Whether you're looking for the best ice cream parlours in London, or the best markets to wander around – we have the perfect guides to plan your trip to the Big Smoke.