There are reportedly 117 haunted London pubs. With our city being so old – it's no surprise a few ghosts are lurking around their old haunts! We've put together some of our favourite haunted pubs in the big smoke.
What Makes a Pub Haunted?
A haunted pub is one that is often steeped in history, often a dark past, that has left lost souls wandering around. It's often reported from London's haunted pubs that pictures fall off the wall, footsteps can be heard when nobody else is around, and some even have regular encounters with ghostly figures.
15 Haunted Pubs to Visit in London
London is an old city, and us Brits have a long running relationship with public houses – commonly known as pubs. It's no wonder that a lot of the pubs we frequent also have ghostly visitors on a regular basis. If you're looking for a haunted pub crawl of the city, or somewhere to celebrate Halloween in London, our list is for you!
The Ten Bells – Spitalfields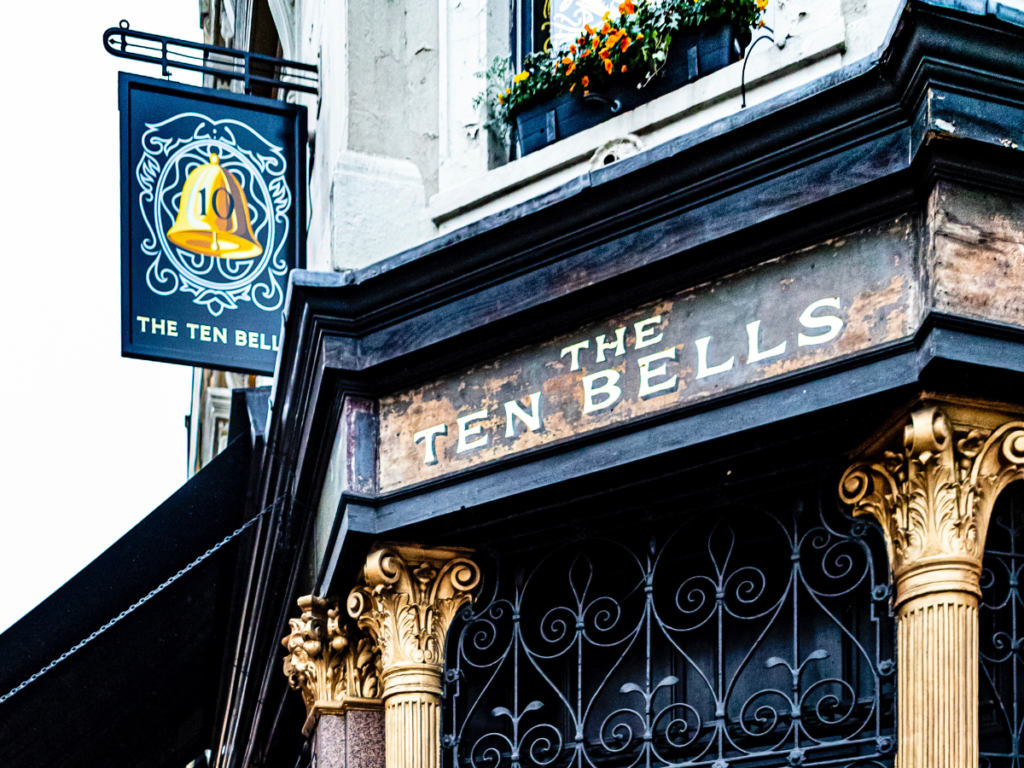 Existing since the 18th century, The Ten Bells in Spitalfields is often referred to as one of the most haunted pubs in London. The pub is often linked to Jack the Ripper, and was even named after the notorious killer for a period of time in the 1900s. It's thought that two of the Ripper's victims, Mary Kelly and Annie Chapman, may have frequented this public house. It is said that Annie's ghost can be seen from time to time.
However, it is not just Annie's ghost that has been reported. Staff living in the pub in the 1990s stated that they often saw a Victorian-dressed ghostly man wandering the building. It often experiences moving objects and unexplained winds too.
Location: 81 Commercial Street, E1 6LY
Nearest Tube Station: Liverpool Street
The Grenadier – Belgravia
Built in 1720 as an officer's mess for the 1st Regiment of Foot Guards, it opened as a public house in 1818, originally named The Guardsman. It was later renamed after the Grenadier guards in the Battle of Waterloo. Over the years it has had many famous clientele, including future King, Prince William.
It is said that this Belgravia pub is haunted by the ghost of a junior officer who was beaten to death for cheating at a game of cards. The ceiling in this haunted London pub is covered in currency from around the world as visitors thought it would pay off 'Cedric's' debt.
Location: 18 Wilton Row, SW1X 7NR
Nearest Tube Station: Hyde Park Corner or Knightsbridge
The Bow Bells – Bow
The Bow Bells, located in the East End of London, has long had a phantom lurking in the ladies' toilets. Known as the 'phantom-flusher' lots of people have reported unexpected flushes whilst sat on the loos – with a sign warning customers before they come into the loo. The toilet cubicle that the ghost is said to live in has had a history of problems that plumbers have not been able to solve. Staff members also talk of how they feel a ghostly present late at night or on solo shifts.
Location: 116 Bow Rd, Bow, E3 3AA
Nearest Tube Station: Bow Road
The Spaniards Inn – Hampstead
Originating in 1585, The Spaniards Inn is named after two former landlords – Spanish brothers Francesco and Juan Porero. It is said that the brothers fell in love with the same lady, and fought a duel that Juan lost. Juan's ghost is still reported to wander the halls, along with the ghost of Dick Turpin (a highwayman). This pub also has a long literary history, being mentioned in the works of Dickens and Keats, and frequented by the likes of Mary Shelley and Byron.
Location: Spaniards Rd, NW3 7JJ
Nearest Tube Station: Golders Green or Hampstead
Sutton Arms – Barbican
The Sutton Arms is the home to a friendly ginger ghost who goes by the name of Charlie. It is said he can be seen sitting in the bar in old fashioned dress. On one occasion he popped up and frightened two ladies having lunch, before disappearing again.
Location: 6 Carthusian St, Barbican, EC1M 6EB
Nearest Tube Station: Barbican
The Flask – Highgate
A very old pub in London, The Flask in Highgate is said to be haunted by the ghost of a former barmaid. The story that has passed through the ages is that she was a Spanish barmaid, who took her own life in the pub after being rejected by the landlord. In modern times she is said to move glasses and to blow down the necks of customers. She is not the only ghostly figure at this London pub, with a man in cavalier uniform being said to walk through the bar and disappear into a pillar.
Location: 77 Highgate W Hill, N6 6BU
Nearest Tube Station: Highgate
The Viaduct Tavern – St Paul's
The Viaduct Tavern is built on the foundations of an old debtors' prison with the cells still accessible from the pub itself. One landlord was trapped in a cell and whispered to by a ghost, before being rescued by his wife who was alarmed by his screams of terror. The more public floors often experience poltergeist activity with things moving at random times.
Location: 126 Newgate St, EC1A 7AA
Nearest Tube Station: St Paul's or Chancery Lane
The Rising Sun – St Paul's
Near St Bartholomew's Hospital, The Rising Sun is said to have enticed some nasty folk in the 19th century. These people were body snatchers that would drug pub-goers, to kill them, and go on to sell their bodies for medical research. People have reported supernatural experiences here, and with such a dark history it's no wonder!
Location: 38 Cloth Fair, Barbican, EC1A 7JQ
Nearest Tube Station: Barbican or Farringdon
The Coach and Horses – Mayfair
The Coach and Horse in Mayfair, one of London's narrowest pubs, is said to have once been visited by a headless ghost. It's just a few doors down from where Queen Elizabeth II started her journey in London. The ghostly apparition occurred when a horse-drawn coach was spotted outside with the headless figure, scaring punters inside.
Location: 5 Bruton St, W1J 6PT
Nearest Tube Station: Green Park or Bond Street
The Globe – Marylebone
The Globe in Marylebone has a somewhat grizzly past that has led to its current level of haunting. This London haunted pub has roughly 300 years of history, and in 1836 a pub-goer was found dead in his bed from an apparent self-inflicted wound to the throat. His ghost is said to haunt the pub to this day.
Location: 43 Marylebone Rd, NW1 5JY
Nearest Tube Station: Baker Street or Marylebone
Hoop and Toy – Kensington
The next haunted London pub on our list is the Hoop and Toy in Kensington. The pub was built on top of the tombs of priests that had passed away. This chilling discovery was uncovered when a nearby tube was being built and workers broke through the ground underneath the pub. Before this finding the London pub was unhaunted, however its said the building work disrupted the spirits' route and so they now move up and down the pub.
Location: 34 Thurloe Pl, South Kensington, SW7 2HQ
Nearest Tube Station: South Kensington
The Silver Cross – Whitehall
Much like London's other haunted pubs, The Silver Cross has a long history dating back to its beginnings as a possible brothel. The pub is regularly said to experience pictures falling off walls, and things moving around unexplained. One landlady even saw the ghost of a woman after locking up one evening.
Location: 33 Whitehall, SW1A 2BX
Nearest Tube Station: Charing Cross or Embankment
Ye Olde Cock Tavern – Fleet Street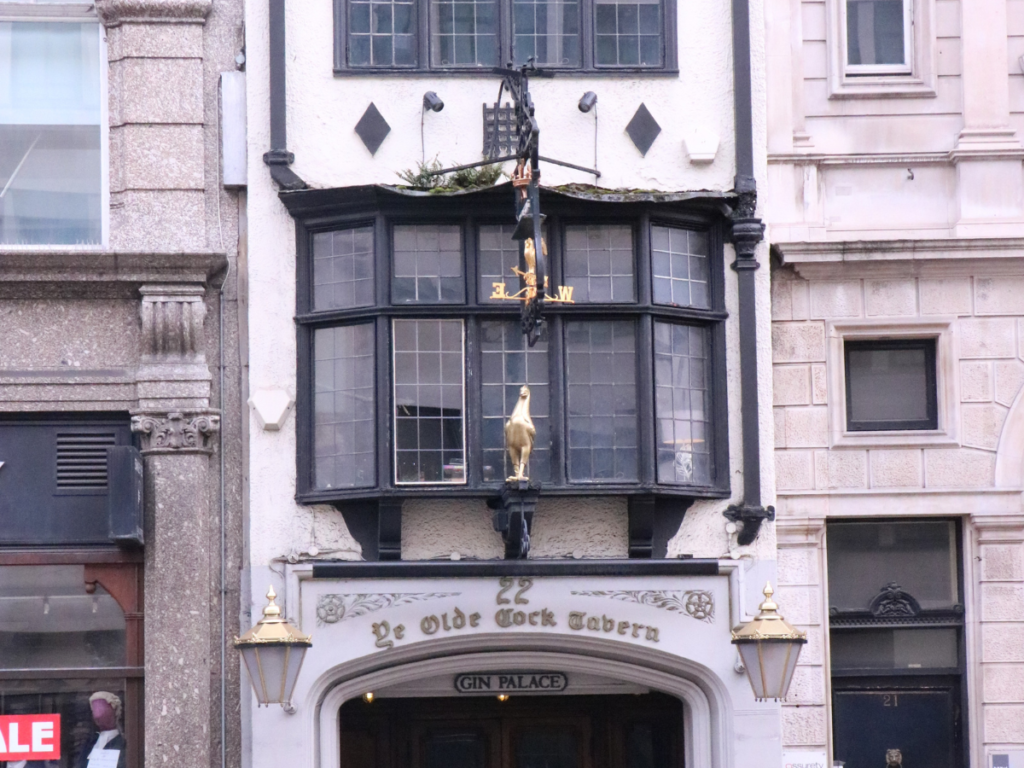 Ye Olde Cock Tavern located on Fleet Street has the narrowest frontage of any pub in London, and is a lovely Grade II listed building. This London haunted pub is lucky enough to have a literary ghost. A regular haunt (excuse the pun) for many writers in its day, including Pepys and Dickens, it is said that novelist and playwright Oliver Goldsmith so loved the pub that he still remains there today. Workers at Ye Olde Cock Tavern say that Goldsmith makes himself known with his ghostly head appearing.
Location: 22 Fleet St, Temple, EC4Y 1AA
Nearest Tube Station:
Plumbers Arms – Belgravia
Whilst we've seen no reports of ghosts at the Plumbers Arms in Belgravia it does have a dark history. This is the pub that Lady Lucan burst into one eve in 1974, exclaiming that she had just escaped being murdered by her husband. Lord Lucan notoriously disappeared after having attacked his estranged wife and killed Sandra Rivett, their nanny. The true story has gone on to inspire a book set in London, called The Language of Birds.
Location: 14 Lower Belgrave St, SW1W 0LN
Nearest Tube Station: Victoria Station
Marlborough Head – Mayfair
The Marlborough Head in Mayfair sits on what was once the site of executions (between the 12th and 18th century). Due to this it is reported that a number of ghostly figures wander its halls.
Location: 14 Lower Belgrave St, SW1W 0LN
Nearest Tube Station: Bond Street or Marble Arch
Introducing The London Eats List
We are here to bring you the best that London has to offer, from what films to inspire your trip for the city, to Rom-com inspired London guides. No matter what you're after, we can help you plan your visit.