Celebrating Halloween isn't complete without pumpkins, and we have the best places to go pumpkin picking near London. Whilst London may not be full of pumpkin patches, there are plenty of farms, and pick your own just a short distance away.
Table of Contents:
Is There Anywhere to Go Pumpkin Picking in London
Pumpkin picking may be at the top of your Halloween in London to-do list, but you will have to travel out away from the city to get your wish. Whilst there's plenty of supermarkets where you can purchase a pumpkin to carve in London – even as early as September, our research has made us come to the conclusion that within the city limits there's nowhere to pick pumpkins. That doesn't mean that we city-dwellers have to miss out on this great countryside October activity, however, as there are lots of places near London to go pumpkin picking.
Where To Get a Pumpkin in Central London
Whilst you can't exactly go picking pumpkins on the Southbank, there are a couple of spots to pick up a pumpkin in Central London.
Covent Garden Pumpkins
Every Halloween, Covet Garden welcomes its Pumpkin Market. Which is back again this year between the 29th – 31st October 2022. With a stunning display, you'll be able to pick up all the pumpkins and gourds you could want.
Skylight Tobacco Dock
Skylight at Tobacco Dock is hosting the city's only rooftop pumpkin patch. Not only will there be pumpkins but autumnal themed booths, cocktails, and street food.
9 Pumpkin Patches Close to London
We've done the research for you so you can just jump on a train or in your car to go pumpkin picking near London. The surrounding counties of our capital are full of gorgeous farms and farm shops that offer pumpkin picking experiences, here are our favourites!
Garsons Farm
Esher, Surrey
Garsons Farm is a Surrey hotspot for pick your own, and conveniently it's a short distance from London for pumpkin picking. Garsons' pick your own fields are some of the largest in the UK, and we couldn't think of a better place to go pumpkin picking near London. Nestled in Esher, this is the perfect place to take the kids, or go with friends for a fun weekend activity. You'll need to book a farm pass before you. You'll find traditional orange pumpkins as well as ghostly white and many other varieties. Once you've picked your pumpkins, we recommend a stop in the Garden Centre's cafe before heading back to London!
Crockford Bridge Farm
Surrey
Another brilliant pumpkin picking patch in Surrey, just a short drive from London is Crockford Bridge Farm. This farm goes all out when it comes to pumpkins with their very own pumpkin festival! You can pick pumpkins here on 4 days throughout October, whilst their pumpkin market runs throughout the entirety of the month. You must book ahead to be able to pumpkin pick. The pumpkin festival features actors, as well as outdoor pumpkin carving, and fun photo opportunities.
Secretts
Surrey
Take another jaunt out to Surrey for pumpkin picking near London at Secretts. Secretts is a Surrey farm shop that holds a pumpkin week. Not only will you be able to pick your pumpkins but you'll also be treated to a Halloween BBQ. They're also holding a fancy dress competition, after you visit simply post your pictures to Instagram to be in with a chance of winning!
Priory Farm
Redhill, Surrey
Priory Farm is an award-winning farm shop, nestled in Surrey. This is a fabulous patch to go pumpkin picking near London. As well as pick your own pumpkins, Priory Farm is putting on tractor rides, a nature trail with Halloween surprises, and the pumpkin palace for those who don't want to pick a pumpkin.
Foxes Farm
Basildon & Colchester, Essex
Foxes Farm is our first Essex choice for picking pumpkins near London. Foxes Farm sells wholesale pumpkins as well as having PYO patches in both Basildon and Colchester. For those who are already preparing to be in the Christmas spirit, this is one to note for getting a Christmas tree near London! You can book your pumpkin picking ticket online, and with celebrity fans such as Stacey Solomon you may even be able to star spot!
Lathcoats Farm
Essex
A family-run fruit farm, Lathcoats Farm usually specialises in apples. But during October you can attend to pick your own pumpkins! This year you'll also be able to participate in a Halloween hunt, as well as pumpkin carving! Again this is a pumpkin picking patch near London where you will need to book ahead!
Cammas Hall Farm
Hertfordshire
Cammas Hall Farm is on the border of Essex and Hertfordshire and is a stunning countryside outing to pick pumpkins! Their pumpkin patch features over 40 varieties so you won't be stuck for choice! There will also be friendly Halloween characters, photo opportunities, and a maize maze that you can pay entry to go into.
Four Winds Farm
Kent
Four Winds Farm is our first Kent choice for pumpkin picking near London. With plenty of pumpkins on offer, you'll need to book in advance to ensure you get the chance to collect your pumpkin from this farm!
Stanhill Farm
Kent
Stanhill Farm is another Kent location for picking up your pumpkins near London. With free tickets to the pumpkin patch, you'll find pumpkins starting at just £1, this is one not to be missed! You'll need to book ahead but one ticket covers you for a full car of up to 10 people!
How to Choose Where to Go Pumpkin Picking Near London
With these 9 great pumpkin patches near London you're definitely not stuck for choice! But how do you decide which to go to? Depending on where in London you live you may be inclined toward a different location – those in South West London may find getting to Surrey the easiest and quickest. Whilst those in East London may prefer an expedition to Essex!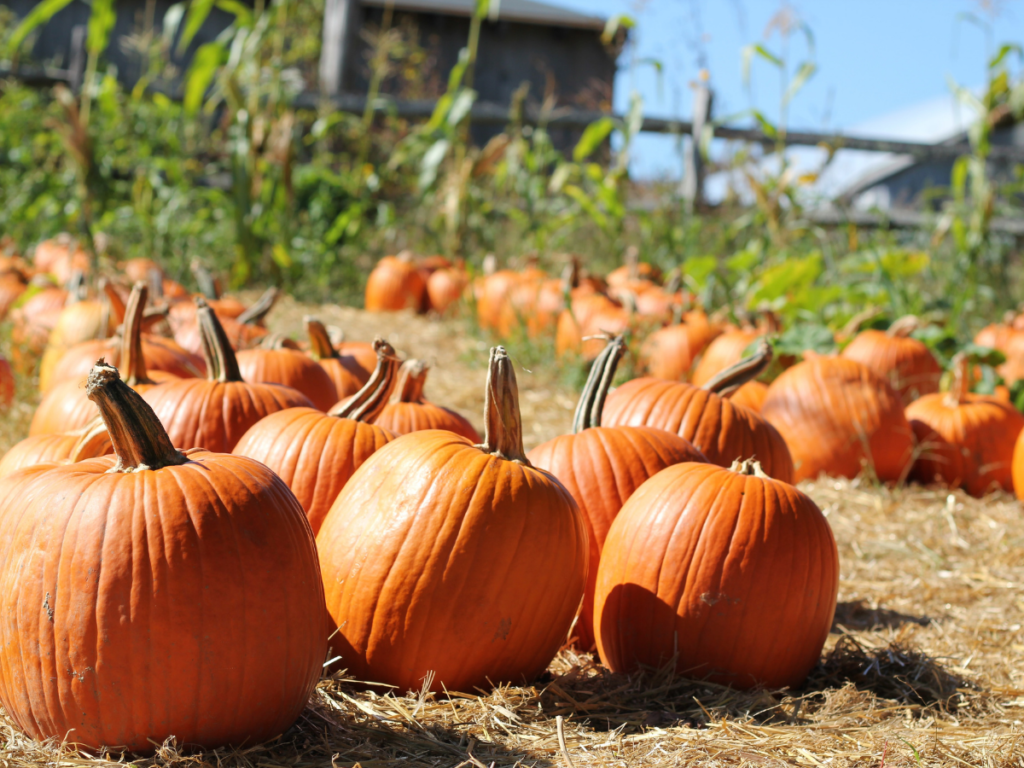 Introducing The London Eats List
We are a London blog dedicated to all the wonderful things in our city. From the best Halloween treats in London, to celebrating spooky season in Belgravia, we're here to guide you for all your Big Smoke needs.