Autumn in London is one of the most magical times of year in this wonderful city. We've put together the ultimate guide to the Big Smoke in Autumn so you know all the best things to do, see, and eat, this cosy season.
Table of Contents:
Where to See Autumn Leaves in London
One of the most incredible things to see in autumn in London is the deep orange leaves falling to the ground. The Royal parks really come alive at this time of year and are perfect for an afternoon stroll with a warming hot chocolate. Here are our top places to see autumn leaves in London:
Hampstead Heath – Hampstead is the most autumnal part of London, with its old red brick building, cosy London pubs, and of course the wonderful park. Hampstead Heath is massive – with plenty of trees that are just about to turn brown!
Chelsea Embankment – If you're looking for a quieter autumnal stroll along the Thames, then look no further than Chelsea Embankment.
Richmond Park – A little trip out of Central London will bring you to the incredible Richmond Park. Come here if you're a budding photographer wanting to get a shot of deer among the autumn leaves.
Regent's Park – Regent's Park boasts avenues of tree lined paths that look gorgeous in the cosy season.
Little Venice – Another waterside autumnal spot is Little Venice – complete with cannibal barges.
5 Free Things to Do This Autumn in London
Autumn in London doesn't have to be expensive, and we've put together the best free things to do this season in our wonderful city:
Pop into one of London Free Museums on a Wet Autumn Day – Just like autumn is full of wet, grey days, London is full of free museums just waiting to be explored. From the Science museum, to the Tate Britain, to the V&A – there's more than enough to fill those gloomy times.
See Art installations – London constantly has art installations to see on the streets of the city. Make sure you look up what's currently on before visiting, there are lots of annual events such as Sculpture in the City.
Take an Autumnal Walk Along the Thames – The river is always a fabulous place for a walk, whether you take in all the South Bank has to offer in autumn or choose a less central part of the river such as Richmond.
Witness the Leaves Turning Orange – As we've already told you,
TFL Walks – If you want to take in some different London sights, TFL has some excellent walking guides. We personally love the Capital Ring which covers 78 miles around London.
Autumn Activities in London
Even as the nights get longer and the days get colder, there's still plenty of activities to do in London during the autumn. Here are some of our favourite picks from this cosy season:
London Cocktail Week – Those who adore a little tip to warm up on a cold evening, must go to London Cocktail Week. Lots of bars participate in the event, running from 12th – 22nd October 2023, offering deals on cocktails. There's also lots of masterclasses and tastings on offer throughout the week that we're just dying to try!
Bonfire Night – No matter where you are in the city, there's plenty of fireworks nights to take in. After all, the reason we have Bonfire Night was due to Guy Fawkes (and his partners) trying to blow apart the Houses of Parliament. We personally love Battersea Park's and it's not to be missed – they hold two nights across the 4th and 5th November – so you can even go twice!
Cemetery Tours – Looking to get in the spooky mood of the autumn season? Then book a cemetery tour of one of London's – you're bound to see the stones of famous authors and figures of times gone by.
Sunday Roasts – It doesn't get more British than a Sunday roast, and autumn is the perfect time to indulge in some of London's best Sunday dinners. If this is your first time in London, or even the UK, you have to have this on your list.
Halloween Time in the City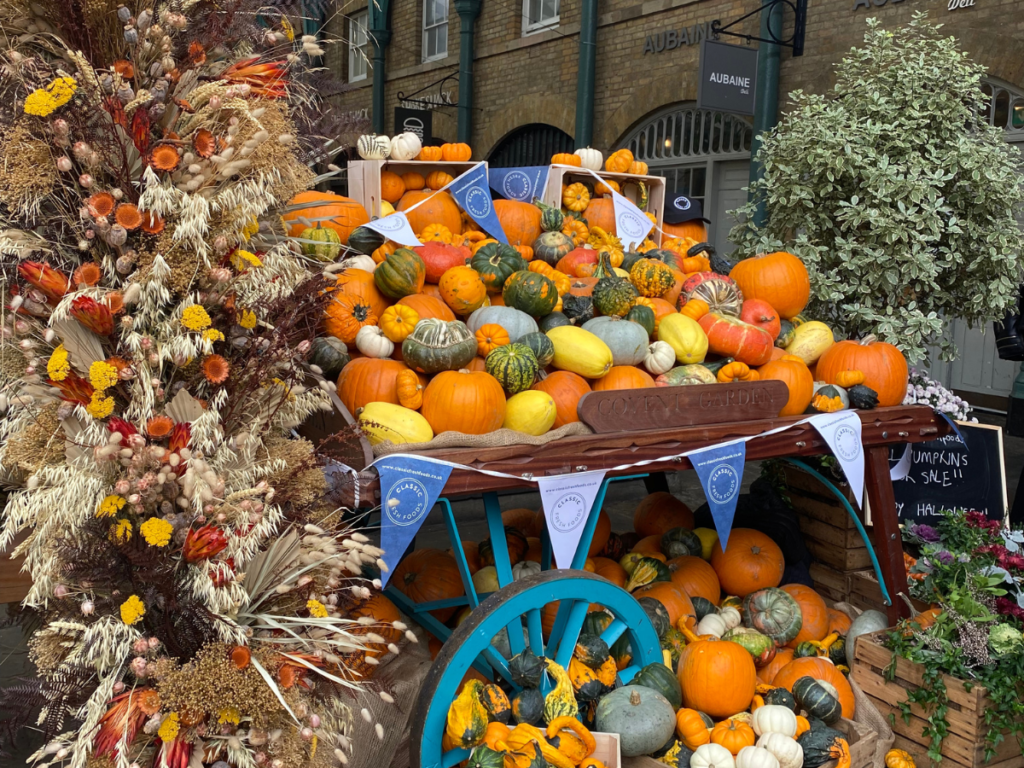 One of everyone's most loved parts of Autumn in London is Halloween! And let us tell you, our city goes hard! Here are all the Halloween in London activities you can participate in, with spooky stuff for both adults and kids!
What's the Weather Like in Autumn?
Autumn in London can really range in temperature, with September sometimes seeing highs in the 30°C, but also seeing temperatures in the low teens. In September the days start getting shorter, so dark sets in a little earlier each day.
As we move into October, it's common to see lots of rainfall, with temperatures being cooler but not too cool – typically between 11-15°C. By November, it's a bit chiller around 8-12°C.
What to Pack for an Autumn Trip to London
When it comes to packing for a trip to London, the most important things are comfy and being prepared for any weather! Here's what we'd recommend you bring:
Layered clothing – the temperature can change drastically from day to day so bring things you can layer up.
Comfy shoes – London is a city made for walking, we don't go anywhere without a trusty pair of trainers on our feet!
Warm/waterproof jacket – It's important to keep warm and dry when exploring London in Autumn!
An umbrella – London is a rainy city, carry around a brolly for those random showers!
Adaptor – If you're not from the UK you're going to need an adaptor for your devices as our plugs aren't standard to the rest of the world!
Download Citymapper – Our favourite app for navigating around the city (and knowing which is the fastest tube to get) is Citymapper.
Reusable water bottle – There's plenty of places to refill water bottles in the city and buying bottles in every café can get expensive. 
About The London Eats List
Let us help you plan the best trip to London with our guides to the city. From the cosiest library bars for an evening drink, to the best brunches in Pimlico – we have all the details you need for a wonderful time in the big smoke.