Valentine's is on the horizon and we've got the gifts from London businesses that your loved one will adore. From small tokens to show your appreciation, to days out, and romantic restaurants to treat your favourite person to this Valentine's Day in London.
Table of Contents:
Books About London
With Valentine's Day in London just around the corner, you're most likely starting to wonder what you can gift your favourite Londoner this season of love. For the bookish residents of the city amongst us, you can never go wrong with a gorgeous coffee table book about London. Whether you're after a book set in London, like the Rivers of London series, or a beautiful guide book, we have the perfect inspiration for you.
Block by Block
London Block by Block is one of our favourite London Instagram accounts. Artist Gierra creates stunning illustrations of London, each focused on a singular theme. We personally adore her cheese guide to London illustration and have it framed in our kitchen!
Recently London Block by Block released their first book, an illustrated guide to London that makes the perfect Valentine's gift inspired by our favourite city. In a beautiful pink hard back, this Valentine's gift from London will look incredible on their coffee table. It may also inspire your next date!
Pretty City London
Pretty City London is another Instagram account with a matching book (or 2)! This is a photography book of some of the prettiest spots in London, with recommendations for where to go and cute spots you might not otherwise have discovered! The Pretty City London book is sure to go down a treat as a Valentine's gift.
Hoxton Mini Press
Hoxton Mini Press is our favourite London publisher. Based in East London, they produce some of the most detailed guides to the city. Treating your loved one to this London gift this Valentine's Day is sure to start their love of the publisher – we're sure they'll become addicted to building their collection of Hoxton Mini Press books too!
Our personal favourite series by them is their 'An Opinionated Guide to.' These small books are packed with information on the best places to eat and visit in the city – many of which we're sure you won't have heard of!
A Restaurant Treat
If you prefer a traditional approach to Valentine's gifts in London, take your amore out for a lovely dinner for memories to last a lifetime. Here are some of the best favourite romantic restaurants in London.
Sketch
Sketch is located in Mayfair in an 18th century townhouse. The townhouse has a collection of 5 restaurants to choose from, including one Michelin star one if it's an extra special Valentine's day. We personally adore The Glade as it has unique decor with carpet representative of grass!
Mowgli's
For a more casual Valentine's dinner gift, take your partner to Mowgli's on Charlotte Street. This Indian street food restaurant is perfect for a romantic date as you can choose dishes between you to share. If you're lucky enough to arrive when they're free, you could also sit in their aesthetic swing seats! Perfect for the Valentine's Instagram snap!
Sticks'n'Sushi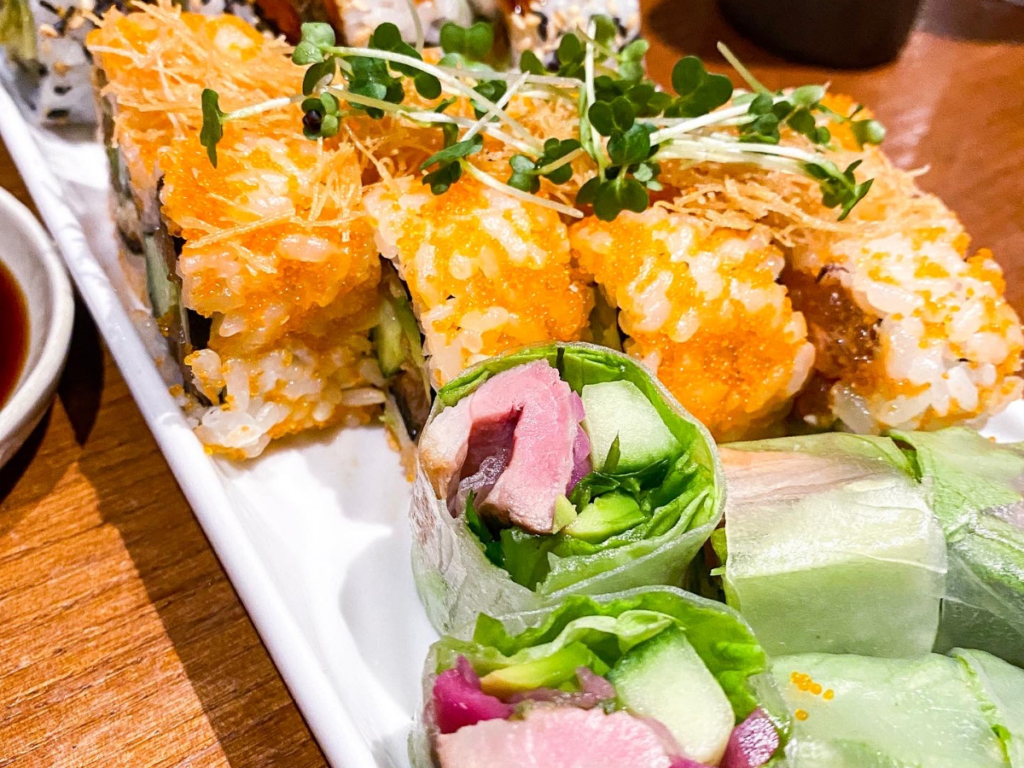 Back on the higher end of dining in London, if your special someone adores sushi they'll appreciate a Valentine's gift of a trip to Sticks'n'Sushi! We recommend ordering one of the preset menus and sharing! With lots of locations across London you're sure to find one in a spot you love!
Valentine's Flowers in London
The ultimate London Valentine's gift will always be flowers, and with so many incredible florists in our city it's no surprise. Here are our top picks of where to pick up some blooms for your budding relationship.
Columbia Road Flower Market
Not only one of the most romantic places in London, but a perfect place to pick up some flowers for February 14th, Columbia Road Flower Market is open every Sunday morning from 8am – 3pm. The stalls line the street and you can get everything from pastel tulips, to giant house plants! Whether your Valentine loves pretty flowers or a plant to cherish, this London market has just the gift you need!
Your Local Florist
If you aren't able to make it down to Columbia Road on a Sunday, find your local florist to pick up a Valentine's bunch! We have a few favourites for different areas: those close to Belgravia will adore Moyses Stevens, this London florist is responsible for many of the displays you see in Belgravia in Bloom each year! If you live in Notting Hill, pop on down to Wild at Heart!
Gift a Romantic London Experience
There's no better London Valentine's gift than an experience to share in their beloved city. Here are some of the things we think you should do together this February 14th.
Lift 109 at Battersea Power Station
Opening very recently Lift 109 at Battersea Power Station takes you high above the skies of South West London, giving you a view over the city visible from nowhere else! Depending on whether you want to see the city in broad daylight, or take a more romantic view over London lit up at night – you'll take these memories with you every day.
An Icing Class at Buiscuiteers
Buisciteers is always one of our favourite places to buy gifts in London – whatever the occasion. Their iced biscuits are equally delicious and works of art! However, for a London Valentine's gift take it one step further and book an icing class to learn how to create these wonders for yourselves! This is a super fun way to spend time together and celebrate your relationship.
Pottery Classes
London is full of pottery classes for you to recreate the iconic moment from Ghost (we know you want to)! This is the perfect Valentine's gift experience in London for couples who love getting creative and messy in the process! Once the experience is over you'll even have your own work of art to take how with you!
A London Gift They Can Unwrap
Whilst experiences are a lovely gift for a Valentine's to remember in London, some people just love unwrapping things! Here are our top picks for a gift they can unwrap.
A Love-Inspired Fortnum's Hamper
Fortnum's is always a good idea and their hampers are iconic. They have a lovely selection of pre-made Valentine's hampers in the shop on Picadilly currently. Or you could put together your own. We adore the idea of choosing one of their picnic baskets or backpacks, and filling it with gorgeous drinks and food from their basement food hall.
Delicious London Chocolates
London is full of yummy chocolate shops, and afterall they are the traditional Valentine's gift. Our personal favourites are Rococo located in Belgravia and Seven Dials, as well as Prestat Chocolates located in Princes Arcade on Picadilly.
Modern London Prints
For a gift they can hang up in their home to remind them of your love every single day, opt for a modern piece of art of London. We adore Freya Niamh Design and their prints of London. In particular the Big Ben and Houses of Parliament print really stands out in her iconic pink and orange style!
About The London Eats List
We aim to bring you the very best that London has to offer. From where to get the best hot chocolate to keep you warm in London, to the haunted pubs in the city. Let us help you plan your trip to London today!