London's Christmas installations are a wonderful sight to explore every single year. From restaurants decorating their entrances in a grand manner fit for the festive season, to local areas providing the perfect backdrop for your Christmas photos. Discover the festive installations you need to visit this year in London.
What is a Christmas Installation?
A Christmas installation is when a specific area, shop, or restaurant puts up a display to celebrate the Christmas season. By our definition installations go a little further than the gorgeous Christmas lights we see
Our Top London Installations this Christmas
We've put together 10 of our favourite Christmas installations in London, so you can find the best all in one easy list!
Annabel's
Annabel's is one of London's exclusive private members' clubs. However, they don't retain their London Christmas installation purely for their guests, with them putting on a beautiful display on the outside of their Berkeley Square townhouse every festive season.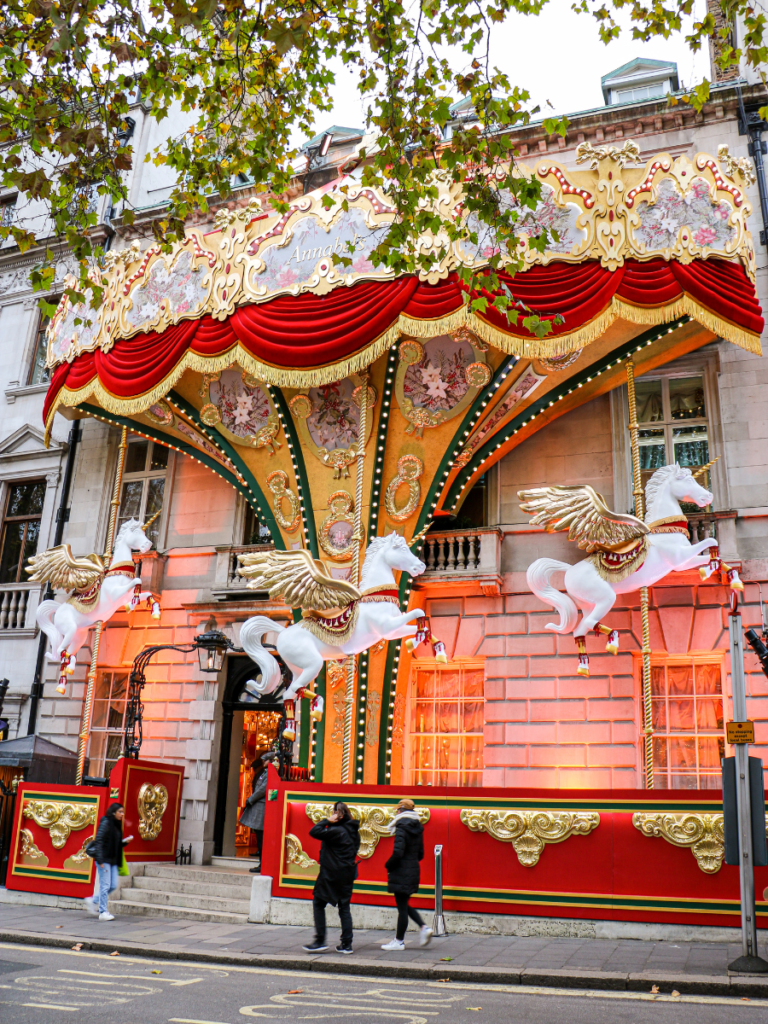 Past years have seen the building transformed into a Christmas tree and even a bedazzled gingerbread house. This year takes inspiration from traditional carousels with a 3D display attached to their building. You'll find magical festive unicorns in this festive London spot in 2022.
Covent Garden 
Covent Garden always puts on an enviable Christmas display, and their London Christmas installations are no different. With a large Santa sleigh full to the brim with presents, this is an excellent Christmas photo spot – especially if you've got little ones.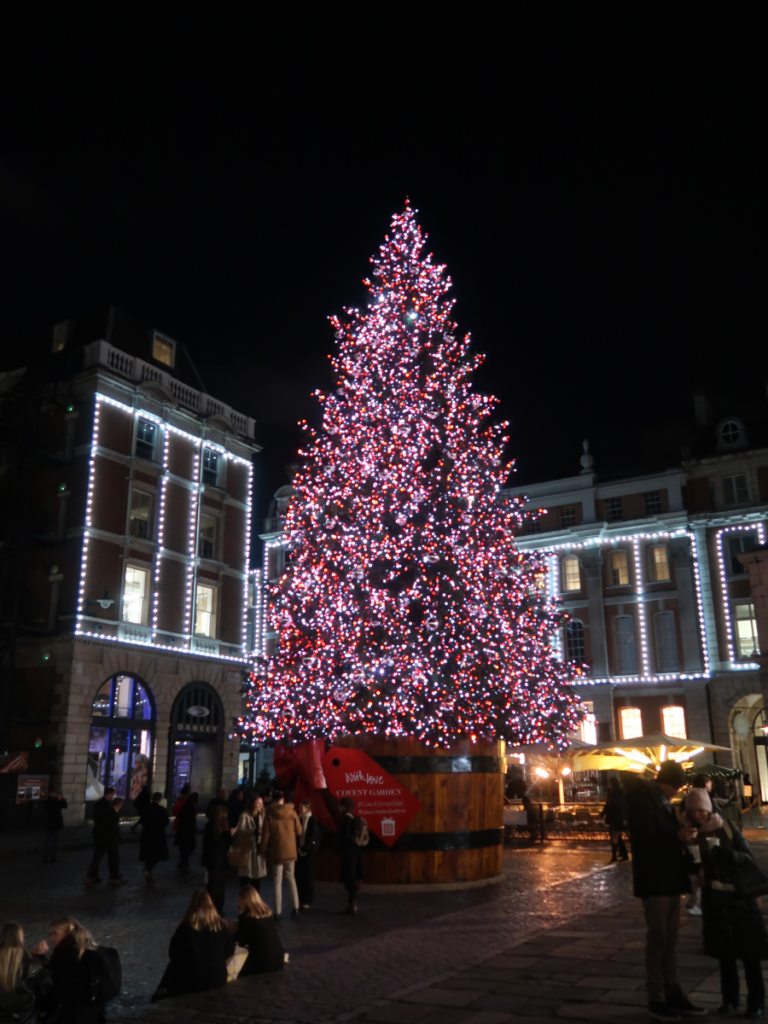 There is always the classic London Christmas tree that Covent Garden displays every year. With 2022's tree being a massive 60ft! A festive season in London is never complete without a warming mulled wine underneath this iconic tree.
Louis Vuitton, Bond Street
Bond Street never disappoints with its Christmas lights, and the designer shops down this iconic London street never fail to deliver either. This year, Louis Vuitton put on their Christmas installation in collaboration with Lego. The outside of the shop has an innovative festive archway crafted from Lego versions of the brand's iconic luggage trunks.
Belgravia, Motcomb Street
Christmas installations in London don't come better than Belgravia. This area of London likes to go all out when it comes to decorations all year round, and Christmas is no exception. Motcomb Street in the heart of Belgravia has a gorgeous display with a bright red sleigh filled with presents, a large festive tree, and it even incorporates one of the city's classic red telephone boxes.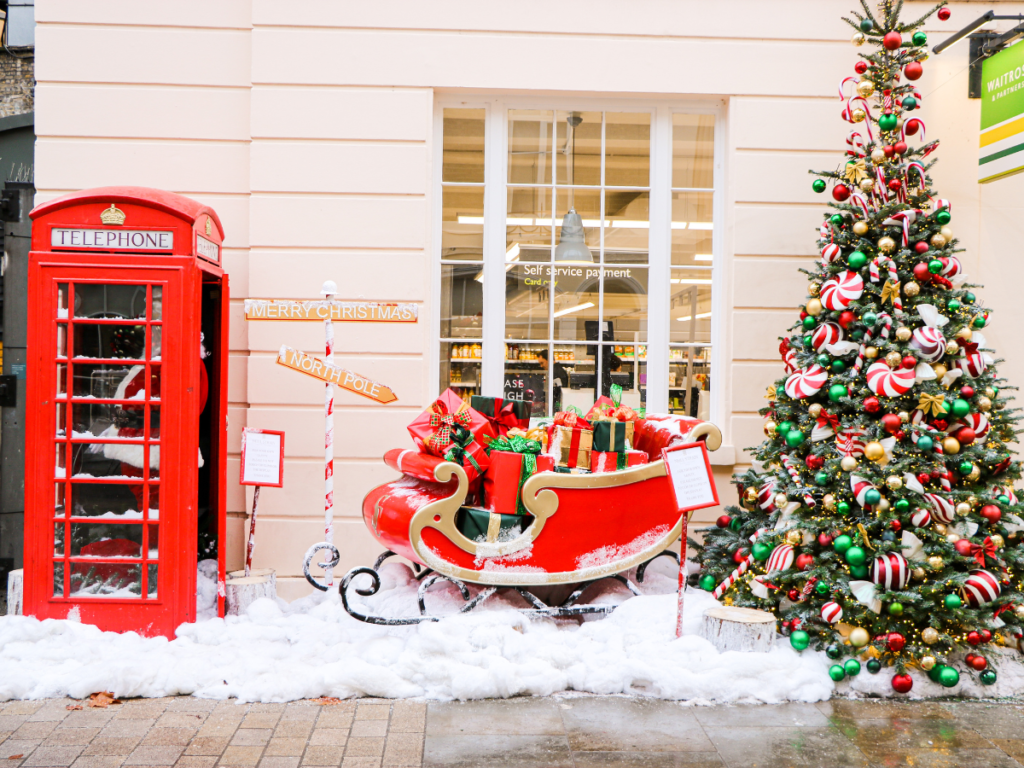 The Gingerbread City
Also located on Motcomb Street in Belgravia, you'll find the Gingerbread City, by the Museum of Architecture. This is not one of London's free Christmas installations so you will have to pay to go in, but it's well worth the money!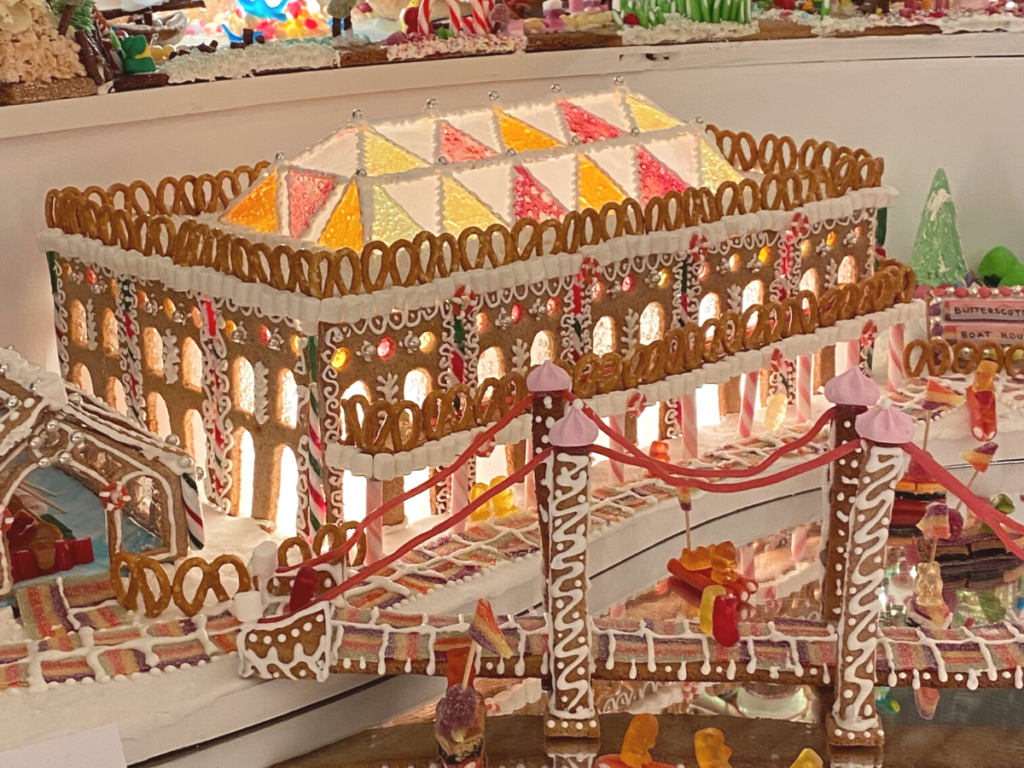 The Ivy, Chelsea Garden
A seasonal trip to Chelsea wouldn't be complete without seeing The Ivy's London Christmas installation. By far the most impressive decorations of all their locations, each year the frontage of the Chelsea restaurant is transformed into an awe-inspiring masterpiece. This year the front is decorated with golden birds and monkeys!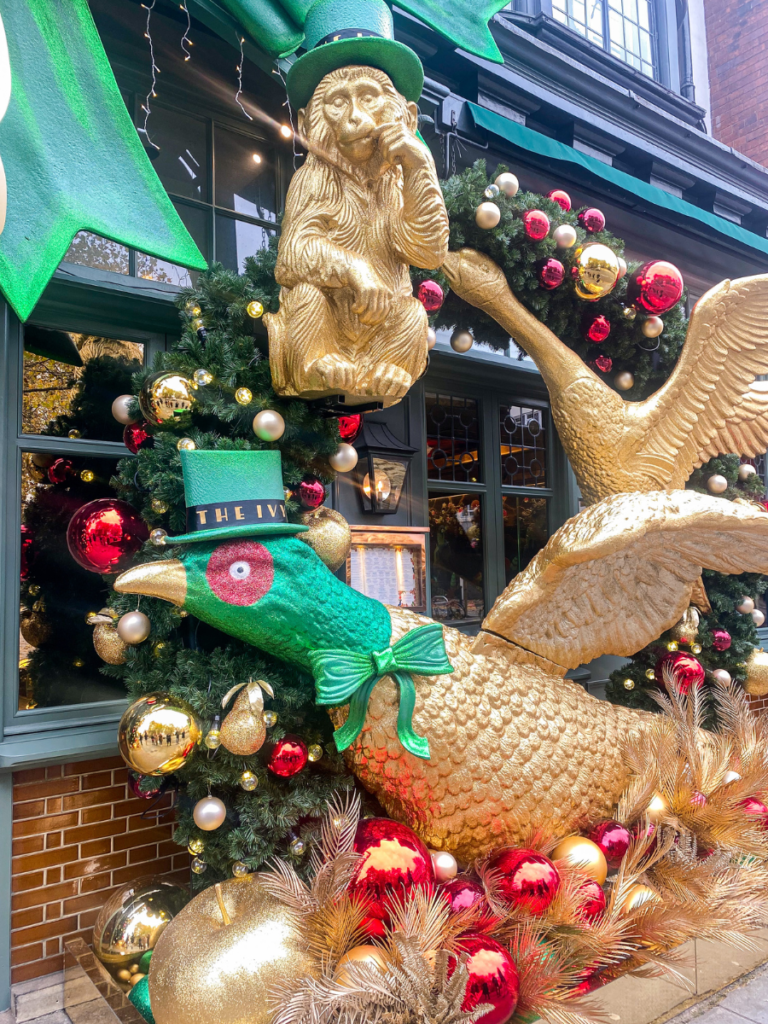 Battersea Power Station
Battersea Power Station is a new addition to the London festive scene, only opening officially earlier this year. Outside the new shopping centre you'll find oversized baubles balanced on top of a water feature, a Christmas tree, one of London's ice rinks, and even a fairground wheel ride! Inside the power station their Christmas installation consists of humongous fairy lights strung from the industrial ceilings.  
Carnaby Street
Always one to put on a fun show, Carnaby Street has the ultimate London Christmas installations. Each year their Christmas lights are to a theme, with much-loved decorations being displayed over the years. For 2022, they're celebrating 25 years of festivities on the street and have chosen a range of past year's decs. From cute robins, to a jolly snowman, and lights in dedication to British musical legends, there's something for everyone in Carnaby Street's Christmas lights. 
Connaught Village
Connaught Village is nestled just above Hyde Park and is a stunning little area of London to discover. Their addition to London's Christmas installations are always subtle but fun nonetheless. Throughout the year the tree located in the village is decorated with neon hearts, at each Christmas they change up these lights for the season. Past lights have included neon quotations from iconic London Christmas film Love Actually.
Koyn Restaurant 
Potentially the cutest of London's Christmas installations, Koyn restaurant in Mayfair has had a beautiful classic mini parked outside its doors this season. The iconic British car, in a festive shade of red, has been decorated with a Christmas tree on its roof, and is filled to the brim inside with presents – we wonder how anyone would fit in to drive those gifts home for Christmas!
About The London Eats List
We aim to bring you all the best that London has to offer. From the best hot chocolates in the big smoke, to romantic restaurants to visit with the one you love. Let us help inspire your trip to the city we call home.