Witnessing floral London is one of the most magical times of the year. Through spring and summer, the capital is graced with beautiful floral visitors to our trees, parks, and green spaces. Our guide to floral London dives into which flowers you can expect to see in the city, when, and where. Read on to discover London in bloom today.
What Flowers Does London Have?
Throughout the year London experiences many different forms of flowers, the most common ones you can expect to see are cherry blossoms, magnolias, wisteria, and daffodils. Around the capital and its royal parks you're also likely to spot bluebells, tulips, and lavender.
When Does London See Blossoms?
London's peak floral season happens during the spring which usually begins around mid-March and lasts through to May. With changing weather and different flowers having different peak times, you're sure to catch some if you visit during these months. Daffodils tend to be the first of floral London's visitors, shortly followed by magnolias, then cherry blossoms, with wisteria and lavender slightly later on in the summer.
Floral London Map
When exploring floral London, it's easiest to follow some kind of route! Whilst we were blossom hunting in the city, we followed a Google map we'd put together beginning in Chelsea and working our way all the way up through Kensington to Holland Park. Make sure you check out our floral map of London for some pretty spots!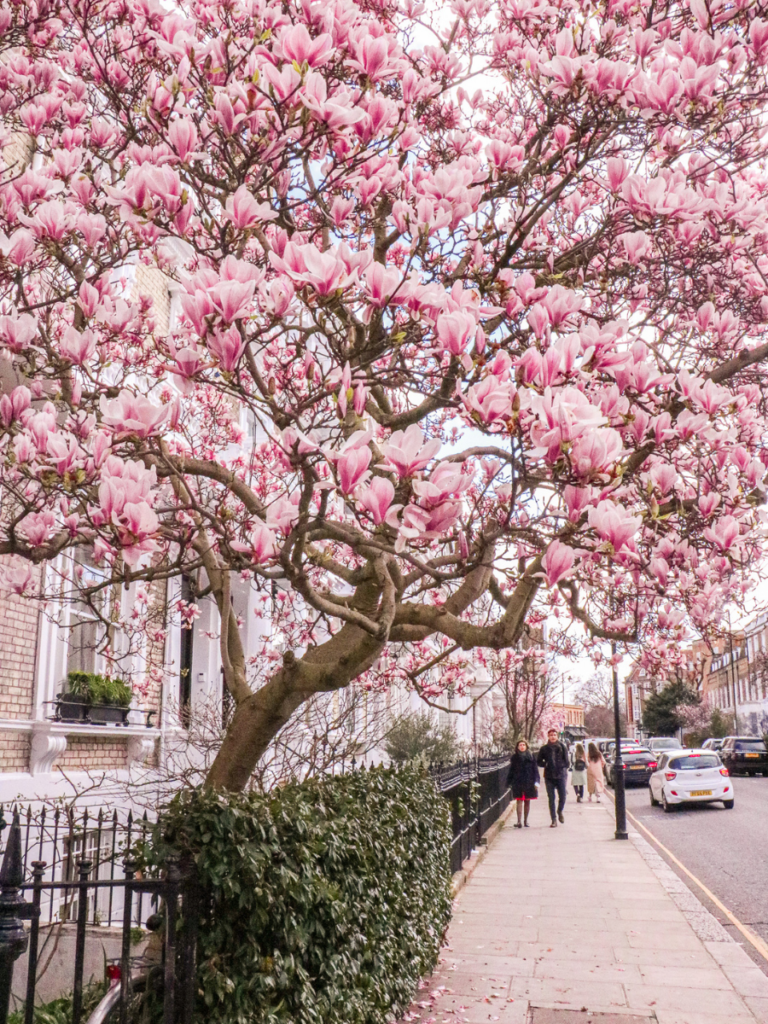 Cherry Blossoms in London
Nothing's quite as beautiful as cherry blossoms in London. Chelsea and Kensington are full of so many beautiful blooms, simply just walk off the main streets into residential roads to discover them.
When: March – April (sometimes as late as May)
Where to Spot: St Paul's Cathedral, Kew Gardens, Regent's Park, St James's Park, Kensington Gardens, Battersea Park, Kyoto Park
Specific Roads: St Leonard's Terrace, Glebe Place, Bramerton Street, Redcliffe Road, The Little Boltons, Earls Court Gardens, Blithfield Street, Phillimore Gardens
Magnolias in London
Before cherry blossom season, the magnolias bloom in London. These beautiful trees sprout stunning pink, purple, and white flowers that are magnificent to look at. Again, taking a stroll away from London's tourist hubs and into the prettiest residential streets will see you spot some of these floral wonders.
When: Early – Mid March
Where to Spot: Bramerton Street, The Boltons, Hornton Street, Edwardes Square, St Leonard Terrace, Neville Terrace
Wisteria in London
The beautiful lilac purples of wisteria make it one of London's most popular blooms. This aspect of floral London comes a little later in the year compared to the early spring blooms of daffodils, cherry blossoms, and magnolias.
When: Late April – Early May
Where to Spot: Kynance Mews, Gordon Place, Canning Place, Holland Park, Golders Hill Park, Bedford Gardens, Cheyne Walk
Daffodils in London
One of the first signs of spring beginning in London is when the daffodils begin to bloom, lining London's royal parks with a carpet of bright yellow.
When: March
Where to Spot: Buckingham Palace, St James's Park, Kew Gardens, Regent's Park, Holland Park, Kensington Gardens
Lavender in London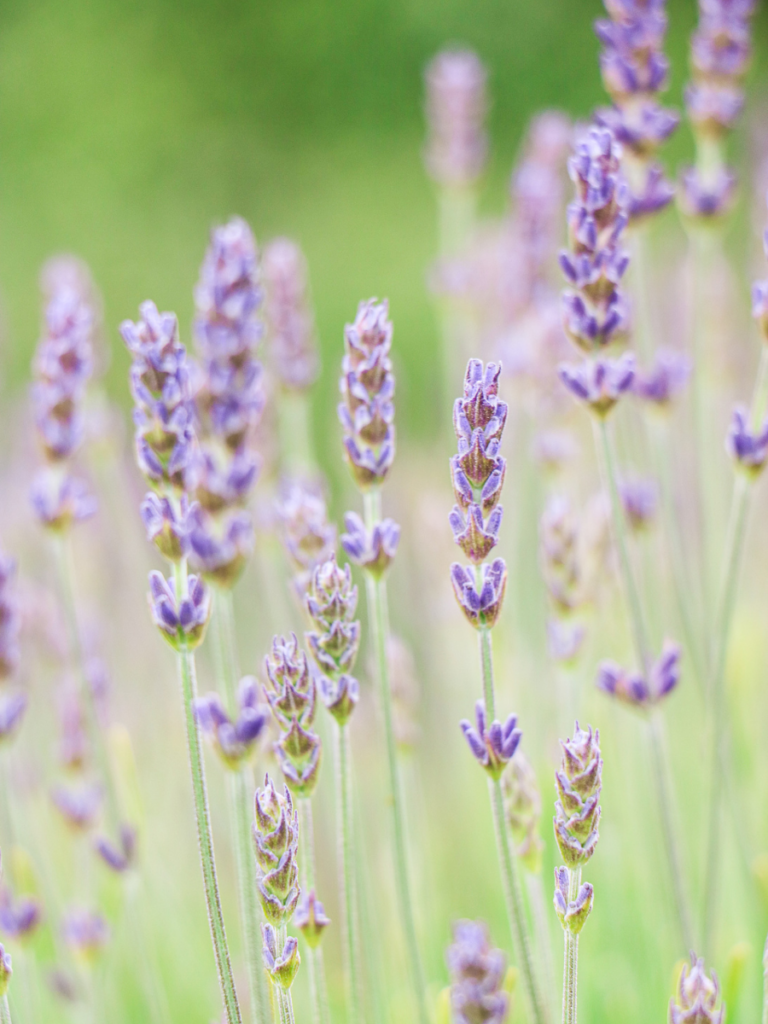 London is close to many gorgeous lavender farms. These floral London attractions draw visitors in from miles around to witness and smell the delightful purple blooms.
When: May – June
Where to Spot: Mayfield Lavender Farm, Hitchin Lavender, Kew Gardens, Vauxhall Park
London's Floral Events
Throughout the year, London is home to many floral themed events and we've got the lowdown on each one so you don't miss out!
Chelsea Flower Show
The Chelsea Flower Show normally runs in May, and is located in the grounds of Chelsea pensioners home. Each year since 1912, The Royal Horticultural Society puts on the show for 5 days, demonstrating some of the skills of the finest gardeners and florists in the country.
Chelsea in Bloom
Chelsea in Bloom runs alongside the flower show, and sees the shops of the Chelsea area take part in a competition for the best display. Every year there is a different theme that the shops and florists adhere to whilst decorating their shopfronts.
Belgravia in Bloom
Belgravia in Bloom also runs alongside the RHS flower show. Belgravia is located close to Chelsea and so makes a wonderful day out exploring the two places to see what pretty floral displays the shops and boutiques have put up.
Hampton Court Flower Show
Hampton Court Flower Show finds its home on the outskirts of London. With the grand Palace as its backdrop this is a must visit for lovers of horticulture and to see London from a new floral perspective.
About The London Eats List
We aim to bring you the best that London has to offer in food, drink, and entertainment. From the best landmarks to visit in London, to the city's most romantic restaurants we have all the information you need to enjoy your time here!